Peter Cooper – Opening Day
Posted On October 23, 2013
---
As I write this, Opening Day is just three hours away – well, Opening Day of the 2013 World Series. A good time to listen anew to Peter Cooper's recent CD, "Opening Day."
The bases on "Opening Day" (Red Beet Records) are loaded – with the humor, warmth and honesty that have marked Cooper's previous solo albums as well as his contributions to three CDs with duo partner Eric Brace (who harmonizes on this CD).
The CD cover is evocative of the music within: a photo of Cooper as a boy at his first major league game, in 1978 in Atlanta. "I've been coming since before I can remember," Cooper sings. " I've seen the pictures to prove it was so."
And with just the Cardinals and the Red Sox standing, out of the 30 teams that had such high hopes back in April, the chorus of the title track has never been sharper (Cubs fans might want to avert their eyes):
"All's well that ends well/ 'round here things don't end well/ but we're tied for first with the whole summer left to play/ the fall breaks kind for the lucky ones/ winter comes even to the champions/ keep the aftermath and the epitaph/ give me Opening Day."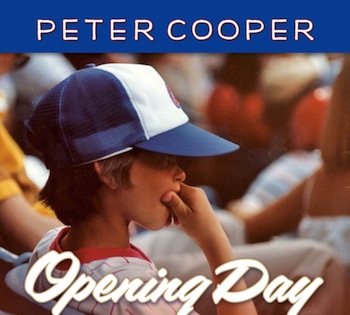 Cooper is simply a great writer. He has the ear and the eye – talents for listening and observing – that fuel his songs as well as his journalism. Check out his obit on "Cowboy Jack" Clement and his open letter to Nashville's male country singers in Nashville's The Tennesseean.
Baseball, however, is the subject matter of just one track, on "Opening Day," and it doesn't even lead off. "Much Better Now," presumably autobiographical, catalogues some of the jobs Cooper has held and felt better about after leaving them – teacher, waiter, Radio Shack clerk – and includes his greatest accomplishment:
"I didn't like kids until the day that I had one/ he's a good lookin' boy (handsome like his daddy)/ he cried at first then he learned how to have fun/ and he feels much better now."
Two of the best songs are character studies of sorts. The tunes share accessible melodies and rhythms, and clever wordplay, but couldn't be more different in tone.
"Jenny Died at 25" is an obituary for people who have surrendered to life at an early age, whose potential evaporates as they get older and more apathetic. They simply go through the motions of living ("You can die at 25 and still live a long, long time," Cooper writes).
"Grandma's Tattoo," written with Tommy Womack, had been part of Cooper and Brace's setlist for a couple of years before the CD came out and was always a crowd-pleaser. It may be about an anti-Jenny – or perhaps a Jenny who "was old and didn't want to behave" after living a "stay-at-home, turn-the-stories-on, squash-casserole kind of a life."
The tattoo? It is revealed during a family trip to Mardi Gras, where Grandma, in a bid for some beads, bares all and reveals what previously "only her doctor and Grandpa knew":
"Close to her heart/ a private work of art/ underneath the wool and the flannel/ Nobody ever guessed/ there upon her chest / same bat time, same bat channel/ Holy toledo, something to see/ she always kept it hidden from view/ Grandma's Batman tattoo."
But the best of the nine superb Cooper originals on "Opening Day" is "Quiet Little War," perhaps the first – only? – song of the Drone War Age. In its simple, matter-of-fact way, "Quiet Little War" is as chilling as any antiwar song since the Vietnam era, as spot-on regarding impersonal, unmanned killing as James McMurtry's "We Can't Make It Here" was about social injustice.
The protagonist of the song "pilots a flying machine … joystick and throttle and video screen" in warfare that is "so clean now, so bloody before, thousands of miles from the battlefield of our quiet little war."
Drawing comparisons to the face-to-face mayhem of the Normandy invasion – where the "waves were crashing louder than our quiet little war" – Cooper writes:
"The kids and the killers, the mothers and sons/ innocents and the guilty ones/ and one man decides who will live who will die/ Where's the man who runs this show/ Alamogordo, New Mexico/ making the plane engines roar/ they buzz and howl all through the night/ in our quiet little war."
"Opening Day," which includes two fine covers in Tom T. Hall's "A Million Miles to the City" and Bill Morrissey's "Birches," is also a great-sounding record, produced by Cooper and mixed by songwriter/guitarist Thomm Jutz. The players include Jutz, Jen Gunderman on keyboards, Dave Roe on Bass and Paul Griffith on drums.
But he MVP of this lineup is pedal steel master Lloyd Green, whose contributions can't be overstated. Every fill, every solo, seems new and original. His playing, which appears on every track, complements and amplifies the emotion and the story. Green's work is simply brilliant.
---