Outlaws and Opportunities at California's Grass Roots Music Festival
Posted On November 13, 2018
---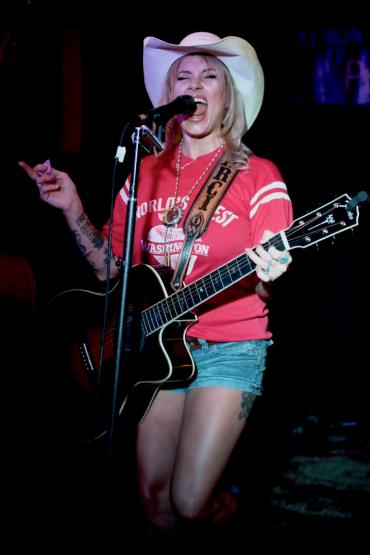 In response to increased interest in Roots Music, numerous festivals have been popping up all over the country, giving local fans the opportunity to experience it. Country Roots Music festival
schedule One such festival is the Grass Roots Music Festival in, appropriately enough, Grass Valley, California. In its initial year, the fest bills itself as offering "three days of outlaw country, bluegrass, and blues" for the affordable cost of $65.
Fortunately for us, California-based correspondent Holly Horn attended the fest. She's no stranger to this column; many of her photos have been featured as well as her firsthand reporting from Hardly Strictly Bluegrass and the Country Music Association Country Roots Music Festival Schedule. Here is her latest report — plus photos, of course.
Setting the Stage
The festival, organized by singer/songwriter Mike Hellman, was held in scenic Grass Valley, a 15-minute drive from the historic gold mining town of Nevada City. The fest has two stages set back in a hollow, with a creek flowing through the grounds. It featured award-winning Ameripolitan artists from around the country. (For more information on Ameripolitan music and its awards, check out www.ameripolitan.com.)
While I enjoy a large festival with many well-known acts, there's something special about a smaller festival. It's an opportunity to discover and support talented artists that may not otherwise end up on my radar. Two of the artists on the bill — Hellbound Glory and Jesse Daniel — released albums this year that I cannot stop playing. They alone were enough to convince me to make the four-hour drive.
Still, I wasn't sure what to expect. As often is the case with new festivals, the turnout was modest. But it is the perfect opportunity get up close and personal with talented artists on their journey to find out where they fit in the fabric of of Roots Music.
With that in mind, my takeaways from the festival are brief takes on artists that deserve to showcase their talents on a larger stage.
The Artists
Fronted by Leroy Virgil, Hellbound Glory didn't let me down. The Reno, Nevada, band uses a bar room thump to bust through the doors of country music and set it on fire. They are certainly, as their bio states, not afraid to piss off any genre's purists. They take no prisoners.
From my hometown of Santa Cruz, California, Jesse Daniel has just been nominated for a 2019 Ameripolitan award for best male honky-tonk artist. While he started out playing punk music, after hearing Buck Owens he changed his tune in a rough and rowdy way.
The Carolyn Sills Combo, winner of the 2018 Ameripolitan Award for Swing Group, fully demonstrated why they took home that award. Read Mary Robert's 2016 ND interview here.
Given permission to use the band's name by the Man in Black himself, The Bastard Sons of Johnny Cash have been around since 1995. Fronted by Mark Stuart, they are not by any means a tribute band. Instead, this alt-country band gives full flavor to the essence of the music that inspires them. It was a real treat to finally hear them live.
Seattle's Darci Carlson, 2017 Female Outlaw Ameripolitan award winner, also began her career in punk. That power was evident in her vocals and contagious energy. All eyes and ears were on this stunning performer.
Billy Don Burns, who was writing and performing at the dawn of outlaw country, has reached legendary status and plays a different town nearly every night. His life, lived rough at times, has provided him with a seemingly limitless supply of stories for songwriting. Playing for two hours straight to close the weekend, Burns showcased his songs that have been recorded by Cody Jinks, Whitey Morgan, and most recently, Colter Wall. If you want to know what the '70s outlaw music movement was all about, see him.
Local newcomer Steven Denmark holds true to country Roots music basics and tells stories about real people's real-life experiences. A highlight was "Sin Wagon," originally written and recorded by the Dixie Chicks, and sung in the same key. Wow.
Spike Coggins, a one-man band out of Idaho, put on a mesmerizing show with a chain around one ankle, a banjo, and a harmonica, among his other instruments.
While I don't know if any member of Miss Lonely Hearts has read Nathaniel West, it doesn't matter as they play the meanest California outlaw Roots Music that both the audience and they can dance to. With a dash of Charlie Feathers.
Now check out Holly's photos.
---