Our Communal Heart Beats Miles From Here: Scott Hutchison's Beautiful Legacy
---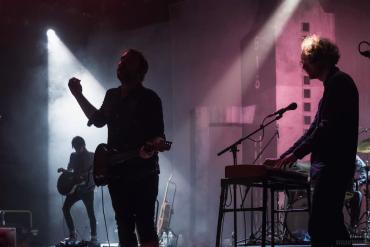 Frightened Rabbit at Brooklyn Steel. Photo by author (@lithophyte).
How do we describe what darkness looks like when the very absence of light strips our photoreceptors of information?
How do we give shape to the experience of depression when its very nature–simultaneously shapeless and shape-shifting–makes it hard to define, let alone fight?
Some musicians use metaphors and elliptical references–a gesture toward the darkness, allowing listeners to fill in what is unsaid. Frightened Rabbit's Scott Hutchison took the opposite tack. The singer and frontman documented every single detail—visceral, filthy, awkward, uncomfortable–and translated them in songs that managed to be devastating, defiant, and darkly funny, all at once.
He sang these raw and revealing words to us in that Scottish accent, brows furrowed in intensity, eyes shadowed by the brim of a trucker hat, shirtsleeves rolled up and heart bared to the world. Scott's voice came from a distance, piped through our headphones or from up on stage. But it always felt like he was standing right there at the precipice next to us, pulling us back, saying, "save suicide for another year."
Five albums in, signed to a major label, and selling out 2,000+ person venues, Frightened Rabbit had secured their place in the pantheon of indie folk-rockers. But Scott felt less like some mythological god and more like your older brother's cool friend. And while that dynamic gives fans the closeness we often crave, it takes a toll on the artist who feels obligated to absorb the struggles shared by fans. Despite the heaviness of adding others' burdens to his own, Scott was unfailingly generous, responding to troubled listeners with handwritten notes of empathy and encouragement.
These past few days, we've responded, in a way, with our own notes–first in a plea, and now in memoriam.
We haven't needed to search far to find the right words because Scott gave us a vocabulary with which to describe these very moments. There's a painful beauty in how we've repeated his words to each other while we moved along the arc from anxiousness to dread, from devastation to remembrance.
Tuesday night, a pair of disturbing tweets culminating with the cryptic "I'm away now. Thanks," set off a police search. The hours stretched by with no updates. We knew only that Scott had walked out of his Edinburgh hotel around 1am, leaving behind his cell phone, and that CCTV footage showed him heading toward Forth Road Bridge. Fans and news outlets responded by plastering photos of Scott all over their home pages and social channels. We implored Scott to return from wherever he was, borrowing his words: "I'm trapped in a collapsing building — come find me now, where I hide."
As we passed the 24-hour mark with no new information, his family and band encouraged us to print out flyers, to call in tips to the police, to continue sharing Scott's photo. Knowing of his continued battle with depression, we sent out digital missives with increasing desperation, affirming that his loved ones and his fans are here in whatever way he needs, including if he needs to be left alone. Just please be safe, we said. Just come home and we'll figure it out, "we'll be fine in these disastrous times, disastrous times."
The final news came on Friday morning. It felt like the world was knocked off its axis.
Tributes from other musicians flooded our feeds. The National's Aaron Dessner (who produced Painting of a Panic Attack), Craig Finn (The Hold Steady), Julien Baker (who contributed vocals to a recent Frightened Rabbit single, "How It Gets In"), Frank Turner, Stuart Murdoch (Belle & Sebastian), Alex Kapranos (Franz Ferdinand), and many, many more, have shown unequivocally that with his immense heart and talent, Scott made more than "tiny changes to earth."
At first, the news felt surreal enough to dull the razor-sharp edges of my shock and grief. Scott had just played some shows as part of the harder-charging Mastersystem, a supergroup formed with his brother, Grant, and members of Editors and Minor Victories. Frightened Rabbit was scheduled to play next month at a festival curated by The Cure's Robert Smith. Scott's solo project as Owl John, for which he was joined by Frightened Rabbit bandmates Andy Monaghan and Simon Liddell, provided another creative, and we hoped cathartic, outlet. When did we abruptly turn off the road?
This past Saturday–a day after we learned about Scott—I stood in the corner of an East Village venue, Coney Island Baby, as Craig Finn stepped up to the mic. With no preamble, he started singing "Head Rolls Off." His eyes were closed and his voice had the husky texture of someone trying to hold it together. "Mark my words, I'll make changes to earth. While I'm alive, make tiny changes to earth." (A full video, minus a few seconds at the beginning and end, is here.)
The crowd of Hold Steady and Lifter Puller fans may not have recognized the song. But Craig's emotion was so palpable, so raw, that we stood stock-still as if holding in a collective breath. As the last chords faded, Craig leaned in closer to the mic. "Scott Hutchison, I love you."
A week before that—two Saturdays prior—a pal in Glasgow, one of Scott's bandmates, had texted me the link to "God in Chicago," one of Craig's songs. I'd brought it up a while back when we were discussing Frightened Rabbit's friendship with The Hold Steady. Our text exchange that night was friendly but brief. He told me about his recent family trip, I told him the music video for "God in Chicago" reminded me of a Nan Goldin photograph. I wanted to ask about how the next album was coming along, and whether he was going to build in some extra time around the Malawi festival that Frightened Rabbit would play this fall. But it was late on the east coast and even later in Glasgow, so I tabled my questions for another day.
Craig Finn ended Saturday's set with "God in Chicago," prefaced by a second acknowledgment of Scott's passing.
Maybe in a fictional story this symmetry between one Saturday and the next would be a poetically tragic plot device. But in real life, there's no poetry in someone we love taking his own life. In real life, there's only the awful silence that accompanies unfathomable loss.
But instead of suffocating in this oppressive silence, thousands of voices formed a chorus, conveying the hardest sort of heartbreak that comes with the best kind of love. Here in New York, Craig performed "Head Rolls Off." Over in London, Frank Turner covered "The Modern Leper." A friend sent me a clip of Josh Ritter's duet with Scott from years ago. On Instagram, one fan said to please send over our stories of Scott, and she'd compile them and send them to his family.
Across the chasm opened up by this terrible loss, we reached out a steadying hand to help each other get to the other side. In the ~48 hours between the start and end of the search for Scott, we were here for each other. A musician friend to whom I had admitted my distress recorded a lovely version of "Holy." Folks I'd never met sent DMs to share their stories. It was comfort beyond words, to know that we weren't alone in this darkness. We weren't alone because of this community that Scott had made, because of who he was and what he gifted us in his songs and his life.
When the single, "Roadless," was released a few months ago, I soaked in the beautiful melancholy. While I felt the pathos that seeped through the pauses between verses, I had no doubt that no matter how precarious it is, walking this existential tightrope—this "wire between carefree and not caring at all"—that I'd see everyone on the other side.
Scott's death hurts because we hate to think of a beautiful soul engulfed by such numbing pain. Scott's death hurts because we know that he helped so many, but we ultimately couldn't help him in return. And it hurts because we know too well the darkness that was the subject of his songs, and we felt that he'd been next to us all this time, fighting the same fight. In songs like "Woke Up Hurting" and "I Wish I Was Sober," we saw our own alternate endings. When Scott implored, "show me the door, I need somewhere to go," I was never sure if he was looking for an entrance or an exit. When he said, "forgive me, it's far too late; forgive me, I can't…" I related to the feeling that the ledger of life was too far in the red, either for forgiveness from you or from myself.
As we've opened up to each other this past week, I've come to realize that many fans connect with these songs because Scott cut through the platitudes and straight to the heart of the weariness, the accretion of too many daybreaks that come with the devil's hum.
Depression is a strange and rather indiscriminating beast. It doesn't care about your resume or the number of friends you have. Being successful (whatever that means) doesn't immunize you from the exhaustion of slogging through today in order to face an endless series of tomorrows. It's not because you're ungrateful. It's not that you don't know there are people who care. It's because the illness warps your perception and drains your life of color, rendering everything in shades of grey. You experience your surroundings and interactions as if through too many layers of wool, dulling your senses, not quite able to touch or be touched by others. You wake up hurting, though you can't quite say why. Sometimes, you turn to alcohol or other substances to ease the way from one day to another.
Scott knew this all too well. And as long as he stood in front of us, singing these songs, we felt we were finding a way forward together. We could operate under the illusion that just as each show was a cathartic experience for us, the person singing these songs also obtained some measure of relief.
But that's not the way the world works. So here we are. And here he is not. What now?
I like what Frank Turner said—those of us who are here, it's on us to keep singing Scott's songs, to keep this music alive. And Scott summed it up in his penultimate tweet with heartbreaking frankness: Be so good to everyone you love. It's not a given.
Importantly, in the past few days, we've been speaking more openly of mental illness, substance abuse, and other related demons. We're sharing stories and resources and, I hope, slowly chipping away at the stigma that makes it hard for people to seek help, even from loved ones. It's not lost on any of us that it's Mental Illness Awareness Week.
The compassion and empathy that's driving our conversations, that's prompting us to share our stories with each other—it's part of Scott's legacy of kindness and hopefulness.
I'm grateful for all of that, and I'm grateful for the memories I can hold onto: Peering through a crack in the door backstage, where I could see the radiant grins on the fans' faces. The second time I shook Scott's hand, when he smiled and said he remembered me. Standing off to the side of the tour bus (which had a delightfully kitschy neon palm tree sign and, somewhat inexplicably, a framed painting of Yoda), watching Scott gesturing upward, head tilted back in a laugh, as he relayed some story to Craig.
Of all these memories, one that I keep returning to is of that night at Bowery Ballroom. We stood shoulder-to-shoulder with strangers and friends, harmonizing to the final song of the night, our voices joining Scott's to repeat these lines, with increasing conviction:
"I fell down, found love, I can lose it again, but now our communal heart beats miles from here."
Our communal heart beats.
Rest peacefully, Saint Owl John. We love you.
***
If you'd like to revisit past shows, my photos & write-up from The Midnight Organ Fight tenth anniversary show at Bowery Ballroom is here, and photos & recap from Brooklyn Steel is here. This particular photo means a lot to me. From this vantage point, I can imagine for a moment that Scott felt un-alone up there on stage, with his bandmates and friends flanking him and a capacity crowd radiating joy. This helps me know that through all the sadness, we won't forget the transcendent togetherness that Frightened Rabbit created.
---