On Solo Album, Nathaniel Rateliff Gives Voice to Vulnerability
Posted On February 14, 2020
---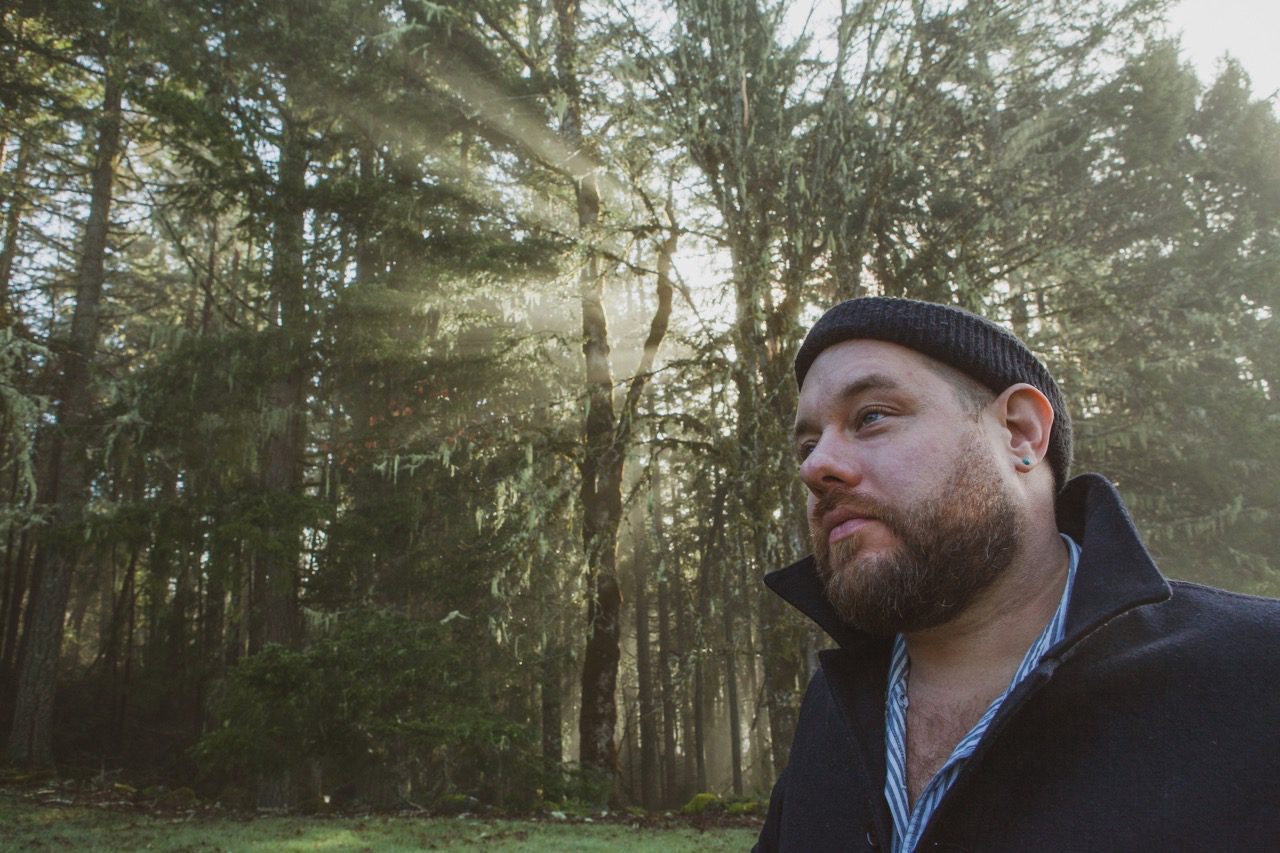 Photo by Rett Rogers
When Nathaniel Rateliff began writing the songs that grew into And It's Still Alright, his friend Richard Swift encouraged him to make a solo record, thinking it'd be liberating for Rateliff to record a project separate from his band, The Night Sweats.
Rateliff had always trusted Swift's advice. Swift was a formidable producer and musician, and Rateliff remembers liking him when they first met at a show. "I was in London. I was opening up for Delta Spirit, and one of them ran into Richard and invited him to the show. He was immediately a nice guy," Rateliff says. Later, when Rateliff was seeking a producer for the first Night Sweats album, someone suggested Swift, and an instant friendship formed. "We had a lot of mutual friends, we had similar taste in music, and also really made each other laugh," Rateliff recalls.
But Swift and Rateliff shared more than music. Both were raised in strict Christian families. Swift was raised Quaker and recorded contemporary Christian albums under several names before becoming Richard Swift to record his first secular album. Rateliff was never a professional Christian musician, but he got his start playing in a family gospel band in his small Missouri hometown and later relocated to Denver with future bandmate Joseph Pope to be a missionary before having his own crisis of faith.
In addition to their shared departures from faith, Rateliff and Swift also struggled with substance abuse. "I had gone through a divorce and my own struggle with substance abuse, and Richard and I would try to be accountable to each other in those areas of our lives and talk a lot about it," Rateliff says, underscoring how the two supported each other.
"It's a hard thing because it's such a huge part of our industry, and even on the smaller levels, when you're touring around and living in a van, the venue won't have any food, but you're definitely going to get free drinks. It can set you up for disaster," he says.
In Rateliff's 2015 song "S.O.B.," he shout-sings "Son of a bitch / get me a drink / I can't get clean / I'm gonna drink my life away." The jubilant alcoholic of that song is absent from And It's Still Alright. Rateliff has gained perspective from the less moderate times in his life, speaking about those phases almost as if he was a different person. "There was certainly a season in my life where you just never really sober up. It becomes sort of a Band-Aid, and the next thing you know, you're like, 'Man, I'm just tired,' and then you find some way to supplement your sleep, then Adderall is pretty easy to get your hands on, and it's so dangerous when you get into that rotation of constantly beating up your body. Eventually it catches up with you. I was lucky that I never had a heart attack."
Sadly, Swift could never conquer his own alcoholism and was diagnosed with hepatitis. Liver and kidney failure soon followed. After three painful dialysis treatments, Swift opted for hospice care instead of further treatment. On July 3, 2018, he died at age 41.
Rateliff has become more mindful about his own substance use. "It's a daily thing for me, and I want to approach it that way, but not the AA 'one day at a time' sort of thing either. I haven't been asking Jesus for help. I kind of got ruined on that one," he quips.
Sharing the Pain
After his death, Swift's National Freedom studio was left untouched in Cottage Grove, Oregon, and it was there that Rateliff recorded the album he'd begun with his now-absent friend. While there he was focused mainly on the music, but after the work was done, the heaviness of the situation settled in, Rateliff recalls.
"You don't see that when you're in it sometimes, but when you have the ability to walk away and look back at it, you're like, 'Oh fuck, I can't believe we were just there for eight days in a place where we would normally have been with Richard, and that's just never going to happen now.' That moment of realization can be devastating sometimes."
One sorrow that Rateliff carries about Swift's passing is how little Swift shared his own pain. On his last solo album, The Hex, Swift sings about the deaths of his mother and sister. Perhaps the most unsettling aspect of the record is not merely its intensity but how scattered that intensity is. Swift is clearly stoned on a lot of the songs, singing "she's never coming back" over and over on one, and the music goes erratically from stormy drum crashes to instrumental ballads before closing with a minimalist piano ballad dedicated to his wife. "All the angels sing / Que sera, sera" are Swift's last recorded words.
It's hard for Rateliff to recognize now that those songs poured forth from the pain his friend kept inside. The realization that Swift felt alone with it helped inspire Rateliff to be more open and show vulnerability in his own songs. For Rateliff, that vulnerability meant being more open musically, including a willingness to sing directly about the pain of loss he'd felt and the acceptance that eventually came.
And he couldn't have achieved those things in a Night Sweats album. Night Sweats' drummer Patrick Meese, who played on And It's Still Alright and produced it alongside Beach House's James Barone, agrees that making a solo album invited in new possibilities. "With this new record there was less restriction about what kind of instrumentation to use. We were free to try out a lot of ideas that would have been cool for Night Sweats but wouldn't have fit the vibe."
Making an album apart from The Night Sweats helped give Rateliff the range to throw off the expectations. Those albums are infused with a soulful sound that some listeners mistake for a throwback to Rateliff's Christian roots. But Rateliff didn't make soul music in church, and his work with The Night Sweats comes from his voracious listening, love of dancing, and sheer passion for making music that makes people feel good. A party atmosphere permeates Night Sweats' shows, and the band uses horns, stomping, and gospel-inspired backing vocals that make even songs about failure sound victorious. Rateliff often shouts more than sings, his lyrics punctuated by his bandmates' handclaps or guitar riffs.
In the coming months, Rateliff will continue to play rowdy shows with The Night Sweats, but in between there will be stripped-back performances to showcase the new songs.
And It's Still Alright allowed Rateliff to be more nuanced, to focus more on his resonant vocal delivery, and even look to Harry Nilsson and Roger Miller for inspiration. "The doot-doot-doot" parts in 'You Need Me' are really Roger Miller influenced. When I hear that song I always imagined a cartoon version of me joyfully walking around "doot-do-dooting" my ass off," laughs Rateliff.
The music is less bombastic than on a Night Sweats album, and the string instruments contribute subtle atmosphere. The uncluttered arrangements allow for the nuance and resonance in Rateliff's voice to come through more clearly.
Songs like "Tonight #2" capture an aching warble in Rateliff's voice as he goes from mumbling to soaring. These songs are most gutting when Rateliff uses his voice to deliver lines like "only bury your friends / then you find out it gets worse" on the title track. The closing, "Rush On," is a visceral goodbye to Swift and like nothing he's done before, his voice impossibly stark and bottomless. "It's not very easy to sing," Rateliff understates.
Rateliff hopes his own vulnerability and honesty will help those, like Swift, who hold in their sorrows or chase them with substances, something Rateliff is trying to do much less.
"Maybe Richard would still be here if he wouldn't have felt that his pain was so singularly his. So I try to talk about that in the songs in a roundabout way, about the need for us all to be vulnerable and to acknowledge that that brokenness that we all carry that is a part of the human experience, that it's OK to talk about, to let somebody know how devastatingly empty or broken you are at times," Rateliff asserts.
"I explain it in the song 'Rush On': 'Deep in your chest was a moan that would never end,' and it's just that agony that sometimes we all carry, but it doesn't have to be just ours. People love us and people want to know when you feel that way."
---