---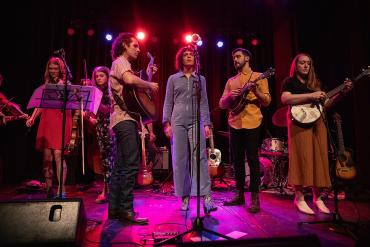 Once again, I'm writing from the tour van, which is currently on its way home to Boston from North Carolina (a 14-hour drive that my bandmates have bravely chosen to undertake in one day). We've just completed a weeklong run of shows where we opened for, and collaborated with, our friends in the North Carolina indie stringband Mipso. (The tour was wonderful, thanks for asking.) This week also caps off our first five months as full-time touring musicians. Except for a three-week break at the end of the summer that I spent traveling with my family, I haven't been off the road for more than a few days since June. I feel like the band has accomplished a lot, and the fact that we still mostly enjoy each other's company at this point is perhaps the greatest achievement of all. And I'm so happy to be coming home.
There are countless songs, poems, and writings on the theme of being on the road and dreaming of home. Earlier today I listened to indie supergroup boygenius' song "Ketchum, ID," a song about touring whose refrain goes "I am never anywhere, anywhere I go / When I'm home I'm never there long enough to know." The lyric illuminates one of the strangest truths about touring: Although in theory it's wonderful to be able to travel for a living and see new places, oftentimes you only see the venue, the highway, the hotel room or your friend's couch, maybe a coffee shop or a Whole Foods, and a local restaurant if you're lucky. The gas station bathrooms are all the same. The highways are mostly the same. You forget whether you're driving to Indiana or Iowa. You have no idea whether it's Sunday or Thursday. You're not really anywhere.
And then, when you're home, your time gets taken up with all the mundane tasks you can't do on the road: doctor's appointments, errands, cleaning. You're excited to cook something, but you're only home for four days, so is it really worth buying groceries? You buy groceries anyway, and end up throwing half of them away before you leave again. Part of you wants to see all of your friends, but part of you craves the solitude that's almost impossible to find on tour. There's only so much time.
That's been my life this summer and fall. But this time, we won't be out of town playing shows for more than a couple of days until February. February!! That's three months of mostly uninterrupted home time. I have been told that I still need to pay rent for some reason, so I'm quickly filling up my time with side-musician gigs, lessons, odd writing jobs, and babysitting. Still, though, I am eagerly anticipating being able to return to a home routine. I've spent endless hours in the van talking with my bandmates, or other musician friends via text and social media, about one of our favorite conversation topics: What will you do with your time at home?
I tweeted the other day, "When I'm done with tour I'm gonna spend all of November, December, and January in my house either cleaning, making soup, or laying on my floor listening to Lucinda Williams." (It's my column and I'll quote my own tweets if I want to.) When you've been spending every day in a van, looking for recycling bins, trying or failing to resist the pull of gas-station snacks, and sleeping somewhere different every night, you come home and feel a certain decadence in small domestic things like cooking your own food and cleaning (read: controlling) your living space. And yes, that includes laying on the floor listening to Lucinda Williams. Touring is exhausting – you've got to decompress somehow. Exercise is another rarity on the road, especially if you hate running (like I do). But my neighborhood YMCA will be there waiting for me when I get home, as will my regular walks around Brighton, where I live.
Maybe the most thrilling prospect of my time at home is the ability to actually play music. What do you mean, you might ask – you're not playing music on tour? What I mean is that I've been playing the same songs night after night for five months. It's difficult to find time to actually practice your instruments on the road, so even though I'm playing a fair amount every day, I'm not expanding or learning or growing much. I'm excited to truly improvise, to work on my technique, to learn new material, to write songs (although I hope to get better at writing on tour). To call up some friends and play music just for fun! What a luxury! Then, when I'm starting to feel restless, it'll be time to go back on the road, and playing my band's songs will feel like returning to old friends.
---