'Okay, Edge, Play the Blues!': An Oral History of the Night U2 Jammed With Stevie Ray Vaughan at Antone's
Posted On November 22, 2022
---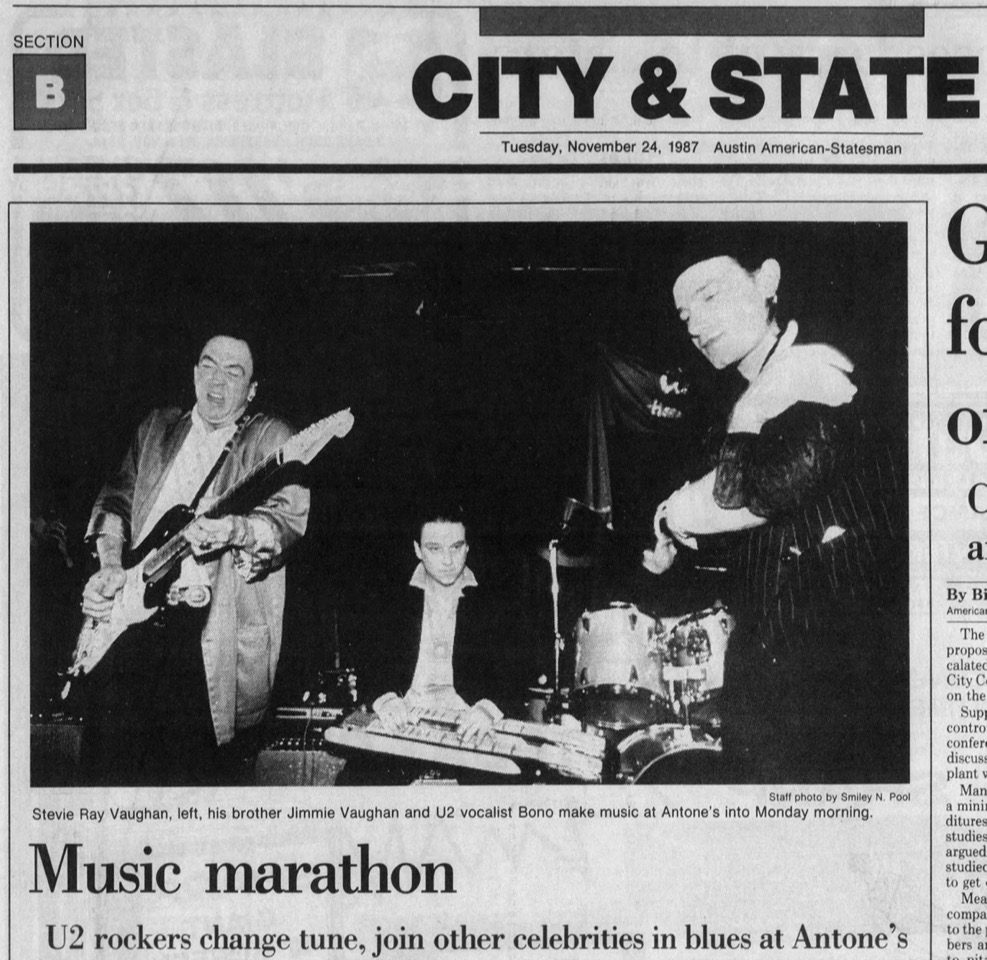 Detail of a clipping from the Nov. 24, 1987, edition of the Austin American-Statesman. (Click to enlarge)
Thirty-five years ago this month, the biggest band in the world dropped into the home of the blues and ended up playing in one of the most star-studded impromptu jams of all time.
On Nov. 22, 1987, U2 was in the middle of the third leg of their global, star-turning Joshua Tree tour and followed their Sunday night sold-out show at the Frank Erwin Center in Austin, Texas, with a night out at the legendary blues mecca Antone's. Before the night was over, the intimate crowd was treated to a surprise performance that included U2's Bono and Edge, blues legends Stevie Ray Vaughan and Jimmie Vaughan, producer savant T Bone Burnett, Rock and Roll Hall of Fame drummer Chris Layton, and others.
In celebration of the 35th anniversary of that memorable night, No Depression contacted people who were involved in the festivities (both onstage and off) to craft an oral history of one of the most serendipitous musical moments of the 20th century. Occurring at a time before cell phones allowed for such events to be captured by audience members from dozens of different angles, this night, previously confined to the remembrances of the couple hundred people in the room, lives on in the following mosaic of memories.
1987 proved to be a huge year of growth for both U2 and Antone's. U2's fifth album, The Joshua Tree, hit No. 1 in over 20 countries, catapulting the Irish rockers into arena-packing superstardom with inescapable heavy rotation on MTV and Top 40 radio. Already revered as a modern-day haven for blues giants thanks to the passionate leadership of club founder and owner Clifford Antone, Antone's was having a monumental year in its own right, becoming a celebrity hotspot and adding a new record label and a physical record store to its already impressive cultural footprint.   
Sarah Brown (Antone's house band bassist): That was an era when Antone's was really hot and all sorts of famous musicians and movie stars would come by: Bonnie Raitt, Stephen Stills, Johnny Depp, Bruce Willis, folks like that. A lot of them would sit in and jam with us. Some were really talented, and some made you think, "What in the world are you doing here?"
Angela Strehli (Antone's co-founder): It was a typical thing back then for musicians on tour to show up at Antone's after their shows. I think that night, it might've been Chris Layton and a few others that had gone to the U2 show and mentioned that they should come over to Antone's if they wanted to hear some real good blues music.
Chris Layton (Stevie Ray Vaughan and Double Trouble): I went to see U2 that night at the Erwin Center and then I just went over to Antone's afterwards to see who was playing and see if there was anything fun I could sit in on. After I got there, someone mentioned that U2 might be dropping by later, so the rumors started flying.
Jeff Balke (audience member): I was a freshman at UT that year and I would try to see as many concerts as I could. I went to Antone's on a regular basis for their rockabilly nights on Tuesdays and of course the regular blues nights. The night of the U2 show [in the Erwin Center], we were sitting about as high up as you could possibly be without being out of the arena. Once we got back to our apartment, we started asking ourselves where the band might go hang out. They were going through their big "American music phase" and we knew if they were going anywhere in Austin, it was going to be Antone's.
Phil Joanou (Director of U2's 1988 documentary Rattle and Hum): I met up with U2 during the first leg of their Joshua Tree tour when they were looking for a director to make a film with them. After our first meeting backstage at the Hartford, Connecticut, show, they invited me out to Dublin to "test drive" me for a week — meeting with family and friends, hanging out at pubs, going to a wedding — to make sure we could live and work together on the road. Bono offered me the gig and we started filming during the third leg — that "stadium leg" — of the tour when they were back in the States. Early in the shooting process, it was a real struggle to get any offstage footage that was usable because they just weren't used to having cameras and a film crew around in the background. Once they loosened up a bit, they were more open to having the cameras around when they were just hanging out and having fun after a show. Which is what that night at Antone's was supposed to be.
In the Antone's crowd that night were a few soon-to-be notable musicians as well, including (future) Grammy-winning bluesman Chris Thomas King and Miles Zuniga of (future) platinum-selling rock band Fastball.
Chris Thomas King: It ended up not being a typical night at Antone's by any measure, but it started off normal enough. I remember Stubb's was having a good night in the parking lot doing his barbeque, so there were a lot people outside the club that night.
Jeff Balke: When we got there, I remember Edge was just sitting on the front porch and was reading some paperback book. I had brought a magazine that had him on the cover, so I asked him to sign it. He was quiet but a really nice guy, just as you'd imagine him to be.
Miles Zuniga: For me, this story actually started the night before, when my friend Paul and I were at Antone's and ran into U2's Adam Clayton and T Bone Burnett. We were absolutely starstruck to see the bass player from, at the time, the biggest band in the world. I vividly remember him walking up to the bar to order a drink and then sheepishly smiling at the bartender because he had no money in his pocket. But then, I swear this is how I remember it, T Bone pulls out a big briefcase full of money, just like in the movies, and takes care of everything for the rest of the night. We talked to them for a bit and T Bone very foolishly mentioned to Paul what hotel they were all staying at.
Paul Minor: T Bone tipped us off that they were all staying at the Four Seasons. Afterwards, Miles and I were like "Wait, what is T Bone doing with U2?" Inquiring minds want to know.
Phil Joanou: T Bone had joined the tour as a guest of the band for a few days. He was hanging out with us and going to shows. He was a great behind-the-scenes presence for the documentary because he got them out. He got them to do things. As I recall, it was T Bone who knew about Antone's and kind of got everyone hyped up to go to the club.
At Antone's, it wasn't uncommon for an impressive array of guests to show up on stage without showing up on the marquee. Even before U2 arrived that night, the crowd was already being treated to the unannounced appearance of a couple Antone's-affiliated blues icons that were each experiencing some mainstream pop culture shine themselves: Stevie Ray Vaughan and Jimmie Vaughan. At the time, Stevie already had three platinum studio albums under his belt and had made a name for himself through his blues-based guitar contributions to David Bowie's landmark 1983 album, Let's Dance (including the iconic guitar solo on the chart-topping title track). Jimmie's band, The Fabulous Thunderbirds, had scored a Top 10 hit ("Tuff Enuff") the year prior, which appeared in a half dozen films and whose music video became an MTV mainstay. Earlier in the year, MTV scheduled both Stevie's and Jimmie's bands to headline its Mardi Gras festivities in New Orleans.
Paul Minor: After going to their show at the Erwin Center, we went back over to Antone's to see if they were going to show up. While we were outside trying to decide whether we were going to pay the cover or not, we heard this guitar start playing that was unmistakably Stevie Ray Vaughan's guitar tone. We were shocked and of course we paid and went in.
Angela Strehli: I don't think Stevie was originally planning on playing that night because in the few pictures I've seen, I think he's playing [Antone's house band guitarist] Derek O'Brien's Strat.
Miles Zuniga: We were super stoked at the thought of seeing Stevie Ray Vaughan in such an intimate setting. Then we go in and see that Jimmie Vaughan's there too. If I remember correctly, I think Dr. John was playing that night as well.
When U2 showed up to Antone's that night, the plan (if you could even call it that) was for the band to just hang out and soak in the rich blues scene Antone's offered on a nightly basis. That night, swamp blues legend Lazy Lester was originally scheduled to perform but ended up being a no-show. In his absence, a rotating roster of talent graced the stage with one blues classic after another, including ­— as reported by the Austin American-Statesman newspaper — the Vaughan brothers playing together and Antone's mainstay Lou Ann Barton singing a duet of "It's Raining" with Dr. John. (It should be noted that although Dr. John did perform at Antone's that night, there is some dispute as to whether he was still on site when U2 showed up). At some point after 2 a.m., U2 had run out of ways to politely refuse all the requests for them to hop up on stage. It seems that no one is sure who exactly can be credited for closing the deal.
Chris Layton: We're jamming up on stage and then all of a sudden there was a lot of commotion and U2 walks in this little side door. I remember thinking it was pretty wild for U2 to actually show up at Antone's. I remember there was a brief discussion on stage if Bono was going to come up and maybe do a couple songs with us.
Angela Strehli: When they showed up, it caused a minor stir just getting them situated. Antone's wasn't a real big place, so we wanted to make sure they were comfortable and having a good time. Clifford Antone was always welcoming of whoever wanted to come by and even encouraged them to sit in if they wanted to.
Miles Zuniga: I was standing at the bar and Bono walks up and kind of just watches the show for a bit right beside me. Clifford Antone walked up to him and asked if he would please sit in. I remember very vividly Bono nicely telling Clifford that they had just finished a two-and-a-half hour show and were just there to hang out and hear some good blues music. Clifford came back a second time and got the same result. Finally, I think it was Stevie who asked him and at that point he relented, I guess.
Paul Minor: I think it was kind of a reluctant thing for them to get on stage. I think maybe it was Clifford or Stevie trying to make it happen, but Bono and Edge weren't presumptuous about it. They weren't trying to take over. They had just played a sold-out show for more than 10,000 people at the Erwin Center and were at Antone's probably trying to just wind down and hear some Texas blues.
Phil Joanou: It wasn't set up as we're going to go "play" with these guys. It was let's go "see" these guys. It was all completely spontaneous. In fact, it was all T Bone's doing! T Bone kind of orchestrated getting everyone up on stage. He was egging them on and the crowd was loving it. But Bono and Edge were reluctant to get up there. They were not interested in taking over someone else's show. First off, that's not what we went there for. Second, it was not their show and they knew it. It's not in their nature to do something like that. It ended up being a fantastic moment but I think everyone was just initially shocked — Bono and Edge, the crowd, and of course the musicians already on stage.
Sarah Brown: I had no idea they were going to come up until Bono was already on stage beside me. Since they're such good musicians, they were completely aware that they weren't blues musicians. They probably just wanted to come and listen, then it turned into something else.
As heard in the Rattle and Hum film and album, Bono would famously preface Edge's bombastic guitar solo on "Silver and Gold" during this era with the swagger-fueled setup, "Okay Edge, play the blues!" However, during a 2021 Austin City Limits Radio interview, Edge humbly framed the band's relationship to the genre during this period by saying "In that world of the blues, we were novices, we were students." In the same interview, Edge referred to Vaughan's playing on Bowie's "Let's Dance" as "discipline and fire … guitar at its finest" and reminisced warmly about playing with Vaughan and his brother back in 1987. That night at Antone's, after realizing that Bono and Edge weren't exactly well-versed in the vibrant catalog of canonized blues standards, it was decided that everyone would just jam for a bit on a slow blues shuffle while Bono improvised some talking blues lyrics. With Stevie Ray Vaughan on electric guitar, Jimmie Vaughan on lap steel, Layton on drums, Brown on bass, Edge on piano (with Burnett beside him), and Bono on vocals the magical musical moment commenced with Joanou's documentary cameras rolling.
Phil Joanou: I immediately turned my cameras on when we got there. They had these bright lights on them, so I think it became a bit of a scene. As the jam starts up, I can tell Stevie Ray Vaughan and the rest of the band are like "What the hell is happening here?" I remember getting looks from the musicians like, "Who are you and what is this for?" But it's just happening, so what are they going to do? They weren't going to just stop playing, plus the crowd was going wild. That sheepish look on Bono's face is, "Is this okay, should we be here? Are you guys okay with us being here?" They wanted to be sure that the other musicians were cool with them being up there. Plus, on top of all that, they're all being filmed. Afterwards I remember there being a lot of questions about the cameras and what the footage was going to be used for. It seemed that Stevie and the band were thrilled to have Bono and Edge up there but I don't think they were very thrilled to have the cameras rolling.
Sarah Brown: Down and dirty, traditional rootsy blues aren't exactly Bono's forte. He improvised this song and the only parts I really remember was him singing about Stevie's new boots and something about Lou Ann Barton's legs, maybe?
Paul Minor: When the band first got there, Bono and I were able to chat for a bit by the bar and he was just asking me about some of the people that were there. I think Lou Ann Barton was on stage singing and we talked about her for a minute. He asked me about Stevie Ray Vaughan and I mentioned that he had just gotten a new pair of snakeskin boots. Later, when Bono got called up to sing, he didn't know any blues songs so he just started singing about some of the stuff we had just talked about: "I went to Austin, Texas, ran into Stevie Ray Vaughan, and he had these snakeskin boots on." I was like, "That's straight from our conversation!"
Sarah Brown: We were unimpressed, but we were pretty practiced at being unimpressed. It was half "This is pretty cool" and half rolling your eyes. I do remember seeing their drummer, Larry, hanging out in this little room that was often used as a dressing room. When Bono was singing, Larry was standing there laughing and pointing at Bono, having a good time. He seemed really amused by the whole thing.   
Chris Thomas King: I was spending a lot of time with Clifford Antone during this period. We'd see each other almost every day. Musically, U2 wasn't the kind of band that could even impress Clifford because he was just obsessed with blues, Chicago blues especially. But he was accommodating of anyone who was at Antone's and this was certainly a feather in the club's cap. I mean, U2 in 1987, who could say "no" to something like that?
Chris Layton: The most vivid memory I have is being up there playing, Bono is singing in front of me, everybody had finished their requisite solos as happens in a blues jam, and so Bono turns around to me and I thought he said, "Let's take it home." Generally, that means wrap it up, let's go to the end of the song. So, I brought the song to an end and Bono seemed to be a little upset about it. He turned around kind of angrily and said, "I didn't want to stop the song!"
Angela Strehli: From what I could see offstage, towards the end, I saw Bono gave this hand signal, kind of up in the air over his head. In our book, that means we're headed to the end of the song. So, everybody quit playing and Bono seemed real upset about it. He really wanted to keep going for a bit.
Jeff Balke: They didn't play very long. We were outside when they started to leave and I remember Bono signing some autographs from the car. I handed him the magazine I had Edge sign earlier and Bono signed it as well. He was super cool about it. I remember he was using someone else's Sharpie and, typical nice guy Bono, he seemed very concerned about getting it back to the right person.
Although Phil Joanou's cameras had caught most of the night's festivities, none of the Antone's footage made it into the final cut of Rattle and Hum – U2's documentary and accompanying soundtrack-esque album that were released in October the following year. (Though, it should be noted, a 30-second clip of the night did appear in U2's 2011 documentary, From the Sky Down). Celebrating the band's love (and ongoing discovery) of American roots music, Rattle and Hum captured the band in a variety of musical settings — recording at Sun Studios, visiting Graceland, rehearsing with Harlem's New Voices of Freedom gospel choir, playing with B.B. King – all interspersed with concert footage captured while on their massive Joshua Tree tour.
Phil Joanou: In the end, they didn't want Rattle and Hum to be about them as individuals or even them as a band. They wanted it to be about what they were doing musically at that time. That's why all the documentary footage is focused on something intentionally musical. So a fun night out in a great blues club, drinking and being raucous, where they just happened to reluctantly end up on stage jamming with Stevie Ray Vaughan, wasn't intentionally part of their musical journey, so to speak. They didn't want to do a "Crazy Nights Out with U2" segment in the documentary. That's probably why it didn't end up in the movie. They wanted to keep it connected to songs that were going to be on the album as well. I mean, we recorded a great sequence with them playing "Stand by Me" with Bruce Springsteen that didn't make the film either.
Chris Thomas King: I didn't know until seeing Rattle and Hum that they were specifically on that type of musical mission. Growing up in a juke joint as the family business [Tabby's Blues Box in Baton Rouge, Louisiana], I remember artists playing their big shows at the LSU Assembly Center and then coming to our club to have a drink and maybe get on stage to play. So it wasn't unusual to me, that idea of ingratiating yourself to the roots of American blues music — same with bands like Led Zeppelin, Fleetwood Mac, and the Rolling Stones. Many white rock artists have gone into blues spaces to wash themselves in primitivism and it gives them more credibility. I'm not saying they shouldn't do it, because the original artistic source can still get some light and recognition. But I just wish the public wouldn't give so much credit to the Mick Jaggers or the Eric Claptons — not singling anyone out, I'm just using names we know, but we could name a hundred other people doing it. Let me say this though, Edge has done so much with philanthropy, giving back to the musicians of Louisiana, to help musicians through COVID and other things. That's beautiful when you find a way to give back and help your audience to be more conscious of things. I think U2 has done that and balanced it better than some of the other European rock musicians who have cloaked themselves in American blues just to get more popular and sell more records. U2 has handled themselves with much more grace than most others.
Paul Minor: That night at Antone's, their egos weren't on display or anything. I think they were just trying to absorb some Americana or Southern blues culture but they weren't trying to overshadow anybody. They were very much the biggest band at the time, but they knew their place in that setting. They seemed very respectful of the moment.
Chris Layton: My sense of it was that them being in Austin, a pretty significant musical city, they might've thought that being at Antone's would've been a cool little thing for posterity. As opposed to the idea of like, "We're going to go there and stay all night, hang out, and play for an hour or two." With that scene, it was like — Stevie, Jimmie, Bono, and Edge, playing the blues with the Antone's sign behind them all — we want to capture that quick musical moment in time.
Jeff Balke: At the time, I remember thinking that what we had just watched was pretty incredible. But I also remember not ever hearing anything about it. So much so that years later I was questioning myself, "Did that actually happen?" I hopped on the internet a decade or so ago and started digging around and finally found a photo of Bono and Stevie together. Given the unique pairing at that specific moment, I was surprised there wasn't more written about it. That was some pretty substantial legends all at one bar at the same time!
Although a couple hundred people experienced that night and it was even captured on multiple film cameras, there still seems to be an air of mystery around the whole event. For example, when you listen to the 30-second video clip, there's clearly a saxophone playing in the jam, yet no published photographic evidence shows who that saxophone player might be. Some of the mysteries may someday be put to rest, though, as just last year the band completed scanning all of the Rattle and Hum raw footage into upgraded 4K resolution. At the time of publication, no plans have been announced as to what may come of it.
Phil Joanou: Paramount initially bought Rattle and Hum and held the rights for like 20 years or something. After that, all the rights to the movie reverted to the band. So they own everything associated with Rattle and Hum, they just haven't decided yet what they want to do with it. I'm hoping that at some point, everything we shot during that tour — including this night at Antone's — will be made available. There seems to be a lot of audience desire for it.
Jeff Balke: They have the whole thing recorded? They should seriously release that!
Paul Minor: When they got there, it seemed like the documentary film crew materialized out of nowhere. The whole night is probably completely documented. I can picture an expanded Rattle and Hum experience like The Beatles' Get Back film that came out. That would be seriously amazing.
Miles Zuniga: It's hard to explain to people now just how massive U2 was at that moment — and in a very specific 20th-century way. Unlike it is now, fame in the 20th century had such an air of mystery to it that's not as present nowadays. Stars back then were mythic figures that didn't always share ways to peer into their worlds or tell you what they had for breakfast that day. You had to fill in all the blanks yourselves. If this were to happen today, there'd be a hundred videos of it on YouTube the next day. So even if you weren't there, you could immediately see what it sounded like and what everybody looked like. But to truly experience this one, I know it's a cliché, but you really had to be there.
---