ODE TO BOBBIE GENTRY: CELEBRATING A LIVING LEGEND
Posted On October 30, 2018
---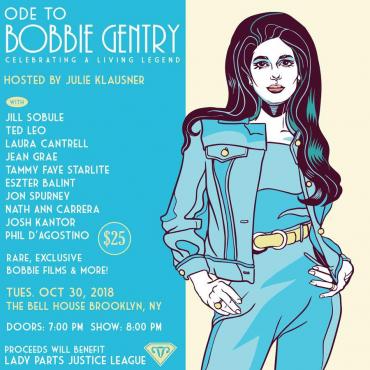 ODE TO BOBBIE GENTRY:
CELEBRATING A LIVING LEGEND
TRIBUTE SHOW FOR
COUNTRY MUSIC CULT HEROINE
OCTOBER 30TH AT
THE BELLHOUSE IN BROOKLYN
In 1967, Bobbie Gentry released the Billboard chart topping and Grammy-winning single, "Ode to Billie Joe," and followed up her enormous success with a string of popular albums and a stint hosting a successful variety show in Las Vegas. By the beginning of the 80s, Gentry retired from music and disappeared into private life.
Despite her reclusiveness, Gentry's legacy continues to inspire musicians across the board as artists such as Lucinda Williams, Rosanne Cash, Beth Ditto, Jill Solbule, Tony Joe White and Adam Weiner of Low Cut Connie all cite the singer as an influence.
On October 30th, the Bellhouse in the Gowanus neighborhood of Brooklyn will play host to an all-star, one-night only tribute to Bobbie Gentry that will include musical performances and the exclusive world premiere of never-seen archival footage of the cult heroine performing in Vegas, an era mostly undocumented until now.
"Ode to Bobbie Gentry: Celebrating a Living Legend" is being presented by author Tara Murtha ("Ode to Billie Joe") and director Rachel Lichtman (Network 77).
Of the event, author Murtha says, "Rachel and I became inspired to organize this show to coincide with the release of the legacy-defining Bobbie Gentry box set. Once the word got out, a slew of amazing musicians stepped up wanting to play their favorite Gentry tunes. Once Julie Klausner agreed to host, we knew we were going to have a very special show. Julie's not just hosting but also performing, "Fancy." It was exciting to get to show her footage I have of Bobbie performing "Fancy" on stage in Las Vegas. Bobbie's take on "Fancy" just got more radical through the years. By 1974, she was singing lines from "House of a Rising Son" and then sliding into "Fancy" while entering the stage on a spiral staircase spinning in a giant glittering birdcage."
"The show is being presented with a very countrypolitan, variety show vibe. Elegant, but playful. We're definitely here to bring the razzle-dazzle.
Musicians will be playing selections from Bobbie's entire songbook, and I'll be screening films from Bobbie's Vegas performances. Bobbie Gentry's stage career in Las Vegas lasted three times longer than her stint at Capitol Records, and yet most of that history has been lost until now. Gentry shows broke Las Vegas strip records for both attendance and paycheck, and were regarded as the gold standard."
The one-of-a-kind show will be hosted by comedienne Julie Klausner and features performances by Klausner, Jill Sobule, Ted Leo, Laura Cantrell, Jean Grae, Tammy Faye Starlite, Eszter Balint, Jon Spurney, Nath Ann Carrera, Josh Kantor, Phil D'Agostino and … and more surprise special guests.
The film premiere part of the show features Gentry's regal and defiant performance of "Fancy," Gentry swinging from the ceiling in a metallic gold bodysuit to "Lucy in the Sky with Diamonds," and the holy grail for Gentry fans: the iconic, gender-bending spectacle of Bobbie Gentry performing as Elvis Presley, karate kicks and all.
In the wake of a just-released legacy-defining box set out from Universal Records and a critically acclaimed book-length examination of her career for the celebrated 33 ⅓ book series, this show celebrates Bobbie Gentry's pioneering musical and theatrical accomplishments at a moment when Gentry is finally being fully recognized as the trailblazing singer/songwriter/multi-instrumentalist/producer she told us she was before hanging up her heels and retiring from show biz in the early 1980s.
If You Go
When: October 30, 2018
What: Ode to Bobbie Gentry: Celebrating a Living Legend
Where: Bell House, 179 7th Street, Brooklyn, NYC
Doors at 7:00 PM, Show at: 800 PM EST
Tickets: $25
https://www.thebellhouseny.com/event/1765339-ode-bobbie-gentry-brooklyn
This show is a benefit, with proceeds going to Lady Parts Justice League.
---