O Brother, Where Aren't Thou?: The Two-Decade Cultural Impact of 'O Brother, Where Art Thou?'
Posted On December 14, 2020
---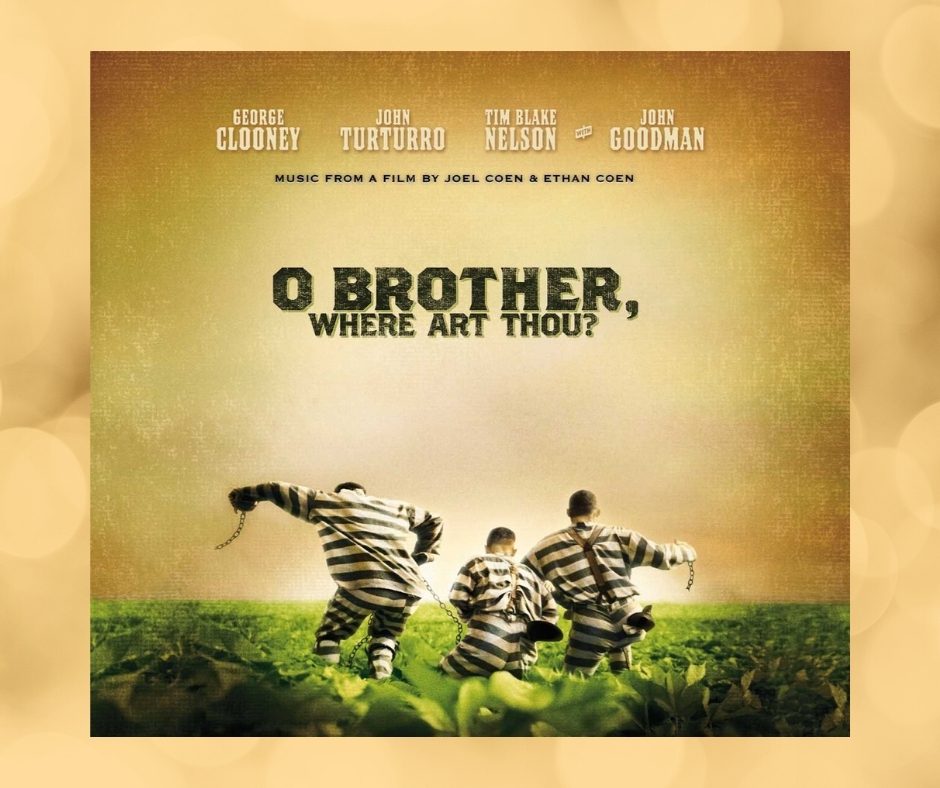 The year 2000 was an absolutely dizzying time to be a music fan. Intricately constructed boy bands and hyper-objectified teen divas ruled radio, MTV, and record sales, with the top two best-selling albums of the year being NSYNC's No Strings Attached (9.9 million copies) and Britney Spears' Oops! … I Did It Again (8.8 million copies). Three of the year's Top 5 charting singles (Madonna's "Music," U2's "Beautiful Day," and Bon Jovi's "It's My Life") were from seasoned artists who many critics accused of hitting their commercial peaks sometime in the 1980s. Plus, much like they surprised everyone in the mid-1990s with their expansive Anthology project, The Beatles once again offered a new release — their compilation of No. 1 singles, sensibly titled 1 — that immediately became a pop cultural juggernaut, selling more than 31 million copies worldwide and earning the distinction of being the single best-selling album of the entire 2000s in the United States.
Sneaking into this perplexing musical environment like a drop of water into an oil spill was the soon-to-be-legendary soundtrack to the Coen Brothers film O Brother, Where Art Thou?, which celebrates its 20th anniversary this month. While the album would make a surprisingly long run to the No. 1 spot on the Billboard 200, win almost a half dozen Grammy awards, and eventually be certified 8x platinum, it initially appeared as an eclectic anomaly among the new millennium's forward-leaning pop stars.
Set against the backdrop of the Depression-era, Jim Crow South, the satirical comedy is a loose reimagining of Homer's ancient Greek epic The Odyssey, right down to having a main character named Ulysses (a post-ER George Clooney), a twisting homeward journey, a trio of sirens, and its very own Polyphemos-like cyclops (courtesy of John Goodman's eye patch-sporting character, Big Dan Teague). However, arguably the most notable component of the movie is its ever-present musical tableau, a rich tapestry of early American roots music — bluegrass, gospel, blues, country, folk — masterfully curated and recreated by award-winning producer T Bone Burnett.
"Ethan Coen called me and asked, 'How would you like to make a movie about the history of American music?'" Burnett recalls, adding with a hearty laugh, "I mean, that's one hell of an elevator pitch."
Having already worked with Joel and Ethan Coen on their 1998 film The Big Lebowski, Burnett was excited to once again be handed the musical reins for one of the duo's unorthodox cinematic works. One major difference this time around is that the music would actually come first, with Burnett compiling a deep catalog of what was then being referred to as "old-time music" — Appalachian folk songs, gospel numbers, bluegrass traditionals — to be incorporated directly into the script as it was being written. Throughout the process, Burnett was also trying to find the right balance of older recordings and newly fashioned interpretations by artists like Alison Krauss, Ralph Stanley, Emmylou Harris, Gillian Welch, and Dan Tyminski.
"There weren't any specific rules for what older songs we would use versus what we would re-record," Burnett says. "It was just a natural process of letting the songs themselves decide. For instance, on a chain-gang song like 'Po' Lazarus' by James Carter and the Prisoners, as they were called on the old Alan Lomax recording, there was no possible way to reproduce that sound. We knew we were going to be using it for the very beginning of the movie, so it had to be completely genuine and authentic. It couldn't have anything Hollywood about it. It had to have that specific dirt and sweat on it from the 1959 recording."
"For me, the north star of the whole project was the song, 'O Death,'" he continues. "Since the 1960s, I've loved this old version of Dock Boggs doing it because it always struck me as being so chilling. For the film, we were working in epic Greek themes, which were always about dealing with fate. To me, 'O Death' was talking directly to fate, the thing that's coming for you, and the faster you run away from it, the closer it gets to you." While Burnett had initially envisioned the legendary Ralph Stanley cutting a new banjo-fueled version of "O Death" for the soundtrack, the story goes that once Stanley got to the studio, he convinced Burnett to let him have an instrument-free go at it, creating a distinctively haunting a cappella version of "O Death" that hearkened back to his Primitive Baptist Universalist church upbringing in Appalachian Virginia.
For the songs that were getting modern-day re-recordings, Burnett and his team weren't interested in digitally fabricated sonic sepia tones. Instead, they recreated vintage recording techniques and blended them with the technological advancements in audio output to create updated versions of these decades-old songs.
When it came time to pick a theme song for the film's main character, Clooney's Ulysses Everett McGill, Burnett didn't have much trouble deciding on "I Am a Man of Constant Sorrow," an early 20th-century American folk song originally published by a partially blind musician from Kentucky named Dick Burnett (though some musicologists trace its origins further back to an old English broadside). "'Man of Constant Sorrow' was certainly a perfect rewrite of the whole Odyssey in a way," Burnett says. "Odysseus truly was the man of constant sorrow."
However, truth be told, Burnett's connection to the track as a potential theme song for the main character in a Coen brothers film stretched back a bit further. "When we were looking for a theme song for The Dude in The Big Lebowski, I actually proposed 'Man of Constant Sorrow' for him," laughs Burnett. "I though he was that sort of epic hero, where fate was constantly rolling over him — in that case, fate was in the form of having the same name as another guy who was mixed up in all this crazy stuff. We ended up going a different direction with Lebowski, using Captain Beefheart and Creedence Clearwater Revival to establish his musical identity. But honestly, there's less difference between Creedence's 'Fortunate Son' and our version of 'Man of Constant Sorrow,' than there is between it and some of the older versions. When Dan Tyminski played that polyrhythmic guitar part that kicks off 'Man of Constant Sorrow,' nobody had ever done that before in bluegrass music. I've always thought it's a lot closer to a Traffic record than a Monroe Brothers record."
The Sweet Spot of 'Constant Sorrow'
By the time the O Brother, Where Art Thou? project came along, Dan Tyminski had already been playing guitar as a member of Alison Krauss & Union Station for almost a decade. A serendipitous chain of events led to him providing lead vocals for Clooney's Ulysses in the song's in-film appearance of "I Am a Man of Constant Sorrow" and recording two different versions of it for the soundtrack.
"Early on in the project, our manager, Denise Stiff, was helping T Bone out with trying to wrangle up artists to participate in the soundtrack," Tyminski says. "As the full band, Alison Krauss & Union Station, we all went in to audition because we were huge fans of the Coen Brothers and of T Bone as well. While we were there, Denise mentioned that they were still looking for the person who would be George Clooney's singing voice and she threw my name out there as a potential candidate. They told me to come back by myself the next day and I ended up doing a version of 'Man of Constant Sorrow' that was nothing like what ended up on the soundtrack. But the stars aligned, they saw what they were looking for, and called me back the next day to offer me the gig."
As is the case with the hand-me-down nature of most traditional folk songs, there have been multiple recordings and interpretations of "Man of Constant Sorrow" over the decades from which Tyminski could pick a reference point. These include Sarah Ogan Gunning's gender-swapped "I Am a Girl of Constant Sorrow" from Alan Lomax's 1930s recordings, multiple arrangements by the Stanley Brothers throughout the 1950s, Jerry Garcia's a cappella live version from the early 1960s, and Bob Dylan's solo acoustic version from his 1962 self-titled debut LP. "More than any other version, I was most familiar with Ralph Stanley's arrangement of the song," says Tyminski. "For the audition, I decided to do a more traditional bluegrass take on it: much higher, must faster, less swampy. We ended up dirtying it up a bit for the final film version, which I thought gave it the right character that it needed."
With the film's main theme locked in, Burnett continued to fashion the soundtrack's retro-tinged roster of songs around it. He secured the original 1928 recording of Harry McClintock's "Big Rock Candy Mountain." He had blues musician Chris Thomas King (who plays Tommy Johnson in the film, a hybridized character based on real-life Delta bluesmen Tommy Johnson and Robert Johnson) play Skip James' influential "Hard Time Killing Floor Blues." He called on the otherworldly, DNA-level harmonies of multiple family-based groups, such as The Whites singing "Keep On the Sunny Side," The Cox Family's bluegrass sway of "I Am Weary (Let Me Rest)," and the young sibling vocal trio The Peasall Sisters' charmingly youthful take on Maybelle Carter's "In the Highways." Burnett also recorded Alison Krauss for three separate tracks: her own pass at the gospel folk hymn "Down to the River to Pray," a crystalline bluegrass duet of "I'll Fly Away" with Gillian Welch, and the enchanting "Didn't Leave Nobody But the Baby" featuring Krauss, Welch, and Emmylou Harris.
After a brief hiccup with the film's original release date — "It was initially supposed to come out in the summer of 2000," Burnett says, "but it got postponed towards the end of the year because when we took the finished film into the studio, the guy who had originally signed off on it had just been bounced that exact morning and this whole new regime of shell-shocked executives didn't what to do with it" — it was eventually given a staggered limited release in theaters and the soundtrack hit stores a couple weeks before Christmas.
Recalls Burnett: "Luckily enough, the movie and the soundtrack both started doing really well in tandem with each other. Back then, there were still a lot of movie theaters inside of malls and folks could walk right out of the movie, take a few steps to the record store, and buy the soundtrack. The more records that sold, the more theaters the studio would put the movie in, and it just kept growing together like that. After its initial run in theaters, every time the movie went to a new format — cable, broadcast TV, DVD — there would be another wave of interest and spike in sales of the soundtrack each time. It was all very organic."
Although the album that didn't possess the conventional means of promotion — no spotlight artist stadium tour, no monster radio hits, no slickly-produced music videos for Carson Daly to play on MTV's TRL — it did astoundingly well in mainstream pop culture over a surprisingly lengthy period of time. A month before the record celebrated its one-year anniversary, it was certified triple platinum. At the 2002 Grammy Awards, it won five separate awards, including Album of the Year, Best Compilation Soundtrack Album for a Motion Picture, Best Male Country Vocal Performance (Ralph Stanley's "O Death"), Best Country Collaboration with Vocals (The Soggy Bottom Boys' "I Am a Man of Constant Sorrow"), and Best Traditional Folk Album for the soundtrack to the accompanying documentary/concert film Down from the Mountain. A month after the Grammys, the O Brother, Where Art Thou? soundtrack beat out superstar artists like Brandy, Alanis Morissette, and Linkin Park to hit No. 1 on the Billboard 200, having been on the chart for 62 weeks at that point. All in, it remained on the chart for 101 weeks, just shy of two straight years. The album would eventually go on to be certified 8x platinum in 2007.
Opening Doors
As Americana Music Association Executive Director Jed Hilly sees it, the incredible successes the O Brother, Where Art Thou? soundtrack achieved and the celebratory critical and commercial responses it received felt like the fitting culmination of a genre groundswell that started a few years prior.
"There were some pretty important things going on in the music business in the 1990s that affected what we now call Americana," says Hilly, who was an executive at Sony Music at the time. "The FCC rulings changed the way radio existed where it went from 10,000 different radio stations being run by 10,000 different owners to those same 10,000 radio stations being bought up and corporatized by like 10 companies. You also had the advent of SoundScan, which caused an artist like Garth Brooks, who had never appeared on a pop chart before, to hit No. 2 on the very first SoundScan chart. All of a sudden, artists associated with what Steve Earle called the 'great credibility scare' — Rodney Crowell, k.d. lang, Dwight Yoakam, Emmylou Harris, Rosanne Cash — all of a sudden, the Nashville music business had no interest in any of them. They were only after artists like Garth Brooks and Shania Twain. Throw in the rising alt-country movement with Uncle Tupelo and The Jayhawks, as well as Johnny Cash going to work with Rick Rubin; all that set the stage for the environment into which O Brother was dropped in 2000. The audience was there, they just needed the commitment and delivery by the right group of record company, producer, and artists. O Brother hit all those chords perfectly."
Audience response is also where Dan Tyminski saw the biggest fingerprints of the soundtrack's significant pop cultural impact. "What I noticed after the release of O Brother was that our audience demographic significantly changed and expanded," he says. "Amongst the people that we normally saw at our shows, there was now this new crop of younger fans with rock band T-shirts and facial piercings. Attendance was tripling at bluegrass festivals with no other change but that movie and soundtrack being released. It really made me aware of how many people outside of our genre were affected by O Brother. I haven't personally seen a record impact so many people outside of its built-in genre at that magnitude before or since."
Tyminski also credits his appearance on the soundtrack with expanding his creative prospects and collaboration opportunities as well. "It gave me a level of notoriety I don't think I could've ever had without it, and it's opened the door for people to want to write and record with me who probably wouldn't have come across my music otherwise" says Tyminski. "In a weird way, it was kind of the genesis that sparked me doing 'Hey Brother' with Avicii, because they wrote that song with me in mind after hearing 'Man of Constant Sorrow.'"
The late EDM artist Avicii asked Tyminski to provide the vocals for his dance-pop single "Hey Brother" in 2013, and the multi-genre hit landed on the US pop, country, dance, rock, and Top 40 charts. It also became a global No. 1 smash, topping the charts in over 20 countries, including France, Brazil, and Spain. "Technically, that song is my biggest hit, and it's in EDM music," laugh Tyminski. "It shows you that the success of O Brother wasn't just a fluke. It affected other music fans, other artists, and other genres. Acoustic bluegrass music has never been meant to be played to huge audiences, but it's affected music that has filled stadiums. Just this past year I played 'Hey Brother' at a tribute concert for Avicii in an arena filled with 60,000 people who were screaming for a song that never would've happened without the O Brother, Where Art Thou? soundtrack."
Burnett likewise saw the audience love and industry accolades for the album pay off for the artists involved, and has been gratified to see it spread far beyond.
"With 'Man of Constant Sorrow,' there were all these really great versions to choose from, but our arrangement was mainly patterned on the Stanley Brothers version, where there was a bit of a call-and-response thing going on," he says. "So, we ended up licensing it from Ralph Stanley, which I was really happy about because he got paid on all of those multiple versions of 'Man of Constant Sorrow' that appear on the soundtrack. He was able to get a new tour bus and he even bought a new Jaguar!"
The bluegrass icon wasn't the only one to see significant royalty payouts on his decades-old catalog songs. "One other piece of restorative songwriting justice that I'm pretty proud of is, after the soundtrack was a hit, the Lomax family started looking for James Carter, because they thought he might still be alive," Burnett says, excitedly getting into storytelling mode. "They hired a detective and eventually found him in Chicago. Out of the blue, they knocked on the door and presented him with a big $20,000 royalty check for 'Po Lazarus'. With the success of the film and soundtrack, artists like James Carter, Ralph Stanley — oh yeah, I heard the Fairfield Four were able to pay off their houses — those are such wonderful stories and happy endings tied to the success of the whole thing. A lot of good came out of the movie and it was really cool to see it get spread around like that."
An Americana Milestone
Over the last 20 years, the O Brother, Where Art Thou? soundtrack has continually been credited with ushering in the mainstream resurgence of American roots music and accelerating the rise of the tradition-steeped, boundary-refusing Americana genre. Within that community, the album is often celebrated for casting a long shadow that has shaped other mainstream milestones such as the chart-topping, Grammy-sweeping, platinum-selling 2007 album Raising Sand by Robert Plant and Alison Krauss, the Grammys adding a new Best Americana Album award category in 2010, and even Merriam-Webster adding the musical definition of "Americana" to the dictionary in 2011.
"O Brother was definitely one of the first big multiplatinum records in that incarnation of the Americana world," acknowledges Hilly. "The timing of it was massively significant for the Americana movement and T Bone is such an omnipresent figure in the community. Along with artists like Levon Helm, Bob Dylan, and Emmylou Harris, T Bone is one of the vital godfathers of the movement. He's on the ground floor of the whole thing."
But from Burnett's perspective, the larger cultural impact, genre-shaping praise, and commercially quantifiable successes aren't where his proudest moments and personal satisfactions come from — "I haven't looked at any album charts since the 1960s," he laughs. Instead, he takes pride in the way the album has found its way into the individual stories of so many listeners.
"The thing that has stuck with me the most over the years," Burnett says, "is how many people have told me that they've played these songs at their weddings and at family members' funerals and all these other major life events. Or that they remember their grandfather playing one of these songs on the front porch when they used to go visit him when they were children. These songs have entered so many personal lives at important moments and people seem really happy to have both those old reminders and the new memories. Something I always tell the artists I work with is that the song's arrow shouldn't point to themselves, it should point to the listener. Every time someone tells me a personal story about a touching moment involving a song from O Brother, then I'm reminded that we were successful at the most important thing."
---
To comment on this or any No Depression story, drop us a line at letters@nodepression.com.
---