No Depression Readers' 50 Favorite Roots Music Albums of 2021
Posted On December 20, 2021
---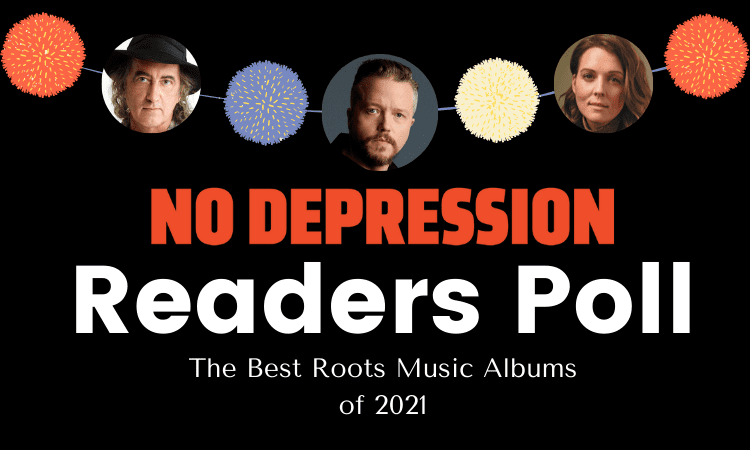 In a year where people were mostly kept apart by the ongoing COVID-19 pandemic, music brought us together. By summer, we were venturing out to see live shows, mostly outdoors, often at a distance still, but all through 2021, recorded albums brought solace and strength, even if we were just dancing alone in our living rooms.
And while chicken wings and cream cheese and semiconductors may have been in short supply, good albums absolutely were not. We asked No Depression readers to share their favorite roots music albums of 2021, and this list is the result. We hope you'll see some of your favorites here, and find some new ones as well!
Tune in next week for the results of our Critics Poll — a list of the roots music albums that captured the hearts and minds of No Depression staff and contributors. (UPDATE: The Critics Poll is now posted.) And don't miss our playlist of songs from both the Readers Poll and the Critics Poll at the end of this post.
For the Top 10, click on the album name to read ND's full review or story from earlier this year. We reviewed most of the rest of the list too —use the search function at the top of the page to find those. 
Back in November 2020, Isbell promised to record a cover album of songs from Georgia-born artists if the electoral results from the Peach State came out in favor of Democrat Joe Biden, or, in the parlance of political pundits, went from red to blue. It did, and Isbell has fulfilled that promise with the release of Georgia Blue. If the 2020 election showed that the South isn't a political monolith, Isbell's track selection highlights the musical and cultural diversity of the region as well. — Jim Shahen
Though McMurtry spends little time worrying about his identity, it's clear that he will forever be celebrated as an inimitable songwriter. Whether he's a "road dog" or, in the pandemic era, a YouTube livestreamer, it's his writing that sets him apart from nearly everyone around him, and that gift reaches new heights on The Horses and the Hounds. — Chuck Armstrong
From the outside, the past few years have seemed nothing short of sublime for Carlile: on-stage collaborations with nearly everyone at the 2019 Newport Folk Fest, the rip-roaring success of The Highwomen, multiple Grammy nominations for her own work and for her turn at producing on Tanya Tucker's triumphant album, the publication of her blockbuster memoir Broken Horses, winning the Americana Music Association's award for Artist of the Year. But In These Silent Days grapples with the rockier aspects of Carlile's life. — Rachel Cholst
Much of Raise the Roof is comparable to Raising Sand. Amid a similar running length and number of tracks, Burnett maintains a similar sonic hue. But what helps Raise the Roof stand on its own is the track selection, which incorporates a few styles unexplored on its predecessor. — Jim Shahen
On his latest release, You Get It All, Carll keeps things straightforward. Its country compositions are lean, even simple — think Townes Van Zandt or Billy Joe Shaver — and serve as ideal vehicles for Carll's primary gift as a mesmerizing wordsmith. — Matt Conner
In less than 30 minutes, Sturgill Simpson weaves an incredible tale of love, friendship, heartache, and death on his new album, The Ballad of Dood and Juanita. Though it's broken into 10 individual tracks, the record stands as a singular experience, one that tells the story of Dood, a Kentuckian whose father was a mountain miner and mother was a Shawnee maiden. — Chuck Armstrong
Billy Strings and his band continue to show the direction bluegrass can go, offering multiple paths full of promise, beauty, and explosive joy. Renewal will assert to new listeners what his fans already know: Strings is a singular talent pushing his genre into new territory. — Matt Ruppert
Earle and his band, The Dukes, pay beautiful, if painful, homage to Justin's life and 13-year solo career with J.T., which comes out on what would have been Justin's 39th birthday. To hear Earle sing words penned by his son — like "I know the difference between tempting and choosing my fate" on "Harlem River Blues" — is to hear the fatherly embodiment of sorrow. Though the songs are recognizable as Justin's, Earle and The Dukes put their distinct spin on each, lifting them up as timeless stories that somehow break through that sorrow without ever breaking out of the agonizing reality in which they exist. — Chuck Armstrong
Allison Russell's first solo album, Outside Child, soars on wings of resilience and redemption, but not before walking through the valley of the shadows of pain and abuse and desolate loneliness. Although Russell bares the pain of the violent abuse she suffered as a child at the hands of her stepfather, she refuses to wallow in the pain or to be buried by it, and these songs are her exultant shout that such circumstances can be transcended. — Henry Carrigan
When Hiatt and Douglas talk about Studio B, there is a clear admiration for its history as well as a sort of disbelief that they were able to make a record in that room in the middle of a global pandemic. "There's a little taped 'X' on the floor where Elvis had his sweet spot," Hiatt remembers. "It was his spot for singing. I'll never forget that. There we were." ­— Chuck Armstrong
11. Los Lobos – Native Sons
12. Charley Crockett – Music City USA
13. Son Volt – Electro Melodier
14. Alejandro Escovedo – La Cruzada
15. Yola – Stand for Myself
16. Aaron Lee Tasjan – Tasjan! Tasjan! Tasjan!
17. Rhiannon Giddens and Francesco Turrisi – They're Calling Me Home
18. Jackson Browne – Downhill from Everywhere
19. Sierra Ferrell – Long Time Coming
20. Amythyst Kiah ­– Wary + Strange
21. Béla Fleck – My Bluegrass Heart
22. Sarah Jarosz – Blue Heron Suite
23. The War on Drugs – I Don't Live Here Anymore
24. Morgan Wade – Reckless
25. Hiss Golden Messenger – Quietly Blowing It
26. /27. (tie) Rodney Crowell – Triage
26. /27. (tie) Valerie June – The Moon and Stars: Prescriptions for Dreamers
28. Molly Tuttle – … but I'd rather be with you too
29. Aimee Mann – Queens of the Summer Hotel
30. Emmylou Harris and the Nash Ramblers – Ramble in Music City: The Lost Concert
31. Neil Young and Crazy Horse – Barn
32. Adia Victoria – A Southern Gothic
33. Lukas Nelson and The Promise of the Real – A Few Stars Apart
34. American Aquarium – Slappers, Bangers and Certified Twangers, Vol. 1
35. Kacey Musgraves – star-crossed
36. /37. (tie) Tedeschi Trucks Band – Layla Revisited (Live at LOCKN')
36. /37. (tie) Nathaniel Rateliff and the Night Sweats – The Future
38. Jesse Malin – Sad and Beautiful World
39. / 40. (tie) John R. Miller – Depreciated
39. / 40. (tie) The Black Keys – Delta Kream
41. The Wallflowers – Exit Wounds
42. Todd Snider – First Agnostic Church of Hope and Wonder
43. Courtney Barnett – Things Take Time, Take Time
44. Emily Scott Robinson – American Siren
45. / 46. (tie) The Felice Brothers – From Dreams to Dust
45. / 46. (tie) Various Artists – Broken Hearts and Dirty Windows: Songs of John Prine, Vol. 2
47. /48. (tie) Various Artists – Highway Butterfly: The Songs of Neal Casal
47. /48. (tie) Gov't Mule – Heavy Load Blues
49. The Flatlanders – Treasure of Love
50. Christone "Kingfish" Ingram – 662
---