No Depression Critics' 20 Favorite Roots Music Albums of 2019
Posted On December 26, 2019
---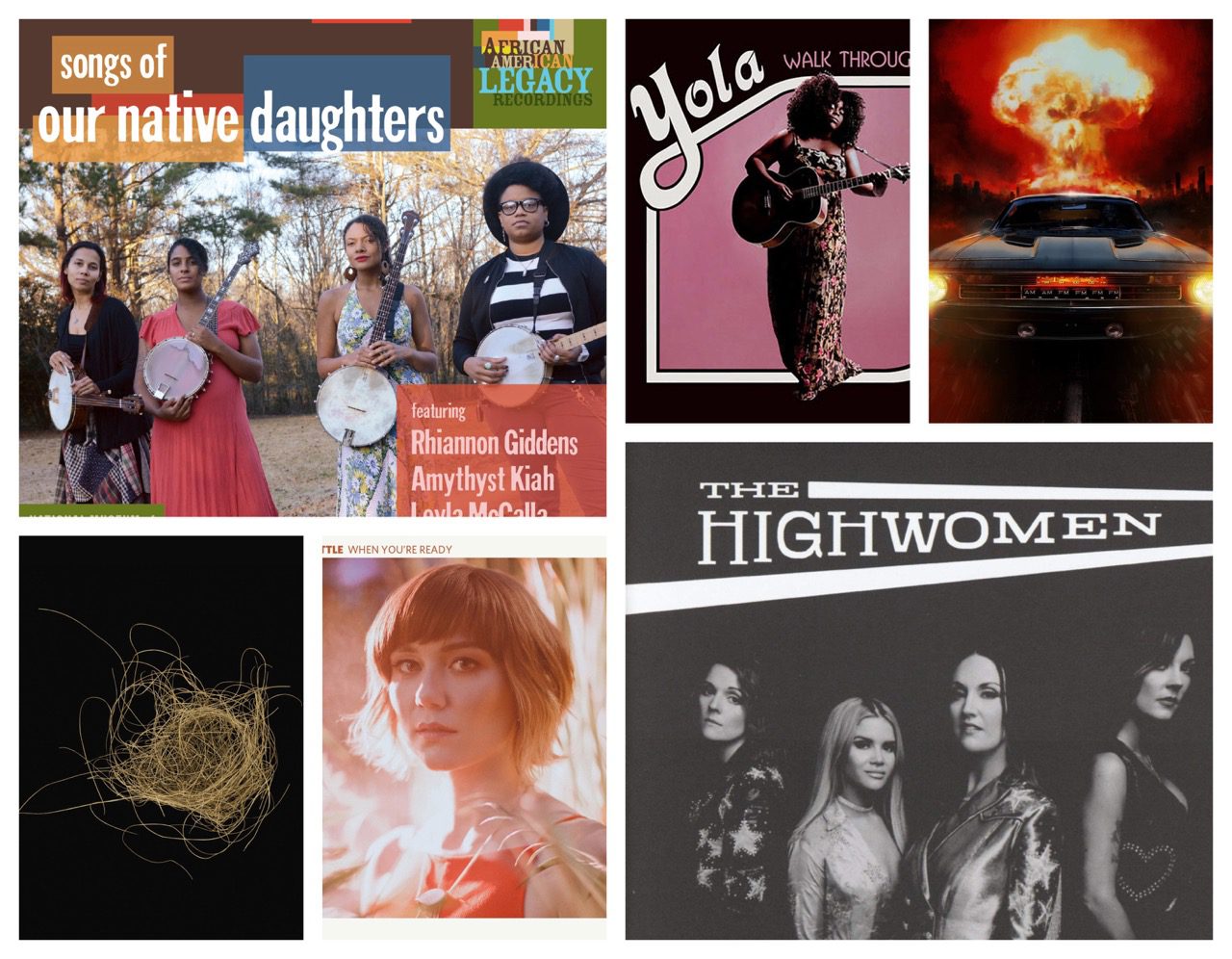 Throughout the year, the reviewers, columnists, writers, and staff at No Depression have our radars up and ears tuned to great roots music. We hear the good, the not-so-good, and, occasionally, the ugly. But the good stuff really sticks with us. It's the albums we can't shut up about, the songs we blast in our cars, and the shows we go to every chance we get. Because we're fans, too, even as we take a professional approach to writing about music here at ND.
Just like we asked readers for their list of favorite roots music from 2019, we put that daunting task to our writers, too, and from their picks we've come up with a list of the top 20 albums that we enjoyed this year. The list is topped by two all-women supergroups, whose songs tell stories from the past and address life in today's world in innovative — and highly enjoyable — ways. Read more about those and each of the albums on the list by clicking on the album name, which will take you to No Depression's review or story on the album from earlier this year. (Those reviews/stories are excerpted below each list item, too.) You can find a Spotify playlist featuring songs from albums that made our critics' and readers' lists at the end of this post.
Contributing to this list were No Depression reviewers John Amen, Chuck Armstrong, Rachel Cholst, Matt Conner, Michael Davis, Mike Elliott, Maeri Ferguson, Jeremy Gaunt, Corbie Hill, Carena Liptak, Bobby Moore, Jim Shahen, Laura Stanley, and Jon Young; writers David Masciotra and Kelly McCartney; columnists Henry Carrigan, Chris Griffy, and Amos Perrine; and assistant editor Stacy Chandler, marketing and social media manager Adam Kirr, advertising manager Sonja Nelson, and managing editor Hilary Saunders.
We thank them for their hard work all year and look forward to the reviews, columns, and articles they'll bring to No Depression readers in 2020!
Our Native Daughters, the folk collaborative of Rhiannon Giddens, Amythyst Kiah, Leyla McCalla, and Allison Russell, use their gifts and their grace to highlight the stories of not just their ancestors, but our ancestors. To them, giving voice to the voiceless is both a privilege and a responsibility.
Everyone involved has known all along that there is something very, very special about this particular joining of forces. As Amanda Shires and Brandi Carlile have said from the beginning, The Highwomen is more than just a band; it's a movement. And they have the matching tattoos and necklaces to prove it.
We don't hear stories like Yola Carter's too often. She grew up poor in the UK; wasn't allowed to make music despite her natural inclination toward it; overcame homelessness, a house fire, and an abusive relationship; and even suffered the loss of her voice. But the tragedies of her past have all led to her stunning debut record, aptly titled Walk Through Fire.
Now, at age 26, Tuttle is fully spreading her wings with her debut full-length album. It's a statement, she says, of who she is now. It's bluegrass and folk, but also rock and pop. It's happy and sad and confident and confused — real, in other words, especially as a reflection of a woman in her 20s.
Sound & Fury is Sturgill Simpson's loudest and most confounding album. And if artistic excellence is marked by perpetual evolution, a nagging insistence to challenge assumptions and an obsession with resisting stasis at all costs — all while delivering a blistering statement — then Sound & Fury may be his best output yet.
Bandleader M.C. Taylor is telling a story bigger than lamentation and grief on his new record. As he pursued salvation in writing the songs that would eventually turn into Terms of Surrender, he was reminded of the power of love. "I had a dream once, many years ago, where I heard a voice say 'God is love,' and I felt it with my whole being," he writes. "This record is a reminder of that dream."
Underneath guitar melodies that seem to glide on warm California air, and Eric D. Johnson's singular falsetto harmonies, he is working through some dark, existential anxieties on Gold Past Life. But that's what makes these songs so sublime. They make us feel seen and expose the silver lining we need to keep going, even when life feels utterly depressing.
These songs don't just benefit aesthetically from her willingness to take risks, they deserve it. There are orchestral string moments both sparse and dramatic, and vibrant and cacophonous. There is romance, rage, humility, and self-discovery. Olsen finds herself straddling the line between repeating past mistakes and learning from them. But most importantly, she's exploring the particular experience of being a woman still figuring out what exactly she wants in her own time.
With Country Squire, Tyler Childers continues to impress and live up to the hype. As a singer, songwriter, and composer he's helping to move country away from oft-maligned tropes and bland hooks. And, along with other extraordinarily talented artists, he's helping to restore heart and quality to a genre rich in tradition and quality.
A true protest album, Union feels like a productive contribution to the artistic conversation. It serves as a showcase for Jay Farrar's intricate storytelling, and ultimately, a kind of homage to traditional folk music, the intent of which was to make statements on behalf of the people – the 99 percent.
With her third album, Designer, Aldous Harding further refines the impressive craft introduced on her 2014 debut and honed on 2017's Party, continuing to mine her signature takes on avant-garde folk and textural pop.
There is a tangible soul to Norgren's music that is not only rare to find, but impossible to insert on purpose. It's just there. If Wooh Dang sounds like it was recorded in an old rustic farmhouse in the Swedish woods, it's because it was. Norgren and his bandmates took up stead in a rickety home and recorded the collection of songs all to tape, using an old German piano that had been left to whatever spirits still reside there.
Delbert McClinton has been burning down roadhouses and concert halls for over 60 years now, building a resume that is unequaled not only in roots music, but in show business in general. A new album from this Americana legend should always be treated as a major event, simply because he consistently delivers the goods. Tall, Dark, & Handsome is no exception.
Tanya Tucker has survived more rounds than most professional pugilists. The smoky-voiced singer has climbed into the ring with trouble and hard times and fought 'em all to a TKO. You can hear it in her voice and see it in her face. Her latest release, While I'm Livin', is a career high, a proclamation of victory in her heavyweight bouts.
Tough, assaultive, and ear splitting when it needs to be, balanced and tender when the song demands it, Colorado incorporates all of the best aspects of the music Neil Young and Crazy Horse have been putting out for half a century. It's one for the ages.
If Mavis Staples allows anybody to put words in her mouth these days, let it be Ben Harper, who lets her express herself through her still glorious voice while he whispers in her ear. It's a match made in heaven.
Though they could be a perfect fit for mainstream pop country radio, Anne's songs possess a real authenticity and depth that's lacking in the faceless anthems about cut-off shorts and pickup trucks in that realm. They are writerly and self-assured, even when they're full of uncertainty. Desert Dove is filled with romantic declarations of love and of finding independence, of carving out your own place in the world.
Buddy Miller has a beautiful studio in their home on 20th Avenue South in Nashville, but the couple didn't make the album there. After recording one song — "I'm Gonna Make You Love Me" — in a tiny space in an upstairs bedroom, they so liked the emotional clarity of the sound they kept recording there. Buddy admits that it was a challenge to record in such a small space, but, he says, "we have this honest batch of songs recorded in an honest fashion."
The wisdom beyond her years we saw glimmers of in 2016 and in the singles she put out in between is beaming full-force on Crushing. Though it captures Julia Jacklin in the midst and aftermath of ending a relationship, Crushing is more than just a "breakup album." It is an empowered grab at self-discovery in the wake of a significant shift.
Like the artifacts she found growing up in Kentucky along the Ohio River, Waldon has sprinkled voice memos from her home life throughout the album, giving us glimpses of the people who return her to herself and tie her to her sense of place.
---
To comment on this or any No Depression story, drop us a line at letters@nodepression.com.
---