Nickel Creek and Punch Brothers Join Forces For an Unforgettable Night at Carnegie Hall
---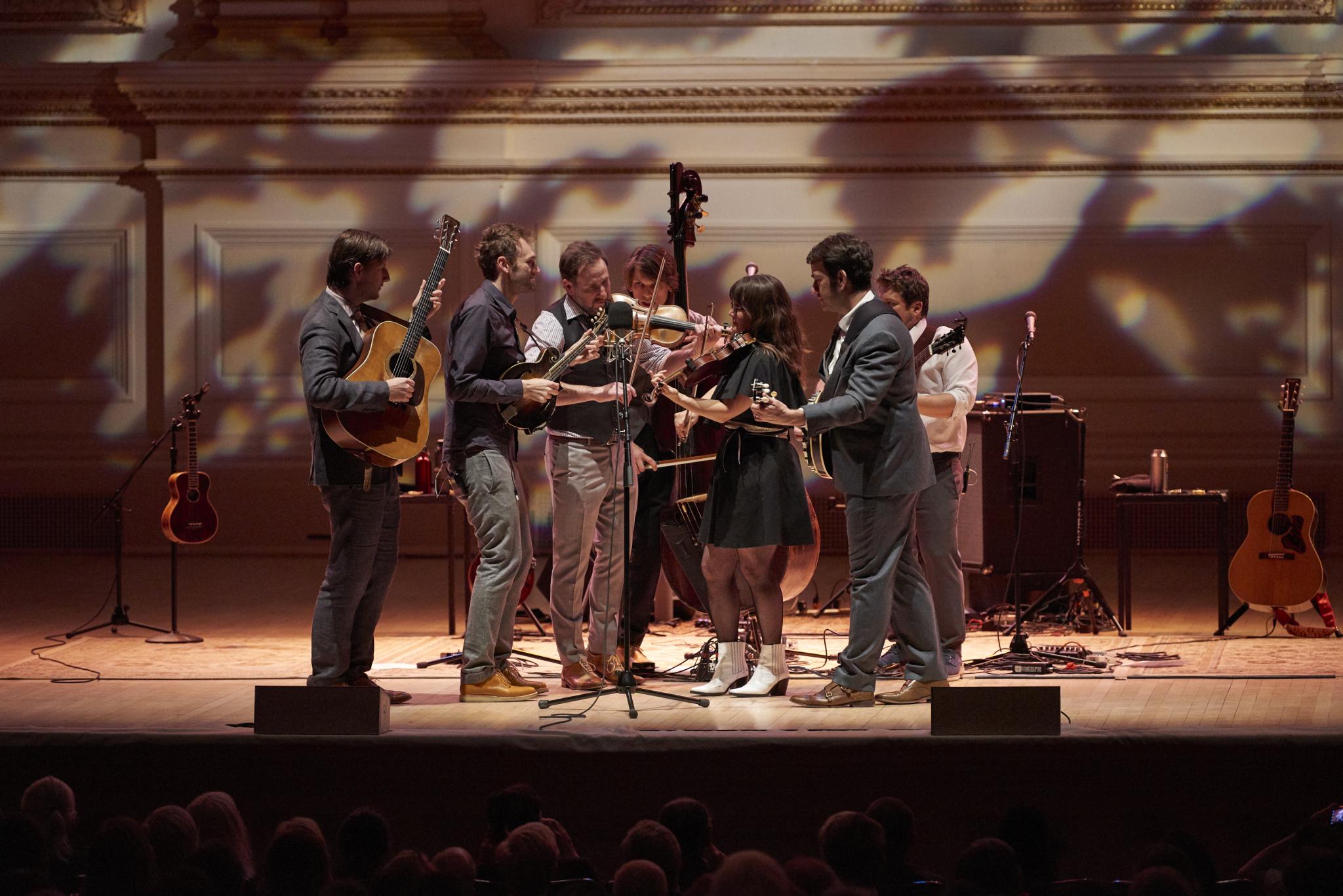 Nickel Creek and Punch Brothers perform at Carnegie Hall. Photos by Stefan Cohen.
They say "Practice, practice, practice" is what gets a person to Carnegie Hall. Well, Punch Brothers and Nickel Creek each have decades of practice under their belts, so it might come as a surprise to know that this week marked the latter's debut performance in the hallowed New York concert hall. Not only that, but despite sharing a key player in mandolinist Chris Thile, Punch Brothers and Nickel Creek have never before shared a billing. These auspicious firsts served as another milestone — the finale to the Richard and Barbara Debs Composer's Chair residency in which Thile has helmed five Carnegie Hall concerts over the past year — and to call this show once-in-a-lifetime really isn't that hyperbolic.
While a sold-out crowd of longtime fans is old hat for both bands, excitement and murmurs of questions around a sense of the unknown still managed to fill the room — especially on what songs from each band's vast catalog would make each set list. Sure, pluck any audience member out of their seat and it's likely they could start singing the lyrics to Punch Brothers' opener and Phosphorescent Blues favorite "My Oh My," or Nickel Creek's sardonic ode to the rapture, "21st of May" on cue. But the magic of the evening was about so much more than the depth of fan familiarity. Carnegie Hall being the traditional space it is, one wondered if it might stifle the energy exchanged between the audience and the bands. To a degree, the setting was different: Assigned seating, not a camera phone raised, and the initially slow rise of applause following the night's first rousing solo by Punch Brothers banjoist Noam Pikelny.
But then Thile loudly declared, "Oh, of all the joys in the world, I highly recommend playing Carnegie Hall," his voice teeming with both a sense of joy and relaxed reflection, and that casual admission was all the room needed to see this show as no less inviting of exhilaration than any festival stage slots or early era club show. Of course, leave it to Thile's clever wit to then also deftly quell an audience's ongoing need to praise a lively performance — like Punch Brothers' rendition of Josh Ritter's "Another New World" with a friendly call-and-response of "AHOY!," rather than an irritated silence or clichéd shushing. "Hell of a way to stop applause, isn't it?" he said jokingly, though it was hard not to want to applaud even further at Thile's demonstration of such finesse.
Still, that's not to say the more formal atmosphere of the Stern Auditorium had no impact on the show. A few mic stands, cables for moderate amplification, and nothing more seemed a stark setting. However, the juxtaposition of minimalism and grandiosity only enhanced the overall sense of maturity coloring the music all night. Notes sung and played were allowed to decay fully — from Punch Brothers' pristine, choir-like a cappella at the very end of "All Ashore" to Nickel Creek's downbeat-heavy and assertively inquisitive song "When in Rome." For Nickel Creek especially, beloved repertoire written and performed back when Thile, Sean Watkins, and Sara Watkins were just children became a renewed marvel all its own. The trio has grown and learned and their lives changed so much since humorous cuts like "Anthony," instrumental firecrackers like "Scotch and Chocolate," and romantic tragedies like "A Lighthouse's Tale" were born, it was like hearing the past and present merge together in graceful harmony, the evolution of each of the band's members on full display. This sentiment was clearest when "Cuckoo's Nest," a brief jig from the band's debut album, was enriched by Punch Brothers' joint participation at the very end of the show. With this rare opportunity to play Carnegie Hall, the often too-big-to-describe, heart-stirring spirit of Nickel Creek's musical chemistry was given a new place to thrive and did so perfectly.
---