New Americana releases this week from Sara Watkins, Paul Thorn, O'Brien Party Of 7 (Tim & Mollie & family), Luther Dickinson & more
---
Here are a few new Americana and roots-type music releases for the week of May 8th, 2012. Click the artist or album links to find out more. The artist's names link to their websites and the CD title links go either
" target="_blank">Amazon or
CD Baby for easy ordering. The Freight Train Boogie podcasts feature mostly songs from new releases. Playlists with players and iTunes links are posted at

FTBpodcasts.com.

O'BRIEN PARTY OF SEVEN

Reincarnation: The Songs Of Roger Miller

(Howdy Skies)
Family bands have had a long tradition in bluegrass and country music, from the Carters to the Gibson Brothers. Now you can add the O'Briens to this prestigious list. O'Brien Party of 7 brings together the families of those talented siblings Tim and Mollie O'Brien; however, their family band – true to Tim and Mollie's eclectic respective careers – follows traditions while also being something distinctive. Tim and Mollie had been talking about doing a musical project with their combined families for a while. However, it wasn't until a family gathering a couple years back that the idea of doing a Roger Miller tune arose and Mollie suggested that they do an entire album of Millersongs. Everyone thought it was great idea – and soReincarnationwas born.








PAUL THORN

What the Hell Is Goin On?

(Perpetual Obscurity)
Paul Thorn tries something fun and different: covering songs he loves by other songwriters. "I wanted to take a break from myself, do something different, and just have fun." It's an album of covers, but it's also a Paul Thorn album through and through. Tune in Tuesday for a special webcast in which Paul plays and discusses tracks from his new album
What The Hell Is Goin' On? and you can join in the conversation via
Twitter and online chat. This all takes place on the

Stageit website on release day, May 8th, at 7:00p CDT.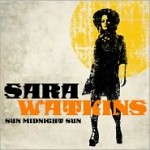 SARA WATKINS

Sun Midnight Sun(Nonesuch)
Like whoever you want, but this gal is probably the best artist working today in acoustic based music. Her mastery of the violin and soothing vocals are a throwback to a time when all you needed was good music and the masses would eventually find you. Today though it's no sure thing just because you're talented. This is only her second album since Nickel Creek has been on hiatus so there's plenty of time for you to catch up with her. One of the best of the year so far. (Village Records)
Also new this week…




LUTHER DICKINSON –

Hambone's Meditations

(Songs of the South

JOHN FULLBRIGHT –

From the Ground Up (12th Street)




TURNPIKE TROUBADOURS –

Goodbye Normal Street (Bossier City)



THE WANDERING –

Go On Now, You Can't Stay Here (Songs Of The South)


 
THE WOOD BROTHERS –

Live Volume 1: Sky High

(Southern Ground Artists)
 
Coming out soon…WILLIE NELSON, ANDRE WILLIAMS & THE SADIES, SONNY LANDRETH, LEFTOVER SALMON,TEDESKI TRUCKS BAND, THE BROTHERS COMATOSE, LAKE STREET DIVE …
more new releases

Here's a link to this week's Americana Music Association
Americana Airplay Chart
Bill Frater
Freight Train Boogie
---