NEA Jazz Masters of 2013 announced: Eddie Palmieri, my top choice, among the four
---
Last January during the NEA Jazz Masters ceremonies at Lincoln Center, I blogged "Who should  the next NEA Jazz Masters be?" and wrote, "My own list of deserving nominees — it starts with Eddie Palmieri." Today the NEA announced  its  Jazz Masters of 2013 — Eddie Palmieri! —
pianist-composer-arranger-bandleader and spokesman known as the Sun of Latin Music. Plus bluesy singer-songwriter-pianist Mose Allison, veteran soul/bebop alto saxophonist Lou Donaldson and Lorraine Gordon, doyenne of the Village Vanguard. Nice list, though a shorter one. Last year there five. But we shouldn't be greedy. There were only three Jazz Masters named every year from 1982, when the program was established, to 2004, when Dana Gioia had taken over as NEA Chairman, the position now held by Rocco Landesman.
Palmieri, Allison, Donaldson and Gordon become welcome honorees in a program that in 2012 the Endowment planned to end. The House of Representatives, in a rare example of do-goodness, saved it. The budget may not be what it was, there are fewer JMs this year than in the recent past, but in this case it's the thought that counts, first and foremost. Better a slimmed down Jazz Masters than no Jazz Masters. And good thinking: The class of honorees cuts across the spectrum of what jazz means as contemporary American music that engages with art and entertainment, too.
I think of Allison as in the sophisticated southern folk/modern hipster tradition, closer to Johnny Mercer and Hoagy Carmichael than Fats Domino or Allen Toussaint, but nothing wrong with that.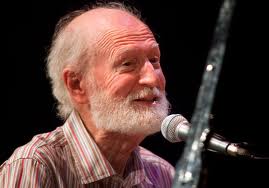 In the '60s he popularized Willie Dixon/Muddy Water's "Seventh Son," but his originalityextends to vocal-jazz proponents like Ben Sidran, Randy Newman, Gil (yes) Scott-Heron, Curtis Stigers, maybe Bobby McFerrin.
Donaldson is famously opinionated about music that does not hew to the principles of the music he hews to— blues and bebop, babies, grits and gravy! But as a 60-year-road warrior, the real deal who can still dependably blow even in the toughest of houses down, he's earned  the right to his views and puts them to practice for obvious audience satisfaction. Young musicians look up to him, and he brings them along.
[l. Mose Allison; r., Lou Donaldson, NEA Jazz Master, with organist Akiko Tsuruga]
Lorraine Gordon'sinfluence on jazz certainly predates her taking over the Village Vanguard upon the 1989 death of her husband Max Gordon, who founded it in 1935. Perhaps her hand can be traced as far back as during her marriage to Blue Note Records founder Alfred Lion. She's been a fan and a tastemaker, curator and canonizer, and has stories from  deep on the inside to tell about what has happened in jazz. It's good we remember that jazz has operated as part of a business ecology for some 100 years now, and without entrepreneurs who keep all their skin in the game it is most unlikely to last.
Typically, an oral history of the Jazz Master is part of the NEA treatment, along with a relatively modest yet-no-one-turns-it-down $25,000 honorarium, and some sort of to-doings next January, in collaboration with Jazz
[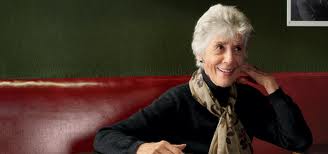 Lorraine Gordon, NEA Jazz Master for Advocacy (A.B. Spellman Award)] at Lincoln Center and usually also BMI, among other sponsors.
Benefits of being a Jazz Master also include potential tour support, and production of a brief video biography. There have been 142 previously named NEA Jazz Masters, and nominations are open for anyone, now,  to make their recommendation of Jazz Masters to be honored in 2014.
I have to think long and hard on this. You can only make one nomination. The responsibility is great. Last year I pushed Eddie Palmieri, who's music I get off on, live or on cd — check out his '60s work with Cal Tjader, his impossibly exciting Live at Sing Sing with Harlem River Drive, tragically out-of-print Lucumi-Macumba-Voodoo, his super-tight jazz from 1994 Palmas, La Perfecta IIfrom 2002. . .Who lives up to that, in my listening, who hasn't already been recognized as a master? Who must the NEA name Jazz Master of 2014? Hmmmmm. . .. . .
---