Music to My Ears: New Tunes and Old Friends
Posted On October 26, 2018
---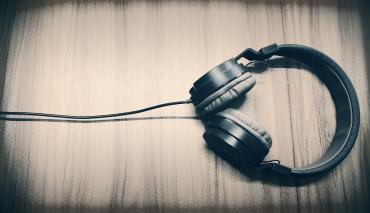 The original title for this week's column was "Fish and Music I've Caught in the Stream," and while it was pretty easy to collect some great music from playlists and recommendations on the various digitized platforms that I jump around on, I've honestly never caught a fish in a stream. Nor a river, creek, or lake for that matter. And then I also realized that if I stuck with that headline, I'd better include some great recipes too. Of which I have none. So I went with an idiom that was likely first used back in 1616 by Shakespeare in his play Comedy of Errors.
I'm gonna guess that y'all aren't that interested in idioms or their country cousin phrasal verbs, but damn if it didn't capture my attention for a good 15 minutes. A few examples of the former would be things like: "add insult to injury," "Elvis has left the building," "once in a blue moon," and "to make a long story short" … or in this case, a short story long. But I don't want to just jump into the music without sharing some phrasal verbs: do over, give back, hang up, and take down are but a few. And some of you might recall this triple grouping from back in the '60s: turn on, tune in, drop out. I'll leave it at that.
Kate Wolf
I had sadly put Kate's music in a corner of my mind until I came across a live clip of Nanci Griffith and Emmylou Harris singing what is likely her most popular song, "Across the Great Divide." She left us early at the age 44 back in 1986, diagnosed with leukemia and passing away after complications from a bone marrow transplant. Her recording and concert career began in 1976 and she released seven albums while alive, and another six have since come out. There's also a wonderful tribute album that Red House Records did in 1998, Treasures Left Behind: Remembering Kate Wolf. She was so well loved and respected in the folk community that each year since 1996 her family has hosted the Kate Wolf Music Festival in Northern California. If you're looking for an entry ramp to her discography, I'm partial to Poet's Heart and Give Yourself to Love.
The Other Years
The Other Years are Anna Krippenstapel and Heather Summers from Kentucky, and their self-titled album goes far beyond yet another collection of old-time music. Using only their voices, guitar, fiddle, and banjo, they complement each other as if they've been doing this forever and yet it's Heather's first group effort. Anna plays fiddle for Joan Shelley and Freakwater, and the group will be opening on Louisville's Bonnie "Prince" Billy's current tour.
Marc Ribot: Songs of Resistance 1942-2018
This album of 11 songs of original and traditional songs features a number of different guests and styles. Appearing are Tom Waits, Steve Earle, Meshell Ndegeocello, Justin Vivian Bond, Fay Victor, Sam Amidon, Ohene Cornelius, Tift Merritt, Domenica Fossati and Syd Straw.A seasoned guitarist with over 25 solo albums and an in-demand session player you've heard on dozens and dozens of recordings, Ribot gives this as his reason for releasing this compilation:"There's a lot of contradiction in doing any kind of political music, how to act against something without becoming it, without resembling what you detest. Sometimes it is hard to figure out what to do, and I imagine we'll make mistakes, and hopefully, learn from them. But I knew this from the moment Donald Trump was elected: I'm not going to play downtown scene Furtwangler to any orange-combover dictator wannabe. No way."
Portions of the album's proceeds will be donated to The Indivisible Project, an organization that helps individuals resist the Trump agenda via grassroots movements in their local communities. More info can be found at www.indivisible.org.
Laura Cantrell
Hard to believe that it's been almost six years since Laura Cantrell last released an album. I've placed all five of her albums, as well as the five EPs she's put out, on my current "crazy compulsive obsessions" playlist and have been playing the heck out of them. Laura is based here in New York and did gigs earlier this year in England, Ireland, and Spain, and she has a monthly concert series called States of Country that she does here at Sid Gold's Request Room. She also hosts Dark Horse Radio, a program devoted to the music of George Harrison, on SiriusXM's Beatles Channel.
Lindi Ortega
This year's Liberty album has me totally entranced. I've gone back and revisited all of her past work and the only thing you really need to know is she's from Canada, now lives in Nashville, and is doing stuff nobody else does. Brilliant work. Go forth and seek it out. Done.
And don't forget … Tuesday, November 6th:
Many of my past columns, articles, and essays can be accessed at my own site, therealeasyed.com. I also aggregate news and videos on both Flipboard and Facebook as The Real Easy Ed: Americana and Roots Music Daily. My Twitter handle is @therealeasyed and my email address is easyed@therealeasyed.com.
---