Molly Tuttle and Keith Little Win Whippoorwill Arts/FreshGrass Artist Awards
Posted On February 7, 2018
---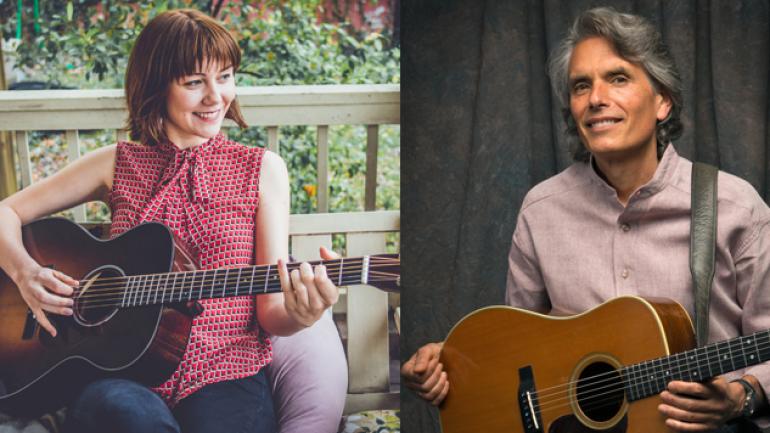 Today, the FreshGrass Foundation — the 501(c)(3) non-profit that publishes No Depression — and Whippoorwill Arts announced that Molly Tuttle and Keith Little are the winners of their Artist Award grants. Each unrestricted grant is worth $25,000 and the two organizations jointly present them to one emerging artist and one master artist who embody extraordinary musical abilities along with a strong sense of community.
Multi-instrumentalist and vocalist Tuttle, who in 2017 became the first woman to win IBMA's Guitarist of the Year award, will receive the Emerging Artist Award. Her most recent release is Rise, a seven-song collection produced by Kai Welch and featuring Darrell Scott and the Milk Carton Kids.
"Receiving the Whippoorwill Arts/FreshGrass Emerging Artist Award is an unbelievable honor," says Tuttle. "This award will give me freedom to expand my creativity in new ways and, as I'm gearing up to record my first full-length solo album, will open up so many exciting possibilities for my music. I'd like to send a heartfelt thanks to Whippoorwill Arts and FreshGrass for creating this incredibly generous award to support musicians."
Multi-instrumentalist, producer, and songwriter Little will receive the Master Artist Award. A seasoned player, Little has performed on recordings by the Chieftans and Dolly Parton and has shared the stage with acts like Ricky Skaggs and the David Grisman Bluegrass Experience. He currently plays with the LittleBand and and runs Slate Mountain Music, an endeavor that includes a recording studio and publishing company.
"I'm delighted to receive news of the Whippoorwill Arts/FreshGrass Master Artist Award," he says. "It's a great honor which I accept with gratitude and grace, both on behalf of those pioneers who've gone before me and smoothed the way, as well as for those who will soon be taking their first steps on a path to a life of artistry. Being filled with a profound sense of duty and purpose in this rare opportunity for accomplishment, I look forward to sharing my inspirations and hopefully inspire others to find their unique voice and a song to sing."
Tuttle and Little will officially receive their awards at an event to be hosted by No Depression publisher and FreshGrass president Chris Wadsworth and Whippoorwill's Nell Robinson and Jim Nunally later this year.
"We at the FreshGrass Foundation are excited to be working with Whippoorwill on these new grants as we share the same vision and mission of supporting both established and emerging roots music musicians, and we are honored to welcome both Molly and Keith into the growing family of FreshGrass grant recipients," Wadsworth says.
Continues Robinson, "We want to inspire others to support artists directly. Income streams are drying up for musicians, from government grants to the music market, and roots musicians are struggling to make ends meet and, at the same time, focus on their craft. We may go back to the days of individuals personally supporting musicians and artists. We need these artists, they heal us, and their music and work help us make sense of our internal worlds. If you love music, respect musicians, let's find creative ways to nurture their creativity."
The FreshGrass Foundation is dedicated to preserving, promoting and creating innovative grassroots music. Whippoorwill Arts is an arts production and performance company established with the sole purpose of nurturing and expressing our creativity and the creativity of the folks we respect and love from the roots community.
ND will update this post when official awards ceremony details are made available.
---