Midwestern for Life
Posted On January 31, 2017
---
A few years back in Duluth, Minnesota, where I live, there was a snowstorm that put about three feet of snow on the ground in 36 hours. I was home and scheduled to play my usual hometown residency show during that time with a couple friends. Nobody thought too much about it. The plows were off the streets because the snow was coming too fast to keep up with. The kids were snowboarding down Lake Avenue. There was no point in shoveling until it let up, so it was natural to get yourself out to the bar and see how everybody else was doing. I thought that the least we could do would be to play some music for 'em. So we piled into a neighbor's 4X4 Suburban and followed the snowmobile tracks to the bar, where we found skis and snowshoes and sleds and ATVs lined up outside, and parkas and boots lying on the floor in the hall. We played our hardest to a packed house right up until they closed.
The best shows I've ever played are like that one — when I feel like I'm really a part of this community, this kind of overgrown neighborhood, no matter where that happens. Usually it happens best in out-of-the-way places like Duluth or Menomonie, Wisconsin, or Fargo, North Dakota, or Ames, Iowa, or Hancock, Michigan. It feels like folks have made an effort to be there just like I have. The edge of the stage disappears a little and you find yourself having bits of conversation with audience members between the songs. "Where'd you come in from?" "'Dja hit much snow on the way?" "Thanks for making it out this way."
The thought of moving out of Minnesota has never really occurred to me. I've been lucky enough to have traveled a lot, around the US and abroad, for the last 14 years, without actually having a job. I've never seriously said to myself, "I could do this from someplace else, someplace warmer, someplace closer to somewhere else." I've known plenty of folks who feel like they need to be closer to where the action is, and plenty more who've gone there and returned home with the same music they had when they left — along with a bunch of good stories and maybe a little extra sadness, and a lot less money.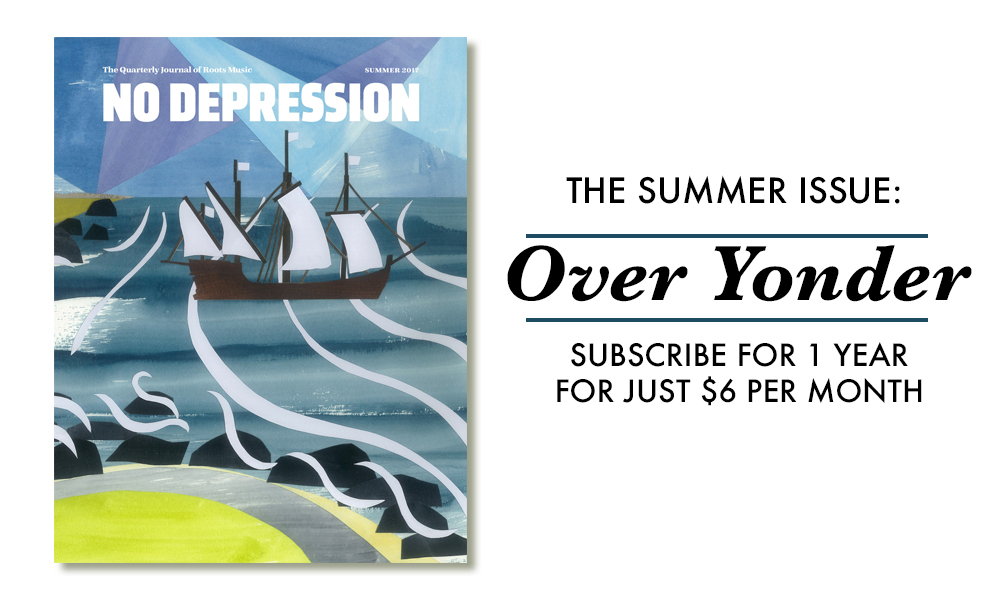 I can only speak for myself, and I know that I'm not exceptional in any way, but music is all I've ever been after. I found it at home from an early age. That's very lucky and probably rare, and I'm sure grateful for it. I also know that, as I travel around the midwest, I'm constantly blown away by the music I hear not even five hours from my home. It seems like it's everywhere. It comes from little towns in the Driftless to no town at all in the Big Empty, to historic neighborhoods like the West Bank in Minneapolis. It comes from carpenters or miners who like to pick a little on the weekends to bonafide legends like Spider John Koerner or Prince or Paul Westerburg or Cornbread Harris.
I could leave here anytime I want. I love California and I could go there and be warm and sit by the sea. Or I could go to New York City — I love it there too, and I might be able to find my way. Or maybe not — I've heard it's pretty tough out there. But I don't want to go there. I don't want to leave here. I've been spoiled by sad songs sung by drunken loggers on open mic night, and by late night dancers at summer festivals along the Mississippi River, and by rowdy gigs in tiny towns in the middle of nowhere, or gigs in the city that no one showed up to but you played better than ever. I've been spoiled by our community of oddball musicians and artists who at any given moment are students and truck drivers and cashiers and hairdressers and locomotive engineers and mentors and confidants, successful in the world or in their own minds, dressed one minute in mukluks and the next in sneakers. I love it here, it's my home, and it's as good as anywhere else.
"Midwest for Life" was written for the Spring 2017/Heartland issue of No Depression in print, which focuses on the artists and communities keeping roots music real between the coasts. Purchase a copy of the issue or subscribe today, to receive a full year of the ND print journal.
---