Maybe in South Florida, I'll Find My Joy
---
Florida isn't the armpit of America; it's both armpits. Just look at the shape of it. The state's perpetually balmy weather and endless beaches are effectively negated by hordes of pushy Northeast carpetbaggers who've come south to live the good life, only to realize that nothing good can come from a lot of hot air.
A recent assignment in South Florida only enhanced my negative opinion of a state I wish could be sawed off into the ocean. After dining along a particularly soulless stretch of U.S. 1 and waiting over an hour for a taxi, I cursed out a sweet, unassuming cab driver simply for moving his family there, only to catch myself and apologize for the tirade. It didn't help that I'd just spent three glorious days in New Orleans, a great American city with character to burn.
At that moment, I wanted to be anywhere but Florida – yet I was stuck there for another two days. But I had something of a golden ticket in my shirt pocket, a passport to two hours of psychic uplift, a reminder that good things can turn up in bad places.
I had a ticket to a Lucinda Williams concert, and arrived at Fort Lauderdale's Parker Playhouse in dire need of salvation.
A Nomadic Streak
Born in Louisiana in the '50s before moving around the South as her father changed teaching jobs, Williams remembers when the region was chockablock with charm. But she saw a lot of that vanish while living in Nashville in the '90s.
"I miss the South that I grew up in," she says. "It's like my song 'Everything Has Changed' – I don't like a lot of the new South, like tearing down the historical buildings, the new money. I saw that happening when I was living in Nashville back in the '90s – [when they were] trying to build a Walmart on top of Indian burial grounds, or tearing down an Art Deco building to build another Walgreens.
"So then I got tired of Nashville and moved to L.A. in 2002," adds Williams, who's hung her hat in the City of Angels ever since.
Los Angeles would seem a peculiar move for someone frustrated with how wealth and cookie-cutter sprawl chips away at a region's character – doubly so for an artist who's set so many of her more memorable songs in the South. But those are reminiscences; Williams has a pronounced nomadic streak, and has always done her best writing on the road.
"I love being in hotels; a couple of my best songs were written when we were traveling," she says over the phone from a Nashville hotel room. "I think I read an article about how Richard Buckner was saying, 'I like being in towns where nobody knows me because I have no commitments and no responsibilities.' I have a hard time going home when I've been on the road. I feel more stressed out about the air-conditioning unit being broken and that kind of thing. Being able to move around gives me that urge to sit down and work on a song. When I'm home, I get distracted by day-to-day life. Now I understand why people who can afford it, like Bob Dylan, have homes in different places."



"I have a hard time going home when I've been on the road. I feel more stressed out about the air-conditioning unit being broken and that kind of thing." - Lucinda Williams
Williams' breakthrough 1998 album, Car Wheels on a Gravel Road, was Southern to the core, with places like Lake Charles, Jackson, Greenville, Lafayette, Baton Rouge, Slidell, and West Memphis figuring prominently into her yarns. But it was not until last year's Down Where the Spirit Meets the Bone that she returned to the region with such narrative vigor. This was not an unintentional occurrence, but it's also a bit of an anomaly when it comes to her creative approach.
"I grew up there; it's in my blood," she says of the South. But songwriting "is more of an internal thing with me. There are so many other aspects of my life that make that happen, like meeting Tom [Overby, her manager and husband], getting married, owning a home. I'm more settled down now."
That's just as well, because as Williams sees it, it's tougher for present-day artists to follow their whims. "When I was younger, I had a sense of being in the right place at the right time," she says. "Everything was more mobile, because it was a lot cheaper to live. Nowadays, a lot of younger artists have to hold down full-time jobs to make ends meet. We didn't have to do that back then. You could travel more. You'd hear a buzz about this scene happening in Boulder or Boston and just pick up and go."
But younger artists these days are afforded certain advantages that Williams wasn't. When asked to compare the Nashville of today to when she was coming up, Williams says, "There are cooler artists coming out of Nashville now, but the basic music industry is still the same. What would have been different is, when I was 30 in the '80s, there was no Americana market. There wasn't a No Depression. … That's why I had a hard time: My music fell in the cracks between country and rock. And, of course, that's what became Americana. But even if I was living in Nashville right now, I'd end up being signed to a[n indie] label.
"The indie label scene basically has changed things; that's it in a nutshell," she continues. "There were a few back then, but at the time they couldn't compete. The industry changed when major labels started having all kinds of problems. Then this crop of indie labels started coming out of the woodwork and have a lot of power now. That's really what's made things better."
Williams brings up one of her favorite bands, The Heartless Bastards, who recently opened some dates for Bob Seger. "When I discovered their first album, I completely fell in love with them," she gushes. "They're a good example of a band that, 30 years ago, who would have picked them up? So I say yay and hooray to all the indie labels."
A Sound that's Timeless
I wore a brown suit to Williams' show in Fort Lauderdale, but my mood matched the black that Williams and her backing band sported as they came out for the evening. Plenty of players have stood alongside Williams over the years, each bringing wrinkles of individuality to her tunes, but her overarching sound remains inimitable, an instantly recognizable fusion of blues-based rock with slide-guitar sunbursts.
Williams' voice and face are beautiful, but not in a classical sense. The 62-year-old has resisted the urge to try and turn back the odometer on either, and the miles she's traveled only enhance her stature. The woman has lived hard and loved harder; seated before her, my quibbles with South Florida's abysmal urban planning and over-tattooed arms seemed rather insubstantial.
"Joy" has got to be one of Williams' most cathartic songs, and never has it been more poignant than on that night. Figuratively kidnapped from the cultural bliss of New Orleans, I'd lost my joy. Thanks to Williams, I got it back.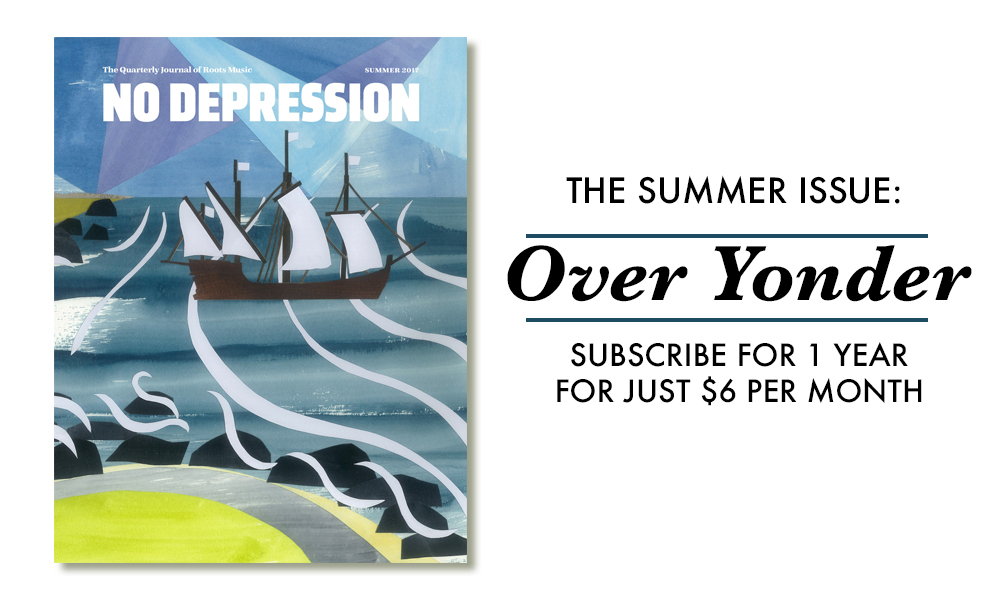 This article originally appeared in the Fall 2015 issue of No Depression in print. Subscribe today for just $6 a month.
---