Loretta Lynn – On her own
---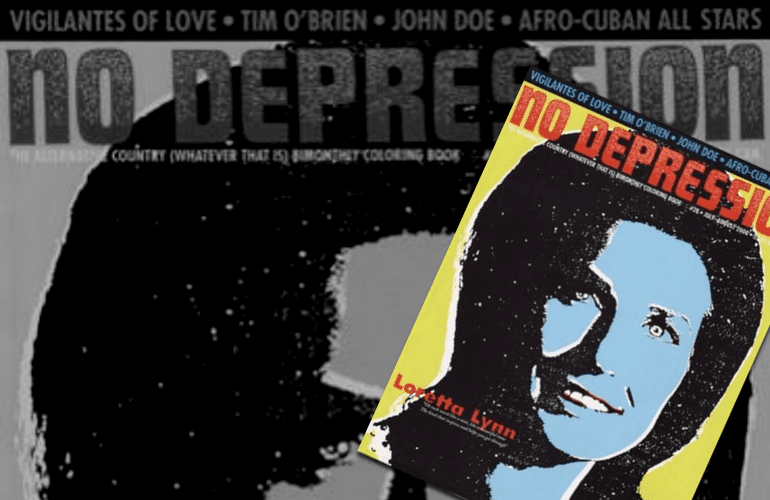 The 1990s weren't so bad for some of the country singers who used to rule the airwaves, despite their virtual disappearance from mainstream country radio. Loyal long-term fans, younger alternative country audiences, and sporadic but intense interest from the media and institutions charged with celebrating American culture have sustained, and sometimes revived, the careers of artists such as George Jones, Johnny Cash, Merle Haggard, Waylon Jennings, Tom T. Hall and Willie Nelson.
Though it's often far less than such legends deserve, the renewed attention has helped preserve country music's continuity in the face of abrupt and sweeping changes in the business, bringing a flood of vital reissues onto the market. It's also spurred the release of some new recordings that rank with those earlier treasures, proving that age is no impediment to, and may even inspire, a deepening expressiveness and creativity.
On further reflection, though, it becomes apparent how fragile this renewed interest can be. A few moments spent looking over a list of the chart-toppers of the 1960s and 1970s show at least as many of the Jones-Jennings generation (those artists born between 1931 and 1937) absent from today's scene. In some cases, the answers are obvious. Conway Twitty, the biggest hitmaker of the 1970s and 1980s, died in 1993. Charley Pride complicated his legacy by producing inferior, often pop-leaning work that distanced him from listeners exploring a newfound interest in hardcore country. Mel Tillis settled into a voluntary semi-retirement, doing little to keep himself in the public eye.
But among all the members of the group that once sat atop the charts and filled the racks at record stores, none is more important than Loretta Lynn. A greater chart presence in the 1960s and '70s than even her best-known colleagues, Tammy Wynette and Dolly Parton, Lynn is regularly invoked as a model for younger women, not so much for her vocal style as for her attitude of self-assertion and no-nonsense frankness — rare enough things for women in mainstream country music at any time, but especially in these days of carefully supervised blandness and media training. To cite her as an influence or inspiration (or to have her cited as one for you) is to claim a connection to "real" country music, and that stands whether or not the claim amounts to much in the way of discernible artistic merit.
Yet for most of the past decade, Lynn has been a shadowy figure in the country music world. She hasn't been feted for her lifetime achievements, in keeping with the Nashville custom for aging greats. Nor has she made high-profile guest appearances or dispensed wisdom and inspiration to younger, adoring artists and critics. Rather, she seems to have disappeared into an obscurity even the dead have escaped.
The few new recordings she made — a 1993 collaboration with Dolly Parton and Tammy Wynette called Honky Tonk Angels on Columbia, and a mid-'90s gospel collection for Heartland sold mostly through late-night TV — went almost unnoticed in most places, suiting neither the constricted realm of country radio programmers nor the rootsy, outlaw-leaning vision of alternative country and Americana DJs and writers.
The reason for all this is, it turns out, at once simple and complicated, and distills the apparent contradiction that lies close to the center of Lynn's image and identity. Though she's been justifiably tagged as feisty and independent-minded thanks to such '60s and '70s hits as "You Ain't Woman Enough (To Take My Man)", "Fist City", "Don't Come Home A Drinkin' (With Lovin' On Your Mind)", "Rated X", and the notorious "The Pill", Lynn also remained married, despite considerable ups and downs, for almost five decades to one man — Oliver Lynn, known generally as "Mooney," but called "Doo" (for "Doolittle") by his wife. When his health took a turn for the worse in the early '90s, Loretta hesitated not one moment in putting her career on hold (which is to say, in the move-ahead-or-fall-behind entertainment business, allowing it to decay) in order to care for him.
For about five years, while peers such as Cash and Jennings connected with audiences old and new, in person and on CD, Loretta largely withdrew, focusing her energy and attention on the man who had been responsible for bringing her to public view in the first place. After he died in August 1996, her fragile emotional and professional state was soon assaulted by other deaths, including that of producer Owen Bradley and another longtime friend, Tammy Wynette.
But Loretta is now back for real. She has a powerful new album due out in September, and Country Radio Broadcasters Inc., sponsor of the annual Country Radio Seminar, gave her its third Career Achievement Award in June. In a recent interview, she revealed all the candor, earthiness and long-held values for which she has long been known. Personal tragedy may have slowed her down a step or two, but Loretta Lynn is still way ahead of the pack.
Though she's had little formal education, Loretta Lynn has a sharp mind and a load of experience from which to draw conclusions, and she's not afraid to share them. Even so, her demeanor is still so irrepressibly down-to-earth, so country — "we're just sitting here gabbing like two old women," she told an aide toward the end of our interview — that whether she's reminiscing about her childhood, discussing the making of the new album (untitled as of press time), denouncing the practice of adding unjustified names to songwriting credits, or describing the way her Nudie-made boots look and feel, it all comes out in a hard Kentucky twang with the homespun ease of a little ol' country gal conversing at the kitchen table.
"After Doo shoved me into it, I knew I had to do it, to prove to him that I could; he said I could, and I didn't want to let him down. Anything he thought I could do, I could never let him down," she says of her husband and her career. "And I drove myself too hard sometimes, and I would get sick. Because he would say, 'Aw, you can do it,' you know, but then he wouldn't be with me. He was with me the first year, but after that I was on my own, and it was hard on me. Very hard."
That story of Lynn's early days and her rise to the top of country music's ranks is detailed in her autobiography, Coal Miner's Daughter. It's indispensable for anyone with an interest in Lynn's history, a marvelous piece of work by the singer and New York Times sports columnist George Vecsey that faithfully captures her speaking voice, keen recollection and habit of frequent digressions from the subject at hand. Still, a brief precis is in order, for with Lynn, as with many other country people, the past and present lean against each other like old friends in her conversation.
Born April 14, 1935, to impoverished but hard-working parents in Eastern Kentucky, Loretta was married to Mooney Lynn before she turned 14, and by the end of the 1950s, she was living in Washington state, the mother of four children under the age of 10. When her husband "shoved her into it," she began her career by sitting in with a local band. "I had never sang," she recalls, "except for rocking the babies to sleep. And I didn't know a song all the way through. I had to learn 'There He Goes' when Doo got me the job, I had to learn that song to sing it, and I was scared to death."
She may have been scared, but she was also ferociously gifted, quickly winning a talent contest on Buck Owens' Tacoma television show (dressed in a homemade cowgirl outfit, she sang Bob Wills' "My Shoes Keep Walking Back To You", a 1957 hit for Ray Price), which in turn got her the backing of Norm Burley, a Vancouver businessman who bankrolled her first recordings. The Lynns sent out hundreds of copies of her first single — "Honky Tonk Girl", on Burley's Zero label — to radio stations around the country, following up with letters and phone calls; by the late spring of 1960, it had peaked at #14 on the Billboard country chart.
Sending the children off to live with her mother in Indiana, Mooney and Loretta hit the road to Nashville, stopping at broadcast studios along the way to introduce her to DJs in a groundbreaking effort that foreshadowed, in an almost comically shoestring fashion, the "radio tours" by which new artists and albums are frequently pushed at the playlists today. "I sat in the back seat of the car while Doo was driving between radio stations, and would learn guitar and write songs," Loretta recalled. "I never wrote in my life before Doo had me sing my first song in public. When I started to learn songs out of Country Song Roundup, I thought, 'I've been rhyming words all my life, I can do this,' and I just took off. I hadn't been singing or writing six months by the time we got to Nashville."
Making the rounds of Music Row — "they had to push me out of the way so they could open the doors in the morning" — she hooked up with the Wilburn Brothers, whose name she remembered from "Hey, Mr. Bluebird", a 1958 hit for them and Ernest Tubb and one of her favorite records. Signing her to their businesses (management, publishing and booking), the Wilburns negotiated a Decca Records deal for Lynn, put her on their TV show, and otherwise helped to launch her career, though she eventually grew to doubt their ability to properly promote her and to resent their habit, as she describes it, of attaching their names to songs they didn't help to write. A lawsuit ensued, and she eventually won her freedom, if only by outlasting the contracts she had signed.
In the meantime, however, Lynn had become a huge star. Though she didn't produce a #1 single until the end of 1966 — "Don't Come Home A' Drinkin' (With Lovin' On Your Mind)", a song directly inspired by Mooney — she was a steady presence in the Billboard top 20 all along, and from then until the end of the 1970s, most of her records went straight to the top, especially those she made with Conway Twitty.
"I loved Conway Twitty. He was as close as a brother could ever be and not be a brother," she says. "We had our business together and never quarreled, never had a fight. I had to go to these awards shows, you know, and Doo never liked to dress up and go, so I'd be on my own. And just before they'd call my name out, I'd get a little peck on my shoulder; I'd turn around and it'd be Conway, and he'd say 'I'm here for you, hon,' and he'd always be there for me. We had a great relationship. We would try to out-sing each other; we'd get in the studio and he'd try to out-sing me and I'd try to out-sing him."
Popular though the duet was (they won the CMA's Vocal Duo of the Year award four consecutive times in the early '80s), Lynn's reputation and success ultimately rested on her own recordings. "Here's the story of my life, so listen and I'll tell it nice," one of her earliest songs went, and from then on, she was able to write, or find, songs that expressed the emotional truth about what was happening or had happened to her. Or what she could imagine happening to her, as with her most sensational hit, "The Pill", which tackled the subject of female liberation via birth control.
"Where I'd get a lot of my ideas for songs was, I'd get down and sit with the public when I'd get offstage at a club," Lynn explains. "They would buy me Cokes, because I didn't drink, and I'd listen to the women — like with 'The Pill'. Everyone was taking the pill. Well, I wrote 'The Pill'. No big deal, everybody took it but me, and I had the kids to prove it. And man! They started banning it down in the Bible Belt, the preachers were preaching, 'Loretta Lynn is turning the people bad,' you know. And the women would go out Monday morning and buy the record to see what I had to say."
Set to a honky-tonk beat, with pedal steel and wah-wah guitar churning in the background, "The Pill" found Loretta announcing that "There's gonna be some changes made," but mating the thoroughly modern declaration to imagery that cast it in her own down-home framework ("You've set this chicken your last time, 'cause now I've got the pill"). And though she expressed, in "The Pill" and elsewhere, a frank, earthy sexuality that rarely had room for guilt or doubt, her songs held steadfastly to a morality that reflected her upbringing as much as it did her independence.
For Lynn, the real evil was neither sexuality nor its restraint, but the double standard that winked at some escapades while condemning others. "I'm the other woman in your husband's life," she baldly states in the first line of Betty Sue Perry's "The Other Woman", before charging that the woman she's addressing "gave him the right to seek that other woman," adding that "you know who was first to cheat on who…your husband still beats you home every night."
But opposing a double standard didn't mean forgoing standards altogether, Lynn points out. "'What Kind Of Girl (Do You Think I Am)' was a song that said to her boyfriend — he was trying to go to bed with her before they were married. Of course, it didn't say that; I just said, 'What kind of a girl do you think I am.' Well, the preachers would come and thank me," she laughs. "'My daughter is a fan of yours, so we bought it for her, and we think this is going to save her reputation.' It was about a girl that was saying 'Hey, before you ever go to bed with me, you're going to marry me.'"
Though she's seen today as an icon of hard country music (the box set MCA put out in 1994 took the title of her first single, Honky Tonk Girl), Lynn had, and has, a considerable stylistic range. Many of her songs were uncompromisingly country in sound and theme; even if you haven't heard them, it's safe to assume that "You're Lookin' At Country" or "Coal Miner's Daughter" aren't pop tunes. But she also helped stretch the boundaries of the genre with songs such as "The Pill" and "One's On The Way" on the thematic side, and "I Wanna Be Free" and "Out Of My Head And Back In My Bed" on the musical.
"When I came to Nashville, you know, people were singing pop music then," she recalls. "There were very few people singing country then — Faron Young was singing country, Ray Price was singing country, but he went with the big sound later. But here was Marty Robbins; he had a pop record — two or three — and Jim Reeves and Patsy [Cline]. Poor Stonewall Jackson, the countriest person you could ever look at, he had 'Waterloo', he did rock 'n' roll — and didn't it go #1? I mean, all these people were going pop when I walked into Nashville. Pop music is the easiest music there is to sing. I don't know why, but it's nothing for me to sing; the only thing I have to watch is how to say my words. A little ol' country song is the hardest thing there is to sing."
"I've known Loretta since I was probably around 10 years old, something like that….When it came time for her to record this album, I think she had basically become familiar with a lot of the work I had done over the years, and felt like I could help bring something special to the project, and she just called me and asked if I'd like to produce the album on her. And I said 'Absolutely, it would be a thrill.'"
That's Randy Scruggs, solo artist, winner of the CMA's 1999 Musician of the Year award, and a sought-after producer. "Randy is such a genius," says Loretta. "You have to watch his actions. You have to know this kid, to watch him, to know what he's thinking, if you're listening to a song or putting a song down. He won't let you by with just half-singing a song — but he didn't push me, not at all. He couldn't believe what I was doing, singing with my hand up to my ear like that [Lynn was wrestling with an ear infection during the period the album was recorded], and he knew how hard it was for me."
Scruggs says that "we wanted to focus around Loretta, to capture her voice and personality and emotions. She has so much to say as an artist, and so many things have happened to her in her lifetime. To me, working with an artist of that caliber, who has that deep of an ability to express, is really the best you can hope for as a producer, Because there's so much to draw on, and Loretta was just totally open to doing that. She was open to cutting in a contemporary way, and at the same time she loves a lot of the older sounds, and I think she and I really share a lot in common in that we totally approach our music and artistry based on the music, and not based on formats or trying to make an album for what's happening this year. We want people to be listening to the album two years from now and ten years from now."
With a crew of musicians as comfortable with modern sounds as with classic ones, the album ought to handily meet that goal. The roster includes Paul Leim (drums), Glenn Worf (bass), Steve Gibson (electric guitar), Dan Dugmore and Lloyd Maines (pedal steel), and the two Duncans (Glen and Stuart) on fiddle, plus Randy Scruggs and, on two cuts, his legendary banjo-playing father Earl. Though Lynn wrote only one song on it ("God's Country", a banjo-flavored reminiscence of Kentucky) and co-wrote another, the remainder of the material — from the likes of Scruggs (alone and in collaboration with Matraca Berg, Max D. Barnes and Vince Gill), Larry Cordle, Don Wayne & Irene Kelly, and John Prine & Donnie Fritts — is perfectly suited to her voice, her stylistic range and most importantly, her life.
"The song that Randy Scruggs wrote ['On My Own Again', which opens the album], he wrote really, I think, for me. And I had the flu for eight days when he sent that song over to me. He sent that song to me and I cried for eight days; I'd keep on playing it and crying. I said, 'Well, I'm not going to get well if I don't quit playing this song.' It's a great song, and I love this song; it hits me where it hurts, and I don't think it hits anybody else like it does me."
That may be true, but it's certainly likely to hit any listener hard. Neatly splitting the difference between classic and contemporary styles, it's plenty powerful as a song about romantic loss but is lifted to an even higher emotional level as Lynn pours the loss of her husband into her performance. "I was crying inside the whole time I was singing it," she says, "and you can tell it from my voice. I was trying so hard not to break down on that song, because there was one coming up that was even harder."
That one is "I Can't Hear The Music", which bears Loretta's name on the credits, and though she had help from writers Cody James and Kendal Franceschi, it belongs to her in an indescribably deep way.
"My husband kept telling me, 'I can't hear the music anymore,' and I thought he was just telling me that he didn't want me to sing anymore. And I wouldn't have; whatever he'd have said is what I'd have done. I thought that he just didn't ever want to hear music anymore, but what it was, just before he died, we went and got little tiny hearing aids for him. But he still wouldn't watch TV. Well, we got glasses. He wouldn't put the glasses on. So I found out he couldn't see, or he couldn't hear, and he wouldn't tell me.
"He was in a wheelchair, with both legs off. They just started cutting on his toes, then his foot, then his leg. It was the awfulest thing I have ever been through. I have never went through nothing like this, never in my life, and I had a brother die three weeks before my husband died. I didn't think I was going to make it, and when we went to record that song, I had to sing it a line at a time, I was crying so hard. We had to wait 45 minutes before I could do the last chorus."
Her willingness to forgo her career to support a husband with whom she had had an enormously contentious as well as a loving marriage ("I always say, Doo and I fought hard, but we loved hard," she says) rubs against the image of Lynn as an independent, self-centered woman. Yet much of the new album reaches beyond the pain and loneliness she felt after her husband's death to find a renewed sense of optimism and vitality.
"The Blues Ain't Workin' On Me", originally recorded by Rhonda Vincent on her album Trouble Free in 1996, shows Lynn reaching within herself for the courage and faith to re-engage life on its own terms, reasserting within the song the control she is taking again of her career. "This past year she's had an amazing tour schedule, and it's reconnected her again with the live audience," Scruggs says. "So she's able to bring those experiences and those feelings into the studio, too, when she comes back in."
Simply put, Lynn's new album is so good, so varied in its sound and spirit, that there is no legitimate reason for country radio not to air selections from it. "I think Loretta is a timeless artist," Scruggs says. "Her voice, on the first day of recording I could tell, it sounded like a young — it sounded fresh, and a lot of feedback I've gotten from people who have heard it early on is that they're just amazed at that." Of course, that's no guarantee of success in today's corporate radio climate, but if anyone can hit the charts again at age 65, and after a years-long hiatus from art and business, it's Loretta Lynn.
"A lot of things have changed since way back then," she wrote 30 years ago, recalling her childhood as a "Coal Miner's Daughter", and that's only become more true with the passage of years. "They want to make me over, just a little more uptown, say I need to change my image/Now tell me what that means, don't they know I've got country in my genes," she crows today on "Country In My Genes", as Earl Scruggs' banjo rolls in the background. "It's something I was born with/What you get is what you see."
It's frequently wishful thinking to suggest that success hasn't changed a person; after all, "Success has made a failure of our home" was the hook line of Loretta's first top-10 single. But if that's true of anyone, it's true of Loretta Lynn. She has made one of the best albums of the year, yet she is still, in many ways, the little ol' country gal from Butcher Holler, Kentucky, who just happens to be one of the best musicians country music has yet brought to light. Though she didn't write the song, "Country In My Genes" has it exactly right.
ND contributing editor Jon Weisberger writes about music from his home in Northern Kentucky, where he watches over his two sons and his copy of Loretta Lynn's hard-to-find Zero recordings.
---