Liz Beebe's 'Songscape' Pairs Creativity and Conservation [VIDEO]
---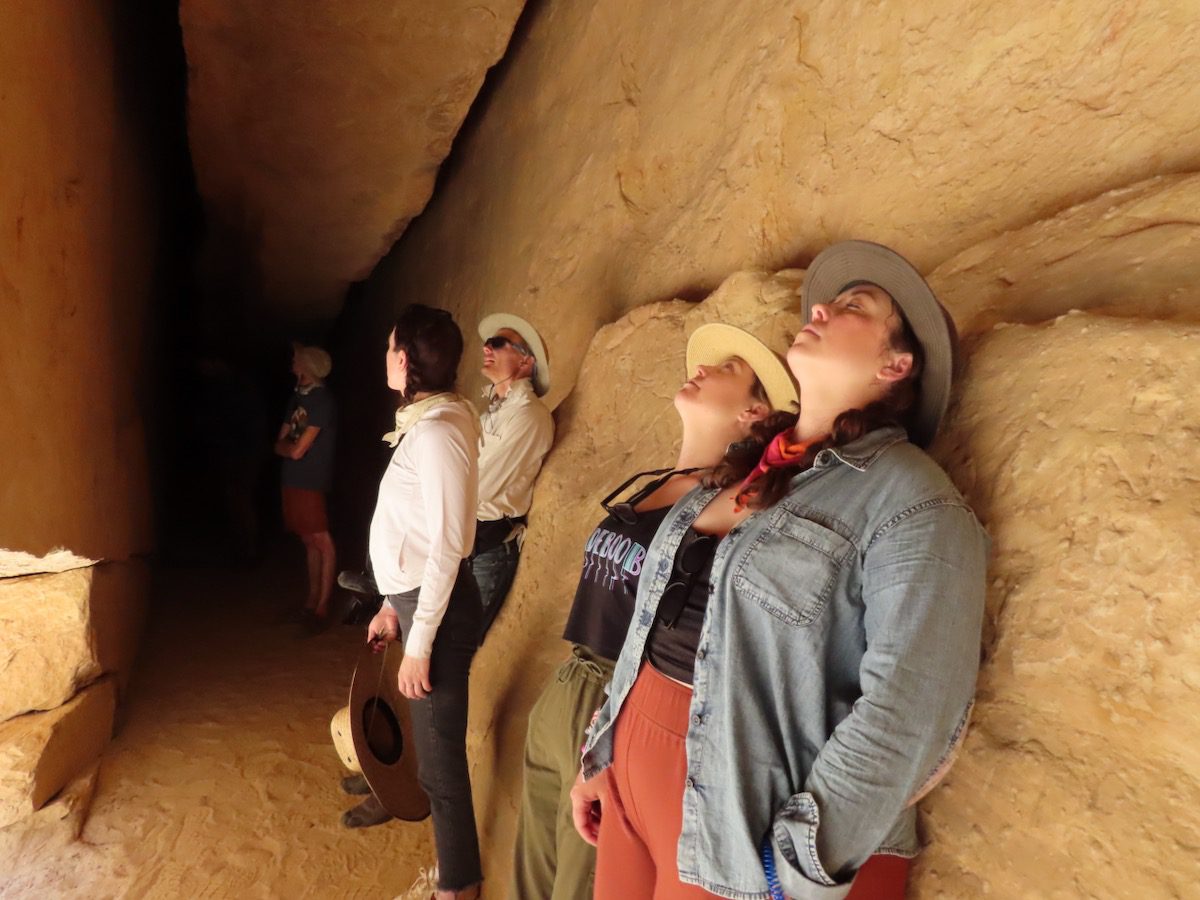 Liz Beebe and friends take in the sights along the Green River for her Songscape project with Sustain Music & Nature last summer. (Photo via Sustain Music & Nature)
Last summer, singer-songwriter and Dustbowl Revival alum Liz Beebe spent a few days on the Green River, floating and paddling her way from just below Flaming Gorge Dam in Utah to Echo Park in Colorado.
She wasn't alone. Accompanying her was a creative team from Sustain Music & Nature and a few friends to help out with the trip's ultimate goal: an original song and a gorgeous video to go with it, based entirely on her experiences in the American wilderness.
Sustain was founded by former Parsonsfield bassist Harrison Goodale and his wife, conservationist Betsy Mortensen, in 2015 as way to help artists find inspiration both for their own songs and for environmental causes. The first program it launched was Songscapes, a songwriting retreat program on public lands, part of an ongoing partnership with the National Park Service, US Fish and Wildlife Service, the US Forest Service, and various land trusts. Beebe's Songscape project, titled "Make Me Light," is the seventh. Previous artists have included River Whyless, who explored the Seedskadee National Wildlife Refuge in Wyoming, and Ben Sollee, who wrote a song inspired by the Forsythe National Wildlife Refuge in New Jersey.
For each Songscape, Sustain sends an artist or band to public lands in the US for a week of recreation, relaxation, and education, and they write a song inspired by their experiences. A crew comes along to record the journey for a video that not only promotes the song but also helps spread the word about the work of environmental organizations and the resources they protect.
"The most important piece, when we are talking to potential bands, is that this can't be a token song. It has to be real," Goodale says. "Audiences are going to know if it's not from the heart. That's never been an issue, because after spending a week immersed in the beauty of these public lands, it really is impossible to not be impacted emotionally and spiritually."
That certainly was the case for Beebe, who participated as a way to challenge her songwriting methods and to spend time with fellow creative people after many months in lockdown. She took photos and jotted notes and ideas in a journal along the route, but also tried to stay in the moment as much as possible.
"Throughout the trip, what I really wanted to remember was the sheer size of the walls of rock against the river," Beebe recalls. "We were small guests in this ancient place. Our group made fast friends and we shared a lot of laughter on the trip. Still, it always felt like an honor to be in these spaces. The day we headed to Echo Park, our guide Mason Runs Through led us on a hike to see the confluence of the Green and Yampa rivers from above and taught us about the history of the area. Hearing about the Native American history of this land while witnessing ancient artwork and living spaces felt like touring a cathedral. It was awesome in true meaning of the word and it felt sacred."
Once home, Beebe reflected on the trip and her emotions through it, and "Make Me Light" flowed easily, she says, with the first draft coming together in about 15 minutes. Rounding out the sound was producer Sam Kassirer (also a board member for Sustain) on keyboards, Sean Trischka on drums, and Brahm Bourque on bass. Paired with gorgeous footage from the natural settings that inspired the song, it's a meditation on the awe that nature can inspire and its power to uplift, especially when experienced with others. It's also a great nudge to get outside.
Which, of course, is exactly the aim. While many environmental organizations use "doom-and-gloom" statistics to scare people into action (and rightfully so), that tactic can be pretty discouraging, even paralyzing, Goodale says.
"Through a celebratory approach to conservation," he explains, "the conversation can be: 'We need to protect public lands because they are beautiful and belong to all of us' rather than 'If you don't do something everything is going to burn or get sold off to private companies.' Which is true, but when faced with an existential crisis, it's much easier to keep scrolling or just give up, 'I'm just one person, what am I supposed to do?' Music can unite individuals, and inspire change, as we've seen throughout the history of American music."
On this Earth Day, watch Beebe's video for "Make Me Light," and enjoy the scenery from her travels down the Green River. Even better, let it inspire your own travels to some beautiful outdoor space near you.
Proceeds from online sales of "Make Me Light" support Sustain and a special project from the Intermountain Natural History Association (a partner of Dinosaur National Monument, which was part of Beebe's Green River journey) to update the site's roadside informational signs to more accurately reflect the history of the land with info about Native American people who traditionally used it.
---