Levon Helm – Electric Dirt (2009)
Posted On November 19, 2010
---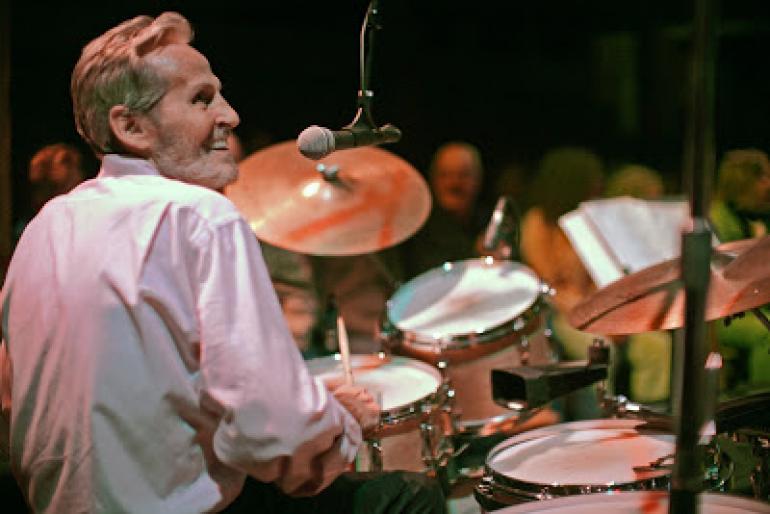 Nothing drove old Levon Helm down.
Not the messy dissolution of his group, The Band; the perhaps inevitable subsequent financial ruin; a terrifying bout with throat cancer; a pair of shatteringly tragic deaths within his inner circle; or a yawning quarter century span between solo records that made him all but obscure in modern musical circles.
This was the same Helm who backed Bob Dylan in 1965 on his first electric tour, then participated in some of the period's most interesting roots rock with The Band. But by the early portion of the 2000s, Helm was unmoored. Cancer had robbed him of his voice; the bank was threatening to take the rest. Heck, the man's house had actually burned all the way down at one point.
Then came the Grammy Award-winning 2007 release "Dirt Farmer" — which mined the sounds and storylines that always provided an emotional underpinning to The Band's most important work. Helm, who grew up country poor outside of Turkey Scratch, Ark., then later helped refocus rock music in the age of psychedelia with 1968's "Music from the Big Pink" and 1969's "The Band," had again uncovered something elemental, dangerous yet inviting.
There is, on both "Dirt Farmer" and this follow up "Electric Dirt" (issued in 2009 on Dirt Farmer Music/Vanguard Records) a dark and deep sense of loss — this candid accounting of, and quiet mourning for, the old times, the old ways, the old friends that fans of some of The Band's best-known Helm-sung tunes ("The Night They Drove Old Dixie Down," "The Weight," and "Up on Cripple Creek") will recognize.
Recording again with multi-instrumentalist Larry Campbell (like Helm, an alumnus of the Dylan band) as producer at Levon's personal studio, "Electric Dirt" opens with a rumbling take on the Grateful Dead's "Tennessee Jed." "Growing Trade," written by Helm and Campbell, explores a familiar theme in both rural America and, in a more specific sense, for Levon himself: The struggling farmer, trying to hold on to a lost livelihood.
But Helm moves beyond a simple retelling and the spacious, reserved instrumentation that marked his '07 comeback. "Electric Dirt" sounds as much like a Band record, in all of its authentic verve and galloping eclecticism, as anything its collective members have issued since "The Last Waltz" in 1978.
Helm sings with the bone-deep confidence of someone who has eyeballed our biggest fears and lived to tell the tale: Band singer and keyboardist Richard Manuel hanged himself in 1986; singer and bassist Rick Danko died of a drug-related heart condition in 1999. Over that same period, Helm struggled through nearly 30 radiation treatments trying to beat the cancer growing near the very yowl that defined his career. (One doctor actually suggested removing his voice box in 1998; luckily for us, Helm got a second opinion.)
It would be another year before Levon could speak above a whisper, and he could be forgiven for thinking that his career was over. Maybe that is why he's grabbed his newfound solo success, and what came before it, in such a powerful embrace. After 25 years between 1982's "Levon Helm" and "Dirt Farmer," he got to work on the next one almost immediately. And "Electric Dirt" finds Levon — singing again with a now-familiar unpolished power, both dense and elusive — revisiting old triumphs.
Rock and Roll Hall of Famer Allen Toussaint joins Helm for two cuts on "Electric Dirt," handling the arrangements on a cover of Randy Newman's "Kingfish" and the album-closing "I Wish I Knew How It Would Feel to Be Free" by Billy Taylor. Toussaint, fans will remember, had earlier arranged the boozy horn section on "Life Is A Carnival," from The Band's 1971 recording "Cahoots," and then collaborated on the charts for the group's 1972 splendid double-live album "Rock of Ages."
Those two tunes provide a template for how things will go.
"Dirt Farmer" was primal, spiritual and, with its bare-knuckled tales of work and struggle and loss, joltingly frank — like a first-draft version of The Band's more broadly romantic music, stripped bare to two-by-fours and a hard concrete foundation.
I'm drawn deeper into "Electric Dirt" because it's more invitingly pastoral. Helm's funky growl of a follow up is the completed home, picket fence and all — an absurdly beautiful rural evocation, hard-eyed at times but rollicking and vulnerable in the way that the very best Southern soul always is.
You're hearing the sound of a man, and a singer, reborn.
Originally published at www.SomethingElseReviews.com.
---