Levi Fuller's Ball of Wax Explores Harry Smith's Anthology
Posted On November 29, 2011
---
Levi Fuller's a musical explorer. Sounds cliche, I know, but I do tend to think of him with a pith helmet and machete, wacking his way through an underbrush of lame MySpace pages and Web 1.0 sites to pull forth little gems of cultural brilliance. He's a songwriter and performer himself, but through his series of regularly released compilation albums, Ball of Wax Audio Quarterly, he's been promoting many other artists from the Pacific Northwest. The Ball of Wax Audio Quarterly has been going strong for quite a while now (the newest one is volume 26), and it's been a work of passion for Levi that's let him bring forth some fascinating bands that most people likely hadn't heard of. I pride myself in being relatively familiar with many NW bands, especially folk and roots bands, but I'd only heard of 5 of the 19 artists on the current compilation. And that's more than on previous compilations!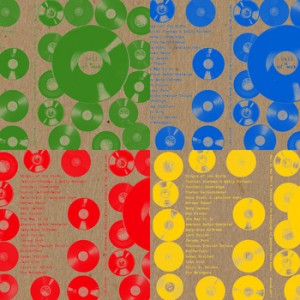 For the newest Ball of Wax compilation, Levi put the word out that he was looking for covers of songs from the Harry Smith Anthology of American Folk Music. The idea with most Ball of Wax releases is to compile songs/music submitted or recruited by artists, print and press the album, then put together a live concert with some of the artists where the album is given away for the show's ticket price. It's a great way to build community and to bring a bunch of artists and musicians together. And that's exactly what's happening with the new Ball of Wax.
The artists on the new compilation run a wide gamut of styles, though most hew to a rough-edged indie-folk sound. And like the original generation that picked up on
Harry Smith's quasi-mystic, borderline-insane Anthology, these artists are here to celebrate the twisted sounds and thoughts at the heart of the "Old, Weird America." Seattle busking sensation Ben Fisher nails the matter-of-fact broadside sensationalism of "Frankie and Albert," and sounds like a 19th century sheet music folio seller hawking the latest sensationalist ballad of sex and murder in a young America. Seattle alt-country oufit Amateur Radio Operator go after "Oh Death, Where is Thy Sting" and bring a creepy 16 Horsepower vibe to the song. Montana artists Nate Biehl and Caroline Keys (Caroline's with indie-folk outfit Stellarondo) do a nicely downtrodden cover of the classic "John Johanna." I've been a fan of all these artists, but the best part of the album are the new discoveries. Chicago based indie band The Way It Is have a great version of the Carter Family classic "Engine 143," and I'm totally in love with the world-weary, cracked vision that Seattle songwriter Jeremy Burk brings to one of my favorite old gospel blues "Shine on Me." There's lots more on this compilation, so I'll let you discover the rest for yourself. Head on over to Bandcamp and have a listen, and be sure to keep in touch with Levi Fuller's Ball of Wax! After all, he's done all the hard work of finding these bands, now it's up to you to check 'em out!
LISTEN TO THE COMPILATION ON BANDCAMP
Ben Fisher: Frankie and Albert

Amateur Radio Operator: Oh Death Where Is Thy Sting

This post originally appeared on the Hearth Music Blog. Check out our website and roam through our blog and Online Listening Lounge to discover your next favorite artist! We're dedicated to presenting today's best Roots/Americana/World musicians.
---