Let ND Help Fill Up Your Walls and Your Bookshelves on Black Friday
Posted On November 23, 2018
---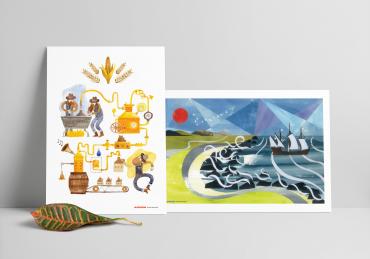 Now that the turkey is carved into leftover portions, 'tis the season of holiday shopping and deal-hunting, and we've got what you came for! We're very excited to offer a cool new item in our store — limited edition prints of artwork you've seen on No Depression covers and inside our journals. Check out instruments of the world, or a delightful illustration of a still, the graceful geese that flew across our Summer 2018 "(Im)migration" journal, or the intrepid sea explorers who crossed our "Over Yonder" issue from Summer 2017. These 13″ x 19″ prints will liven up any wall — and they're just $15 each!
Also this weekend (through the end of Monday), we're offering back issues for just $10! Catch up on what you missed since No Depression returned to print in 2015, or introduce a friend to the great music journalism that packs the 100+ ad-free pages of each issue. You can find the full list of what's available right here.
While you're shopping, we hope you'll consider getting yourself — or another music lover in your life — a subscription so you can be first in line for each new quarterly issue. We've got a lot of exciting stories and themes to explore in 2019, you won't want to miss it!
---