Laura Love on the Occupy Oakland Front Lines
Posted On December 8, 2011
---
Northwest songwriter and folk musician Laura Love has been at the frontlines of political movements since she was a little kid in Omaha, Nebraska, watching Civil Right race riots with her mom. She continued this work over the years, marching for anti-apartheid boycotts of South Africa in the 80s, marching in the raging streets of Seattle against the WTO in the 90s, and more recently, working in Ohio to turn the votes towards Obama in the 2008 Election. Time hasn't softened her beliefs or her desire to be out on the streets helping people, and with the Occupy movements spreading across the country, she knew she wanted to be on the front lines helping out again. Over the past six weeks, she's been down at the Occupy Oakland protests, right in the thick of all the police brutality and unlawful raids. It's rough and not without risk. She was brutally arrested following the November 2 General Strike at Occupy Oakland, and is now under constant threat of jail time by continuing to participate in any Occupy protest. This hasn't stopped her, and when I called for an interview, you could hear the assembly shouting in the background. On the phone, she told me she was 15 minutes away from marching again, this time with Occupy San Francisco.
On my end, I'm producing the Seattle Folk Festival this weekend, December 9-11, and Laura Love is one of our headliners! So I'm hoping that she'll be able to make it back for the festival without getting arrested again. But I knew this was the perfect opportunity to talk to a musician whose art I really respect and who has the courage to stand up for her people as well. There's such a long history of folk music as a tool for political activism, that I just had to know how this has changed or evolved in the radical new world of the Occupy Wall Street movement.
(Laura at her Occupy Oakland tent, Late Oct.)

Why Oakland?
Laura lives in the isolated Methow Valley in Eastern Washington, so Occupy Seattle would be a better choice, you'd think. "I was particularly drawn to Oakland because of its racial diversity," she said over the phone. "There are so many different influences here. It's a very diverse group of people. If they can get something done in Oakland, they can get
something done anywhere." Laura's past few albums have been powerful and thought-provoking examinations of her own African-American heritage. Though she's known as a singer-songwriter, she's always had an affinity with American roots music, especially folk, Appalachian old-time, and bluegrass music. On 2007's NeGrass, she brought old Black spirituals together with bluegrass courtesy of producer Tim O'Brien. It was a surprising marriage, but not if you look at the historical record. African American musical traditions are the foundation of most American music, and spirituals have always been intertwined with bluegrass. With her new album, The Sweeter the Juice, Laura joins her music with NW dobro master Orville Johnson to look at the African-American music at the heart of many of our Civil Rights song repertoire. One of the most powerful tracks on the album is the old song "Eyes on the Prize", which Laura told me is actually based on an old slavery song "Keep Your Hands on the Plow". The song was cleverly adapted to the Civil Rights movement, keeping the original coded Biblical lyrics for freedom, and pointing the song's message to the movement. These new-old lyrics eerily reflect Laura's current position now, following her arrest in Oakland.
Laura Love & Orville Johnson: Load Up (L. Love)/Eyes on the Prize (trad.)

Eyes On the Prize (traditional lyrics)
Paul and Silas bound in jail
Got no body for to call their bail
Keep your eyes on the prize
Hold on
Paul and Silas thought
They was lost
Dungeon shook and
The chains come off
Keep your eyes on the prize
Hold on
Freedom's name is mighty sweet
And soon we're gonna meet
Keep your eyes on the prize
Hold on

Occupy Oakland General Strike March, November 2
Arrested in Oakland
Though Oakland's interim police chief Howard Jordan dismissed the November 2 Oakland General Strike as around 4,500 people, other news outlets have commented that the number could have been as high as 100,000.

Laura was involved with the march on November 2, and was actually joined by fellow bluegrass artist Laurie Lewis! Following the strike, which successfully shut down the Port of Oakland, some of the marchers, including Laura, returned to their camp in Oscar Grant plaza in downtown Oakland. According to Laura, there were about 5-600 people in the plaza when riot police moved in, also numbering in the hundreds. In the early morning, waiting for escalation, the conflict turned violent when a  handful of anarchists started a small fire. The anarchists fled the scene, leaving the rest of the peaceful occupiers at the mercy of the cops. The police filled the square with tear gas and moved in on the occupiers, most of whom were sitting peacefully. Laura told me the rest of the story: "They were extremely violent. Everyone I was with, most of us were sitting down with our peace signs. They were giving the order to disperse because this was 'an unlawful assembly.' We were staying there and exercising our rights to peaceful assembly. They grabbed me and pulled me behind their line, making a visual curtain between the crowd and me. They threw me to the ground, smacked my head on the pavement. Cuffed me extremely tightly, pulled me around by the cuffs and left the cuffs on for about three hours. I was in jail for fifteen hours and was charged with unlawful assembly and failure to leave the scene of a riot." In an example of profiling against OWS, Laura said that while she was in jail, she was told by the police that if they caught her again with Occupy Oakland, she could expect to spend a lot more than 15 hours in jail.

(Cops in Riot Gear Arrest Protesters, November 3, photo from UPI/Elijah Nouvelage)
Laura was arrested while she was actually pleading with police to halt the mass arrests. There's amazing footage of her standing alone in front of a full line of riot cops. Curiously this footage can only be found on right-wing video outlets, since so many of these outlets jumped on the chance to report that protesters were violently clashing with police.
Screencap of Laura and the Riot Police just before she was arrested

Aftermath
Laura returned to Oakland this week for her arraignment, and learned that Oakland police were thinking of dropping charges. But now she has to call in once a week for a full year to check and see if they've decided to drop charges or not, and any further civil disobedience will affect this decision. It's a kind of forced probation, and it's not stopping her from getting out on the streets again. Since her arrest, she's been back in Oakland and Occupy San Francisco, working to stop home foreclosure auctions, to pressure banks to return foreclosed homes to their impoverished owners, and documenting her recent efforts in the Occupy San Francisco camp. The day we spoke, the camp had been raided in the early hours, when resistance was light, and the occupiers were now homeless.
Laura, and a lot of people, are all looking forward now to the next big Occupy movement: the December 12 West Coast Port Shutdown that will bring together people in most major West Coast cities in a call to stop port traffic for the day and cost the establishment huge amounts of money.
I wanted to talk to Laura about music and the Occupy movement, and she'd certainly been working on this. On November 2, she'd been stage managing and performing during the Strike, and over the past six weeks has seen a good number of other musicians joining in, like Laurie Lewis, Boots Riley, Tom Morello of Rage Against the Machine (who's been out filming), indie songwriter David Rovics, and more. But with all the violent action against Occupy Oakland and San Francisco, she makes an excellent point that "it's really hard to plan an event when at any moment you can be raided or your sound system confiscated."
So for now the good work being done is just standing in the front lines, documenting what's going one and standing up for all of today's disenfranchised. "We've come to a saturation point, with corporation and banks controlling every aspect of our lives," Laura explained. "They control our government, they're stronger at this point than the office of the president. There are a lot of unemployed people out here; a lot of disenfranchised people. Virtually everyone has been touched by the foreclosure crisis in some way." Continuing a long personal history of protest and solidarity for the disenfranchised, Laura's back on the front lines today, and will be helping out Occupy Oakland and Occupy San Francisco for some time to come.
Laura Love & Orville Johnson: We Shall Not Be Moved / Stayed On Freedom

Come out and be a part of the movement! Join the West Coast Port Shutdown December 12!

Support Laura Love and her Legal Efforts! BUY HER ALBUMS!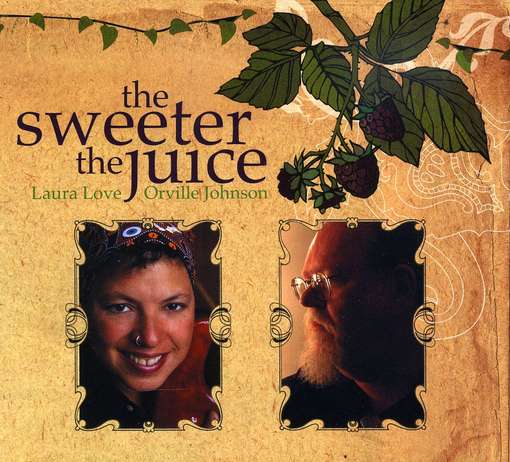 Laura Love & Orville Johnson: The Sweeter the Juice
Laura Love: NeGrass
---
And come to the Seattle Folk Festival on Sunday, December 10 to hear more of Laura's stories about Occupy Oakland. She'll be performing as Laura Love & Orville Johnson at Town Hall Seattle for the Sunday Family Jam. She's on at 3pm. She'll be joined that day by Pharis & Jason Romero, Jackstraw, Northern Departure, Riley Baugus & Kirk Sutphin, The Canote Brothers and more!
SUNDAY FAMILY JAM: Sunday, December 10, Town Hall Seattle
 
---