LA-Based Glam-Rocker Jess Weimer Drops New Track, "Glass Tower"
Posted On December 13, 2018
---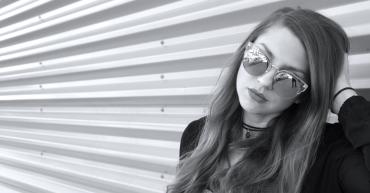 Los-Angeles based singer/songwriter Jess Weimer has released an eerie and brooding single, "Glass Tower." A striking combination of elements of rock, pop, and alternative, the moody track tells a frustrating tale of greed and superficiality, a toxic culture that is widespread in the entertainment industry.
The song warns that even though someone might be up so high that they feel invincible, they're not untouchable. In fact, their foundation is weak and their "high-and-mighty" position is precarious. "Glass Tower" was written by Jess and produced by The Record House.
Jess, originally from Wichita, Kansas, said, "It's been so interesting living in LA, entertainment capital, and witnessing the indifference of powerful people. Don't get me wrong, I LOVE Los Angeles and I'm all about pursuing a life of abundance and love. 'Glass Tower' was written in response to superiority complexes, greed, and a lack of empathy for fellow humans… you can clearly see all of the difficulty happening beneath you in a tower made of glass, but the glass is also symbolic of fragility."
Jess Weimer has been singing and writing songs for as long as she can remember. She has been involved in musical theater productions since she was 5 and began classical violin training when she was nine. When she was 16, she combined these talents to sing lead vocals and play the fiddle in a bluegrass band in Kansas. Her roots are still audible in her sound today, and she still values multidimensional talent. Jess moved to California to attend Chapman University. After graduating, she moved to LA to pursue a music career.
With a bit more edge and an alt-rock vibe, Weimer delivers powerful vocals and a bold new sound.
She draws musical inspiration from a variety of artists, including Bishop Briggs, The Alabama Shakes, Janis Joplin, Etta James, and Amy Winehouse. With the influence of these legends and many more, Jess Weimer is currently hard at work in the studio, crafting her sophomore EP. You can expect more genre-blending masterpieces from Jess Weimer soon.
For more information about JESS WEIMER visit:
Instagram / YouTube / Twitter / Facebook / Website
---