Kelly Willis, Grace Potter at Head of Music's Class of 18 in 2018
Posted On December 21, 2018
---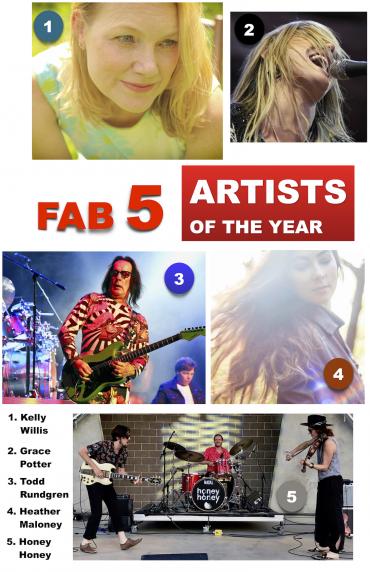 So maybe this is what it feels like when a label dumps a musician.
Less than a month after HuffPost published my list of favorite artists of 2017, the contributors' platform was shut down in January, thereby involuntarily ending my relationship with the website that began 10 years ago. "So, it's gonna be one of those years?" I thought.
While the chance to provide quality content there no longer existed, I continued to contribute to No Depression and soon found that PopMatters was interested in running my in-depth features and interviews with prominent artists, concert reviews and premieres of music video and full-length album streams.
That allowed me to cover music in much the same way and compile another list of personal favorites. This compilation is extremely personal, though, filled primarily with artists I have admired, appreciated and loved since I began covering music on a semi-regular basis — and, in one particular case, even way before that.
However, since this examination of the past year didn't fit the guidelines for PopMatters' genre-oriented coverage of the best music, I am back at No Depression to present my own list of Music's Class of 18 for 2018.
The lists and categories have changed over the years, transforming from top albums in 2010 to once again selecting my favorite artists based primarily on those I have covered since last January. A moving performance from one of them even made my wife Carmen cry, the first time I can recall a song affecting her that way since we saw The Way We Were while we were dating.
Much like last year, when Aimee Mann topped my Best of Music list, this group of 18 (with a bonus addition) has been broken down into five categories, topped by my Fab 5 Artists of the Year; the sub-categories include singer-songwriter faves, interview faves, concert faves and premiere faves, with each led by one of my top four artists.
My Top 18 Albums of '18, starting with an Americana-dominant Top 10 I submitted to No Depression's Readers' Poll, include a number of the artists in accomplished Class of 18. But the only requirement for my album selections was that each one had to be a full-length record released this past year.
Only one artist from last year (Whitehorse) returns in 2018, although quite a few of them have been among my choices on past lists. This purely subjective list was formulated primarily from my 2018 stories, which were published online at PopMatters, HuffPost and No Depression. It covers many of my favorite genres (rock, pop, folk, country, Americana) and includes 10 first-time selections.
One final note: It's been a difficult year for many of us, and this transition period surprisingly affected me, too. For instance, two festival headlining acts were instructed to prevent accredited photographers (including me) from shooting in the assigned pit, with one notification coming only minutes before the set was scheduled to start. Then in November, commitments were made for PopMatters premieres by two artists I have strongly supported in the past, only to have both back out at the last minute because their respective management teams thought they wanted "a larger reach" or found what they considered a more prominent outlet.
That hurt because I am proud of my association with PopMatters, an independently owned international magazine with a mission to educate as well as entertain, and am expecting to provide more original content there in 2019. Not discouraged by the past, I am actually optimistic about what music will have to offer in the New Year. Bring it on.
So congrats to all the 2018 winners, and let's look forward to seeing what the near future might bring.
Interview: April 26 (phone).
Article: Kelly Willis Returns to Old School of Thought to Teach Herself a Lesson on 'Back Being Blue'
Project: Back Being Blue, released on May 18, was Willis' first solo record in 11 years.
Choosing to avoid the bright lights and the Music City in order to keep Austin weird, this karmic chameleon has made great music on her own terms since she was dropped by a major label by the age of 25.
Whether she's singing the blues, country, pop or that old-time rock 'n' roll, the Marvelous Ms. Willis does so with heart and soul.
My pick for artist of the year and singer-songwriter fave was based primarily on the release of Back Being Blue, which was No. 2 on My Top 18 of '18 album list shown below. With a lovely, soothing voice that doesn't need the tricks and theatrics utilized by many of today's singers, Willis expresses emotion in her songs sung blue while providing a calming effect in a sea of stormy weather brewing around the world.
Willis sounds perfectly content about where she is at this stage of her life, patiently putting her solo career on hold for 11 years while raising a family in Austin with singer-songwriter-producer-husband Bruce Robison, then returning in 2018 to make a record that will stand the test of time.
Seemingly as easygoing as the music she makes, the Oklahoma-born beauty quietly reflected in an April interview about the ups and downs she has experienced since her Texas arrival at the age of 19 in what was this "really lazy little town" in 1987.
"It was the perfect place to be a musician and kind of be able to work on your music and so many venues to play and lots of people that were really into music that just went out all the time," Willis said during the interview, our first one-on-one after she and Robison discussed Our Year, their 2014 duo project that helped land them at No. 10 on my list of 14 Peak Performers. "But it was really manageable, you know. You could find your little place in this world here. There was a place for everybody. And then it exploded. For a little while, you'd feel like you'd get lost in the shuffle."
Back Being Blue didn't get lost in the shuffle this year (it was ranked No. 27 among the top Americana radio airplay albums of 2018), and received high praise from media outlets such as Rolling Stone Country (which called it "an enchanting collection"), American Songwriter ("strong original songwriting") and the Austin Chronicle ("feels effortlessly of the moment").
She also went on her first major tour as a solo act since 2016, including stops in the Lone Star State and the United Kingdom, concluded the year with the Bruce and Kelly Show, a series of holiday shindigs that ends with a Dec. 23 date at The Heights Theater in Houston.
That might seem far removed from the halcyon days of the Grand Ole Opry and the Ryman or "It Girl" appearances in People and Vogue, but Willis appears to be more comfortable than ever.
For someone who compares making records to creating a painting ("You don't quite know how it's going to end up once it gets started," she said), Willis was "really happy" with how her latest record (including six originals she wrote) turned out.
That's only natural. While there are many shades to Back Being Blue, it's clearly a work of art.
What I said: Now that she's officially back with Back Being Blue, her seventh solo album, Willis can truthfully review her slow-burn turn with fondness, feistiness and a sly sense of humor to confirm there was never anything else she would rather do than make music, even those early MCA records.
What she said: "I was able to go out, and I swear to you, I felt like Rip Van Winkle down there on Congress [Avenue]. Like, 'What is this? It's like an amusement park down here.' It used to just be the Continental Club. Anyway, it was weird. I'm OK with it now. You can't stop growth and change so … I still have a lot of fun here and there are still secrets to be discovered around this town." — Willis, on how much Austin's music scene has changed since she moved there in 1987.
Interview: July 2 (phone).
Article: With Baby on Board, Grace Potter Brings New Life, Deeper Meaning to Her Career
Project: Appearance at the Ride Festival in Telluride, Colorado, on July 15.
Returning to these stomping grounds for the first time since 2016, when she tied Pearl Jam at No. 16 by virtue of their best concerts of that year, Potter had many extraordinary reasons to take a break from the music industry since then. No. 1, of course, was the birth of her son Sagan Potter Valentine in January.
So a gracious Grace, who said, "I'm not one to really speak a lot about my private life," nevertheless spent nearly an hour on the phone two weeks before her appearance at the Ride Festival, offering a huge glimpse into personal and professional matters.
My pick for interview of the year, Potter was effusive and effervescent while discussing how life has changed for her since the Rock Goddess became a loving Baby Mama.
The frontwoman with the best smile in the biz also went into compelling detail about the pluses and minuses of dealing with a career breakthrough and how she fits in today among the Women Who Rock, the theme of the 2018 Ride Festival.
In another Year of Spectacular Women, Potter, who hosts her own festival each September in her home state of Vermont, seemed to enjoy singing in the rain at Telluride on a late Sunday afternoon in July with her headphone-protected son in attendance.
After seeing Potter play at various Colorado venues, including Red Rocks and the Belly Up in Aspen (my co-fave of 2016), this latest appearance with basically the same Magical Midnight Roadshow lineup from 2015-16 ranks as my comeback performance of the year.
The New Year should bring her first album release since 2015's Midnight, Potter's recording debut as a solo artist. "I think it's safe to say sometime in 2019," she offered in July about taking the independent route after sending a batch of new songs to management.
Coming from Amazing Grace, it should be worth the wait.
What I said: Now Potter has found "my absolute happy place" on plenty of hikes through the Santa Monica Mountains with Sagan, who also enjoys his version of nighttime lullabies, which — like his mother — really know how to rock. His favorite right now is the middle passage of Queen's "Bohemian Rhapsody," which Potter demonstrated over the phone, starting with the line: I see a little silhouetto of a man.
What she said: "Having a kid and bringing a life into this world, it was the first time I wanted to sing again. It was the first time I wanted to write again and really felt compelled from inside myself. Not from outer forces or like, 'When are you gonna make a new record?' or 'When are you gonna go back on tour?' You know, 'We miss you up in Saskatchewan,' or whatever. It needed to come from this place that when you stare at this little soul with these big eyes, that's like, 'What's the world all about?' I'm like, 'Aw, I want to show you what it's all about and what your mom can do.' It makes me want to be the best version of myself, and music definitely brings that out in me." — Potter, on how giving birth has impacted her life and music career.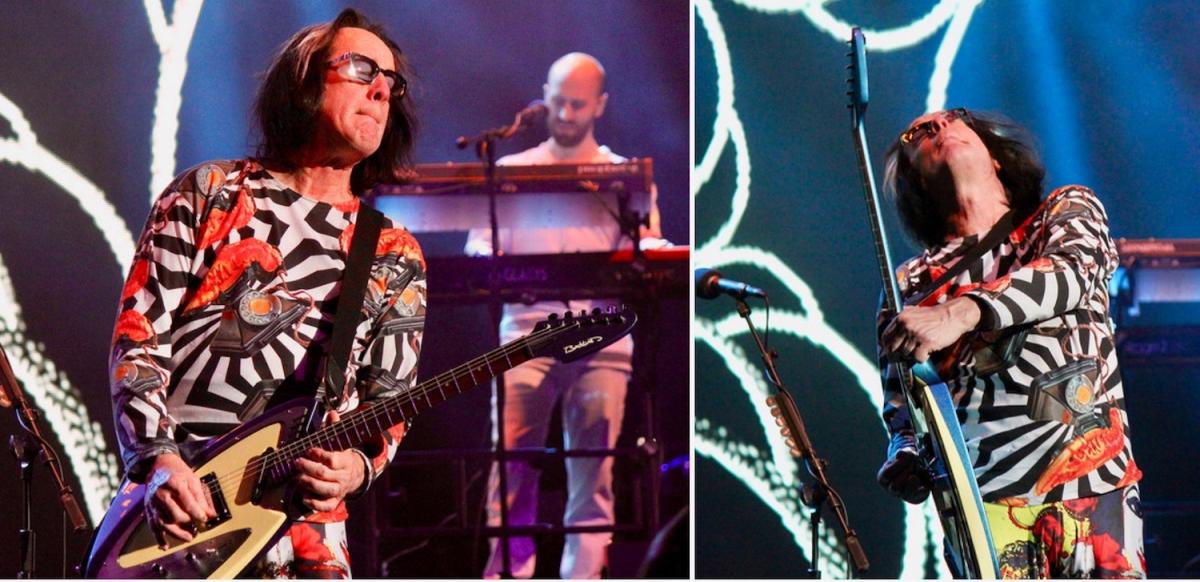 Article: Reliving Fandemonium on the Road With Todd Rundgren and Phantogram
Project: Reunion tour with Utopia, its first through North America in 32 years.
As a fervent follower in the Todd Squad for nearly five decades, it's hard to believe the 70-year-old man I still believe is A Wizard, A True Star hasn't made one of my year-end lists that I started compiling in 2010. That pales in comparison to his latest slap in the face from the Rock and Roll Hall of Fame, which failed to add him to its Class of 2019. While it was an outright travesty (despite all the 365,370 fan votes cast by me and a multitude of other supporters), that's for another time, another place.
If I wanted to reserve my inner fandom for any artist, though, it had to be the Ever Popular Tortured one. Until this year, of course. Possessing every record Rundgren has made as a solo performer and with his band Utopia, and seeing him play live 19 times since that memorable first show at the Municipal Auditorium Expo Hall in Mobile, Alabama, on April 26, 1974, I no longer could resist profesionally professing my love for him and his music.
Still, he's the only member of my Fab 5 Faves who I have not interviewed, even though the opportunity came up a couple of years ago. As a fan, I've met — and spoken with — Rundgren (detailed in the above linked article), but didn't want an objective exchange to alter those memories. Heroes, even the guitar ones, are made to remain heroes.
So I was a ticket-buying leader of the Freak Parade in May, when Rundgren's reunion tour with Utopia came to the Paramount Theater in Denver. While the crowd was enthusiastic but disappointingly small in numbers at the 1,800-seat venue, the show exceeded my expectations and is my pick for concert of the year. Songs and performances from his past and mine such as "Love Is the Answer," "One World" and the "Just One Victory" encore made it a truly enjoyable and memorable experience. If this was Utopia's Last Ride with Rundgren, I'm just thrilled I had a chance to be on board.
What I said: Every time I see him perform, it's hard not to wonder, "Why isn't Todd Rundgren in the Rock & Roll Hall of Fame?" Not that he probably cares, but the man who's dedicated nearly six decades of his life to music must have pissed off someone on the nominating committee somewhere along the way because he should have been in there a long time ago. … I honestly can't remember ever seeing a better single performer over almost 50 years of attending concerts (longer than that, if going to see Herb Alpert and the Tijuana Brass with my parents and older brother John counts). And each show I witnessed was decidedly different, including the A Cappella tour in 1985 (when I first saw Michele Gray perform, 13 years before she became Michele Rundgren), the Nearly Human tour in 1990 (with Gray, Jenni Muldaur and Shandi Sinnamon, who went on to make several appearances on David Letterman as "the World's Most Dangerous Backup Singers") and one of the 2nd Wind warm-up concerts, which were a series of California dates in 1990 in preparation to record his 28th album at the Palace of Fine Arts in San Francisco.
What he said: "We always appreciate it when we survive that first part of the set together. It's kind of like going through the Donner Pass in a blizzard. Which is why we thought we should ease up on the gas pedal here and do some simple block chords, maybe." — Rundgren, three songs and about a half-hour into his set with Utopia on May 24 at the Paramount Theatre in Denver.
Interview: Jan. 8 (via email).
Article: Heather Maloney Premieres Music Video for 'Let Me Stay,' a Breathtaking Song Homemade for These Times (HuffPost, Jan. 11)
Project: Music Video premiere for "Let Me Stay," off the six-song EP Just Enough Sun, released on Jan. 12.
I've been a Maloney fan and supporter since 2013, when we first chatted on the phone before her self-titled debut for Signature Sounds, which landed at No. 3 on my year-end list that included a top 10 submitted for No Depression's featured bloggers. My pick this year for folk singer fave returned to the season-ending top 15 of 2015 (at No. 8) with Making Me Break, her excellent follow-up that I said "offers more depth and daring while sharing its American beauty."
I interviewed the Northampton, Massachusetts-based musician again in 2015 after seeing her beguiling set at Planet Bluegrass' Folks Fest, which included the heartbreaking title cut.
So it should be no surprise that her third appearance on my yearly wrap-up comes after the release of another album (the six-song EP Just Enough Sun), another interview (an email Q&A) and another show performance (Nov. 8 at the Walnut Room in Denver).
While the EP doesn't qualify for My Top 18 of '18 listed below, her music video for "Let Me Stay" is my choice for premiere fave of the year and the hopelessly romantic "Bullseye" is my song fave of the year.
For the "Let Me Stay" video she directed, and its debut that was my last premiere presented at HuffPost, Maloney shot new scenes at her childhood home that turned into an "extremely emotional" experience.
Combined with home-movie footage her mother had taken and converted from old VHS tapes, this trip back in time was beautifully conceived and skillfully executed.
In this case, home is definitely where the art is for Ms. Maloney.
What I said: Returning to Hamburg, N.J., where her mom Kalo still lives, Maloney's experiences of love, loss, yearning and learning poured out of her heart and soul. They found their way into the song that Maloney wrote and the video that she directed.
What she said: "I remembered what the room looked like when it was mine. … I remembered every color it had been, the furniture that'd moved in and out and around it over the years, every poster that had been tacked up and then pulled down, and I even remembered the patterns of the glow-in-the-dark stars we'd stuck to the ceiling. Pets that we'd loved and cuddled in that room that are now long gone, games we'd played, fights, make-ups, messes, clean-ups, interactions, our family history … so much of this came flooding back to me and I was moved to tears."
5. HoneyHoney (bonus addition)
Interview: April 25, with singer-songwriter Benjamin Jaffe, one-half of the duo with Suzanne Santo (phone).
Articles: Margo Price and Suzanne Santo: Honky-Tonk Women Take Good with the Badassery on Tour (Feb. 23); Benjamin Jaffe Dives Into 'Oh, Wild Ocean of Love' While HoneyHoney Take Deep Breath (May 11).
Projects: Oh, Wild Ocean of Love, released on May 11, marks Jaffe's return to a solo career; HoneyHoney's farewell show on Aug. 5 at Levitt Pavilion in Denver.
Jaffe, the fast-talking, New York City-born guitarist currently based in Los Angeles, wouldn't give a definitive answer about HoneyHoney's status the last time I asked him, which was at the Lost Lake Lounge in Denver, where he opened Nov. 17 as a cool solo act for Dead Horses, a contemplative Wisconsin-based duo. There were only 115 tickets sold in a venue that holds 250.
If Jaffe and Santo, the firecracker lead vocalist/multi-instrumentalist who hails from Cleveland, decide to put indie roots-rockers HoneyHoney (still my pick as duo fave of the year) back together again, it won't be for "a long, long time," Jaffe said, sounding saddened but prepared for the inevitable permanent split.
That comment came more than three months after HoneyHoney's final show of 2018 (and maybe forever), a low-key outdoors set that was free to the public. Tears were shed onstage — by an under-the-weather Santo on lead vocals and violin — and in the audience by my wife Carmen after HoneyHoney performed the achingly lovely/melancholic "Yours to Bear" (Oh I didn't want to make you cry / And use my faults as an alibi).
I wrote about that song and their relationship following an incredibly revealing lunch date with Jaffe and Santo in 2015.
" 'Yours to Bear' was the purest collaboration that we've ever had in the sense that we came with nothing to writing and came out with pure improvisation between both of us," Jaffe said then of one of the songs that appeared on their third album, released a week after that June 2 interview.
At the time, I truly believed they were on their way to bigger and better things, and put them No. 1 on my list of Music's Fantastic 15 of 2015 for the Huffington Post.
Bigger and better might still hold true, but probably no longer as a pair. Both have since released solo records (Santo's Ruby Red and Jaffe's Oh, Wild Ocean of Love were listed at No. 16 on my year's favorite albums in 2017 and 2018, respectively).
I also enjoyed Santo's January show at Globe Hall in Denver, her fiery persona and act as explosive as her expletive-filled story about a couple of disrespectful spectators on the previous night. Recently, she's been a vocalist/violinist in Hozier's band, playing on his latest album and tour, and making national television appearances.
Sadly, it might be the end of the road for HoneyHoney, the band founded in 2008 by Jaffe and Santo. If so, it has been one hell of a run, and I can only hope that wherever the two go, they arrive at a safe and successful place, together or apart.
What I said: Even an alternative roots rocker as adventurous as Benjamin Jaffe occasionally dips his toe into the mainstream. But he really prefers to take a perilous plunge into the deep end.
What he said: "It was like I'm taking a dinghy out and trying to cross the Atlantic Ocean. … It's like refreshing but also very daunting. … I'm really kind of having to build up from the bottom. … Obviously, I have the network that we built from HoneyHoney and a lot of friends, but as far as like a fan base, it's not really there. So I'm just like slugging it out again." — Jaffe, on his return to performing solo after years with HoneyHoney.
The remaining members of this Class of 18 appear in four categories below, with blurbs on the artists not represented above. Links to all written articles are included, along with the publication date. All but the Secret Sisters piece for No Depression appeared at PopMatters.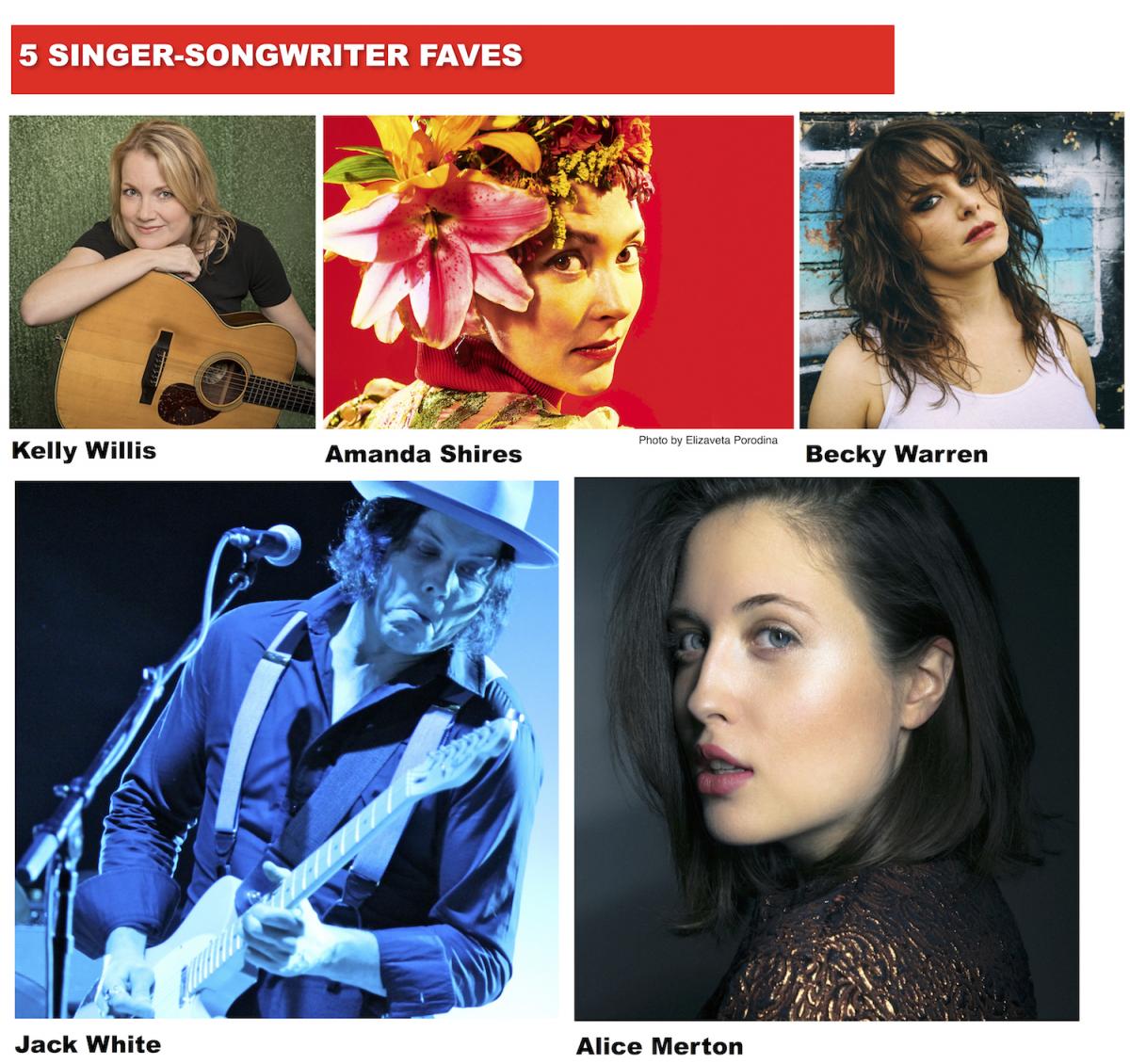 1. Kelly Willis (see above)
2. Becky Warren, Oct. 15: On Undesirable, the sophomore solo album from one of neo-Nashville's best yet most unheralded singer-songwriters, Warren stays close to home by examining the fight of the homeless. The descriptive accounts of the citizens of the streets taken from interviews Warren conducted are rich, alarming and heartbreaking. (beckywarren.com)
3. Jack White: With Boarding House Reach, his third solo album, the plugged-in shape-shifter finds inventive ways to express himself but keeps on rockin' in the free world, as evidenced by his excellent 2018 concert film Jack White: Kneeling at the Anthem D.C. and his first new music with the Raconteurs in more than 10 years. Play that funky music, White boy. (jackwhiteiii.com)
4. Amanda Shires: Even Jason Isbell might admit his wife is the better half of their Nashville singer-songwriter power partnership with the August release of To the Sunset, a daring collection that gives Americana a much-needed kick in the ass with savage sounds and creative stories that color her world. She also plays a pretty mean fiddle/violin, whether she's on a solo tour or joining her impressive hubby and his badass backing band the 400 Unit. (amandashiresmusic.com)
5. Alice Merton: The mesmerizing artist with the sumptuous voice who was born and resides in Germany was properly introduced with the five-song No Roots EP in April, but expect her to truly emerge in Mint condition on Jan. 18 with one of the most highly anticipated full-length album debuts of the New Year. I've already listened to Mint multiple times, and plan to make it my first entry on the Top 19 of '19. (alicemerton.com)
1. Grace Potter (see above)
2. Bishop Briggs, Sept. 14: On the eve of the inaugural Grandoozy festival in Denver, this London-born artist captured my attention and heart with wonderful stories, her charming personality and boundless energy, all of which caught me totally by surprise. A Grammy Award is her ultimate goal ("I would combust into sparkles and glitter," she said), and Briggs (birth name: Sarah Grace McLaughlin) was nominated earlier for the MTV Push Artist of the Year award. So isn't it time someone honors the frank and opinionated singer-songwriter (check out her social media) whose debut album Church of Stars made my Top 18? Briggs gets the nod here as breakthrough performer of the year. Let's hope that will at least make her combust into a little confetti. (bishopbriggs.com)
3. Ashley Campbell, May 25: It has to be difficult and complicated to be the daughter of a late music legend, especially when you're fielding a never-ending series of questions about him while promoting your own record. But the youngest of Glen Campbell's eight children handled this chat surrounding the release of her debut album The Lonely One like an old pro, recalling the lovingly cherished piece of advice she received from her dad, who died in August 2017: "Be a super person, and a superstar will follow." (ashleycampbellmusic.com)
4. The Secret Sisters, Jan. 25 (No Depression): In my first phone interview of 2018, conducted a couple of weeks before the real-life sisters from Alabama were to attend the Grammys Awards after being nominated for You Don't Own Me Anymore, the alt-country music duo of Laura and Lydia Rogers sounded like they were having the times of their lives just talking about the Jan. 28 ceremony. Though they didn't win for best folk album (it went to Aimee Mann, my 2017 artist of the year), the first-time nomination was cause for quite a celebration. "They may regret inviting us rednecks to such a classy event, but we're gonna make them remember us," said Laura, still a fan of many music genres. "I'm planning on kidnapping Bruno Mars to bring him back to Alabama with me." (secretsistersband.com)
5. The Drunken Hearts, Sept. 28: Five outsiders who somehow found each other in the Denver-Boulder area must have felt like they had the home-field advantage when they performed on the final day of Grandoozy in the Mile High City. After playing a refreshing set of hard-driving Southern rock, arresting outlaw country and mix-and-mash-up alt-Americana, the entire group — frontman Andrew McConathy, lead guitarist Kory Montgomery, Cody Russell (pedal and lap steel, banjo), Jon McCartan (bass) and Alex Johnson (drums) — took part in a free-for-all interview that was occasionally serious but, for the most part, hilariously entertaining and even educational. Everyone in the band now knows John Denver wasn't from Denver. (thedrunkenhearts.com)
Honorable mentions: I'm With Her, ZZ Ward, Jade Bird, Jena Rose (email Q&A), Danielle Cormier (email Q&A).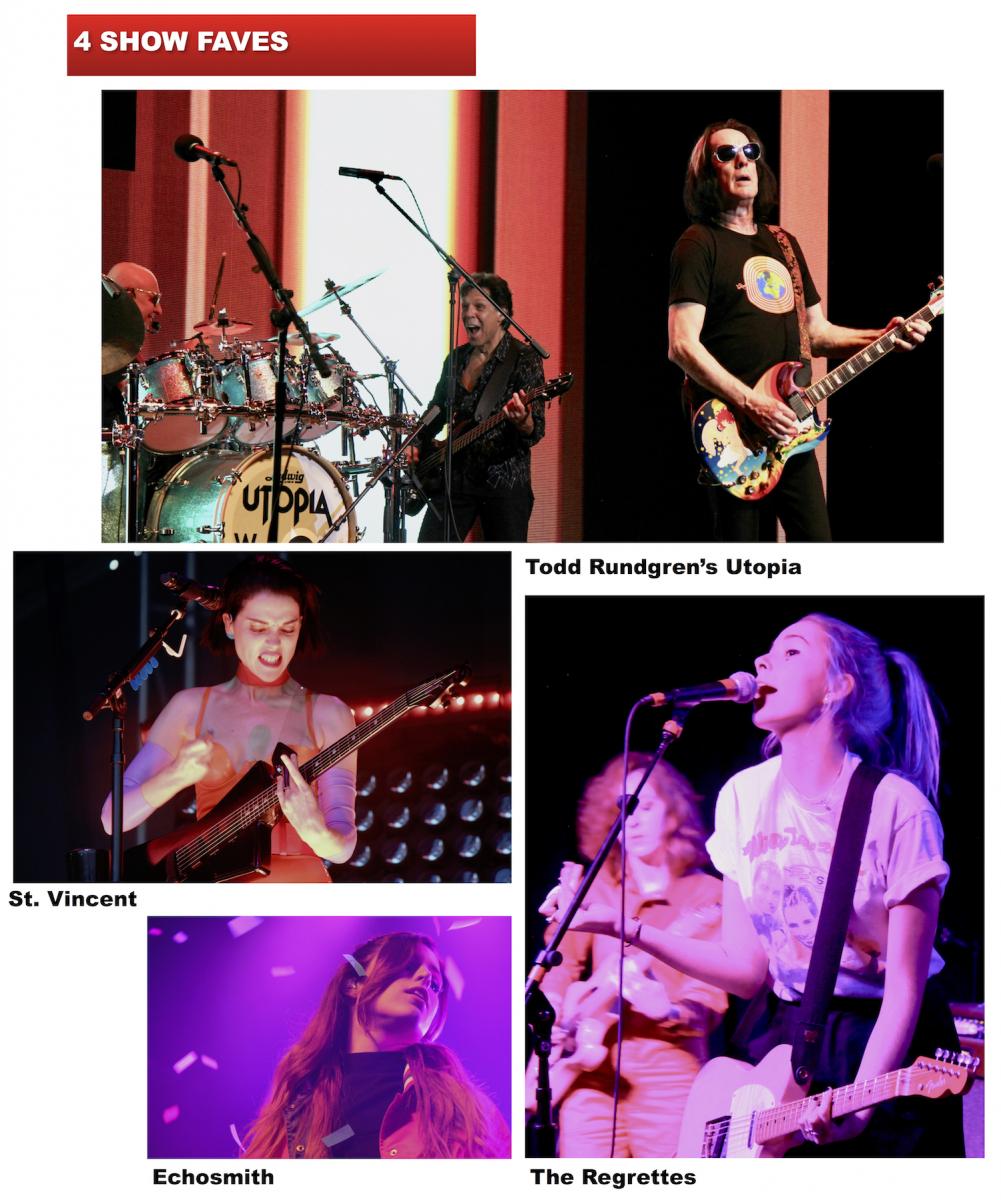 1. Todd Rundgren's Utopia (see above)
2. St. Vincent, Sept. 21: Annie Clark never ceases to amaze me, whether she's playing the smallish Bluebird Theater in Denver, closing the Ride Festival with David Byrne or shredding through an early evening set on the final night of Grandoozy, when she should have been the grand finale. Radiant in gorgeous orange — with a matching neon orange Ernie Ball Music Man electric guitar (the first of many colors) — the visionary known more these days by her stage name witnessed devoted fans worshipping every move she made as performance art came to life with an hourlong set that featured nine songs from 2017's Masseduction. "I know the world's crazy right now, but it's a miracle that you guys are here. It's a fucking miracle," Vincent preached to her choir of admirers during the second half. "No matter what's going inside or outside our heads, there's always a reason to dance." (ilovestvincent.com)
3. The Regrettes, Dec. 5: If the future of our youth rests in the hands of girl-group/power-pop/punk teen queen and frontwoman Lydia Night, then all is right with the anarchic tastes of the music world. It's seems only appropriate that at the age of 18 in the Year of '18, Night should be the leader of the pack any time of day, with the follow-up to Feel Your Feelings Fool! due in 2019. During a 45-minute set at the Marquis Theater in Denver, insecurity, angst and anger were delivered fast and furiously by Night and her fellow Regrettes — lead guitarist Genessa Gariano, and recent additions Drew Thomsen (drums) and touring bassist Brooke Dickson. They just cleared up teenage wasteland with a steamroller. (theregrettes.com)
4. Echosmith, May 1: If Sydney Sierota decides one day to give up the family business and leave her Echosmith brothers Noah and Graham behind, the charismatic 21-year-old lead vocalist and multi-instrumentalist will become a bright, shining pop star who will rule over those cool kids she sings about. She reigned at the Gothic Theatre just south of Denver on April 11 during a 70-minute set featuring most of their songs from the 2017 Inside a Dream EP, beginning with that magic number of a tune — "18." On a night when wholesome and feel-good themes — along with confetti cannon shots, selfies/photo ops with her beaming mom Linda and parasol twirling with an adoring fella from the audience (sorry, guys; she's engaged now) — were accepted and enjoyed, the message was sent — young and restless don't have to go hand in hand. (echosmith.com)
Honorable mentions: Phantogram, The New Respects, Margo Price, Dead Horses, Larkin Poe and Sheryl Crow.
1. Heather Maloney (see above)
2. Twisted Pine, "Heart of Glass" music video, June 5: This Boston-based quartet — including lead vocalists Kathleen Parks (fiddle, whose charming performance drives the video) and Rachel Sumner (guitar), along with mandolinist Dan Bui and bassist Chris Sartori — cover Blondie's dreamy hit like no other on an innovative EP filled with oldies but goodies that kicked of the summer of (what's not to) love. (twistedpineband.com)
3. Whitehorse, A Whitehorse Winter Classic, Nov. 1: One of the coolest real-life couples I've come across since covering music and interviewing artists is the husband-and-wife duo of Luke Doucet and Melissa McClelland, who premiered their holiday album at PopMatters the day before its Nov. 2 release. They were already in the spirit of the season in answering email questions about their Christmas plans and tackling the naughty-or-nice question. (They've both been both.) (whitehorsemusic.ca)
4. Mipso, Edges Run, April 4: Presenting an exclusive full-album stream premiere at PopMatters two days before its release, this North Carolina-based quartet — Jacob Sharp (mandolin, vocals), Wood Robinson (bass, vocals), Joseph Terrell (guitar, vocals) and Libby Rodenbough (fiddle, vocals) — provided such as emotional rush on all 12 songs that I got carried away by asking readers to welcome "each exquisite eargasm." It moved me enough to land at No. 4 on My Top 18 of '18 albums list. (mipsomusic.com)
Honorable mentions (all video premieres): Roanoke, Caroline Cotter, Karen Jonas, Ashleigh Flynn & the Riveters.
1. Hush Kids, Hush Kids
2. Kelly Willis, Back Being Blue
3. Becky Warren, Undesirable
4. Mipso, Edges Run
5. Jack White, Boarding House Reach
6. I'm With Her, See You Around
7. Amanda Shires, To the Sunset
8. Ashley Campbell, The Lonely One
9. Caitlyn Smith, Starfire
10. Dead Horses, My Mother the Moon
11. Bishop Briggs, Church of Scars
12. Wye Oak, The Louder I Call, the Faster It Runs
13. Lucia Micarelli, An Evening With Lucia Micarelli
14. Brandi Carlile, By the Way, I Forgive You
15. Cowboy Junkies, All That Reckoning
16. Benjamin Jaffe, Oh, Wild Ocean of Love
17. The New Respects, Before the Sun Goes Down
18. Lawrence, Living Room
Michael Bialas is a journalist and photographer who enjoys writing about entertainment and sports for a number of online publications, including PopMatters and No Depression. Follow him on Twitter: @mjbialas
---