Juliana Hatfield Assesses Modern Life on 'Weird'
Posted On January 17, 2019
---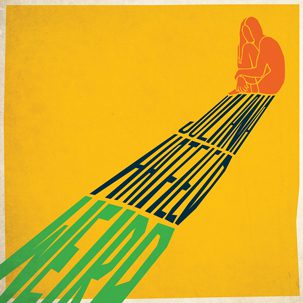 Juliana Hatfield's new album, Weird, arrives as if an intervening quarter-century of music didn't happen, and she's ready to serve a long term as reigning indie rock queen, beginning with this worthy follow-up to her career-making turn with the Juliana Hatfield Three on 1993's Become What You Are.
Hatfield melds her signature girlish tone with a world-weary wit that's not only been-there-and-done-that, but reconciled with the scar it left and can wryly laugh about it. (Mostly.) The album is the high point of the second-wind solo renaissance the 51-year-old Hatfield has enjoyed the last 10-15 years.
Indeed, if you factor in the post-millennial Blake Babies reunion and her female power trio, Some Girls, Hatfield's hardly lost steam throughout.
Her solo albums have been good going back at least as far as 2005's Made in China and 2008'sHow to Walk Away, as she's explored her loves of jagged punk guitar; jangly, confessional power pop; and moody, psych-tinged rock. (If you haven't heard them, blame the label/distribution/publicity vagaries of the post-Napster music business.)
Yet none of those albums feel as complete and stylistically coherent, with the possible exception of 2015's Whatever, My Love, which was the first time she played with those players (Juliana Hatfield Three) since Become What You Are. Something seems to have rubbed off – even if it wasn't apparent in 2017's noisier, somewhat uneven Pussycat.
With Weird it all comes together – the curdled hope, spunky independence, faltering self-doubt, and slowly ebbing ache.
Hatfield showcases her by-now typical candor on the opening track, explaining her shut-in preference on "Staying In" as "if I go out somebody may take me for a functioning human being."
The song's verse skates on jagged minimalist guitar pulses reminiscent of Television's Tom Verlaine and Richard Lloyd. But her fears seem more banal than she lets on, if still traumatizing as she confesses "I can't control my face. I try to keep it neutral but sometimes it moves and it betrays some inner wiring."
It's followed by the putative title track, "It's So Weird," which seems to reflect on maturation and our ability to recover from trauma. Asked by her brother, "Don't you need romance, and I told him no, I don't … Then he asked don't you ever need someone to put your arms around; I said there is no replacement for what is gone."
The heartfelt way Hatfield intones the title line keenly captures the befuddling nature of age's wisdom.
There's not a misstep across the album's first half; every track's a winner. "Sugar" conflates dieting and staying away from people that are bad for you over a bright bubbly jangle pop melody, while "All Right, Yeah" is a fetching little rock rave-up that equates oscillating fans with her rapidly changing disposition.
"Everything's For Sale" opens with the admonition, "your integrity and your dignity, don't give it away — someone will pay," and works its way through a dispiritingly long menu of everything money subverts, from the trivial to the essential ("executive producer credits, ivory, freedom, organs, and multiple spins").
Even the late album tracks sizzle, like the slinky, swaggering psych-inflected "Lost Ship," which imagines an escape on her own spaceship into her mind where she can "fly so low across my own private ocean." The impossibly sweet vocal-laden "Paid to Lie," recites another litany of horrors over a lullaby melody, gossamer synth swell, and multi-tracked chorus of Hatfields that still can't sugarcoat the sad truth (which seems at least partially aimed at Sarah Huckabee Sanders).
Weird is an infectious listen with perhaps the deepest batch of winning melodies in Hatfield's career, and fine, world-wizened lyrics that capture the feeling of helplessness and confusion endemic to modern life. In a strange way it feels to me like a distant answer to Liz Phair's 20-something provocation Exile in Guyville, confirming that we're still expats and that the strange/awful feeling in your stomach is perfectly normal.
---