JOURNAL EXCERPT: The Many Phases of The Milk Carton Kids' New Album
---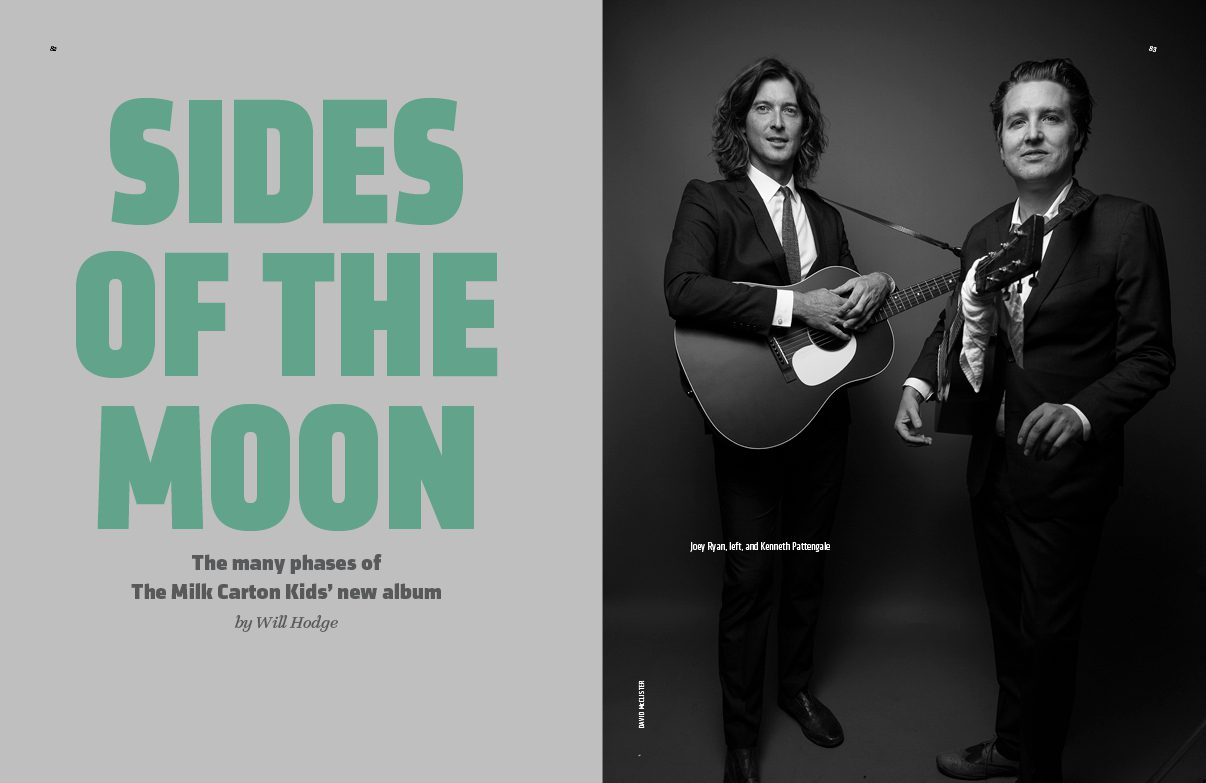 EDITOR'S NOTE: To mark the release of Milk Carton Kids' new album, I Only See the Moon, this week, we're sharing an excerpt of our story about the album and the band from our Spring 2023 journal, available now. Order your copy or, better yet, subscribe today — and support nonprofit roots music journalism in print and online for a full year!
"We've got all of the time in the world to kill," croon acoustic indie-folk duo The Milk Carton Kids on the deceptively soothing opening song of their seventh record, I Only See the Moon (out May 19 on Thirty Tigers). While the ethereal harmonizing between Kenneth Pattengale and Joey Ryan might belie some of the song's more melancholic lines — "time's a thief" or "blink, now we're gone" — the overall sentiment of the track feels like a celebration of the moments when the things that are most important in life fall into crystalline focus.
As if the song's title alone — "All of the Time in the World to Kill" — wasn't enough to conjure up memories of COVID-19 shelter-in-place lockdowns, both Pattengale and Ryan acknowledge that the life-altering interruption brought a healthy dose of existential clarity and renewed songwriting inspiration.
"Something that becomes clearer as you get older," begins Pattengale, "is the idea that what's most important are the people you choose to travel with as you're all barreling through time and space together. I think the pandemic really helped put an exclamation point on that for most everyone." Adds Ryan, "So many lessons of the pandemic are tied up in the realization of just how much power can be contained in a single decision: being honest with yourself about how you want to spend your time and what is most meaningful to you."
These sort of free-flowing, seemingly effortless conversational alley-oops are par for the course when interviewing The Milk Carton Kids. Since forming in 2011, the duo has mastered a charming dance of piggybacked banter that manages to reinforce each other's sentiments without finishing each other's sentences. Sometimes that dynamic plays out as they are waxing philosophical and sometimes it joyously appears as more of a setup and punchline.
Consider this karaoke-infused back-and-forth when asked if their "All of the Time in the World to Kill" lyric "may you become forever young" is a sly reference to the popular Planet Waves-era Bob Dylan song:
Pattengale: "Well, they're all sly Dylan references, aren't they?"
Ryan: "What do you mean by Dylan, who's that?"
Pattengale: "Maybe Joey intended a Dylan reference, but I was intending some early '80s British pop."
Ryan: "I was actually going for…" [sings out a few bars of Alphaville's 1984 hit "Forever Young"]
Pattengale: "That's the one I'm talking about, Alphaville!"
On Their Own Time and Dime
The three-time Grammy-nominated duo has woven this concept of "all the time in the world" into some additional layers of meaning throughout the new album as well. Since the release of their last album, 2019's The Only Ones, Pattengale moved back to Southern California (20 minutes from Ryan's house) and the two purchased their own studio space in Los Angeles. Additionally, for the first time in the group's recording career, it was agreed that Pattengale would operate as the lone producer for this project (as previous albums have either been solely co-produced by the duo or in conjunction with Grammy-winning producer Joe Henry). This meant that the duo could record their new album on their own time, in their own space, and under their own creative predilections. "Our recording money is still burning," Pattengale jokes, "but it's at least disappearing at a much slower clip."
For Ryan, the change in their in-studio dynamic resulted in an unforeseen win-win situation: "I ended up loving that arrangement because it empowered the best sides of both of our creative processes. I felt like it was a commitment from me to be willing to try some things even if they didn't seem right at first, and it gave Kenneth permission to really experiment with a lot of things that he didn't need my buy-in to start trying. I knew that it would bring out the best side of him, but what I didn't realize was that it would bring out a better side of me as well because I felt like I didn't need to be so super protective over ideas in their beginning stages."
Pattengale saw an opportunity to take what he's learned producing other artists (including Joy Williams and Joe Pug,) and apply it to his own band. "We've always had a 50-50 division of labor as the terms of engagement that help keep our band emotionally healthy," he explains. "This time out, I specifically asked Joey to trust me with some extra decision-making ability and veto power. We were looking to amplify our creative connection and still end up with an acute point of view that was coming from a singular instinct. Funnily enough, so much of the process ended up looking like every other record we've made together but with the exact little tweak that we were both looking for."
Ryan adds with a chuckle, "A funny way of looking at it, that might be more illustrative than true, is that in the traditional artist-producer relationship, the artist can fire the producer if things aren't working out. When Kenneth had his producer hat on, he was in the head space of trying to achieve what the artist wanted, so I ended up feeling more deferred to than ever before. It was a really cool dynamic in both directions."
Moreso than uncovering any fresh nuances within their interpersonal creative dynamics, the duo feels the bigger story surrounding the recording process of their new album is how much time it took to come to fruition. For a band with an impressively consistent track record of releasing albums that were recorded in just a week or so, it surprised them both that the overall recording arc of I Only See the Moon ended up encompassing a full year.
"In the past, when we went into the studio with our songs, those were the songs that made the album," notes Ryan, "but this time around, I really felt like Kenneth, to his credit as a producer, did not want to let any songs through from either of us that were not going to be up to snuff. So about six months into the process, he felt like half of the songs we recorded weren't good enough and said we should start over, so that's what we did."
New Sounds
Another beneficial result of their new album's elongated timetable was the ability to tease out and test some of the songs for live audiences before capturing their final form in the studio. While it is often common practice in the music industry to hold new material back to build excitement and help hype up a record's release, the duo has been sprinkling in about six or seven songs from I Only See the Moon in their last year of shows.
"We grew up in a time where the anticipation around the marketing of an album was everything," explains Pattengale. "In the early 1990s, a single being released to radio was a big deal, and there was a particular excitement when it caught hold ahead of an album's release. Now, 30 years past that, on our part it seems completely foolish to intentionally hold things back. Naturally we want to build some inertia but there's no way we were going to not play these songs live just for the sanctity of it."
"The new album also has our only banjo songs as well," Ryan playfully chimes in, referencing the folksy metallic twang that guides new tracks "When You're Gone" and "One True Love," "so we've got to take advantage of every opportunity to bring the banjo out."
Banjos aren't the only ornamental instrumentation enhancing the duo's trademark acoustic guitar interplay on I Only See the Moon. The title track also boasts an elegantly lush string section of violins, violas, and cellos ebbing and flowing throughout the somber minor-key ballad. "I actually wrote that song back in 2014 and we've been trying to record it for a while," says Pattengale. The Milk Carton Kids had recorded it before, he explains, but it never felt right in the context of an album until they added a string section — and a purpose for having it.
"I didn't want to just make the song sound fuller by taking a small quartet and have them layer parts," Pattengale continues. "I wanted the string arrangement to be an entire separate character in the room to set the lighting and dance around the background a little bit. On the day of the recording, out of pure vanity, I wanted to experience what it felt like to play along with a 20-piece string section. I set it up where I could go out and just play the song a few times through with them. We did that about four times and what you hear on the record is the last one we recorded."
Adds Ryan, "You should know that however many strings ended up on the recording was a significant concession from Kenneth on what the initial vision of the song was. He initially wanted like four full orchestras, all recorded simultaneously. But that was another benefit of Kenneth being the producer. If we were co-producing, I'm not sure that I would spend a significant portion of the album budget on a symphony orchestra string arrangement. But he asked for my buy-in at the beginning, so what could I do? Luckily it came out amazing. That string arrangement is Kenneth's magnum opus of the album."
Starting Over
Looking back at their dynamic year of recording I Only See the Moon, Pattengale and Ryan share different memories about the moments that best encapsulated this process. Their divergent answers reveal some of the more distinct halves of their shared creative outfit, but also how they complement each other as parts of a whole.
"Oh, that's an easy one for me," exclaims Pattengale, easily transitioning into storyteller mode: "It's the closing track of the album, a song Joey wrote called 'Will You Remember Me?' As far as I'm concerned, it's one of the top three songs he's ever written. We had gotten really far into recording the album, like almost nine songs completed, and there was just like one sonic color that was still missing. I asked Joey to go work on two demos where my random lyrics weren't exactly making sense. He came back in 45 minutes later and said, 'I didn't do anything you asked because I accidentally wrote this whole other song.' He played it for me and I just loved it. One of my bass player friends was coming by the next day just to hear some of our new stuff, so the three of us just quickly recorded it — Joey on guitar, me on pump organ, and Christian Castillo on bass. Within 24 hours, we had this completed recording of a song that hadn't even existed the day before and it was exactly the thing we needed to fit into the last slot on the album. After a year of trying to craft this thing, for the end of the process to be so magical is the thing I'll remember most about this album."
"Mine actually goes in a bit of the opposite direction," reminisces Ryan in his more measured delivery. "For me, the big moment that made the album was when we finished 'phase one' and I had this unsettled feeling — that I wasn't going to do anything about — that maybe we hadn't made such a great album. But then Kenneth spoke up and said that we should admit that this is not our best, get rid of some of the songs, and continue working on it. I was so relived and refreshed in that moment of starting over. The things that came after that really make the album what it is. It was a huge emotional and logistical turning point for us. We learned that sometimes it's the right decision to take your time and not rush a process. Sometimes things are going to take another year, and that's really okay."
---