JOURNAL EXCERPT: Roots Musicians Aim to Bring More Thanksgiving Songs to the Table
Posted On November 21, 2022
---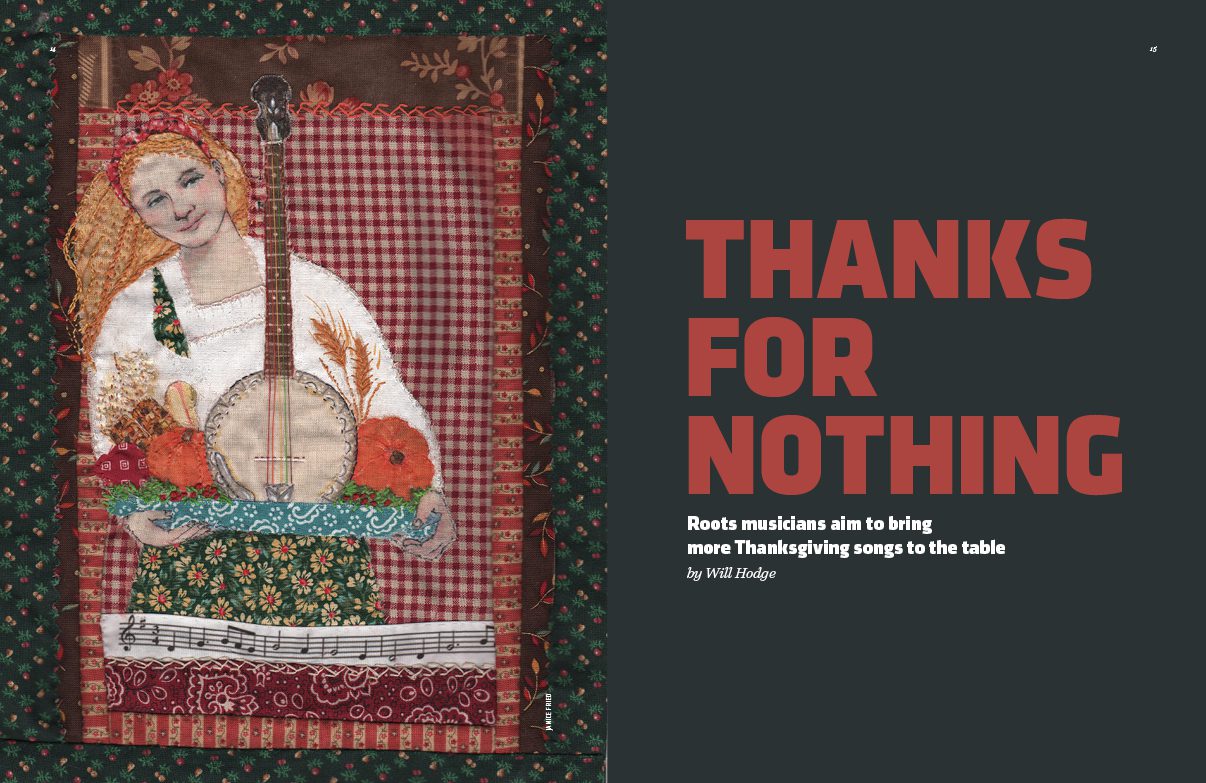 Excerpt from the Fall 2022 issue of No Depression. Original art by Janice Fried
EDITOR'S NOTE: As readers in the US celebrate Thanksgiving this week, we're sharing this story about the holiday and roots musicians' complicated relationship with songs about it. To read the full piece, buy the Fall 2022 issue of No Depression or, better yet, subscribe and support nonprofit music journalism in print and online for a full year!
As late summer's sunsets start signaling the parade of fall and winter holidays in the United States, there's certainly no scarcity of festivities for those who choose to celebrate. For many, Halloween has grown into a monthlong bacchanal full of bottomless candy dishes, horror movie marathons, and pop-up retail stores helping to outfit a plethora of costume changes. Christmas has inspired so much merry-making ephemera that there are entire film franchises to binge and genre-specific radio stations to play around-the-clock holiday music from late November to early January.
And then, sandwiched neatly between these two mirth-filled monoliths, is Thanksgiving and its dearth of pop cultural paraphernalia. On the surface, the absence of popular Thanksgiving media can easily be attributed to the holiday's complex, deeply contested history. The oversimplified version of Thanksgiving — the Wampanoag tribe and the Plymouth pilgrims sharing a meal to celebrate a peaceful partnership exemplified in the latter's first harvest on the former's ancestral land — grossly whitewashes the country's verifiable history and continuation of colonialism, displacement, and genocide of Indigenous peoples.
However, in spite of this dubious historical context, there's no denying that Thanksgiving has a significant cultural footprint in the US. It's the only federal holiday that comes with its own "day after" add-on, entire retail business strategies are built around Black Friday sales, and the Macy's Thanksgiving Day Parade is often reported to be the world's largest (and second-oldest) recurring parade. The holiday's popularity is not a sign of unanimous approval, though, as it is also observed by many individuals and communities in completely disparate counter-celebrations: many Indigenous people honor both the National Day of Mourning and Unthanksgiving Day, while anti-capitalists protest the day after Thanksgiving as Buy Nothing Day.
Still, some form of the holiday can be traced back to observances on Indigenous soil now claimed by the United States as far back as the 1500s. So the shortage of sonic culture anchored around this season has resulted in the enigmatic non-entity known as the "Thanksgiving song."
Writing Around It
Due to these inherent complications (or perhaps in spite of them), only a few musicians have tried to make some sense of the holiday by writing a proper Thanksgiving song. In fact, for much of the holiday's earliest incarnations, the only songs available were co-opted hymns that contained some attribute — thankfulness, togetherness, agrarianism — of the commemoration's overall formula. This includes Dutch and German hymns like "We Gather Together," "Now Thank We All Our God," and "We Plough the Fields and Scatter" from the 16th, 17th, and 18th centuries, as well as some more recognizable 19th-century English hymns like "For the Beauty of the Earth" and "Come, Ye Thankful People, Come."
Even as the narrative around the holiday evolved into more of a patriotic pillar to the nation-founding mythos (ushered along by a mixture of presidential proclamations and federal legislation that first started with George Washington in 1789, evolved into law through Abraham Lincoln and Ulysses S. Grant in the 1860s and 1870s, and was finally codified as its now known by Franklin D. Roosevelt in 1942), its ever-twisting roots still seemed unable to bear much musical fruit.
In the latter half of the 20th century, however, a few musicians set out to write Thanksgiving songs with more intentionality, though it often seemed that they wrote around the holiday more than they wrote about it. Arlo Guthrie's infamous "Alice's Restaurant" from 1967, long considered the first popular Thanksgiving song of the modern era, really exemplifies the songwriting tradition of not exactly knowing what to do with the holiday. Guthrie's comical, rambling, talking-blues protest song against the Vietnam War draft only briefly mentions the holiday as a minor plot point. What more likely solidified its role as a Thanksgiving musical tradition is its nearly-20-minute run time, a qualifier that helped generate annual spins by radio DJs who got stuck working the Thanksgiving Day shift and enjoyed playing the song to give themselves long breaks.
The term "popular Thanksgiving song" wouldn't re-emerge until a couple decades later when Adam Sandler's "The Thanksgiving Song" made the surprising leap from Saturday Night Live "Weekend Update" sketch in 1992 to certified radio hit single five years later — though it was far more of an irreverent, reference-heavy fever dream than a proper song. Much like Guthrie's offering, the success of Sandler's ode to the holiday could probably be chalked up to a lack of competition more so than an acknowledgment that an iconic Thanksgiving sentiment had finally been captured in song.
Trouble at the Table
The concept of what an authentic Thanksgiving song could be started truly coming to form in the 2000s, with roots and roots-adjacent musicians leading the creative turn. In late 2005, legendary rockabilly trio Reverend Horton Heat wrote "Turkey Gotta Gobble" as the sonic centerpiece for a nationwide holiday ad campaign for the restaurant chain Boston Market. While their Thanksgiving-forward tune was not officially released as a single, the rockabilly battle rap pitting turkey against ham successfully played to millions of ears through the heavy-rotation television spots.
Just a couple years later, singer-songwriter Mary Gauthier released a heartbreaking song called "Thanksgiving" on her 2007 album, Between Daylight and Darkness. Instead of writing about the big holiday meal that can be so easily taken for granted, Gauthier masterfully conveys the various obstacles many families have to overcome just to get to a shared table. "Thanksgiving at the prison surrounded by families / Road-weary pilgrims who show up faithfully," she sings, "Sometimes love ain't easy, sometimes love ain't free."
In 2010, Southern rockers Drive-by Truckers helped kick off the inaugural Black Friday Record Store Day with a 10-inch vinyl single of "The Thanksgiving Filter," a brutally honest slow-burn ballad that confronts many of the complicated feelings that can surround the holiday's customary family meal. The weariness in DBT frontman Patterson Hood's vocal is palpable as he addresses the atmospheric minefields of multigenerational relationships ("Grandmother's wheelchair is sitting in the corner, we all sure love her but the little ones avoid her"), politics ("My aunt's praising Palin and my niece loves Obama"), and healthy boundaries ("You wonder why I drink and curse the holidays, blessed be my family from 300 miles away").
"Holidays are hard for people who have complex families or families that are scattered in some way," says Gauthier, reflecting on her song. "Some folks have to go that extra thousand miles to be with loved ones that are incarcerated or hospitalized. I just wanted to tell a story about a family who actually goes the extra yardage to really do the work of love."
Capturing the fought-for beauty of a sad song isn't exactly new territory to Gauthier, so it's no surprise that writing a heavy-hearted holiday song would come pretty naturally: "It's easy to write a sad song about the holiday because the holidays are a struggle for me," she says. "When I was a kid, Thanksgiving was a big family gathering centered around my grandmother's cooking. But I've never really established a routine for it as an adult." After a thoughtful pause she adds, "Holidays can really throw me."
While Hood's and Gauthier's Thanksgiving songs tackle some of the grittier aspects of the holiday, other songwriters have taken a more traditional approach to the season's familiar identifiers. In 2008, Grammy-winning artist Mary Chapin Carpenter wrote the sentimental "Thanksgiving Song" for her holiday-themed album Come Darkness, Come Light. "Father, mother, daughter, son, neighbor, friend, and friendless," she sings on the hymn-like invitational, "All together everyone, let grateful days be endless."
While the song's title and its inclusion on a holiday album make its intentions clear, Carpenter's straightforward lyrics present one of the potential pitfalls of trying to harness gratitude and gathering in a universally relatable (and not cheesy) way. While she sings of a table, a feast, and traveling home, the details are blurred just enough to evoke a Christmas scene or any other meaningful family gathering just as easily. There's a fine line between writing a "Thanksgiving song" and just writing a song about giving thanks.
Perhaps the most successful example of a singer-songwriter embracing the holiday and highlighting all of its traditional trappings is Ben Rector's "The Thanksgiving Song." Released on his 2020 holiday album, A Ben Rector Christmas, the reflectively sentimental piano ballad seems to strive for that bittersweet balance between nostalgia and reality.
"I've always really enjoyed Thanksgiving," he says, "because it mirrors a lot of the things I love about Christmas, but with less of the pressure." Rector infuses his song (and its clever music video) with a cornucopia of festive imagery, notably making mention of the holiday's "big three F's": family, food, and football.
Rector feels the creative obstacles to Thanksgiving songs are less about lyrical content and more about the lack of familiar musical motifs. "If I said the term 'Christmas music,' you can immediately cue up in your mind what that constitutes. Just like if I said 'Motown.' Those genres pull up a specific palette of flavors. There's nothing like that to even start to reference for Thanksgiving songs. I think the biggest difficulty is that there isn't more of a sonic template to slip into: Nothing sounds like Thanksgiving."
One way Rector tempers the holiday's nostalgia is with a deft sprinkling of melancholy. His verses address the passing of loved ones and the unrelenting forward momentum of time. "I think the line 'The old kids table all have kids of their own' was really meaningful to write," he says. "My grandparents have passed away, and when I look at the holiday through my children's eyes, my parents are now their version of that. Seeing life evolve through the lens of Thanksgiving was a fun thing to tap into. It's like the holiday kind of stays the same and you watch life change around it."
Rector also wrote a poignant line for the last chorus that may seem innocuous to future generations but will certainly hold a different space for listeners who first heard the song upon its release at the end of the first pandemic year. "We've made it through, I do believe, the longest year in history," he sings, aiming to find a balance between timeliness and timelessness.
"Thinking back to 2020, it felt like nothing we had experienced before," he reflects. "I remember having the conscious thought, if this song is going to be around awhile then I hope we are not always going to be in times that feel as tumultuous as these. My hope is that it won't always feel like 2020 did, but like a sort of colloquialism, I think a little bit of that sentiment will always be relevant."
Turning Topical

The approach to writing a popular Thanksgiving song that is more topical than traditional is something that has manifested itself quite readily in the roots music community over the last few years. Such recent cultural flashpoints as the 2016 election, the Standing Rock/Dakota Access Pipeline protests, and former NFL quarterback Colin Kaepernick's activism against systemic racial violence and inequality have all been directly addressed within the context of Thanksgiving songs by artists like Chris Thile, Rachel Baiman, and Jess Klein.
Less than two weeks after the 2016 US presidential election (and just five days before Thanksgiving), Thile used his "Song of the Week" segment as host of weekly public radio show A Prairie Home Companion (later renamed Live from Here) to debut "Elephant in the Room," a clever protest song highlighting what he sang as, "the treacherous waters of talkin' small on this of all Thanksgivings." The song underscores the tense atmosphere and hair-trigger topics many people were trying to avoid engaging with around that year's Thanksgiving tables by satirizing how comments about the weather can lead to arguments about climate change and a discussion of sports can quickly devolve into racist dog whistles and tales of political improprieties.
Much like Drive-by Truckers did in their Thanksgiving song a few years prior, Thile also snapshotted his song a bit by referencing specific presidential candidates — "An uncle says 'I'm still with her!,' An aunt says, 'Yeah, I feel the Bern!'" — all while doing his best not to make mention of  "the elephant in the room." While he does call out a couple things he's genuinely thankful for, namely his wife and their child, it's the opening line that seems to bottle the sentiment he's most grateful for in that specific moment: "Thank God for fermentation."
The topical route proved fruitful for Rachel Baiman as well, as the title track from her Thanksgiving EP was inspired by the 2016–17 protests by Native American members of the Standing Rock Sioux tribe against the construction of the Dakota Access Pipeline on their sacred lands. The story hit a cultural crescendo over the 2016 Thanksgiving holiday, as televised images of the US government displacing Native Americans through the use of bulldozers, attack dogs, and water cannons seemed to echo the oppressive history of the holiday itself.
Baiman recalls her thought process while writing: "I was sitting at my parents' home in Chicago a day or two before Thanksgiving, reading an article about the Dakota Access Pipeline protests and having this overwhelming fury about the situation. I questioned how we could pretend to celebrate the beautiful dinner between the white colonizers and the Indians when there was this blatant disrespect for Indigenous rights going on in the name of fossil fuels and big business."
Never one to mince words, Baiman's verses set the incongruous scene: "As we honor a dinner between unlikely friends / the irony lays bitter true means and true ends / As the Northlands play host to a familiar feast / prospectors gorge on Indian grief."
Her chorus describes the pipeline as a "long black snake headed across the West" with "black sludge in her belly, steel across her chest," a constructed destructor whose justification is that "the money flows in behind her and covers up her tracks."
Baiman explains that the image of the snake was pulled directly from the article she read at her parents' house. "That's how the protesters were referring to the pipeline, and it has this sinister feel that the situation demands."
Baiman admits that she initially struggled with whether she should be writing a song like this for Thanksgiving. But in the end, finding her own role in the larger story helped crystallize her approach. "Even though I consciously tried to write my own song from a white perspective out of respect for what I don't know and couldn't understand, I still question if it's something I should be singing about," she says. "There's always the question of what voices do we want to hear from, about what topics? On the other hand, colonization and genocide are the historical realities that I'm benefiting from, so it also feels wrong to avoid addressing them."
Folksinger Jess Klein approached writing a Thanksgiving song through a topical lens as well on her 2018 single "New Thanksgiving Feast." The solo acoustic number combines lines acknowledging Standing Rock, Colin Kaepernick, and the nationwide protests following the 2016 election with personal stories of her grandparents' immigration from Russia and her own experiences with Thanksgiving in elementary school and as an adult.
Says Klein: "I saw all of this reckoning with our past and thought that this disconnection between the reality of our history and what most of us are taught is exactly why we are where we are now. I bring up a lot of different topics in the song, but all of them felt very connected to me as I reckon with what it means to be an American."
The lyrics of "New Thanksgiving Feast" include both Klein's personal nostalgia for the holiday and her willingness to call out the injustices of the nation's history and present. Emphasizing the power of televised images to comfort and confront, she sings "Dad put the football on, it felt like family" in one line, while later referencing the arresting footage of the "elders with weathered faces, faces that read like history" who were pelted with water cannons in freezing North Dakota.
"Writing a Thanksgiving song is complicated," Klein admits. "How do you capture, on the one hand, something that has brought a lot of people joy and connection, while on the other hand has caused deep pain? I guess it comes across as a protest song, but I really wanted it to be a song describing my personal attempt to reckon with life in this moment. What is it going to take for everyday white Americans to acknowledge that the American system we are in is causing many people deep pain?"
Like Baiman, Klein also felt the desire to find her own place within the cultural implications of the holiday's mythos: "I didn't want to remove myself from this narrative. I grew up with stuffing our faces and watching football and I also grew up with the ignorance. We won't move forward until we take accountability for all of it by asking ourselves, 'What has my role been in this? What pain have I been part of, willingly and unwittingly?'"
Building the Canon
For all of these artists who have been bold enough to tackle the complex and elusive nature of writing a Thanksgiving song, there seems to be a consensus that the roots music community embodies fertile space to produce more. "It's easy for me to write a sad song about the holiday," admits Gauthier, "but I'd like to see something comedic — like a John Prine or Robert Earl Keen kind of thing — because there's such darkness in the holiday that the humor is just low-hanging fruit."
Taking stock of the slowly burgeoning Thanksgiving song canon, Baiman adds: "I think with the mistrust of our government in recent years, along with life being pretty tough, there's an understandable movement toward irreverent songs in general. I think people appreciate talking about the realities of Thanksgiving more than the Hallmark portrayals of the past."
For Klein, the idea that some of these more honest Thanksgiving songs would come from within the roots music community feels like a reflection of what has already been brewing in the genre for quite some time: "In some ways, I feel like the roots music world has been undergoing this cultural reckoning with trying to realize that we have historically focused too much on just the stereotypical white roots music singer-songwriter. Sometimes there's an embracing of the past that doesn't always look at the whole picture. But roots music is a tradition centered around the songs of the people, what they are going through and talking about and marching in the streets about. It's singing about people's lived experiences. So let's write more Thanksgiving songs about that."
---