JOURNAL EXCERPT: Inside the Movement Toward Sustainable Vinyl Records
---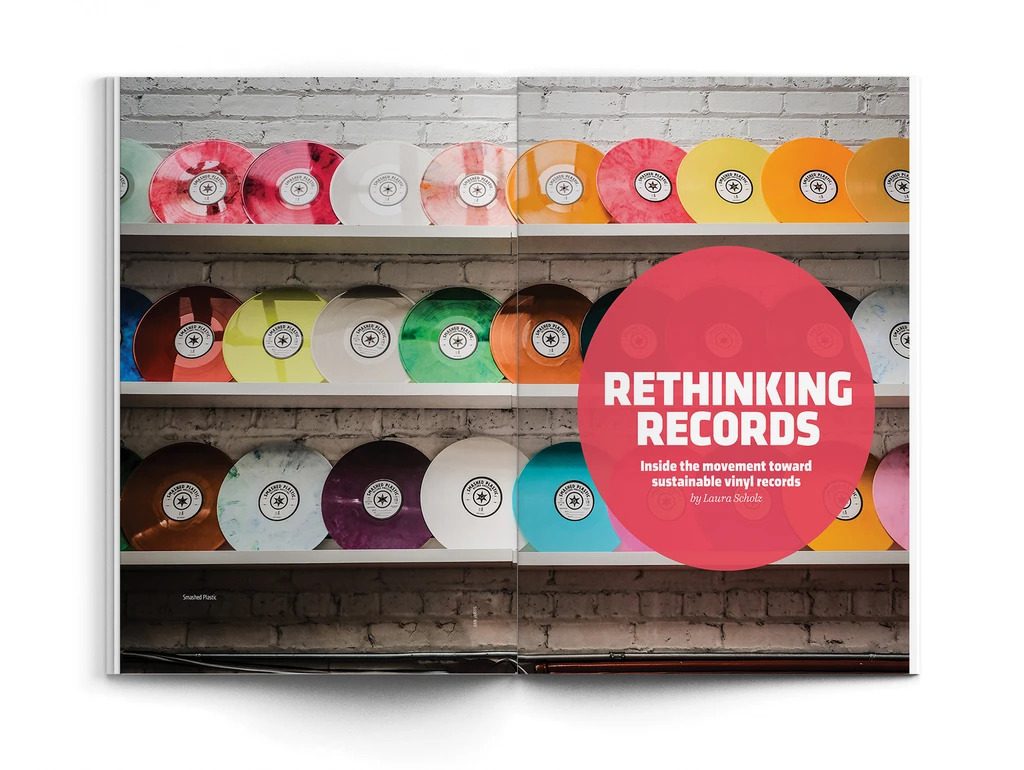 EDITOR'S NOTE: Below is an excerpt from a story in our Fall 2020 journal, "Going Green." You can read the whole story — and much more — in that issue, here. And please consider supporting No Depression with a subscription for more roots music journalism, in print and online, all year long.
For an at-home listening experience, nothing compares to taking a brand-new record out of its sleeve, dropping the needle, and reading through the lyrics and liner notes while listening to high quality music. And whether purchasing a souvenir from a stellar live show, an anticipated new release from a beloved band, or an impulse buy while thumbing through racks at the neighborhood record shop, buying a record is a singularly tangible, tactile experience for music fans.
"Records are for the consumer who really cares about music, who knows the money is going back into the pocket of an artist," explains Rob Miller, co-founder of Chicago's Bloodshot Records, whose roster includes roots artists such as Alejandro Escovedo, Lydia Loveless, and The Bottle Rockets.
"There's something relaxing about sitting down and listening to one or two sides of a record and forcing yourself to relax and breathe for a little bit," he says.
While record companies have a vested interest in the format — which never lost momentum with collectors and audiophiles — vinyl is also making a comeback with mainstream consumers. According to the Recording Industry Association of America's year-end Music Revenues Report for 2019, vinyl record sales soared to a 30-year high in 2019, accounting for $504 million of total music revenue.
But even as records are finding a new, contemporary audience, mainstream vinyl production and distribution processes remain largely stuck in the past, with methods and materials that are harmful and even hazardous to the environment.
The material itself — polyvinyl chloride, or PVC, the synthetic plastic "vinyl" that gives the format its name — is made from extracting and refining crude oil (a fossil fuel) and takes nearly 1,000 years to decompose. The traditional pressing process utilizes steam boilers, which require large amounts of water and external heat to operate, as well as harsh and potentially dangerous chemicals to clean. Additionally, there's the paper and solvent-based inks used in printing those eye-popping jackets and labels, the single-use plastic that wraps each product, and the carbon emissions from the shipping and transport of both raw materials and the finished product. The well-meaning act of buying a record from your favorite artist can have complex environmental implications.
A 2020 survey conducted by IBM and the National Retail Federation found  nearly 80% of consumers in the US and Canada say they value sustainability when choosing a product, and many in the music industry are moving toward more eco-friendly models. Likewise, a growing number of vinyl record pressing plants, printing companies, record labels, and artists are choosing to take active measures to reduce waste, localize supply and distribution chains, implement carbon-offset initiatives, and more.
Reducing Impact
When Chicago-based record manufacturer Smashed Plastic launched in 2018, it was the first plant in the world to use a steamless pressing machine made by the Canadian company Viryl Technologies. Viryl's automated molds heat electronically, saving energy and eliminating water waste.
While Smashed Plastic co-founder Andy Weber initially looked at outfitting his shop with a traditional record press, city regulations made that option both cost prohibitive and logistically challenging. When he heard about Viryl's steamless option, choosing that for his new shop was a "no brainer," says Weber.
"It's much more environmentally friendly than a steam system," he explains. "We use a closed-loop water system that's constantly circulating, so there's no wastewater, and no chemicals go into our water systems."
Not only is the system more efficient and eco-friendly than traditional pressing, but it's also cheaper and more compact — all upsides for a small, boutique company that serves primarily local artists and record companies.
When reviving her father Bob Marley's storied label and distribution company, Cedella Marley, CEO of Tuff Gong International, also opted for a Viryl Lifetone Record Press for a newly constructed vinyl pressing factory in Kingston, Jamaica.
"It's the right thing to do, environmentally," says Marley. "I remember the big boilers [in the old factory] and chemicals needed to clean them. With a steamless press, you don't need any of that anymore. Also, utilities are crazy expensive in Jamaica, so keeping these costs low is important to our business."
When Furnace Record Pressing opened its new 50,000 square-foot plant in Alexandria, Virginia, in 2018, environmental considerations were likewise front of mind for founder and CEO Eric Astor.
"I grew up with punk rock and have always been politically aware and active," says Astor, whose company has made records for Band of Horses and Lera Lynn. "I'm obviously working in an industry that uses a lot of plastic and is resource-heavy, but we do what we can to be efficient and eco-minded."
In addition to two Viryl WarmTone automatic 12-inch record presses (along with additional pressing equipment), the facility has a closed-loop water system to feed the presses as well as the building's HVAC system, plus adaptive LED lighting and high-speed, low-volume fans for cooling and air circulation.
"All these boring and seemingly little details add up to something interesting and impactful and help us become more economical and efficient," he explains. The company also donates five percent of profits from the new factory to environmental charities.
Sourcing Sustainably
As with pressing, many of the raw materials that go into making records — from the PVC of the vinyl itself to the paper, inks, and dyes used on labels and jackets to the plastics used in wrapping and shipping — are not exactly eco-friendly.
Furnace Records uses a PVC formula made with a calcium zinc stabilizer, which is less toxic than traditional lead or tin stabilizers and meets European Union environmental compliance standards, which are more stringent than those in the United States.
"It isn't easy to change the formula of something that has worked for a long time," says Astor of the PVC used in the company's records. "We put a lot of science and research into making sure the records would still have the same quality of sound."
For California-based Stoughton Printing Company, which has produced record jackets, sleeves, and liners for artists including Neil Young and Gillian Welch, sustainable practices have always been part of the business model.
"It's a continual process, and we have to keep working at it," says CEO Jack Stoughton Jr.
The company utilized a water-based printing method long before it was required by the state — which has some of the most robust environmental laws in the country — and also uses a chemical-free thermal plate system that reduces the system's waste by-products by 80 percent. All of Stoughton's inks, varnishes, and coatings are soy-based and toxin-free, and its paper stocks are sourced locally to minimize the carbon footprint of shipping materials. Their papers are also acid free, pH neutral, and at minimum 10% post-consumer recycled content, which means they break down more easily when entering the waste stream.
Matt Etgen, production manager at New West Records in Athens, Georgia, says sustainability and environmental practices are important considerations for him when choosing pressing companies for his albums, including recent releases like Lilly Hiatt's Walking Proof and American Aquarium's Lamentations. Two of his regular partners, Hand Drawn Pressing in Addison, Texas, and Kindercore Vinyl in Athens, also use Viryl Technologies equipment. And New West's primary printing partner, Canada-based Ross Ellis, implements sustainability strategies including vegetable-based inks, eco-friendly varnishes, and 100% recycled stocks that are Forest Stewardship Council-certified. In addition, Ross Ellis ensures that 100% of its plastic packaging is reusable, recyclable, or compostable.
"We're always taking steps to be more sustainable," says Etgen, who also uses perforated, tearaway LP bags that double as outer protective sleeves instead of shrink-wrap for packaging whenever possible.
"We get a lot of requests for them, and this allows the end user to open their record and have a ready-made poly bag in hand," he continues.
Adopting a New Mindset
For Smashed Plastic, localizing the process is another way to reduce the industry's overall environmental impact. At his small, independent shop, Weber says, "every step of the process happens in Chicago," from sourcing raw materials to pressing, labeling, printing, packaging, and even most distribution. He estimates that 80-90% of Smashed Plastic's orders are placed directly by Chicago-based artists or labels.
"We're trying to create a true local economy and micro-manufacturing operation," explains Weber, who says being close to both clients and vendors is essential for minimizing the company's environmental impact. Smashed Plastic even hand delivers many records to its customers and local record stores, eliminating both the cost and carbon footprint of traditional shipping methods.
For Bloodshot's Miller, working with another local, independent company to produce records is the economic and environmental equivalent of buying a record at the neighborhood store rather than a massive e-commerce site like Amazon.
"LPs are time-consuming, fickle, and expensive to produce and ship," he says. "Having someone essentially down the street from us means we can do smaller runs and experiment without as much risk, because we can pick up test pressings immediately and there are no shipping costs involved. We have more fun and do things we wouldn't be able to do with a typical pressing plant where the initial runs are bigger."
For example, when Bloodshot Records released Best of The Waco Brothers album in 2018, the lack of shipping costs for both LPs and test pressings meant they could produce a limited-edition colored vinyl edition that was not only profitable, but a unique souvenir and an environmentally friendly choice for fans.
As the Waco Brothers' Jon Langford explains, "for many years, sending vinyl off to be pressed at huge plants far away was the norm. Smashed Plastic is the utopian ideal of a grassroots collaboration. Working with people you know defeats alienation and allows us as cultural workers to have access and transparency to the means of production."
Max Loebman of the Chicago band Rookie has also found that working with a local record label and pressing plant creates a unique sense of community and collaboration.
"In a prior band, we put out a record for a Los Angeles label, and there was such a disconnect from the process," he says. "Here, I got to go to Smashed Plastic and watch our records being pressed and see firsthand their commitment to the environment and our local community."
Similar to artists becoming more mindful of everyday things like eliminating single-use plastics on tour, Stoughton Printing is committed to simple structural and workplace changes that have a big impact on the environment.  The company has a four-day, 10-hour work week, which translates to employees not only commuting 20 percent less, but also traveling less frequently at peak times.
"It also means that 52 days a year, we're not using electricity, natural gas, or other resources to operate the plant," explains Stoughton.
As more and more consumers become mindful of their choices and how they impact the environment, Astor says it's important for labels and manufacturers to be transparent about their choices and continue to implement small changes that compound over time.
"My advice is to take care of low hanging fruit and continue to improve processes and waste, because what's good for the environment is also good for the bottom line."
Check out the full playlist for the Fall 2020 "Going Green" issue here:
---