JOURNAL EXCERPT: George Harrison's Legacy of Spirituality, Music, and Activism Carries On
Posted On February 25, 2022
---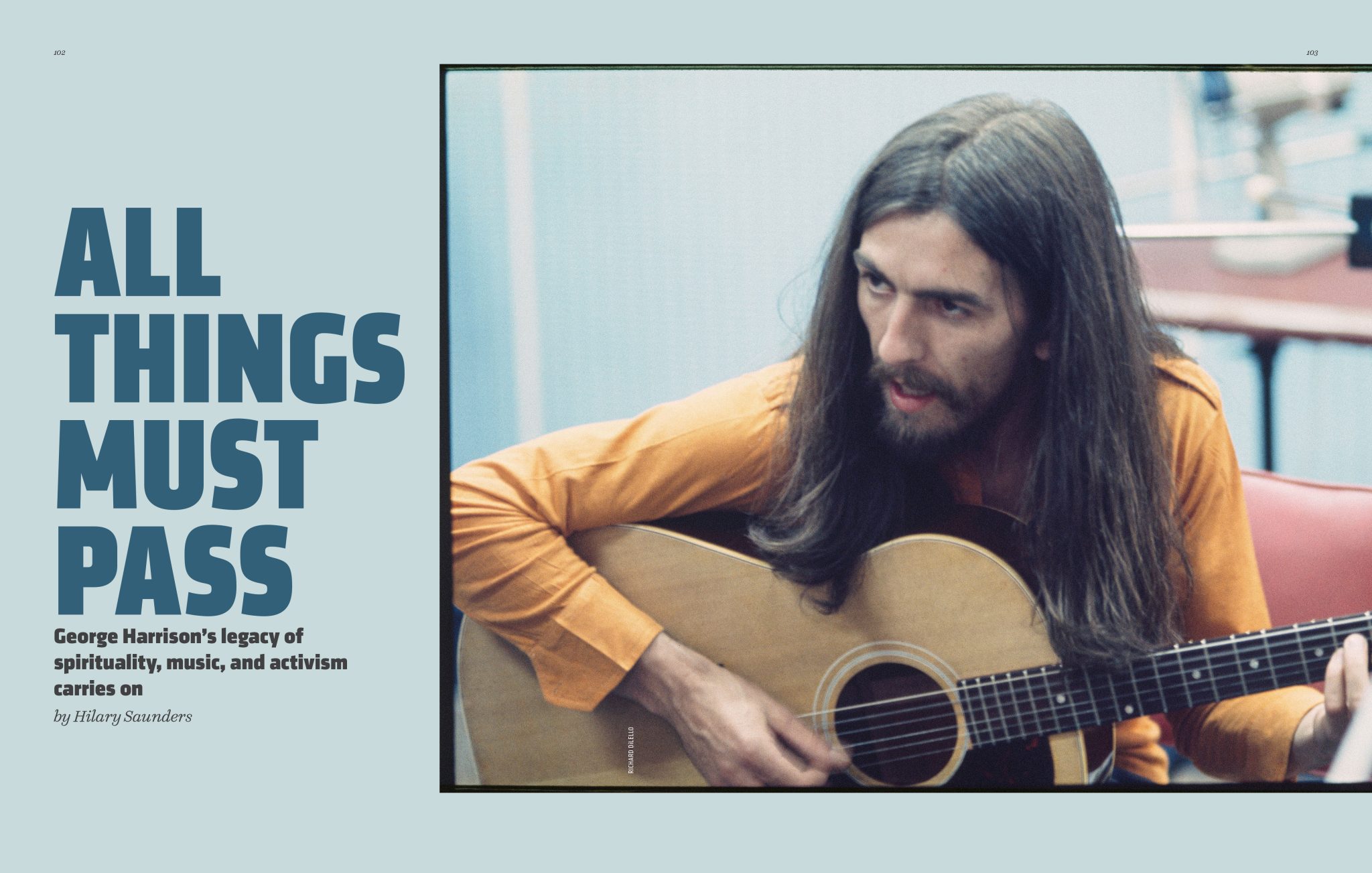 EDITOR'S NOTE: Below is an excerpt from a story in our Winter 2021 journal, "Good News." You can read the whole story — and much more — in that issue, here. And please consider supporting No Depression with a subscription for more roots music journalism, in print and online, all year long.
Olivia Harrison holds her copy of her late husband's breakthrough solo LP All Things Must Pass up to the camera: The corners are weathered and taped together, but her genuine grin eclipses the imperfections of the packaging, earned over more than 50 years of travel, wear, and listening.
"I loved his music," Harrison says during a Zoom call from the home they shared in Henley-on-Thames, England until he died of lung cancer in 2001. Even before they met, eventually marrying in 1978, Harrison says that she loved The Beatles and that "George's music spoke to me in a way."
For the 50th anniversary of All Things Must Pass — which was technically in November 2020, but belatedly celebrated in August 2021 due to the COVID-19 pandemic — the Harrison family and close friends dug back into the music and archival materials. With Olivia and George's son, Dhani Harrison, at the helm as executive producer, as well as Grammy-winning engineer Paul Hicks, they remixed and remastered the original tapes, combining them with 42 previously unreleased demos, session outtakes, and jams. Additionally, the Harrisons curated a more than 50-page scrapbook of liner notes filled with old photos, bits of lyric sheets, vintage press clippings, and quotes from a range of collaborators and experts.
All Things Must Pass topped the Billboard charts after its original release and was the best-selling solo record of any former members of The Beatles. Even this 50th anniversary edition charted in the top 10 in the US, UK, Sweden, Germany, France, Switzerland, Belgium, Netherlands, and Australia.
The 23-track original release featured a collection of canonic players. Eric Clapton, Carl Radle, Jim Gordon, and Bobby Whitlock, who would eventually form Derek & The Dominoes, are all on All Things Must Pass. Ringo Starr, Klaus Voormann, Billy Preston, Ginger Baker, and every member of Badfinger appear on All Things Must Pass. Peter Frampton jammed in the studio and went uncredited on All Things Must Pass. A co-write with Bob Dylan, "I'd Have You Anytime," serves as the opening track.
Between the two original LPs and bonus disc of more rock-heavy jams affectionately called Apple Jam, All Things Must Pass sounds like the culmination of George's varied influences. As Graeme Thomson wrote in his 2015 biography George Harrison: Behind the Locked Door, "All Things Must Pass was the destination of [George's] journeys — spiritually, personally, musically. It pulled together all those sources of inspiration, drawing on gospel, Southern rock, country, soul, heavy rock, early Dylan. The love and knowledge of Indian music was in there too, just below the surface, while lyrically the album distilled every meaningful revelation he had since his awakening in 1966 [on his first trip to India]."
Harrison is keen to highlight her husband's musical roots, especially his love of country music. George's father worked on the ships in Liverpool's ports, where vinyl records would change hands easily. His parents' small music collection contained records by Jimmie Rodgers, Hank Williams, and Slim Whitman, all of whom George loved both as a child and as an adult.
"Whatever people think about George or his music, he had these roots. And they bubbled up his entire life. It's not out of character for him to be in [No Depression]," Harrison says.
That country influence is audible in George's songwriting structure and vocal techniques. Some session outtakes and jams on various deluxe versions of All Things Must Pass even feature George yodeling, like on an early take of "Woman Don't You Cry For Me (Take 5)," which eventually appeared on George's 1976 studio album Thirty Three & 1/3. "He was really trying to yodel," exclaims Harrison. "He wasn't being irreverent about it."
But the country and western flair is especially prominent through the instrumentation on All Things Must Pass. Legendary session player Pete Drake came from Nashville on a day's notice to play pedal steel across the record, which, alongside George's boosted vocals in the new mixes, are among the highlights.
"When you listened before, you always had to … crank it up really loud to hear things. Well, now you don't have to crank it up like that. And you can hear George's voice as well as what else is going on," says Harrison.
Dhani clarified to Rolling Stone that tearing down some of the effects from original producer Phil Spector's "wall of sound" wasn't necessarily the purpose of the reissue, but he also didn't hide the fact that his father hated the excessive reverb. More importantly, Dhani said, "These mixes will give this album so much more longevity with a younger generation. …This album now sounds like it was just recorded yesterday."
All of the previously unheard songs, tracks, jams, and conversations included on the new version of All Things Must Pass certainly amount to good news for any longstanding fan of George Harrison's music. But Olivia Harrison is also passionate about upholding his legacy of good deeds, spiritual healing, and activism.
Harrison spearheaded philanthropic projects throughout her own career, most famously with the Romanian Angel Appeal in the 1990s, which uses its funds to help young people in need of humanitarian assistance. She also still serves as a director for a charity George established in 1973 called the Material World Foundation, which, according to their site, "encourage[s] the exploration of alternate and diverse forms of artistic expression, life views, and philosophies as well as a way to support established charities and people with special needs."
And offhandedly in conversation she mentions that she needs to call UNICEF — the beneficiary organization from the 1971 Concert for Bangladesh, which has since evolved to include the George Harrison Fund for UNICEF and support programs in Angola, Romania, India, Haiti, Brazil, and more — to discuss ways to help current refugees from Afghanistan. Harrison is in discussions about a Concert for Bangladesh album reissue to celebrate its 50th anniversary as well.
Working on these projects — and listening to them — is ultimately a balm for all, especially in such tempestuous times. Harrison says All Things Must Pass "speaks to us today …  because a lot of the songs are about the human condition. George used to say, 'When I write things, I'm not trying to … preach to anybody. I'm preaching to myself, trying to remind myself.' And I think that's why these songs still have and will always have meaning, because they're really about man's journey."
She continues, "You know, when George wrote 'Beware of Darkness,' he said to me one day, 'It's also be aware of darkness.'"
She quotes back the lyrics: 
It can hit you
It can hurt you
Make you sore and what is more
That is not what you are here for
"You know, he really believed that," she continues. "He didn't like to see anyone sad. That's not what we're here for.
"That's stuck with me really most of my life … Because when [darkness] comes, there's so much fear, even in our body language…" she says, sitting back and stretching her arms wide on camera. "Let's open our arms. Let's practice opening, spreading our wings again."
---