JOURNAL EXCERPT: Fort Worth Nonprofit and Festival Celebrate Community and Aim to Decolonize Roots Music
Posted On August 29, 2022
---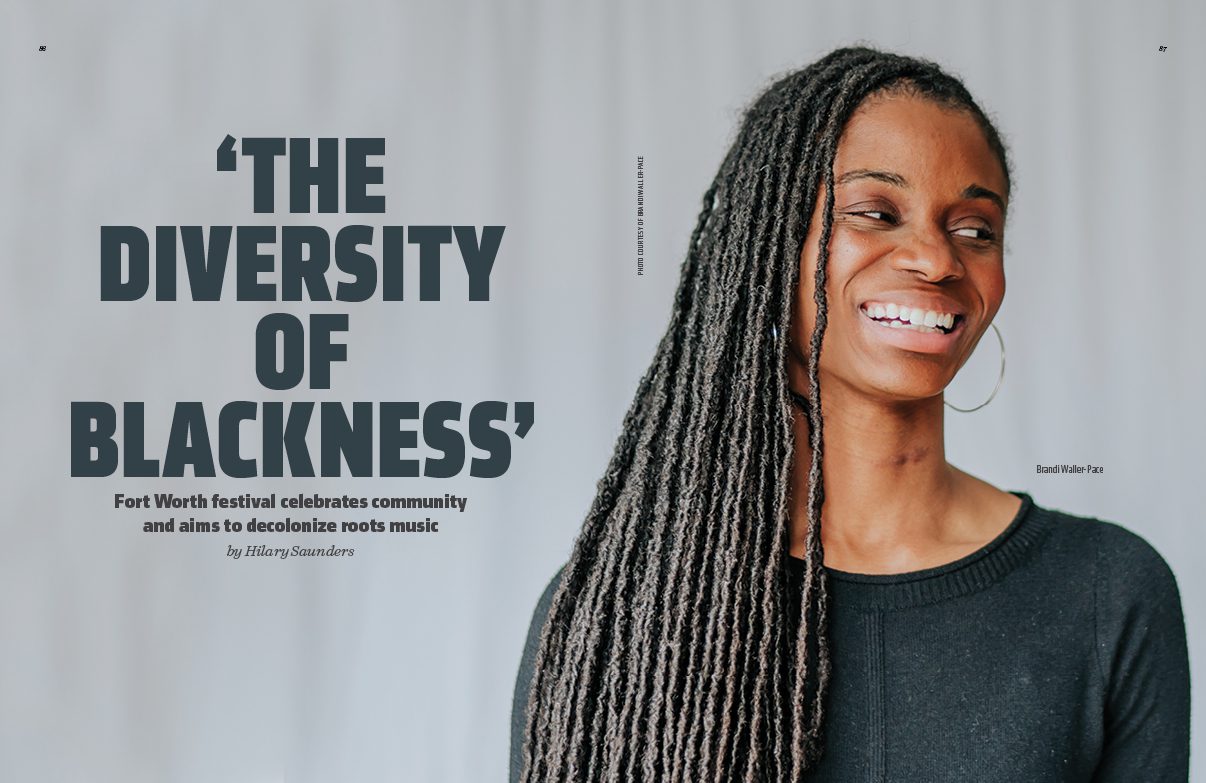 EDITOR'S NOTE: Below is an excerpt from a story in our Summer 2022 journal, "Movers & Shakers." You can read the whole story, and much more, in that issue — learn more about it here. And please consider supporting No Depression with a subscription for more roots music journalism, in print and online, all year long.
An aggressively mustard-colored velvet curtain hangs on the ballroom stage of Southside Preservation Hall in Fort Worth, Texas. The venue, which began as a Methodist church more than a century ago, is now a nonprofit that hosts concerts, weddings, and events and serves as multicultural and educational resource for its community.
On an early spring afternoon in March — the kind where the air still has a slight chill, despite the blazing sun — Southside Preservation Hall hosted the Fort Worth African American Roots Music Festival (FWAAMFest). During the penultimate set of the daylong event, double bass player Nelson Williams scooted up from his spot closest to the velvet curtain to a microphone close to center stage while Jake Blount and the rest of his band tuned up between songs.
"Everything here," he began, "everything happening here is sacred."
It wasn't just the holy site that elicited such an earnest statement. It was sanctity of the safe interplay between history, community, music, audience, and education the festival presented throughout the day.
Though it debuted online in 2021, FWAAMFest celebrated its first in-person event with a goal "to broaden the local music scene and put the city on the map among traditional music circles, bringing awareness to Blackness in American roots music," according to its website. In the space of 10 hours, the festival featured three educational presentations, one instrumental workshop, a live recording of the Color Me Country podcast with Rissi Palmer, and seven different performances, culminating with a late-night dance jam.
FWAAMFest is part of the programming arm of a nonprofit founded by Brandi Waller-Pace called Decolonizing the Music Room. Waller-Pace started the organization in summer 2019 with a mission to use "research, training and discourse to center BBIA (Black, Brown, Indigenous, and Asian) voices, knowledge, and experiences in music education and related fields."
Though the themes of antiracism, anticolonialism, and antifascism — or, more positively, equity, autonomy, and humanitarianism — define FWAAMFest and Decolonizing the Music Room, that late March event in Texas centered joy and enjoyment. It celebrated Blackness (from the participants to the catering to the sponsors) and Black musical traditions in an effort to make sure that these sounds and styles are not just a curriculum footnote, but an understood part of American musical performance, education, and history.
In fact, Waller-Pace worked to cultivate a network and curate a lineup that celebrated what she calls "the diversity of Blackness." Headliners included performers from across North America — Grenadian-Canadian singer-songwriter Kaïa Kater, Rhode Island-based multi-instrumentalist and ethnomusicologist Jake Blount, and North Carolina-based Grammy Award-winner and former Carolina Chocolate Drops member Justin Robinson. The event also featured sets by Benjamin Hunter, M.S.G. Acoustic Blues Trio, and more.
Two of those musicians also delivered presentations on specialized topics: Robinson on "Moving Beyond Black Music: How to Connect to Indigenous African Musicality" and Blount on "The Legacy of Prison Labor in Black Folk Music." Additionally, pianist, bones player, and beatmaker Kafari led a workshop on the history and musical practice of playing the bones and educator and choreographer Junious Brickhouse led a Q&A called "Black Dance Throughlines."
Waller-Pace and Kater, who was the last performer at FWAAMFest before the closing dance party, met years ago through a private Facebook group called Traditional Music Today. They became internet friends, and in July 2020 Kater wrote an essay for the Decolonizing the Music Room website titled "Fostering Space for Student Creativity During the COVID Pandemic."
So when Waller-Pace invited her to headline the event, Kater was thrilled. "Something that I've been learning to cherish is being in Black-centered spaces. I want to make an effort to be present in those spaces because they're very healing for me, and I'm sure for other folks too," says Kater. "Brandi works super hard and I just have a ton of respect with her. I just thought it was a great idea to explicitly say, "Hey, this is music of the Black diaspora played by Black people.' And there are so many different artistic visions of what that is."
Fort Worth and the Future
One of the most meaningful successes of the inaugural in-person FWAAMFest for Waller-Pace was the audience, which spanned spectrums of race, age, and gender.
"I was really concerned that the messaging that I wanted to build community with this history with other Black folks would not come across. So when I saw lots of Black faces in the audience, that made me incredibly happy," Waller-Pace begins. "The other concern was, because whiteness is our default, oftentimes when we see things that are explicitly not white, people think, 'Oh, that's not for me.' So [when] I saw plenty of people on that side come too, I felt really good about it."
While everyone in attendance was respectful, Kater acknowledges that the circumstances of the event — produced by and for Black performers — created an environment that felt particularly safe and reassuring. She summarized one of Waller-Pace's goals, that "white folks are welcome here, but this is not going to be an explainer. We're not starting at a rudimentary level. We're up here trying to create and innovative and remember and recall and hold each other, and I think that that energy benefits everybody."
Kater continues, "As Black performers or as Black educators, you're constantly in the minority and you're in a space where you feel uncomfortable. White folks … may feel uncomfortable when you're going to a festival that has a primarily Black audience or a commission that doesn't really involve you. It's about getting used to that and seeing how that adds to the richness of folk music and old-time music."
Waller-Pace has already begun discussions for booking FWAAMFest for 2023. But like any new nonprofit, Decolonizing the Music Room needs support — in terms of funding, community engagement, and awareness — to survive.
"What I don't want to do is have this beautiful thing that centers Blackness and feeds everyone, but [artists] know that when they do it, they have to take a pay cut or they have to make all kinds of adjustments and accommodations that they don't have to do at other major festivals, while still remembering that we are not 'a major festival.' We are a nonprofit organization," says Waller-Pace.
But while Decolonizing the Music Room and FWAAMFest are looking to expand, Waller-Pace is adamant that the organization and its programming stay rooted in and committed to benefitting Fort Worth.
"Now that people are able to see a finished product, it's very clear that part of the mission of the festival is to build community, especially among Black folks, and that history in the area is something that seems to be stirring up," says Waller-Pace.
As Decolonizing the Music Room's programming continues to grow, Waller-Pace hopes that events like FWAAMFest will inspire more touring musicians to come to Fort Worth. And with more and more diverse performances, she believes that the local audience for roots and old-time music — as well as the roster of players — will expand.
'Then," she says defiantly, "we help to cultivate a generation of musicians that eventually will collaborate with us. And when we're gone, it won't be bygone. Because the community will be built and it will be built on the actual history of the music."
---