John Anderson Admirers Sing All the Hits (Except One) for Tribute Album
Posted On August 15, 2022
---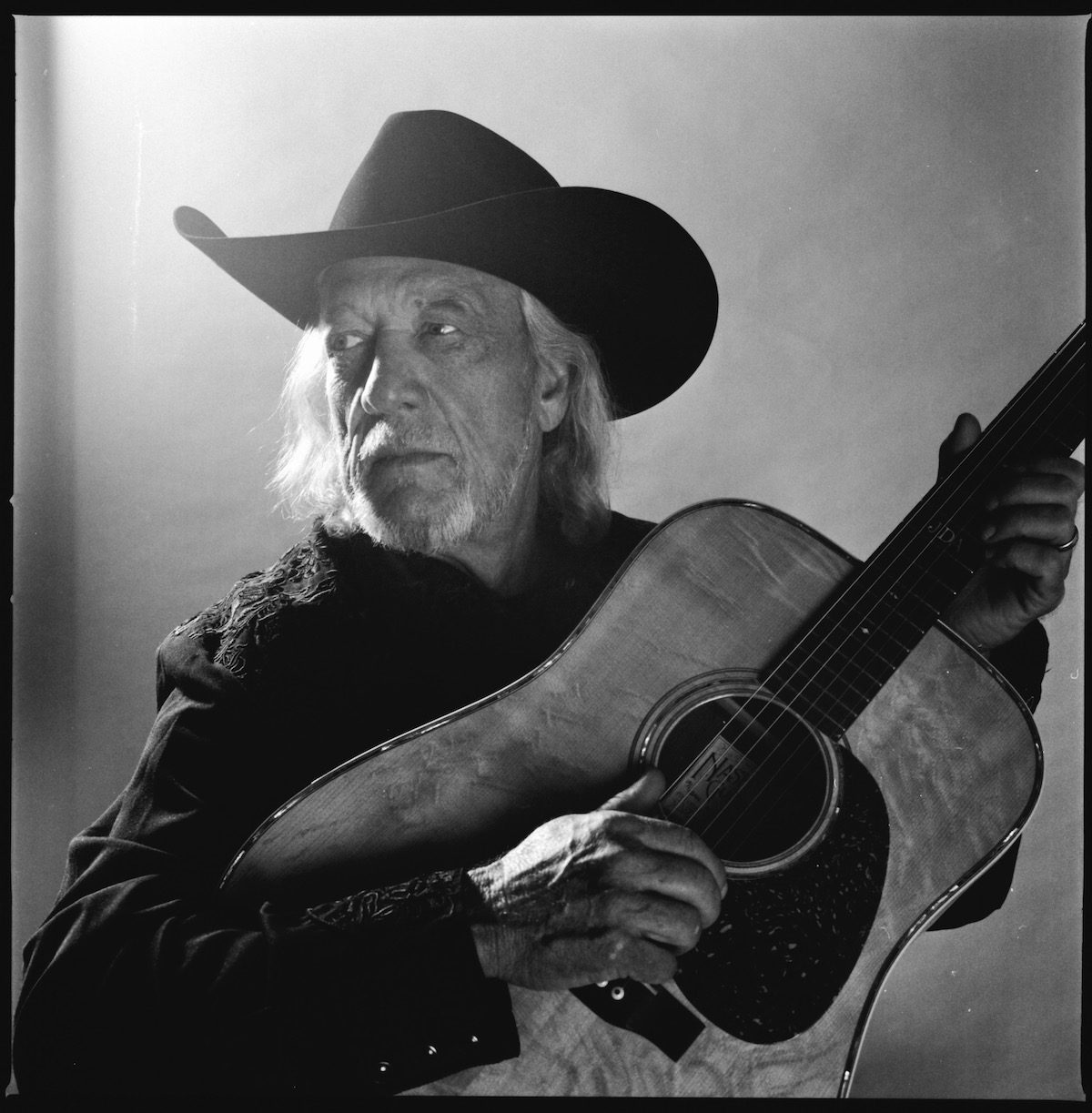 John Anderson (photo by Alysse Gafkjen)
If you're gonna have a tribute album done for you, it's always better to have it done before well-wishers throw dirt in your face for a final farewell. John Anderson didn't ask for his recent honorarium, Something Borrowed, Something New: A Tribute to John Anderson, conceived and produced by Dan Auerbach and David "Fergie" Ferguson, but he's well pleased with the results.
"Any one person on the record would be a real tribute," Anderson said in a press release accompanying the album, "but all of them together? It's a pretty big deal for me personally."
For Something Borrowed, Something New, Auerbach gathered a who's-who of Americana and country contributors, recording their songs over the past couple years and releasing the project Aug. 5 on his Easy Eye Sound label.  Among the artists paying tribute, whose names are listed on the cover around a photo of a young John Anderson that was taken by Johnny Cash, are John Prine, Del McCoury with Sierra Hull, Sturgill Simpson, Nathaniel Rateliff, Brothers Osborne, Gillian Welch and David Rawlings, Brent Cobb, Sierra Ferrell, and Ashley McBryde.
Auerbach's own appreciation of Anderson began back in 2020 in a conversation with Ferguson. "We were just shootin' the shit, talking about the great country singers, the great voices, that have recorded in Nashville," says Auerbach. Ferguson played Auerbach a couple of John Anderson songs, and he couldn't get them out of his head. "I just never stopped thinking about his voice, I thought it was so great."
Auerbach invited Anderson to his Easy Eye Sound studio in Nashville to write a song, but he didn't know that Anderson had been dealing with a serious illness.
"It was a growth in the back of his neck affecting his hearing, and he got over it, but he didn't think he was going to live," Auerbach says. "He didn't want to live at a certain point because he couldn't hear anything, but he said slowly his hearing started to come back a little bit. And right about the time when he could start to hear things again is when Ferg and I called him out of the blue."
The trio hit it off immediately, and launched a musical partnership that yielded 2020's Years (ND review). "Me and Fergie and John started hanging out a bunch, we'd go fishing, and go visit John, and John would come over and hang at the house or we'd write at the studio — we just had such a good time hanging out and making that record."
Years got a great reception from fans old and new, but then COVID hit, derailing everything. "All the work we had done, this beautiful record that everybody was loving, it just got the brakes put on it. We decided then to start working on this tribute album, partly because we felt like he didn't get to finish his story," Auerbach says.
It's a fitting tribute, highlighting Anderson's songs even as it underscores that nobody sounds like him. "The hardest thing to do in life is to be unique, to stand out," Auerbach says. "To really, truly have your own voice. He's got that. He's also got the work ethic, and love for his craft. You can feel it in all his records. He's a hard person not to love and admire at the same time."
Anderson's down-home delivery and smooth, rich baritone make listeners feel like he's one of them, talking to them like a family member or a close friend. Auerbach calls Anderson's songs part of the fabric of America, and he feels that this project reinforces that view.
"It's really diverse," he says of the roster of artists on this collection, which covers most of Anderson's prolific career. "But they all are connected by John Anderson. They are part of the fabric of the music they were raised by. People came into this so excited to sing these songs. They've been singing them their whole life."
A String of Hits
"Swingin'" was the song that brought Anderson into the mainstream, in 1983, but he's no one-hit wonder. The Apopka, Florida, native had been steadily pecking away at the country charts since the mid-1970s.
He moved to Nashville in 1971, working day jobs (including as a roofer at the Grand Ole Opry) and performing at night. "I've Got a Feelin' (Somebody's Been Stealin')" got him on the charts in 1977, and a cover of Billy Joe Shaver's born-again manifesto "I'm Just an Old Chunk of Coal" in 1981 netted his first Grammy nomination for Best Male Country Vocal Performance. But the big stuff came around with 1982's Wild and Blue. The title cut was his first number one, but "Swingin'" broke him into the big time.
Set over a choogling beat, "Swingin'" relates a down-home tale of Anderson wooing his beloved-to-be with a wholesome country style courtship, just a-swanging on the front porch swing with her. With a vocal reminiscent of Levon Helm over a Bob Seger "The Fire Down Below" framework, the song made Anderson a fixture in country households.
Anderson's career started to cool down by the latter part of the '80s, but came back strong with the title track from 1992's Seminole Wind. He scored a number one with "Straight Tequila Night," another chart-topper in 1993 with "Money in the Bank," and in the mid-'90s he took "I Wish I Could Have Been There," "I've Got It Made," and "Bend Until It Breaks" to the top five. Anderson's songwriting was as memorable and heart-warming as his delivery, making folks feel at home with him.
The artists on Something Borrowed Something New were left to their own devices for arranging and performance, with most of the artists requesting the songs they wanted to do as well. But "Swingin'," Anderson's signature hit, is glaringly absent from the tribute.
"You didn't try to force anything on anybody, we just wanted to make an absolutely great record, start to finish," Auerbach says. "We would have loved to have 'Swingin'' on there, but it just didn't happen, wasn't meant to be. We didn't want to force it just because it was a big hit for John. Jamey Johnson did call Fergie after the record got announced and said, 'Everybody's pissed that you didn't put 'Swingin'' on there,'" Auerbach says, laughing.
But Auerbach has no regrets about the perceived omission. "It's also a testament to John's catalog," he says. "John's a great songwriter, got a deep catalog that's loved for his songwriting, he picks great songs and I think we were able to make a rock-solid album without even recording his big hit, which is amazing. I like that aspect about it."
Hits that did make the track list include "Straight Tequila Night," from Ashley McBryde, "Seminole Wind" by Luke Combs, and "Wild and Blue" by Brent Cobb.
For the most part, Anderson himself stayed away while the recordings were in progress.
"He's just old-fashioned, he's humble, he didn't want to crowd anybody, I think," Auerbach says. "He did come in to say hello to a couple of people, but he didn't hang around too much."
One visit he made was to John Prine during the recording of Anderson's "1959," one of Prine's last recordings before his death in 2020. On this version, Anderson's original is sweetened with strings and Prine delivers his weathered, world-weary comments in a just-folks-sittin- around-talkin' mode that makes the nostalgic lyrics even more poignant.
Definitely Personal
Brent Cobb has a bit of history with the cut he chose, "Wild and Blue," Anderson's first number one, a bit of romantic word play with "Wild Blue Yonder," the official anthem of the US Air Force. Composer John Scott Sherrill wrote the song about a girl he was in love with who fancied someone else.
When he first moved to Los Angeles in 2005, Cobb stayed with Steel Woods founder Jason "Rowdy" Cope, who Cobb calls a friend and mentor. "We'd sit up there till 4 o'clock in the morning in his little room and drink some North Carolina moonshine, and he just took me to school dissecting songs, and 'Wild and Blue' was one of 'em," Cobb says. "I was so homesick at that time I would put that song on and it would take me back home, John's delivery. So I have lived with that song for a long time — it's gotten me through some times."
Cobb's vocal on the cover sounds like early John Prine, a little more country-flavored with a whole lot of soul, and he got it down on one take.
"That's the first time that's ever happened to me," Cobb says. "They didn't know that I had all that history with that song. I'd been listening to that song, singing it around the house for almost the last 20 years."
Cobb has a personal connection with Anderson as well, after a co-writing session with him and Scotch Taylor a few years ago at Anderson's place in Tennessee.
"We hung out, then wrote, then that evening when we got ready to leave, John gave us both a five-gallon bucket full of yellow squash and zucchini to take home from his garden," Cobb recalls.
Cobb says Anderson is as humble and down-to-earth as he seems.
"He's so natural, he reminds me of my uncle, or somebody I grew up around my whole life," Cobb says. "It feels like you're sitting there having a conversation with him when he sings these songs. And the ones that he wrote, they're so natural, the dialect in them. It's one of those things you can't really put your finger on, but it just makes you feel connected, you feel like you know him. And you do. It's not intentional, but it's definitely personal."
---