Jason Isbell, John Prine, Joan Baez, Bob Weir, and Other Photos of the Week
Posted On November 6, 2018
---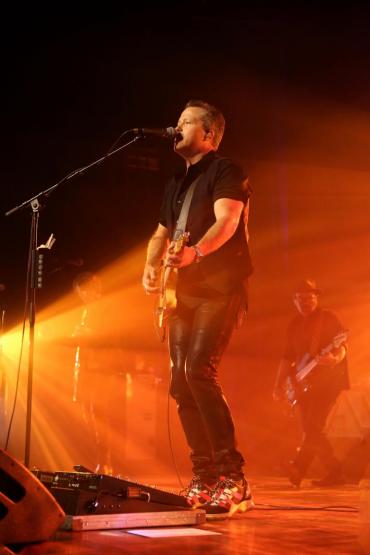 In addition to the artists noted in this week's title, the past few weeks have seen the ND photographers capturing other legends, including Rodney Crowell, Graham Nash, Dave Alvin, Jimmie Dale Gilmore, Sam Bush, Byron Berline, and Steve Earle, as well as Iron & Wine, I'm With Her, Amos Lee, Lucy Wainwright Roche (read a recent ND interview with her and Lori McKenna here), Erin Rae, The Brother Brothers (read ND's Spotlight article on them here), Justin Townes Earle, Amy Helm, Robbie Fulks, Linda Gail Lewis, Lilly Hiatt, and Austin's guitarist's guitarist, Redd Volkaert.
This is quite a lineup, mixing roots legends with "younger" notables who have already made their mark. I wanted to name them all up front so you'll know what the slideshow below has to offer. That said, I want to highlight two of those performances.
Jason Isbell at the Ryman
It has been another helluva year for Isbell: A Grammy, three more AmericanaFest awards, and a CMA nomination. Coming just days after the release of Live from the Ryman (recorded last year)(ND review here), he and the band took up another six-night stint this year. Suffice it to say, you don't need me to report that it was a stellar week.
Each night had a different opener, each selected by Isbell, each from Nashville. From youngsters Molly Tuttle (an award winner who seems already a veteran) and Melanie Faye to art-driven Amanda Shires, who's been adding a driving fire to her recent music, to indie-grunge rockers Bully and Jeff the Brotherhood, Isbell acted as a curator of what's happening in Nashville, and what makes the city such a vibrant place.
As inspired as those choices were, the one that resonated most deeply was the four-guitar band Diarrhea Planet. Following some recent "farewell" shows, Isbell persuaded them to unretire. Late in their set, Isbell and 400 Unit guitarist Sadler Vaden joined them, then Sturgill Simpson was added to what eventually became a seven-guitar wall of jamming sound the likes of which I doubt the Mother Church had ever witnessed before. To complete the picture, and perhaps egged on by the incessant swirling energy in which he found himself, Planet's Emmit Miller smashed his guitar. Rock and rollers do not die, they just take on new identities.
John Prine in the Midwest
I often approach shows in this part of the country with some trepidation as you never know what type of crowd will turn out and how many beers they've guzzled. You also don't know what show the artist will deliver: pro-forma, obligatory, or workmanlike. Prine is the exception; his shows are always memorable. His recent performance a few weeks back in Columbus, Ohio, was no different. Prine, his band — which this time included the phenomenal multi-instrumentalist Fats Kaplin — and the audience were one, in sync and of a singular mind. Prine was inspired and the crowd matched him every step of the way.
He mixed songs from Tree of Forgiveness with older favorites and a few obscure nuggets. All of which the crowd seemed to know quite well, with many sing-alongs and and applause at the opening chords of many tunes. Young folks were scattered among an older audience that had lived through some lean years when many didn't know where to place him and the music didn't seem to matter much. Now, in his third act, it's as though we are saying we're still here, holding fast to what we had long known to be true, and like Prine himself, flourishing.
As Prine has been doing for some time, an up-and-coming female artist opened; this time it was Lilly Hiatt. Even though I got the impression few knew who this East Nashville favorite was, she was warmly received. After all, she had Prine's stamp of approval. Even more so when she came out to do several duets with him, including the encores, along with Fiona Prine. While it was evident that Hiatt was thrilled to be there, it was also apparent that she has grown into a confident artist, secure in her own skin.
I can't miss mentioning that for the first time (at least for me) Prine performed with a backdrop, two in fact. One being a gnarled, many-branched tree, the other a photograph of the general store and post office in Paradise, Kentucky, the day before the Peabody coal company strip-mined the town out of existence. Before there was mountaintop removal, strip-mining was the bane of Appalachia, with bulldozers and huge shovels that removed everything on the land's surface to retrieve the coal that was underneath. West Virginia native Billy Edd Wheeler, in his song "They Can't Put it Back," described it as a "Great big earth moving machine / Stands ten stories high, takes a hundred tons at a bite." And usually what the coal companies left was not reclaimed, instead a wasteland. The community broken, its people scattered, dispossessed. Such is the area's history.
Many thanks to Chad Cochran for sharing his initmate photos taken during Isbell's run at the Ryman, and C. Elliott, Boom Baker, Mark J. Smith, Tom Dunning, Peter Dervin and Kevin Smith. Now, on to that feast for the eyes.
---