Iris DeMent Finds Beauty in the Bigger Picture
Posted On February 21, 2023
---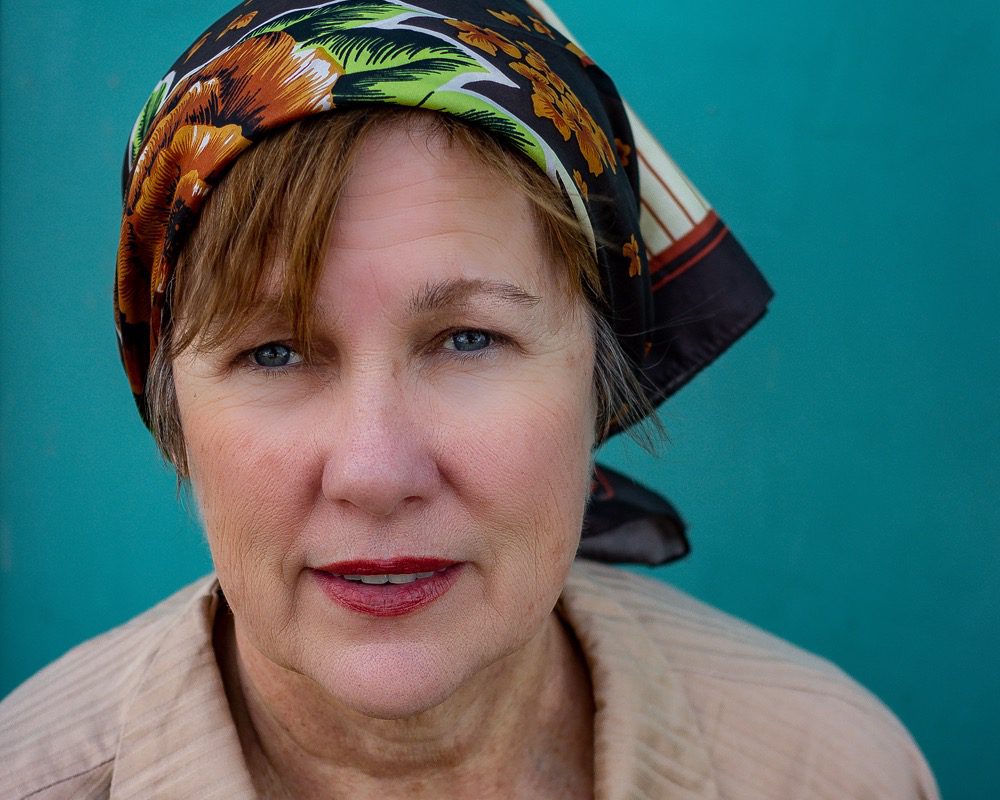 Iris DeMent (photo by Dasha Brown)
When a keen-eyed songwriter like Iris DeMent looks out upon this modern world, it's hard to see past all the ugliness.
But even in so harsh a landscape, DeMent can spot hope on the horizon. That hope is what has kept DeMent moving forward these last few hard years, and it's what fuels the songs on her new album, Workin' on a World, out Friday. She readily admits, however, that hope wasn't easy to come by as these songs came into being.
"[The album] came out of utter despair," DeMent says on a call from her home in Iowa. "It's ironic, I guess, but it came out of barely being able to get out of bed for many months. It came out of a lot of pain, a lot of trying to push up through the cracks and figure out how my little flower was going to emerge and survive."
Going for Something Else
DeMent's deepest despair came the morning after the 2016 presidential election, when a pussy-grabbing egomaniac bent on division was poised to take control of a country already coming apart at the seams. Despite feeling she was experiencing something close to a nervous breakdown, daily life went on, and DeMent had a show to do.
"I needed to get on a plane the next day and fly out to sing, and it was really intense," she recalls. "But what I remember is the audiences were so in the same boat. We all just held each other in that way that just is so fortifying, strengthening. It helped me tremendously doing those shows, which I thought was going to be the hardest thing I ever did. It ended up being one of the best things I ever did."
Workin' on a World's title track came out of that fraught time and sets the tone for the album, acknowledging what's wrong but looking toward making things right. Over a piano melody that blooms into a full-band crescendo, DeMent sings of watching as "the world I took for granted was crashing to the ground," but then remembers previous generations who endured upheaval — and did something about it. They were, as the song goes, "people who were workin' on a world they never got to see," and DeMent resolves to work toward change, too, even if it may not come in her lifetime.
The song's central idea came to her within a month or so of that election, DeMent recalls, but it took a few more years, and a new final verse, to feel finished. That's typical of her songwriting, as DeMent has never rushed to get an album out. Workin' on a World, her seventh album, is her first since 2015's The Trackless Woods, a project for which she set the translated words of Russian poet Anna Akhmatova to original music. Likewise, eight years passed between 1996's The Way I Should, 2004's Lifeline, and 2012's Sing the Delta.
While recording a song a few years ago for a Nanci Griffith tribute album, DeMent decided to take an extra day or two to record some of her own songs with producer Jim Rooney, who was at the helm of her landmark 1992 debut, Infamous Angel. But her goal was simply to get the songs down, not to start work on an album.
"Jim felt that I was being too hard on myself and that's a good batch of songs, just put 'em out, but I'm going for something else with records, and that something else wasn't there," DeMent says. "So I just put it on hold."
But she was still writing, slowly but surely, and in early 2022, Pieta Brown, a singer-songwriter and daughter of DeMent's husband, folk singer Greg Brown, asked to hear the songs DeMent had amassed.
"It was Pieta who really kind of helped me see I had something," DeMent recalls. "It was that little nudge from her that made me really listen through again."
DeMent found the motivation to write a few more songs to complete the album, which lists Rooney, Pieta Brown, and Richard Bennett — another frequent DeMent collaborator — as producers. She is proud of the album's slow pace of creation, because it's what felt right for the songs, for the times, and for herself.
On her earliest records, she says, she followed someone else's timetable, fitting into the needs of a record company, a studio booking, a producer. "This is the first time I actually just did it to my own rhythm," she says. "And I'm glad I did, because I know, and my body knows, when I get to that point that something's right and something's done. And I learned that here — I've always known that. But that got driven home in me more than ever with this record."
The result is an album that exudes confidence even in a world beset by uncertainty. "How Long" frames the question once put to Martin Luther King Jr. within our current context. "How long do you stay the course," DeMent's voice soars in asking, "and dream the dream?" The answer, as King put it, is "Till justice rolls down like water," an image DeMent helps us see through the song. We don't know when the next hail of bullets will fly in a public place, or what fresh horrors capitalism will foist upon us, or when King's dream will become our reality, but DeMent is convinced that somehow, someday, humans might find a way forward into a better future.
"My gut sense is that people all in all are pretty good," DeMent muses. "But I think we have institutions, we have governments, that have become so thoroughly corrupted globally, and they're running us into the ground. That's how I look at it."
Several of those institutions and government figures are called out on "Goin' Down to Sing in Texas," a feisty eight-minute tour of the times that portrays DeMent heading to a gig in the Lone Star State, "where anybody can carry a gun," and pondering matters larger than even Texas can contain.
She calls out war criminals, "greedy people gettin' a free pass," Jeff Bezos, police violence, George W. Bush, Donald Trump, and more, but she finds points to praise, too. Women who have spoken out against much of the above, specifically the four Democratic Congresswomen known as "The Squad" and The Chicks, get verses of their own:
It's been way too long comin'
But I wanna thank The Chicks
They found out what it's like to be a woman
And defy the establishment
Merle Haggard, Willie Nelson
Any guy in a cowboy hat
Would've walked away unscathed
Takin' a stand like that
But the very next song, "Say a Good Word," slows down and offers a reminder of all we have in common, and how a little kindness can go a long way. "Nobody gets everything right," DeMent sings, "Shine your love light / And say a good word to them now."
Her optimism is fueled largely by her children and grandchildren, and wanting a better future for them, DeMent says, but also by those who came before.
"Why I can access that I think comes a lot out of my history with my folks," says DeMent, who was born in Arkansas in 1961 as the youngest of 14 children. "I came from people that didn't have anything and were not respected in the world, [they] struggled and made ends meet somehow, and they just kept going, you know? And that was instilled in me, that you don't focus on the details of the here and now, you look at the bigger picture."
DeMent sees herself, her loved ones, and all fellow humans in her bigger picture, and the songs of Workin' on a World are for them all.
"These songs are each other's songs," she says. "You live, you keep going, and you find reasons because there's so much love you have in your heart for these other living beings in this planet. And we owe it to one another."
People First
The kind of world DeMent is working toward, and the world that so many people she admires and mentions in her songs have worked toward, is one "where people are put first," she says. She lifts up well-known "warriors of love" like John Lewis, Rachel Corrie, Jesus, and Mahalia Jackson in her songs, but there's space, too, for everyday folks putting love first and standing up for good.
Changing the world can feel like an impossible mission, and it can be hard to see how one person can ever make a difference. But in the big picture DeMent sees, there's a role for all of us, no matter how small we might feel or how hard or uncertain the walk might be.
"As far as getting discouraged, yeah, I feel discouraged," she admits. "I just think we're called to keep putting one foot in front of the other and trust that if you're doing the right thing in the moment, that something good will come of it. That I do know."
---