Soulful A.J. Croce includes unreleased Jim Croce song on ninth album
Posted On October 16, 2017
---
Veteran singer-songwriter A.J. Croce may be the scion of the late Jim Croce, but you'd be hard-pressed to know it by comparing their music. The elder Croce hung a Gibson acoustic around his neck and injected "Bad, Bad Leroy Brown" and "Time in a Bottle" into the American folk zeitgeist. A.J. is an accomplished pianist who has evolved his sound over the past couple of decades from New Orleans jazz to soulful blues to straight-up rock 'n' roll and back. On his brilliant new release, Just Like Medicine, A.J. draws upon the smoldering, slow-dance brass of the heralded Muscle Shoals Horns, the oh-so-sweet vocals of the McCrary Sisters, Vince Gill, and legendary guitarists Colin Linden and Steve Cropper to deliver perhaps his most complete album to date. And, for the first time, Croce records a Jim Croce song: the previously unreleased "Name of the Game," the last-known song written by his father.
You're a multifaceted musician. But first and foremost, you're a piano virtuoso and seasoned songwriter. Which came first?
I'm definitely a piano player first — it's what I get hired for. I was so young when I started playing, I don't even remember when. I was probably 4 or 5 years old. The songwriting came later.
At what point did you realize your interest in music was deep enough to pursue it professionally?
I got a small paying gig when I was 12. That was when I realized if I kept practicing that I could do it for a living. By the time I was around 15, I was playing a lot — three or four or five days a week. So, at that point I was really practicing a lot and I realized that was really what I wanted to do.
Were you doing cover tunes or originals in those early gigs?
I did both. Being a songwriter and a musician were very different for me, and both skills developed at different times. I started playing music long before I started writing songs. But once I started writing songs, I really dedicate myself to it. And I tried to learn from all kinds of writers, from early 20th century to early rock 'n roll to Tin Pan Alley.
Legendary songwriter and producer Dan Penn produced your new record, Just Like Medicine. How did you come to work with him on this record?
It was pretty organic. I saw him play at City Winery in Nashville in 2016 and I went up to him afterward and asked him if he'd be interested in writing a song. A couple of weeks later, we had written "The Other Side of Love." And a month after that, we decided we would record it and one other song. There's no digital on these songs at all — it's all old-school in that way. When we finished it, I spoke to Dan and asked if he'd be interested in making a record. All of these songs on the record were chosen by Dan. I just brought him all my new songs without saying to him who wrote it or who I co-wrote it with. I just like, "Is this song good enough for you?" And that was it. It was a thrill, he's amazing.
And we did it old school, recording in mono for the benefit of the modern listener. Everyone listens on the iPhone and iPad and their laptop, and mono just sounds better on those tiny speakers. It was a throwback, but it made the most since. People want to have the best sound that they can, so people are recording two-inch tape again, and it just sounds good. And we recorded most of this live. And when you're listening to it on headphones, you can hear that. There's a compression to it that just sounds great.
---
THREE-SENTENCE ALBUM REVIEW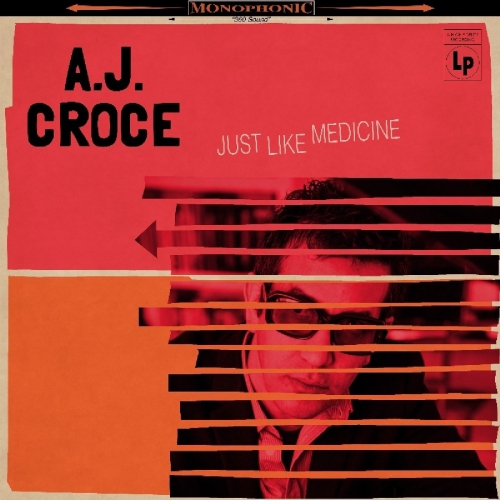 Just Like Medicine may be A.J. Croce's most complete, most soulful and most interesting album to date. Recorded on tape and mixed in mono, Steve Cropper, Vince Gill, Colin Linden and the fabulous McCrary Sisters add well-seasoned flavor, while The Muscle Shoals Horns bring a slow-dance sweetness to this intriguing record. Try If You Like: Van Morrison, Elvis Costello, Jim Croce, Leon Russell, Muscle Shoals swagger.
---
Just Like Medicine also features some pretty heavy hitters, including Colin Linden, Steve Cropper and Vince Gill. Not to mention the fantastic McCrary Sisters and the Muscle Shoals Horns, who drop a lot of sweetness onto this record. David Hood, too, also from Muscle Shoals. How did you decide to make this record so collaborative?
I always try and find good people to collaborate with. I get a concept for the album and I start reaching out to people to see who's interesting in sharing this idea. Once one person is in, it starts to fall together. It helps that a lot of people want to work with Dan and with David Hood. Everyone was really happy to play with one another.
You co-wrote the record's second track, "The Heart Makes Me Whole," with the late Leon Russell. Did his passing inspire you to include it on this record?
We wrote about 10 songs together. We recorded one on the last record, Twelve Tales. And I had hoped that he would come and join us on organ for this one. But, sadly, he passed. But we thought about who would join us on it and I called up Steve Cropper and he said sure. And that was it.
You also recorded "The Name of the Game," a previously unreleased song written by your father — his last, in fact. That's a first for you. Why on your ninth album are you finally recording a song written by your dad?
I brought that in to Dan before we started tracking. I didn't say who wrote it and he just dug it. It was the first time I've recorded one of his songs, and probably the last. It was the only way we could collaborate — it was really organic and real. We played the demos for everyone who was there, and we just approached it my way. So instead of me playing guitar on it, I played the Wurlitzer. Colin Linden played the Gibson 1933 L-0 that's on the demo that my dad made. So, the first half of the song on guitar is Colin playing and the second half is Vince Gill. That's a live take. Like everything on this record, I sang and played live.
I didn't want to record any of [my father's] popular songs — I wanted my own identity. I'm a piano player, and a lot of the stuff that my dad wrote just doesn't sound that great on a piano, with a few exceptions. It wasn't until I picked up the guitar in my 30s that I really attempted playing his music, which I had always loved. At a certain point, after I had written 18, 19 or 20 Top 40 songs, and eight or nine albums that had charted I felt like I had my own identity — I am who I am. It's funny, I'm older than my father and it's hard to say what he would have done. But this particular song was a way of collaborating.
My father passed away years ago. If I could only save one thing of his in the event of a fire, it would be his class ring from the U.S. Naval Academy. I wonder what you would grab of your father's if the house was burning.
Well, the house did burn when I was 15. The house burnt down, and there wasn't much that I could grab — one outfit. And amazingly the [1933 Gibson L-0 guitar] made it through the fire. And that's amazing because it's really fragile. When my father died, I inherited that L-0 and a 1930s rhyming dictionary — it's beautiful. What's so great about it is — it sits on my piano — you can find lines and words and phrases that just aren't in use anymore. That can make things a lot more creative.
Are you sitting on any other unreleased Jim Croce songs?
I don't know of any. That's why I said this is probably the only time I'll have a chance to collaborate, in a sense, with my father. I have no interest in doing a Natalie Cole-type of collaboration — that's not my groove. But this seemed really special because it hadn't been released. And as far as what had been released, his versions are better than anyone else's.
Skip Anderson is twice recognized as Music Writer of the Year in The Nashville Scene's Readers' Poll, and winner of the Alternative Newsweeklies' Best Music Writing award. He and his wife live in Bozeman, MT, and are expecting their first child in January.
---