John Howie, Jr. Gets Personal
Posted On September 15, 2018
---
THE CICADAS WERE OUT in full force, buzzing in celebration as the August summer heat had mercifully subsided, at least for a few days. I ordered coffee (black) and took a seat at a tiny round table outside Caffé Driade, a charming outdoor java house and wine bar nestled in a cradle of trees off Franklin Street in Chapel Hill, NC.
About 5 behind, apologies.
That's the text I receive seven minutes before the scheduled meet up. Such is the norm for John Howie, Jr. – not his tardiness but his politeness – the voice of the Two Dollar Pistols as well as the Rosewood Bluff, and a southern gentleman who doesn't want to keep you waiting. I don't mind.
We're meeting to discuss Not Tonight – the first album to bear only his name and his first for Suah Sounds – the inspiration behind it, navigating a music career as a single parent, and his journey from punk rock drummer to honky-tonk front man.
John Howie, Jr. comes across as approachable, accommodating, confident yet humble. He's also blessed with a natural baritone that's perfectly suited for country music. We're talking pure honky-tonk country. The kind my grandma would tap her foot and nod her head to while I was helping her shell peas at the kitchen table, the radio tuned to Danville, VA's WAKG, "Country Sunshine" (the only FM country station we could pick up in our part of North Carolina in the late '70s). She loved Webb Pierce, Mel Tillis, Tammy Wynette, and Loretta Lynn. Charley Pride was her favorite, but if it had a pedal steel, chances are she'd approve, as she undoubtedly would of Not Tonight. John Howie, Jr. was exposed to country music early on in a similar fashion (in fact we realize, as kids, we were both in the crowd to see Jerry Reed perform at the NC State Fair in the late '70s at the height of Smokey and the Bandit-mania), though not through his granny but his dad. We'll get to that later.
With the Two Dollar Pistols and the Rosewood Bluff, Howie writes and performs songs that require a sawdust floor, a jukebox, and a sympathetic ear. Now, with his first solo outing, he's delivered another album that can stand alongside the greats in Ernest Tubb's Record Shop on Broadway in Nashville.
The genesis of Not Tonight can be traced back to a winter snow in early 2015. "I got snowed in with my dog at my then-girlfriend's house out in the woods in Chatham County," Howie remembers. Full disclosure: he's referring to current Bloodshot recording artist and rising alt-country/Americana star Sarah Shook. When two songwriters are snowed in with guitars, what else is there to do but write songs? Shook heard a tune he was messing around with, the Not Tonight track, "Happy."
"She asked me, 'what are you gonna do with that?' I said, 'I don't know. It doesn't fit the Two Dollar Pistols or Rosewood Bluff, it just doesn't have that kind of sound.' She said, 'I really like it,' and when you're a songwriter and someone else you really admire as a songwriter says they like what you're doing, it kind of changes the way you look at it. She said, 'well, if it doesn't fit on one of your records, why don't you make a solo album?' That had never occurred to me, for whatever reason – after at that point almost 20 years of making records as a singer-songwriter leading bands – to just try something on my own away from that format. After she gave me that idea, I really got excited, so it's not something I can initially even take credit for."
What John Howie, Jr. can take credit for is creating a true modern-day country classic. Not Tonight is a crash-course on how to craft the sound of heartbreak. From the George Jones-inspired opener "Wish My Heart" to the closing title track, which glorifies procrastination and somehow wallows in self-pity while still sounding hopeful, Not Tonight may be all smoke-filled honky-tonk regret, but it somehow pulls off the difficult trick of sounding self-assured while displaying an open vulnerability.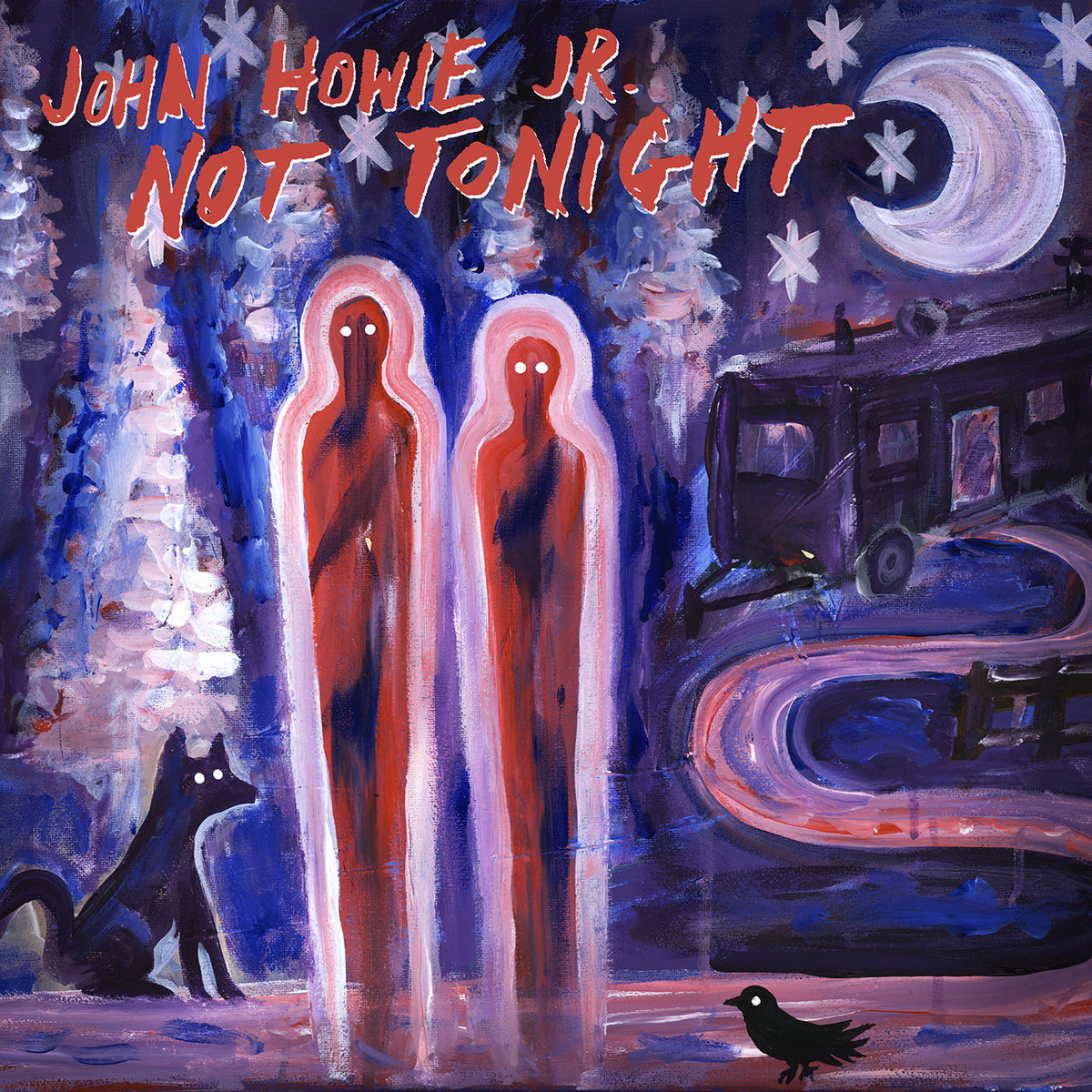 Album artwork for Not Tonight by Todd W. Emmert, Asheville, NC
"Right after this conversation," Howie continues, referring to where Shook gave him the idea for the solo album, "my personal life took a nosedive. All of a sudden I had the inspiration to write all these songs and write about my life." By the time Shook and her band the Disarmers (for whom Howie played drums at the time) entered the studio in April of 2015 to record the critically-acclaimed Sidelong, he had written seven songs. "Totally completed. Not recorded, but I had finished them, which is really unusual for me in a one-to-two-month period. I may have ideas for songs but having that many completed and ready to be recorded in that short amount of time has never happened to me before.
"My personal life took a nosedive.  All of a sudden I had the inspiration to write all these songs and write about my life."
"I was living in this condo at the time and I would get up in the middle of the night with my dog and we would go downstairs to the kitchen and I would get out my guitar. 'Back When I Cared' I wrote in the middle of the night. Finished it. 'I Don't Feel Like Holding You Tonight,' same thing. 'Not Tonight' I wrote before I went to bed one night. They were just pouring out at that point. I didn't have to force them or think about them or really even egg them along. It was more like, 'how fast can I write these down?' Those are the ones you're fortunate to get. That's not usually the way it happens for me, but in this case, it was such an intense deal writing about an intense relationship, they just poured out."
Then, Sidelong took off, putting Not Tonight on hold. "I knew what was going to happen with the Disarmers," he discloses. "I knew what they wanted from that career, all those bells and whistles and everything, so I wanted to go ahead and get some stuff down on tape." In early April, Howie entered Kudzu Ranch, the studio belonging to legendary Southern Culture on the Skids frontman Rick Miller (also producer of Not Tonight) – where Howie has recorded since the Two Dollar Pistols' You Ruined Everything in 2001 – and laid down acoustic guitar over a click-track to three or four songs "just to get something down on tape so I would be motivated when I had the chance to go back and start adding things.
"It's just a great, funky, old studio," Howie says about Kudzu Ranch. "It's a converted garage and all of Rick's instruments are there. He had just bought a 1962 Stella acoustic 12-string like the kind Leadbelly played and I ended up playing that on 'Wish My Heart.'
Miller first produced Howie on the Pistols' Here Tomorrow, Gone Today in 2007. "When you're making records with someone, you've got to feel comfortable on a lot of levels and obviously this record was very personal, very confessional lyrics…(Rick's) really good at walking the line between giving you ideas, making suggestions, and not forcing them upon you." A good producer is like a good psychiatrist, Howie believes. "They're not going to give you advice, they're going to make you feel like you got there on your own."
Honky-Tonk Punk Rocker
John Howie, Jr.'s first love was drums. "I started playing drums in 1981, so I would've been 12," he remembers, "and I did that forever. I had written some songs for bands I was in – bands like Finger – but I was mainly a drummer for people." Howie played drums for Chris Stamey and Chapel Hill's June, whose version of Roger Miller's "I'll Pick Up My Heart (And Go Home)" seems to have paved the way for what came next.
Brad Rice, who has played guitar with Raleigh legends the Accelerators, the Backsliders, and Whiskeytown, as well as many national acts over the years, was there at the earliest stages of Howie's songwriting development. "Going all the way back when we played in Finger, John could take whatever kind of stuff he might be going through and make it into a song with some depth and weight," Brad remembers. "He was never faking it."
During that time, in his mid-20s, Howie discovered he wanted to try his hand at more songwriting. "Right around 1995, I sat down with my dad's acoustic and decided to just let the songs come out, and when they did, they came out as George Jones imitations."
Yet being a country singer was not always Howie's goal, nor was he always a country music fan. "I grew up hearing that stuff a lot. My dad was really into Waylon, Willie, Merle Haggard, as well as the blues. Dad was from Mississippi, so he loved folks like Howlin' Wolf. My mom was a jazz piano player and that's all she listened to; Bill Evans and Oscar Peterson, Sarah Vaughan and stuff like that."
By the time Howie became a teenager, he did what all teenagers do. He found his own music. "You know, Sex Pistols, Ramones. There was nothing for me to rebel against, I just didn't want to be associated with what my folks' tastes were." In his late teens, Howie "dropped out of college, worked part-time at the tax department, bought a ticket, and bummed around Europe playing drums for a punk band.
"The leader of that band was really into Johnny Cash, and I had just gotten into the Burrito Brothers – this was around '88 – and he was the first person I'd met around my age who liked the same stuff I did and also the kind of stuff my dad liked, which I kinda needed someone who wasn't from my dad's generation to say, 'no no, it's ok!' and once that happened, I fell in love with it."
Excited that his son was sharing his musical tastes, Howie's dad helped to educate him on good country music by making tapes of Dwight Yoakam, Steve Earle, and Lyle Lovett, in addition to Haggard, Jones, and Willie. "He would tell me, 'now that image you have of Buck Owens (as solely the cornball host of Hee-Haw) is not right" and history lessons of the Bakersfield sound would no doubt commence.
"Right around 1995, I sat down with my dad's acoustic and decided to just let the songs come out, and when they did, they came out as George Jones imitations."
Howie's immersion into country music seemed to coalesce with the emergence of the alt-country scene in the Triangle Area (the Raleigh-Durham-Chapel Hill area of North Carolina) in the early '90s when bands like the Backsliders were making waves and starting to attract attention from labels and press outside the area looking for the next Seattle.
"I saw one of the Backsliders' first shows in 1992. I was in Raleigh practicing with Finger and the bass player said, 'there's a band playing downtown that's into the same kind of music you like, like Gram Parsons and Buck Owens, that kind of thing,' so I went to see them. At that point, they had Bob Ricker on pedal steel and they blew me away, man. I had never seen anyone that wasn't at least 20 years older than me at that point playing that kind of honky-tonk music. When I saw that, it kind of planted the seed that maybe I could do that too, even though it took a few years to get it together. You don't want to do something like that half-assed."
The Backsliders, 1997. l-r; Danny Kurtz, Brad Rice, Chip Robinson, Steve Howell, Jeff "JD" Dennis
"There were no other bands like us at the time in the Triangle Area," recalls Steve Howell, co-founder and guitarist of the Backsliders. "We were shooting for the Burrito Brothers thing pretty heavily. Pedal steel and all at first. The two-guitar dominated sound (with the addition of second guitarist Rice) was several years after we first started. The first couple of Dwight albums lit the torch for me. It seemed like a breath of fresh air."
That hip neo-traditional sound Dwight Yoakam took mainstream in the mid-'80s indeed seemed to validate groups that had been merging punk, '60s garage-rock, and honky-tonk for years in the underground. By the '90s, bands like Uncle Tupelo were combining the sound of punk with traditional country, helping to create what was to be branded alternative country, and the Triangle Area of North Carolina appeared to be ground zero for the alt-country movement.
"I finally got it together around '95," Howie remembers, "and started meeting like-minded musicians. I'm sure that whole Whiskeytown thing helped because it was on people's radar all of a sudden. Violinists became fiddle players."
The Two Dollar Pistols were formed that year and released their debut, On Down the Track, in 1997 – a watershed year for the Triangle music scene. That same year saw the release of the Backsliders first studio album, Throwing Rocks at the Moon on Carrboro's Mammoth Records, produced, as luck would have it, by Dwight Yoakam's guitarist and producer at the time, Pete Anderson. Also released in 1997 was the Whiskeytown classic, Stranger's Almanac, of which Backsliders Brad Rice and Danny Kurtz would later tour behind as members of Whiskeytown. Incidentally, the first drummer for the Two Dollar Pistols, Chris Phillips, also drummed for the Squirrel Nut Zippers, whose critically acclaimed Hot – on Mammoth – went platinum in '97.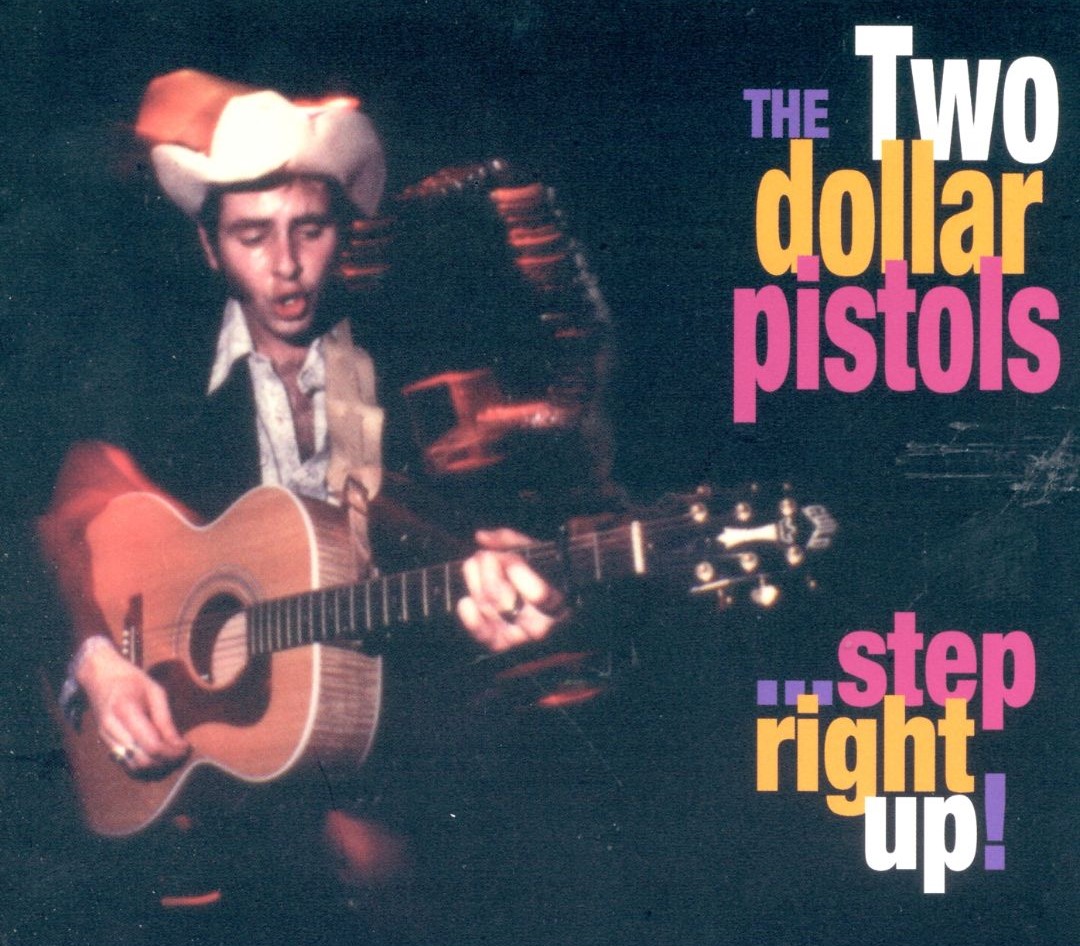 Step Right Up, 1998
"When John started the Pistols, I recognized a kindred spirit," admits Howell. "I got them on the bill with us whenever I could. Flash forward a few more years and there I was helping him make the (Pistols) live album Step Right Up (in 1998, their first for Hillsborough, NC label, Yep Roc). I have very fond memories of that period."
The Two Dollar Pistols took a break in 2008 and Howie formed the Rosewood Bluff, a group that was perfectly suited to act out his vision of honky-tonk stompers, barroom weepers, and southern soul workouts. Releasing two critically-acclaimed albums (so far), 2011's Leavin' Yesterday and 2014's Everything Except Goodbye, they have also shared the stage with legends like George Jones and up-and-comers such as Shovels and Rope. (Members of the Rosewood Bluff, the Disarmers, and Raleigh's own Tonk all appear on Not Tonight.)
Despite being smack dab in the middle of all the action – being in the exact right place at the exact right time – Howie wasn't in it for the fame and fortune. "Much to the chagrin and frustration of musicians that have played with me, record companies, managers…and one of the reasons I left the Disarmers, is that that has never been what I want from it, man. I'm not saying that makes me better than people who do want that. I just want to write songs and I want them to sound the way I want them to sound and I want a band to sound a certain way and I want a record to sound a certain way.
"I mean, Two Dollar Pistols did SXSW a couple of times, but," he paused, choosing his words carefully, "it's a weird place to be. Do I want people to hear the music? Of course, I do. There's a lot of music I wouldn't have found out about had those people not have been ambitious and pushed it and all that but…the record music industry…and especially with social media – making sure you take your selfie with the right person – I just have no interest in that. Especially now at 49, I'm at the point where it's 'what you see is what you get,' y'know? Take it or leave it."
"Priorities Change"
Just to be clear, Not Tonight is not John Howie, Jr.'s Blood on the Tracks. When asked about any possible similarities, he thinks for a moment, then, "I don't know, records like that and Sea Change by Beck…I love those records and they're clearly about (the ending of their respective relationships), but this record might be a little different in that it was written in real time. It's not like a relationship ended then I went and wrote a bunch of songs about it. When I left the Disarmers and my relationship of four years with Sarah Shook ended, I had eight of the ten originals on this record already written over a two-year period. What I realized at that point was that I did have this record that sort of documented, in its own way, the demise of this relationship.
"You know, you face problems in relationships and they're either bumps in the road or they're the start of the end, and these (problems) were apparently the start of the end.
"I couldn't make it work," he confesses when asked about being a couple working together in the same band. "I know people in that situation that have figured out how to make that work, but it's not gonna work for me.
"There were a lot of issues. I mean, I was probably already going to have to bow out (of the Disarmers) because I'm not comfortable as a single parent being away from my son three or four months at a time. I'm just simply not ok with that. I mean, when you're a single parent, you're only seeing them half the time, so if you then don't see them for two or three months … you do the math. That's not the kind of relationship I want to have with my child – and my son and I are tight. I have full custody at this point. I have a good set up now where I can go out on weekends and do my thing, but two months – that's a whole different deal, man."
No other song on Not Tonight takes on heartbreak and loneliness quite like the lyrically pointed "Underground." "That song is about recognizing that there are some things that you just can't go back to. My girlfriend at the time started working at a bar in town that I had worked at for eight years. I had stopped going there unless I was playing because I had a kid and I wasn't going out that much anymore. When she started working there, I went there to hang out with her some." He discovered, with a couple of exceptions, most of the people that used to frequent the bar when he worked there, had been replaced by a younger crowd. "But it was all the same bullshit, all the same dumb stuff going on, always someone talking about getting drunk and trying to kiss someone else that they shouldn't be kissing…you know, just…the drama, man!
"Part of that was me recognizing that I don't belong there anymore. Being entrenched in that world was something I no longer wanted. You know, when you work in a place like that, it becomes a big part of your life, and 'Underground' is just about me revisiting that and being amazed at how much that world meant to me at one point and how little I want to do with it now. I'm getting older, you know? I'm recognizing that priorities change, interests change, and what you're willing to deal with changes."
"When I'm Not There with You" is a sawdust-layered country two-step recorded with the Two Dollar Pistols. "One of the cool things about this record taking as long as it did," Howie explains, "is that had I recorded that song back in 2015, they wouldn't have been on it because I wasn't in contact with them then." Alec Ferrell, whom Howie befriended through Durham, NC hip-hop artist/poet Shirlette Ammons, adds a tastefully dirty guitar solo on "Wish My Heart" and handles bass on one of the highlights of the album, "Never Could Say Yes."
"'Never Could Say Yes' was the last song I wrote for the album," he recalls. "That's the one you write when you wake up the next morning and you grab your phone and you say, 'oh, that's right, I'm not gonna hear from this person I've been hearing from every day for that last four years. It's confusing and it's shattering and all of that, and at least for me, very painful for a while." The track incorporates a drum machine which underscores the song's hypnotic groove. Add to that the subtle ABBA-like backing vocals and you have a modern classic that wouldn't have sounded out of place on one of Dwight Yoakam's mid-90s albums.
The lone cover on Not Tonight is an inspired take of Cat Stevens's "Maybe You're Right" that reveals a slowed-down hillbilly blues inside the original's folk-with-strings arrangement. It's one of Howie's strongest vocal performances to date. "I had been playing that song just around my house since I first heard it when I was 31, 32 years old, and lyrically it fits so well with the rest of the record I decided to put it on there."
I ask if the process of writing the songs for this album was cathartic in any way. "I always feel better when I write a song I'm happy with," he answers, then pauses, considers his words, then adds, "you know, you're not going to walk away from four years of family, living together, a couple of bands…you're not going to get away from that overnight."
"I'm somebody's dad.  I write songs and make records, you know?  Those are the priorities for me."
Through it all, Howie is still able to put everything in perspective. "Relationships end," he said. "I'm in a fortunate place. I've lived in Chapel Hill since 1991. I've been married twice. I've had 10 or 12 relationships, and I'm on relatively good terms with all of them. Relationships are messy. People get upset, they get angry, they get pissed off, they get bitter." Yet, he's found what's important in life for him, and he's taking stock in where he's been and enjoying where he is now. "I'm somebody's dad. I write songs and make records, you know? Those are the priorities for me."
As for Not Tonight, Howie is pleased with the results. "I'm really happy with it. It definitely is something I felt like I needed to do. I'm very grateful to my ex-girlfriend for encouraging me and coming up with the idea. It's got some of my favorite songs I've ever written on it."
Asked if his son is cool with what his father does for a living, John Howie, Jr. doesn't hesitate. "Yeah, he is. He has no interest, thank God. He listens to '70s and '80s R&B, or current music that sounds like that. That's all he wants to listen to. As of this morning, he wants to be a geneticist and/or a paranormal investigator, at eleven years old," he laughs, "and I'm good with either one of those."
John Howie, Jr. will be having a limited run of east coast dates to promote his debut album as a solo artist, kicking off with an album release party at Local 506 in Chapel Hill, NC this Friday, September 21st, the day of the album's release. For the show, expect an expanded version of the Rosewood Bluff, including cellist Sarah Glasco and guitarist Alec Ferrell. For tickets and info, visit the Local 506 website. For more info on John Howie, Jr., check his websites here and here.
---