In the Deep End With … Zoe & Cloyd
---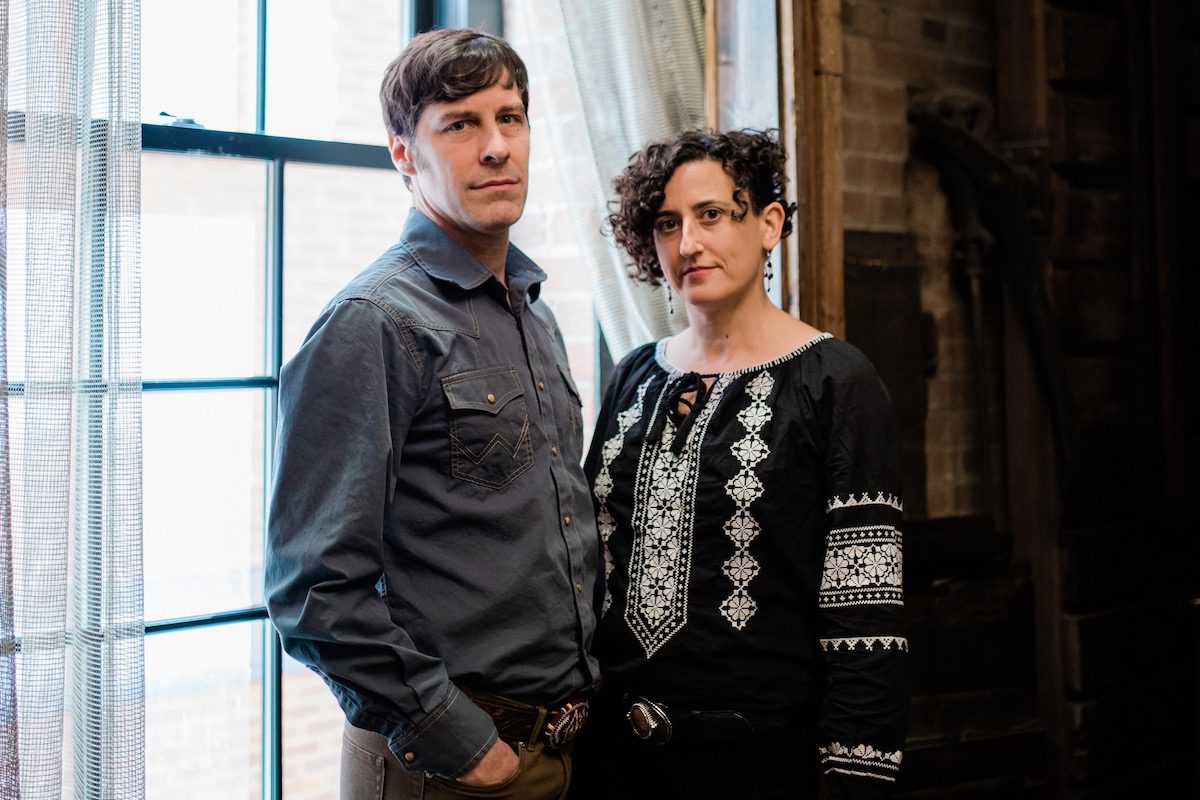 Zoe & Cloyd's John Cloyd Miller and Natalya Zoe Weinstein (photo by Sarah Johnston)
With their duo Zoe & Cloyd, John Cloyd Miller and Natalya Zoe Weinstein have always drawn deeply from the musical traditions they grew up in — bluegrass and old-time for both, with a dash of klezmer and jazz thrown in from Weinstein.
With their new album, Songs of Our Grandfathers, the Asheville, North Carolina-based husband and wife wanted to more directly honor their musical ancestors and family traditions — and to see how those sounds could work together.
Inspired by the 1995 album Songs of Our Fathers by David Grisman and Andy Statman, Zoe & Cloyd carefully chose songs their grandfathers played. Miller drew from the many recordings of his grandfather, Jim Shumate, a legendary bluegrass fiddler who played with Bill Monroe and Flatt & Scruggs. Weinstein didn't have audio recordings of music from her grandfather, David Weinstein, a Jewish klezmer musician who emigrated from Ukraine, but she did have a family trove of notebooks in which he'd written down the songs he'd come across.
While some of the tracks on Songs of our Grandfathers keep to one musical tradition — either bluegrass or klezmer — others dive into and, creating a blend that starts off as surprising and then settles into delightful harmony. The Shumate-written tune "Up and At 'Em," for example, kicks off with a slinky "doina" introduction common to klezmer music, but there's banjo in the background, and soon Weinstein's fiddle scampers away with the melody in full bluegrass spirit.
The instrumental "Bulgar Sigansky" is klezmer on the surface, complete with clarinet played by bluegrass mandolinist Statman, but the woodwind notes gracefully hand off to Bennett Sullivan's banjo about midway through, and the instruments trade off seamlessly until joining together to carry the song to its frenzied conclusion.
Songs of our Grandfathers is about tapping into tradition, but also carrying it forward, an exercise in finding new room for creativity while honoring the past. We asked Miller and Weinstein about the project, the pairing of bluegrass and klezmer, and, of course, their grandfathers. In the spirit of our In the Deep End series, and like many a bluegrass and klezmer tune, the questions ease in gently but then dive a little deeper.
Both of you are so steeped in traditional music in general, but what made you want to look specifically at the music your grandfathers played?
JOHN: My grandfather's music and his performing career were always a reference point for me and certainly my primary personal connection to that world. No matter what kind of music I was listening to or dabbling in, my connection to him and traditional bluegrass was a musical baseline. Pretty much all of the performing bands I have ever been in have some connection to that music. It's a big part of my musical identity at this point and I wanted to rightfully acknowledge his influence.
NATALYA: We have touched on and acknowledged the music of our respective grandfathers for many years, but we have never done a project focused just on their repertoire and music. We have spent many years writing our own songs and focusing on that and it felt like the right time in our musical development for a deep dive into our roots.
John, you had recordings to work from for your grandfather, Jim Shumate, but Natalya, at least some of the songs from your grandfather, David Weinstein, came from his handwritten notebooks. Tell us about finding those, and what was in them?
NATALYA: I don't have any recordings from my grandfather. I have a few audio recordings of interviews that my family members did with him, but he passed away when I was fairly young, so I don't remember hearing his music. My dad was downsizing and moving into a condo, and he came up with all these old music notebooks from my grandfather. He asked if I'd be interested in them, and of course I said yes! There are about five different handwritten notebooks with all sorts of material in them, from klezmer instrumentals to early jazz standards, tangos and mambos, and even "Tennessee Waltz"! We got all of the klezmer tunes for Songs of Our Grandfathers from his notebooks.
People might think that bluegrass and klezmer have almost nothing in common, but it's clear you found plenty of threads running through both. What makes them similar, or at least compatible?
NATALYA: They come from a similar place, largely from working-class communities. They are both essentially folk music at heart, although they have been commercialized in their own ways. Klezmer music served a vital function in the community, as music for weddings and celebrations. Jewish weddings used to last for seven days, and there were specific songs and dances for many parts of the celebration. The music was very connected to dancing, and many of the tunes in my grandfather's notebooks are simply labeled "Hora" or "Frailach," which are types of Yiddish dances. Bluegrass also grew out of a stringband/dance tradition in the Upper South but developed into a more performance-oriented style, while still maintaining its connection to local communities. Both are emotive folk music styles that highlight the human experience, and they blend together surprisingly well.
This album traces each of your grandfathers' musical heritage, but I'd love to hear about what they were like as people, too. Did you know them well?
JOHN: Grandpa Jim was a wonderful person, very loving and warmhearted. Us grandkids always thought of him as someone from another time and place; you know, born in a cabin in the rural North Carolina mountains. He always felt like a living link to the past in a way. He was a caring husband and father of four who always put his family first. He was also a person of great faith; a teetotaler who didn't care for life on the road, but he was always playing. He was always happy to play music with us and show us things. When we came over to the house he would often say "Do you have your fiddles and banjers with you?" I'm thankful that we had so much time together.
NATALYA: Unfortunately I didn't know my grandfather David very well. It's my understanding that he could be a pretty difficult and anxious person. He escaped some terrible and violent conditions in Russia as a young person, so it's not surprising that he struggled emotionally. Many people have fond memories of him playing music at weddings and bar/bat mitzvahs, so I try to focus on his musical legacy.
I was lucky enough to spend eight years with Grandpa Jim before he passed away in 2013, so I was able to learn a lot from him, both musically and personally. He was so kind and generous, and always encouraged my fiddling, never questioning why this Jewish, Yankee girl was in his living room asking him to play!
What can music (and musicians!) from the past teach us today?
JOHN: So much! Art and music don't happen in a vacuum. Everything builds on what has been done before. The past informs our musical choices in a myriad of ways, from what songs we sing and write (and how we sing and write them) to what instruments we play. One of the things that's always been particularly interesting to me about "traditional" music is the act of learning directly from older-generation musicians. This folk process can provide the younger generation a real-world link to their past and can be very motivating and empowering. Also, whenever I've felt stuck or adrift musically, I often look to the past for inspiration and grounding. It's like a reset button.
Zoe & Cloyd's Songs of Our Grandfathers came out May 19 on Organic Records.
---