In Atlanta, An Effort to Prevent a Piece of Country Music History from Wasting Away
---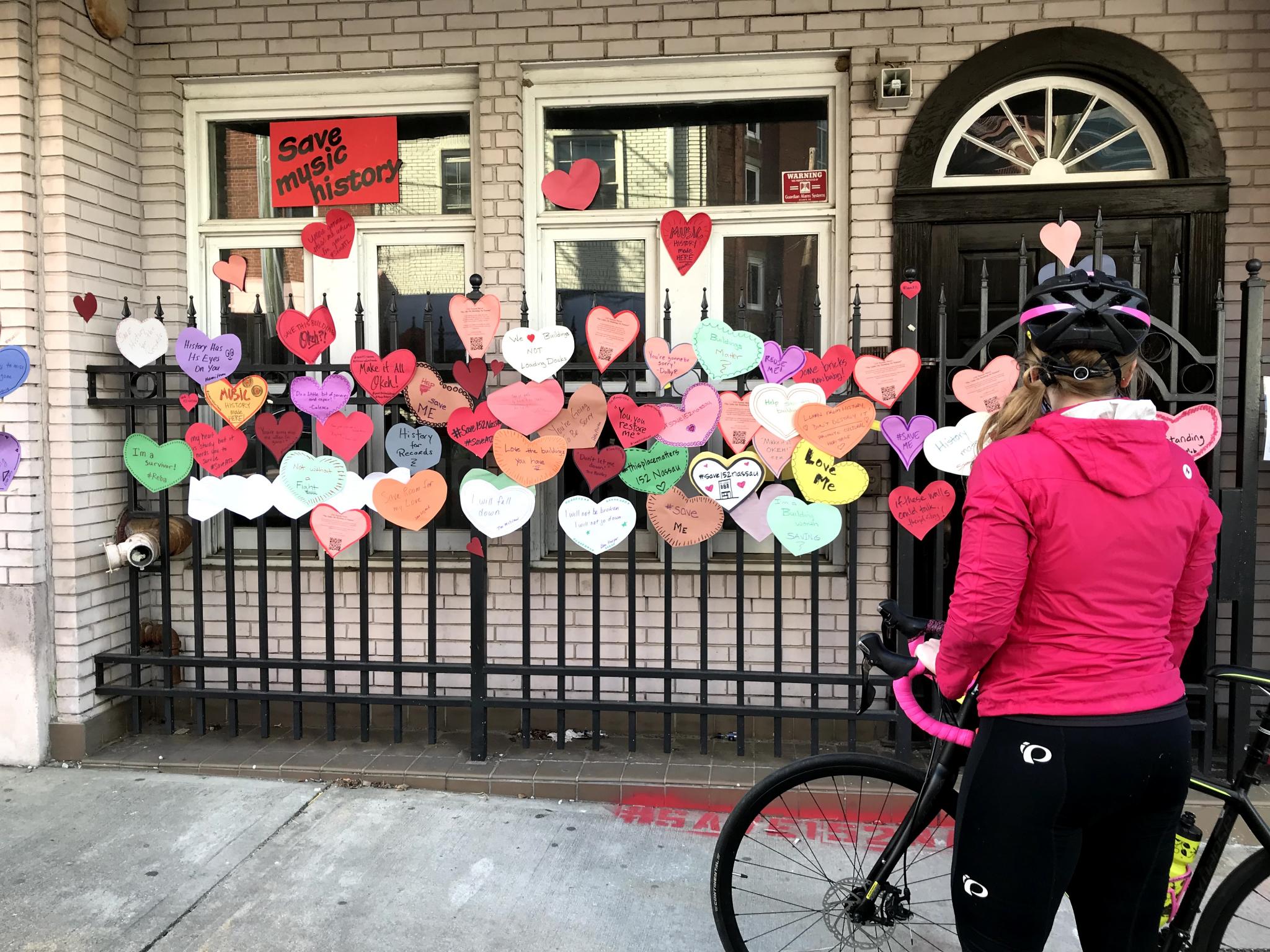 152 Nassau Street (photo courtesy of Historic Atlanta)
When Ken Burns' eight-episode docuseries Country Music debuts on Sept. 15, the first story told will not take place in Texas or Tennessee. Instead, the series' in-depth look at the genre's roots begins in downtown Atlanta, where Okeh Records' Ralph Peer recorded the first country music superstar, Fiddlin' John Carson, on June 14, 1923, in a makeshift "recording laboratory."
This genre-shaping session's location, 152 Nassau Street, still stands after all of these years, surviving a pre-1996 Olympics overhaul that drastically changed its surroundings and a 2008 tornado that destroyed a building across the street. Unfortunately, time and corporate greed finally caught up with prime real estate that's walking distance from the CNN Center and adjacent to popular music venue The Tabernacle.
Despite regional journalists and academics' best efforts, Jimmy Buffett's Margaritaville chain of restaurants plans to construct part of a new resort where the building now stands. With the city issuing a demolition permit in January that's still pending receipt of payment, an important site in popular music history and a rallying point for historic preservation may not survive until the series premiere.
Country Music's First Superstar
Carson, a resident of Atlanta mill village Cabbagetown and an early star of the city's influential high-wattage radio station WSB ("Welcome South, Brother"), wasn't the only beneficiary of the Nassau sessions — a series of recordings that featured acts ranging from bawdry humorist and blues singer Lucille Bogan to cosmopolitan dance ensemble Warner's Seven Aces. Nor was he the first to record what we would now call old-time music, with earlier examples including commercially unsuccessful 1922 recordings by Arkansas fiddler Eck Robertson.
Yet a mix of his sales figures and the Okeh record label's promotional tactics made Carson the blueprint for a country music star years before Peer helmed the better-known 1927 Bristol Sessions: a supposed "big bang" moment for the genre and the mainstream introduction of both Jimmie Rodgers and The Carter Family.
The Nassau Street and Bristol sessions were among Peer's expeditions in the South during which he set up makeshift studios in available buildings and recorded regional radio performers in hopes of finding new unit-shifting stars. Peer sought out convenient and affordable locations with no thought given to historical significance, making the Nassau Street building's survival miraculous.
"An awful lot of them were old warehouses or suites in some hotel at the time," says Peer biographer and former No Depression Senior Editor Barry Mazor. "Since those recordings ended by the mid-'30s, that's a long time for the buildings to be preserved if it wasn't done on purpose. In this case, one of the most significant ones is still sitting there."
Carson's regional renown as an on-stage showman, political pitchman, fiddling competition mainstay, and radio star made it easy for local Okeh distributor Polk C. Brockman to quickly sell the initial 500 or 1,000 copies, depending on the source, of Fiddlin' John's debut 78, "The Little Old Log Cabin in the Lane," backed with "The Old Hen Cackled and the Rooster's Going to Crow." Further sales success in Atlanta and beyond proved to Okeh and other labels that old-time music appealed to an untapped and sustainable audience.
Despite living and working in bustling Atlanta since the turn of the century, Carson was promoted as a rural hillbilly, wowed by the bright lights of New York during a later session recorded there. It wasn't a new concept, as Atlanta newspapers painted a similar image of Carson during the prior decade's coverage of local fiddling contests. Yet the key moment in mountain man myth-making came when Okeh designed a 1924 advertisement that described Carson and his peers' sound as "hill country music," a label eventually shortened to "country" for music marketed as authentically rural.
"One record doesn't make a genre, and frankly some of the old songs we'd consider country now had been recorded by uptown New York studio artists before that," Mazor says. "They weren't country people singing their own music for country people, which was the concept."
Cabbagetown's Crop
Cabbagetown's legacy as a creative hotbed extends beyond Carson. Tommy Roe, the '60s pop star behind such hits as "Sheila" and "Sweet Pea," grew up in the area and titled his memoir From Cabbagetown to Tinseltown and Places in Between. In the 1990s, the small community's indie rock scene served as a launching pad for Kelly Hogan, the Rock*A*Teens, and Cat Power's Chan Marshall, introducing a funny-named neighborhood to a hipper audience.
James Kelly, a leader of Cabbagetown's '90s country music scene dubbed "The Redneck Underground," has tried at no avail to get access to 152 Nassau Street while it still stands. He hopes to record a local act called The Carroll Street Troubadours in the building as they cover one of Fiddlin' John's songs for a history of Cabbagetown music CD, a project funded by a Georgia Music Foundation grant.
At best, Kelly's idea would inspire an alternate use for the historic building, even if the studio or performance space is attached to Margaritaville. At worst, it provides Cabbagetown musicians a chance to connect with history one last time before Atlanta loses yet another link to its past.
"Atlanta is so notorious for destroying history," Kelly says. "I'm not just talking about Sherman. I'm talking about John Portman and some of those other developers and those guys that are turning downtown Atlanta into a strip mall. They just don't care about the heritage, and they don't care about history."
Kyle Kessler, policy and research director for Atlanta's Center for Civic Innovation and a licensed architect, pushes back against this trend of tearing down buildings with no regard for local history. The Change.org petition he started to draw attention to the Nassau Street story garnered more than 7,500 signatures. The petition is addressed not just to developers and investors but also Atlanta Mayor Keisha Lance Bottoms, daughter of Northern soul legend and Okeh Records alum Major Lance.
Fiddlin' John's Legacy
In a perfect world, Margaritaville would find a new location and the surviving Nassau Street building would become a music tourism destination for downtown Atlanta. Realistically, that door shut a long time ago, so country music fans and Atlanta history buffs should start considering second- or third-best results before conceding this struggle.
"There are compromises that could be made here, which I don't even know if they've been really entertained," Mazor says. "If they save the key room and it was attached to the new restaurant, it could add to the appeal and the interest of the restaurant. It could stay there that way. But if they're really going to knock down the building, it might still be possible within the restaurant to have some history memorialized with some pictures and signs and things. There's ways to still say that something important happened here that should still be remembered."
Although Margaritaville representatives failed to respond to No Depression's inquiries, developer Strand Capital Group of North Myrtle Beach, South Carolina, offered NPR a promising statement for a story that aired on May 4. "We care about the history of country music and the rich, diverse history of Atlanta," wrote J. Patrick Lowe, a founding member and senior partner of Strand Capital Group. "As part of the development, we are considering ways to respectfully acknowledge that Okeh Music recorded an early country music song there."
For an example of a new development that maintains an historically important room, look no further than the old Capricorn Sound Studios in Macon, Georgia, about an hour south of Atlanta. A mixed-use facility opening later this year features classrooms for Mercer University, office space for music-centered nonprofits, and a preserved and functional recording studio that keeps alive a key site in Southern rock history while embracing change to downtown Macon.
As for signage and photos commemorating Carson, a warts-and-all retelling of his story would reveal much about Atlanta and other major Southern cities in the 1920s. Parts of the Fiddlin' John story — as told in such books as Patrick Huber's Linthead Stomp: The Creation of Country Music in the Piedmont South and Gene Wiggins' Fiddlin' Georgia Crazy: Fiddlin' John Carson, His Real World, and The World of His Songs — paint a very ugly picture. For instance, his willingness to play for any paying audience made him the headliner of two extreme opposite events: a Ku Klux Klan rally and a Communist Party meeting.
In addition, Carson recorded and wrote troublesome material that paints a brutally honest picture of the times. He pandered to popular opinion with multiple anti-Semitic songs about Leo Frank, a Jewish man wrongly accused and later lynched for the 1913 murder of 13-year-old factory worker Mary Phagan. Even the historic recording of "The Little Old Log Cabin in the Lane" carries a dubious backstory, considering it's an old minstrel tune sung from a slave or former slave's point of view. These and other examples offer reminders about how deplorable social and political settings impacted the evolution of Southern music.
Regardless of what happens to 152 Nassau Street, there's at least one silver lining to this unfortunate story. Writers and researchers invested in Carson, Peer, and others involved in the building's backstory have revived Fiddlin' John's memory in the Deep South months before Burns' series sets the record straight for a widespread audience.
---
To comment on this or any No Depression story, drop us a line at letters@nodepression.com.
---