If You Could Name Just One Album
Posted On November 30, 2018
---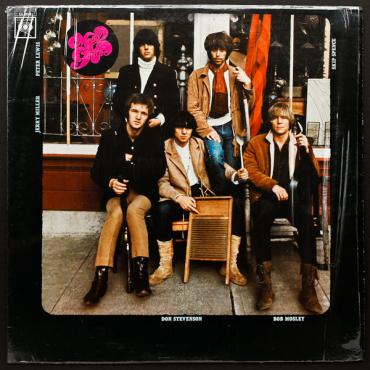 Many of you who have been reading my articles over the past almost-ten years also follow my Facebook page, Americana and Roots Music Daily. I started it up about three years ago and it can best be described as an aggregation of news stories, art and photography, historical notations, my own writing, and music videos, as well as a place where people can connect and have conversations about music. It's not a business venture, but just a hobby that has slowly grown from some of my friends to a couple of thousand people from all over the world.
Earlier this week, on a slow news day when I really couldn't find much to post, I decided to put up a picture of a 51-year-old album that has meant a lot to me and posed this question:
If you could name just one album that has had a major impact on your musical interests and appreciation … damn this is hard. Go. (For you youngsters who don't recognize my choice, it's the first Moby Grape, in mono.)
It's really an unanswerable question to ask of someone, since we maintain a huge jukebox inside our brains that is acquired over time, triggering our memories and creating a baseline of shifting interests and taste. It's nether a fair assessment to choose one over another, nor does it say much about anything. I could have easily chosen any of a couple dozen if I gave it more thought, yet this is the one that first popped into my mind.
Without spending too much time explaining my choice, I'll just say that Moby Grape released this self-titled album when I was 15 and there has not been a span of more than a couple of weeks that has since passed where I don't listen to at least one or two of the 13 tracks. I stared at and studied the cover photo by Jim Marshall endlessly, alone in my bedroom, fascinated and enchanted with the band members' hair, facial expressions, Don's finger on the washboard, and the scarf wrapped around Skip's neck. It came with a free poster that I hung on the wall and it was my go-to album cover for rolling joints. The music featured a rarely heard three-guitar attack, every member was a songwriter, each took turns singing lead vocals, and the production was crisp. They were rock, country, blues, jazz, and soul … often with all five elements surfacing in less than three minutes. Before they self-destructed a few years later, I got to see them live on three occasions. They were my guys.
Over on Facebook people began responding to my question, and within a few hours it was seen by thousands of people, many of whom shared their own choices. Here's just a few of them:
Nitty Gritty Dirt Band – Will the Circle Be Unbroken
Flying Burrito Brothers – Gilded Palace of Sin
Little Feat – Dixie Chicken
The Beatles –White Album, Sgt. Pepper's, Revolver, and Rubber Soul
The Paul Butterfield Blues Band – East West
Uncle Tupelo – Anodyne
Sex Pistols – Never Mind the Bullocks
The Velvet Underground – The Velvet Underground
Grateful Dead – Workingman's Dead
J.J. Cale – Naturally
Bob Dylan – Highway 61 Revisited and The Basement Tapes
R.E.M. – Reckoning
John Fahey – The Legend of Blind Joe Death
Gillian Welch – Time (The Revelator)
Golden Smog – Down by the Old Mainstream
Various Artists –The Rock Machine Turns You On (Columbia Records sampler)
Elton John – Elton John
Bruce Springsteen –Nebraska and Born to Run
Terry Allen – Lubbock On Everything
Steve Earle – Guitar Town
Fred Neil – Bleeker and MacDougal
The Byrds – Fifth Dimension and Sweetheart of the Rodeo
Paul Revere and The Raiders – Greatest Hits
Delaney and Bonnie – Accept No Substitute
Mothers of Invention – We're Only in It For the Money
Herb Alpert and The Tijuana Brass – Whipped Cream and Other Delights
Tom Petty – Wildflowers
The Band – Music from Big Pink
Arlo Guthrie – Last of the Brooklyn Cowboys
Buffalo Springfield – Retrospective
Simon and Garfunkel – Bridge Over Troubled Waters
Hiatus Kaiyote –Tawk Tomahawk
Camper Van Beethoven –Our Beloved Revolutionary Sweetheart
Neil Young –Everybody Knows This is Nowhere
Tim Buckley – Blue Afternoon
Other albums mentioned were by Ella Fitzgerald, Waylon Jennings, Jackson Browne, Jean Ritchie, Frank Zappa, Captain Beefheart, NRBQ, The Mahavishnu Orchestra, Keith Jarrett, Dave Brubeck, Sly and The Family Stone, Duane Allman, John Coltrane, Beach Boys, Linda Ronstadt, Led Zeppelin and The Rolling Stones.
With the exception of my friend and surrogate daughter Charly, a 23-year-old woman from Germany who listed Hiatus Kaiyote (great name!) as her choice, you could conclude that we fans of roots music are getting up in years. As more than one noted, it seems that we are most connected to the music from our youth. And so despite a slow news day, it brought about an interesting moment of reflection, and a helluva good list of music.
Many of my past columns, articles, and essays can be accessed at my own site, therealeasyed.com. I also aggregate news and videos on both Flipboardand Facebook as The Real Easy Ed: Americana and Roots Music Daily. My Twitter handle is @therealeasyed and my email address is easyed@therealeasyed.com.
---