PRINT EXCERPT: Hidden Truths: Unearthing the Stories of the Black Musicians in Bluegrass and Old-Time Music
Posted On February 11, 2019
---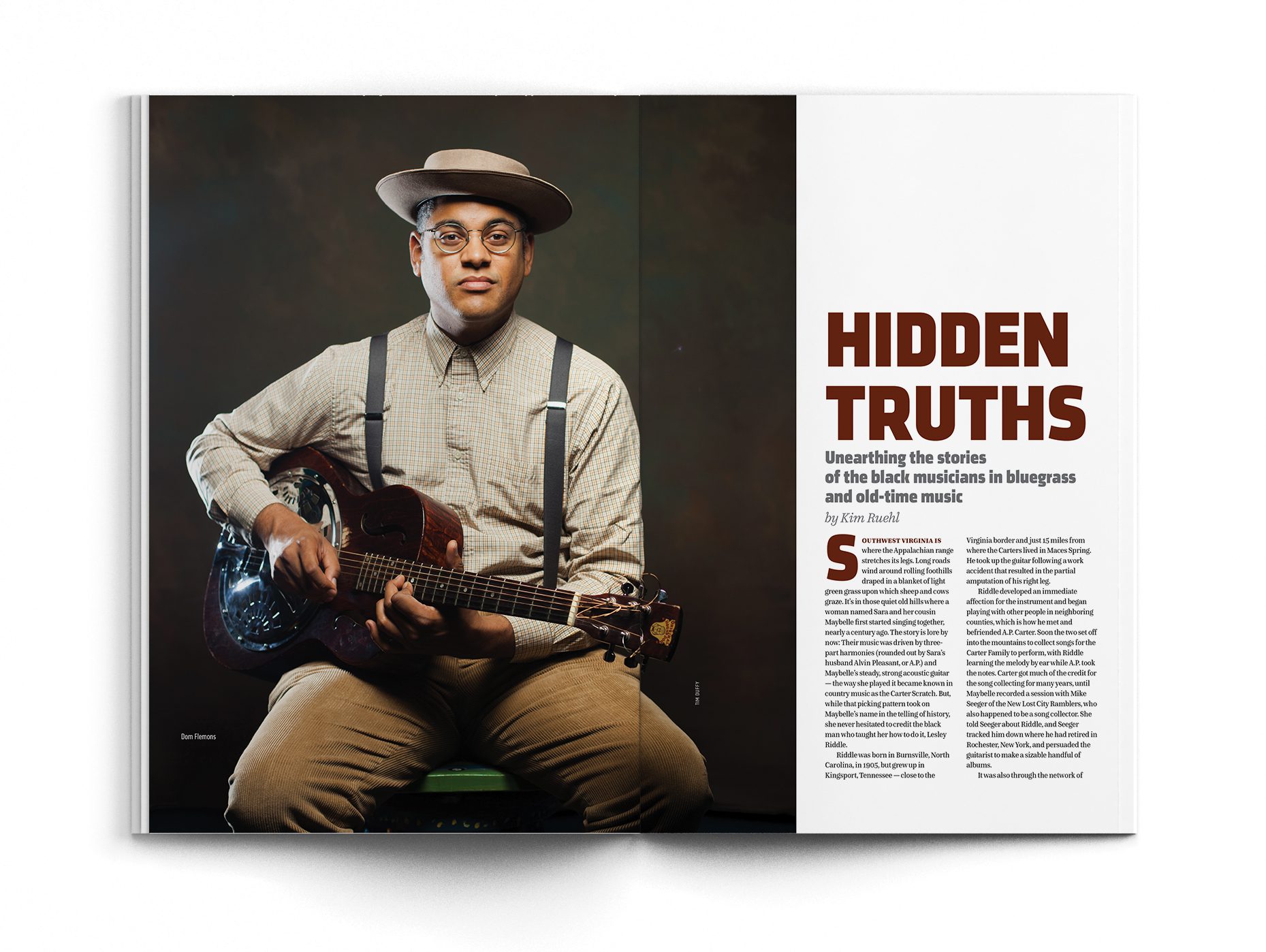 EDITOR'S NOTE: This is an excerpt from a story in our Appalachia-themed journal from Spring 2018. You can read the whole story — and much more — in that issue, available here. And please consider supporting No Depression with a subscription for more roots music journalism, in print and online, all year long.
Southwest Virginia is where the Appalachian range stretches its legs. Long roads wind around rolling foothills draped in a blanket of light green grass upon which sheep and cows graze. It's in those quiet old hills where a woman named Sara and her cousin Maybelle first started singing together, nearly a century ago. The story is lore by now: Their music was driven by three-part harmonies (rounded out by Sara's husband Alvin Pleasant, or A.P.) and Maybelle's steady, strong acoustic guitar — the way she played it became known in country music as the Carter Scratch. But, while that picking pattern took on Maybelle's name in the telling of history, she never hesitated to credit the black man who taught her how to do it, Lesley Riddle.
Riddle was born in Burnsville, North Carolina, in 1905, but grew up in Kingsport, Tennessee — close to the Virginia border and just 15 miles from where the Carters lived in Maces Spring. He took up the guitar following a work accident that resulted in the partial amputation of his right leg.
Riddle developed an immediate affection for the instrument and began playing with other people in neighboring counties, which is how he met and befriended A.P. Carter. Soon the two set off into the mountains to collect songs for the Carter Family to perform, with Riddle learning the melody by ear while A.P. took the notes. Carter got much of the credit for the song collecting for many years, until Maybelle recorded a session with Mike Seeger of the New Lost City Ramblers, who also happened to be a song collector. She told Seeger about Riddle, Seeger tracked him down where he had retired in Rochester, New York, and persuaded the guitarist to make a sizable handful of albums.
"When people follow music history," says Tim Duffy, a musicologist and founder of North Carolina's Music Maker Relief Foundation, "the first thing they seem to do is follow the history of the record industry, the guys down here doing field recordings. Of all the recordings that were issued, there were thousands of recordings that were not issued, that we'll never know about. A lot of them were just scrapped."
Duffy's friend Dom Flemons, performer, musicologist, and co-founder of the Carolina Chocolate Drops, explains that it wasn't just the scrapping of field recordings that helped to muddy the waters in terms of black influence on the evolution of Appalachian music. It was also a byproduct of the social and legal constructs of the time. To illustrate his point, he invokes the name of one folklorist in particular, Bascom Lamar Lunsford.
Lunsford, known as "The Minstrel of the Appalachians," was a white musicologist and performer from Mars Hill, North Carolina, just outside Asheville, who traveled the region collecting songs around the turn of the 20th century. Lunsford, says Flemons, "has a song called 'Swannanoa Tunnel,' which is related to the ballad of John Henry, which is an African American folk song. He was probably aware of the African American influence on the music, in the broad sense of it. But when it comes to documentation, that becomes tricky, because at the time you couldn't elevate an African American person to the same level as a white man. Socially, it was unacceptable to do that until you had people like the Lomaxes [John and his son Alan] come along and really elevate the individual performer for what they were contributing. Before that, [folk musicology] was based on finding songs that were so old they were anonymous, and that's what was called folk music. It wasn't really until the recording era … when people were trying to sound like the music of the past, that you started seeing individuals elevated as folk practitioners rather than it just being the songs. …
"Everybody could respect an African American musician by playing music," Flemons clarifies. "But to put them on a pedestal in terms of how you documented it … the nature of the separation between the races didn't allow that. Now, in the 21st century, we can re-analyze that. We can find the different stories that link these traditions together."
Here's a playlist featuring artists mentioned in this story. To learn more about the history of black music in Appalachia, check out No Depression's Spring 2018 issue. Better yet, subscribe to No Depression and learn more about roots music all year long.
---