Hey, Mike Scott and The Waterboys: How Does It Feel?
Posted On September 12, 2017
---
In my younger and more vulnerable years, back in Boston in October of 1989, I scored a right and left cross of The Waterboys and Bob Dylan. On a Sunday night in October, with the leaves turning on the Common and cold in the air, I heard The Waterboys live for the first time, at the Orpheum. Mike Scott and his rambling band were a joy onstage, playing songs from their new album I'd loved from first hearing, Fisherman's Blues — and turning in a beautiful cover of Dylan's "Girl From the North Country" along the way. The next three nights, and not nearly for the first time, I went to Dylan's shows at the Opera House. Here, enjoy the remarkable middle evening, and particularly Dylan's astounding "What Good Am I?":
Immense thanks to Keith Gubitz
Scott and The Waterboys, collectively and individually, have been covering Dylan through their careers. They've also played with and for Dylan. Scott's recent autobiography, Adventures of a Waterboy (2012), contains an entertaining, lyric, and funny story of a recording session once upon a time in Crouch End, London, best heard read aloud by himself. Steve Wickham, who in 1983 wielded his fiddle for the wild thread running through U2's "Sunday Bloody Sunday," played with Dylan at Slane Castle in 1984, and joined The Waterboys the following year.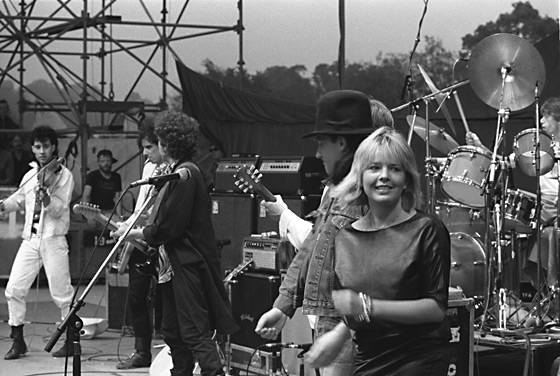 I'm thinking back on these days since I recently heard The Waterboys perform "Like A Rolling Stone" on the air, for Chris Evans and The Breakfast Show, in the course of talking about their wonderful new record Out of All This Blue. They've played Dylan's song at just one festival before; and Wickham's fiddle and Brother Paul Brown's incandescent keyboards ripple and hum in lovely homage to Messrs. Al Kooper, Paul Griffin and Mike Bloomfield.
When a band performs a cover, it shows musical capability and knowledge, something about their own history, and respect for the singer and songwriter of the original. When a band comes out with a double album packed full of new songs, from love songs to a new wife and to New York City to the answer being yeah, that is cause for long, loud celebration. Out of All This Blue is released today. Here's a preview of its dynamite sound, the excellence of this current iteration of the protean Waterboys, and of Mike Scott's current intense creative power. Look for my review when I've had the time to listen enough to do it justice.
all photographs via mikescottwaterboys.com
---