HELLO STRANGER: Introducing Our Winter 2020/'All Together Now' Print Journal + Playlist
Posted On November 9, 2020
---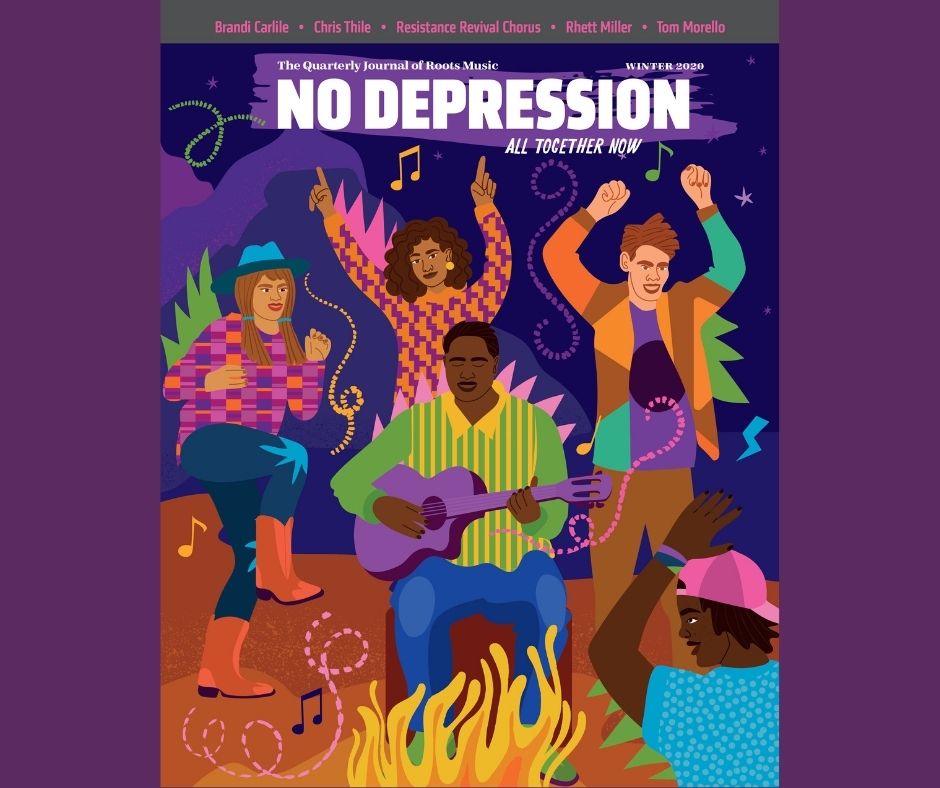 Cover artwork by Aurélia Durand
EDITOR'S NOTE: As our Winter 2020 print journal lands in the world, we wanted to share Managing Editor Hilary Saunders' opening letter reflecting on the issue's theme, "All Together Now." We invite you to dive into the issue's 100+ pages of stories about collaboration by buying it in print or digitally here. Better yet, start a subscription with this issue and help support No Depression's music journalism in print and online all year long.
At the time I'm writing this, it's been 183 days since I've seen live music. My last gig was Monday, March 2 – Frank Solivan & Dirty Kitchen at Rockwood Music Hall in the Lower East Side.
That doesn't really capture it, though. I've seen music happening live, transmitted through wires and tubes and clouds onto my laptop screen. I've watched Nefesh Mountain serenade on Facebook, BJ Barham of American Aquarium maintain a regular series of cover songs on Twitter, and a number of artists included in the Fall 2020 "Going Green" issue — Leela Gilday, The Mammals, Jerry David DeCicca, and Vetiver — participate in No Depression's Bandsintown takeover on Twitch. Of course, I've delighted in watching Birds of Chicago, Ben Sollee, Sarah Jarosz, and many more perform in our own FreshStreams as well.
Recently, I even opened a link on my iPhone to Dawes' full-band set from a Los Angeles rooftop and beamed it to my Apple TV just to see live music. The band sounded especially tight that night. The Goldsmith brothers hit all their harmonies and guitarist Trevor Menear and keyboardist Lee Pardini wrestled with the invisible forces to improvise solos with aplomb. Most of the time, the band moved quickly between songs, without belabored, awkward transitions. But it was the dead air that broke me. No clapping. No cheering. No bantering.
And that's the difference. It's been 183 days since I've experienced music — the living, breathing, sweating, bumping, shredding, and singing, all together now.
We decided to name this issue "All Together Now" because it's a phrase that encapsulates both collaboration and community. Although we chose this theme before the pandemic, it resonates more and more each day: Despite our collective grief, loneliness, and distance, we are more connected than ever. We didn't know it then, but this issue offered us an opportunity to seek out and highlight the good within our newfound virtual connectivity. It was a challenge, for sure, but everyone who contributed rose to it.
Collaboration has always been a focal point in roots music. Stories in this issue explore songwriting with friends and strangers — digitally and in-person from the "before times" — as well as music video production and more. Additionally, there's a profile on Chris Thile, who has made a career out of astounding collaborations and been crowned a "Genius" in the process, and one on The Texas Gentlemen, who have served as a both backing band and headlining act.
Community, though, is a much more fluid concept, especially in a time without physical gathering. We tried not to look back too hard, for fear of wallowing in despondency over our abnormal world, but certain cultural institutions and touchstones proved worthy of investigation. Writers sought to contextualize the communities formed over the years at Newport Folk Festival and transcend worlds through the roleplaying game Dungeons & Dragons.
Additionally, this issue marks the conclusion of our year-long silver celebration of No Depression. We've honored our past with special sections in each 2020 print issue and in a range of digital features throughout the month of September. And while looking to the future, No Depression has introduced new merch (now sold out, but more to come) and taken steps toward a tiered membership program.
Most importantly, we've nearly doubled our subscriber base in the last three years. Intentionally and incrementally, we are welcoming more and more of you into our passionate group of roots music makers, listeners, and fans. There's joy to be had here among us, even in these troubled times, and we look forward to what we will continue to make together.
Here's a playlist of songs and artists featured in the Winter 2020 journal:
---