HELLO STRANGER: A Walk Through No Depression's Winter 2022 Journal + Playlist
Posted On December 30, 2022
---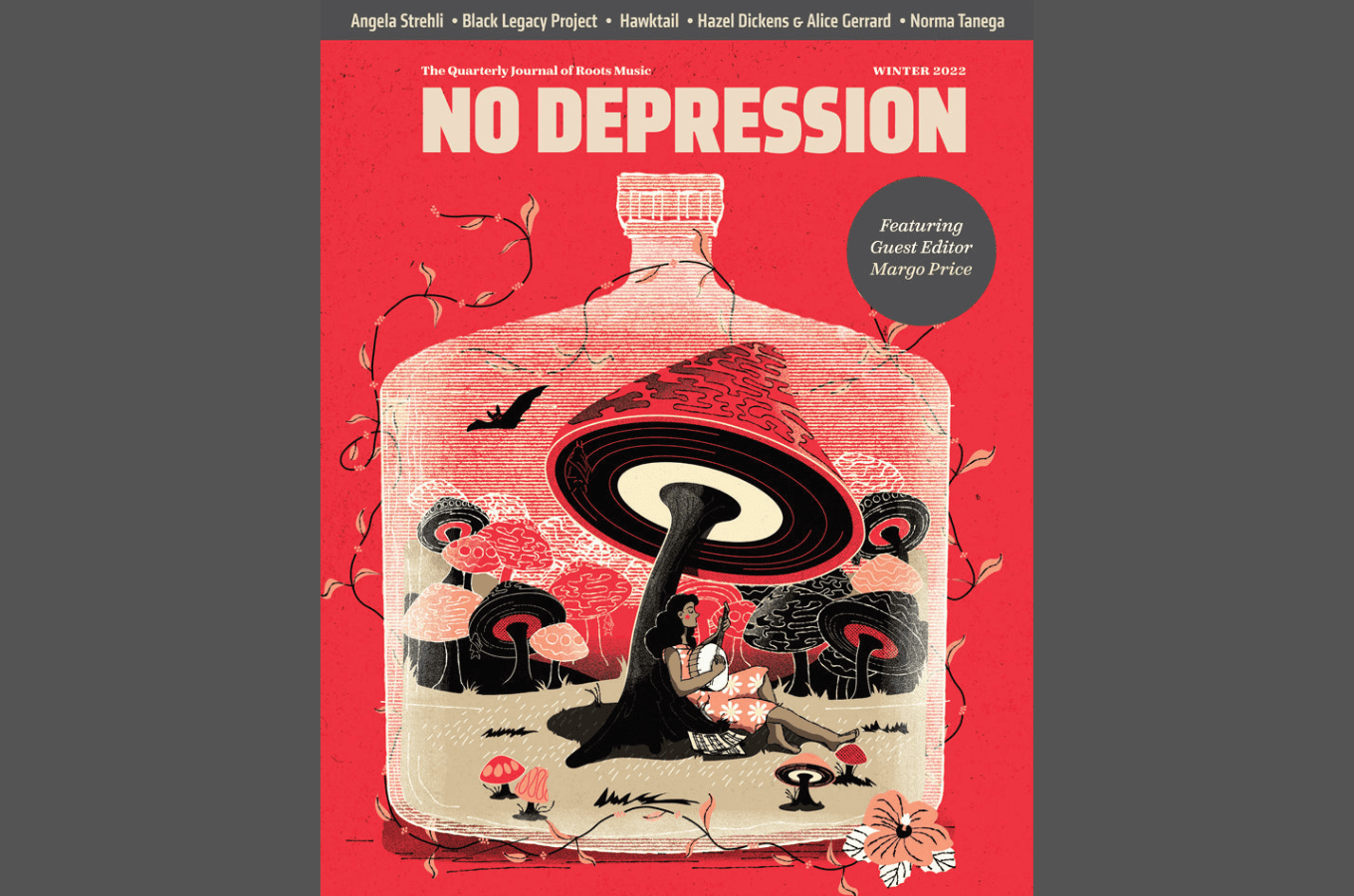 EDITOR'S NOTE: Managing Editor Hilary Saunders' letter, below, opens our current quarterly journal, featuring the best and most timely stories in roots music today. Buy the Winter 2022 issue in print or digitally here. Better yet, start a subscription with this issue and help support No Depression's music journalism all year long.
Right in the middle of production for this issue, my five-year anniversary with No Depression slid past with no notice. Looking back, it was the weekend after the FreshGrass Festival and in between when I saw shoegazy '90s rock band Pavement's first reunion in 12 years and an off-Broadway revue of Irving Berlin's music — a perfect encapsulation of everything I love about melodies, stories, and performance.
Five years is a long time, especially in the unstable industries of music and nonprofit media. Plus, I'm a bit of a wanderer, so like I've seriously-joked since October, five years is longer than I've anything I've done consistently in my post-collegiate life.
During my tenure, we've published 18 issues (including this one), plus one that my predecessor Kim Ruehl and I worked on together during the editorial transition. A third of those issues have sold out and we've more than doubled our subscriber base. We've rebuilt and relaunched our website, created digital editions of every issue dating back to Fall 2016, and even offered digital subscriptions. We've won awards for editorial and design, as well as being part of the FreshGrass Foundation.
We kept publishing during elections, protests, natural disasters, pandemics, and more. We're still here. And we're only getting better.
Coming up, No Depression has a three-year plan in place to implement a financially self-sustaining publishing model. We have grant applications lined up and development plans in action. We have so many new ideas to bridge our print and digital coverage and all kinds of multimedia we can implement to increase and bolster this community of roots music fans and supporters.
One of these new ideas is to inaugurate a roots musician to serve as the Guest Editor for each issue. We're thrilled to debut this in the Winter 2022 issue with the incomparable, and always hustling Margo Price!
I first heard of Price at the 2015 Gasparilla Festival in Tampa, Florida. She had a notoriously awful set time — Sunday afternoon at 12:30 p.m. — and was at that point still performing at Margo & The Pricetags. In hindsight, she was less than a year away from releasing her breakthrough album Midwest Farmer's Daughter under her own name. And now, Price is on the heels of a Grammy nomination, her debut memoir, Maybe We'll Make It (read No Depression's review here), and on the cusp of releasing of her fourth LP, Strays, on Jan. 13 via Loma Vista.
Price worked with No Depression to come up with an idea for a timely, relevant story idea that's not just important to her, but also has not sufficiently been covered in music media. That reported feature, written by Laura Scholz, addresses vinyl production problems plaguing the music industry and illustrates how roots musicians are coming up with creative solutions. Additionally, Price wrote the closing Screen Door essay about writing narratively and musically, and the challenges and joys of being a musician today.
We're planning on rolling out this Guest Editor role into 2023, furthering our commitment to being "the musicians' music magazine." But for now, enjoy the Winter 2022 issue, with stories about bluegrass from Norway, folk music on television on FX, historic venues in Mississippi, and more. Thank you for your support thus far, and cheers to at least five more years!
---