HELLO STRANGER: A Walk Through No Depression's Fall 2023 Journal + Playlist
Posted On September 11, 2023
---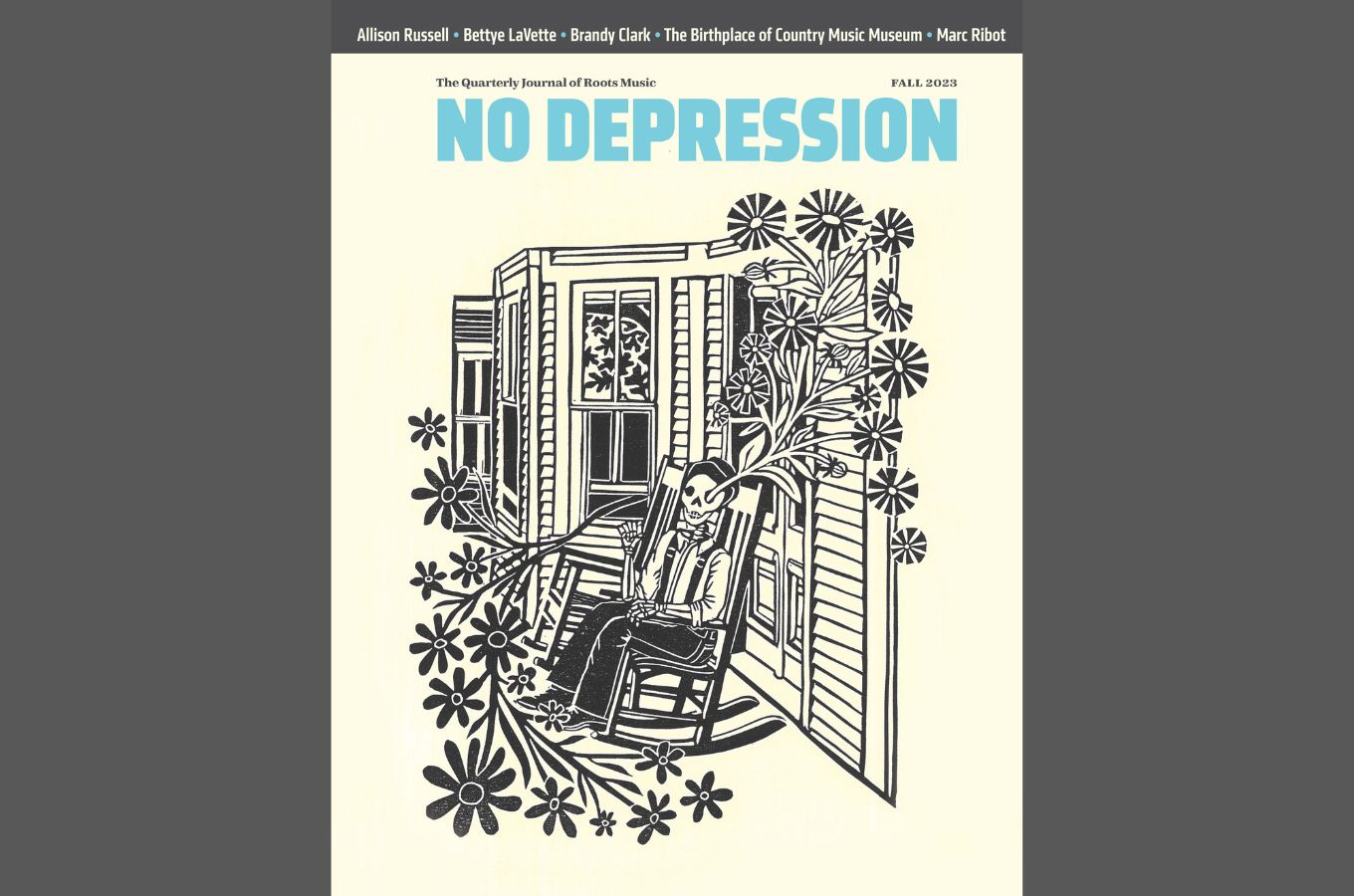 EDITOR'S NOTE: Managing Editor Hilary Saunders' letter, below, opens our current quarterly journal. Buy the Fall 2023 issue in print or digitally here. Better yet, start a subscription with this issue and help support No Depression's music journalism in print and online all year long.
It's really easy to feel down these days, especially in terms of the music industry, the media industry, and the space between them. So far in 2023, at least 17 media companies announced layoffs and four shuttered completely. The size and scope ranged from National Public Radio and billionaire-backed legacy newspapers like The Washington Post to niche independent print outlets like The Nib. According to a report from the Medill School of Journalism at Northwestern University in 2022, more than 360 local newspapers had shuttered just since 2019.
And in the music industry, Spotify announced in July that its premium plan price was going up, without any additional compensation for artists. More and more musicians are canceling tours, citing their own deteriorating mental and physical health, minimal advance ticket sales, and inflated costs. Overall, it feels pretty bleak.
The thing is, though, when the state of these industries gets too overwhelming, I still turn to my music and my printed media. I shamelessly flip my phone to "do not disturb" and curl up in front of the air conditioning unit with a book. I still stick my face up in my speakers and blast records as loud as I can without bothering the neighbors.
It's like that line delivered by the inimitable Robin Williams in the 1989 film Dead Poets Society: "Medicine, law, business, engineering — these are all noble pursuits, and necessary to sustain life. But poetry, beauty, romance, love — these are what we stay alive for."
Music has always been one of those endeavors that, when divorced of its accompanying business, is still one of purest forms of humanity. I hear it in Bettye LaVette's music, whose wild career journey and latest record are highlighted in this issue. I see it on stage, including on Broadway, where Brandy Clark's music earned a Tony nomination — another exciting feature in this issue.
That human spirit is even more obvious in person. It's why Judy Cantor-Navas' story about Mallorcan song traditions is one of the most powerful in this issue. She was able to travel from Barcelona to Valldemossa to report on the ground and speak with generations of musicians about folk songs and work songs they're trying to preserve. The power of human collectivity also shines in Laura Scholz's piece about the rise of unions and unionization efforts within the music industry. Stories like these epitomize why I'm proud of the work we do here at No Depression; they're stories you're not going to find anywhere else and they show not just what we stay alive for, but why.
I got the chance to speak with M.C. Taylor of Hiss Golden Messenger and Dallas Green of City and Colour for this issue, and it struck me how genuine both of them still are in their love of music. They met online by complimenting each other's tunes, and in this conversation they ended up swapping stories about when they've gotten to tell other musicians when their work hits home.
It was so reassuring, energizing even, to hear this from two outstanding musicians whose work I respect deeply — that they still give a damn, not just about writing songs and performing, but about listening, enjoying, feeling, and sharing the music, too.
I keep telling myself that when it stops being fun, when the music stops hitting, that's when it's time to sell out. Go back to the half-cubicle wall. Make far more money and work "normal" hours. But until then, you'll find me out in the world, seeking out the people, the songs, the stories, and clinging to these joys.
---