Having a wild weekend: Dylan, Gangstagrass, Ian Anderson and more
---
We endured nine hours of traffic hell on our way to Chicago on Friday, a trip that should have taken six hours tops. Every time I was tempted to bail from the 5 mph-lanes of misery, I kept myself on track by repeating: "But we're going to see Bob … we're going to see Bob … we're …"
Dylan's unfortunately named AmericanaramA tour stopped at Toyota Park – and really, what more can be added irony-wise to a celebration of American roots music held in a suburban Chicago soccer stadium on a stage flanked by two giant pedestals topped by full-size vehicles made by a Japanese car company?
What we thought were great seats – field level, first section, stage right – weren't so much, thanks to acres of standing room between us and the stage. That made it tough to see anything – and we were "close." And there were no video screens.
Because we were two hours late, we missed the great Richard Thompson and My Morning Jacket, arriving during setup time for Wilco.
But Dylan was worth all the torture. Some people began to walk out after the third song, offended by the artist's gravel-ravaged voice or not recognizing rearranged classics as well as the new songs – but, well, at this point what did they expect? The funny thing is, Dylan had more than a few moments when his voice veered toward the gentle – if not "Nashville Skyline" Dylan, then the expressive instrument displayed on "Tempest," his newest album.
And keeping with Dylan's penchant for expending no effort whatsoever to overtly please anybody, the majority of the songs in his 15-tune set were from the relatively recent past, leaning heavily on last year's "Tempest" for gems such as "Duquesne Whistle" and "Early Roman Kings." "Beyond Here Lies Nothin'," from 2009's "Together Through Life," was a highlight, delivered with some edge and anger.
The anger also was palpable in the encore tune, "Ballad of a Thin Man" – "There something happenin' here, but you don't know what it is, do you, Mr. Jones" – a song as relevant today as the the day it was written, and probably every day in between.
With Charlie Sexton back leading the crack road band through groove after bluesy groove, Dylan also reached back for classics including "She Belongs to Me," "A Hard Rain's A-Gonna Fall," "Simple Twist of Fate" and a rhythmically reworked "Tangled Up in Blue."
Dylan never uttered a word to the audience and did not introduce the band. When the set ended and again after the encore, Dylan stood stock still with hands on hips, surrounded by his bandmates. He didn't nod, bow or acknowledge the cheers in any way as the lights went down. He is, after all, Bob.
Jeff Tweedy and friends were in good form, if somewhat laid back – "Play 'Casino Queen,' c'mon, rock out, dammit," one guy kept shouting. The band reached back during its 13-song set to "That's Not the Issue" from its 1995 debut "A.M." and stopped to view "California Stars" from its Woody Guthrie collaboration with Billy Bragg.
Two main highlights from a well-played set were collaborations. First Thompson came out to join Wilco on "Sloth," a cover from Thompson's old band Fairport Convention, and the world-class musician was matched note for note by Wilco's Nels Cline in a thrilling display of dueling guitars.
Later, Jim James and his MMJ bandmates joined Wilco for an explosive cover of Neil Young's "Cinnamon Girl," which should have more than satisfied that "Casino Queen" guy.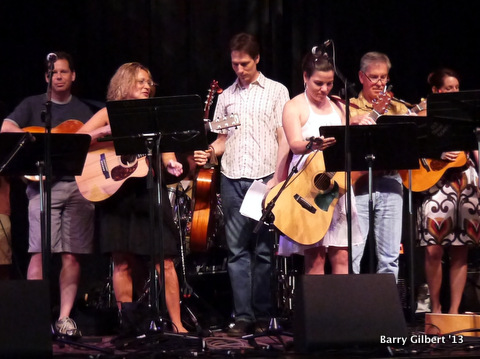 On Saturday, we took in the Square Roots Festival, one of many street fests around Chicago. This one, near Lincoln Square on the block that includes the Old Town School of Folk Music, featured music on four stages more or less simultaneously. First up for us was a charming performance inside the Old Town School by student musicians of all ages. Steve Dawson (center in photo) of the fine Chicago-based band Dolly Varden led the mysteriously named RPA Ensemble through a songbook of pop music, from Paul Simon's "American Tune" and the Turtles' "Happy Together" to the Kinks' "Sunny Afternoon."
The group of more than a dozen guitarists plus a drummer/trumpeter, pianist and bassist were totally charming and pleased, as Dawson quipped, to be playing for an audience that outnumbered them.
Next up on the sunbaked North Stage was transplanted Welshman Jon Langford and Skull Orchard, featuring Langford's fellow Waco Brother Alan Doughty on bass, for a sweat-pouring set of punk-fueled rock 'n' roll. The loquacious Langford had fun introducing each song, including "Tom Jones Levitation" and "The Butter Song."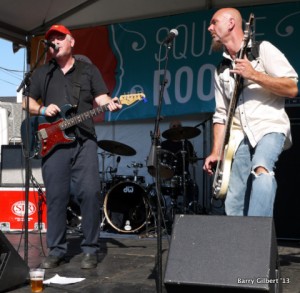 We wished we could have stayed longer, but we wanted to head up the street to the South Stage to catch Gangstagrass, the wild and wonderfully named group that has welded a five-piece bluegrass band to a pair of beat-bearing rappers. The idea is inspired, and so is the result, as a large crowd swayed, danced and clapped along.
If you don't know the band but you watch Timothy Olyphant's new-school Western "Justified" on TV, then you do know Gangstagrass: The theme song is "Long Hard Times to Come" featuring rapper T.O.N.E-z from the band's debut CD, "Lightning on the Strings, Thunder on the Mic."
Of course, they didn't play it Saturday, but the mix of original songs/raps with bluegrass classics, including "Will the Circle Be Unbroken," created an incredibly infectious groove.
And the band's new CD is called "Rappalachia." How perfect is that?
On Sunday we took a more reasonable six-hour drive back to St. Louis and rolled home just in time to change clothes, grab a notebook and race downtown to the Peabody Opera House to catch Ian Anderson (a show I reviewed here for the St. Louis Post-Dispatch).
The Jethro Tull frontman is touring with a fabulous band behind "Thick as a Brick," performing the classic original from 1972 and the solo "Thick as a Brick 2" released last year. It was a stunning show in almost every way, and it was the best sounding rock concert I've ever heard.
Anderson was ably abetted by drummer Scott Hammond, guitarist Florian Ophale, and recent Tull hands bassist David Goodier on bass and bandleader John O'Hara on keyboards. Also on board was Ryan O'Donnell, a British singer and actor whose voice is very similar to Anderson's and gives the 65-year-old musician a break and the freedom to play the flute parts as recorded.
The encore of Jethro Tull's "Locomotive Breath," a song about society run amok that was a fitting capper to a night's worth of musical contemplation of love, war, greed, sin and our place in a chaotic world.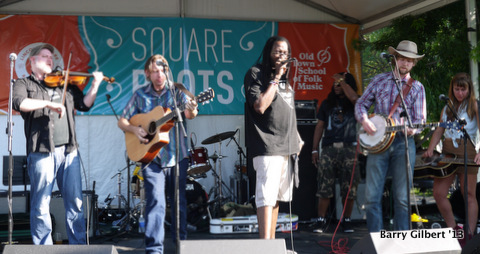 ---