Greg's Grab Bag – A Few of My Favorite Things from 2017
Posted On February 10, 2018
---
Throughout January, I spent time with some of my favorite 2017 pop culture releases not mentioned previously in Greg's Grab Bag. In this post, I will feature notable home video releases. In the interest of full disclosure, many of the items were provided by publicists.
Shout! Factory/Scream Factory/Shout Select
Few, if any, labels were as prolific and consistently good in 2017 as the formidable Shout! Factory and its affiliated lines. Here are a few reasons why.
Blake Edwards' The Pink Panther Film Collection Starring Peter Sellers (6-Disc Blu-ray Set)
From 1963's The Pink Panther through 1982's Trail Of The Pink Panther, the legendary comedy duo of writer/director Blake Edwards and actor Peter Sellers collaborated on six films focused on the misadventures of Inspector Jacques Clouseau. These six Pink Panther films have endured as comedy classics and now Shout! Factory has released them together in the high definition Blu-ray format for the first time.
The films included in this set are:
The Pink Panther (1963)
A Shot In The Dark (1964)
The Return Of The Pink Panther (1975)
The Pink Panther Strikes Again (1976)
Revenge Of The Pink Panther (1978)
Trail Of The Pink Panther (1982)
This highly-anticipated collection, which is part of the outstanding Shout Select line of specially-curated titles, offers fans the best audio and video treatment these six films have ever received outside of their original theatrical runs, far surpassing previous home entertainment releases in a variety of formats. Colors are vibrant, details are sharp and there are no obvious issues with damage to the original prints – these films look terrific, considering their age. The audio here is equally impressive, with most of the films offering three tracks – DTS-HD 5.1, 2.0 Stereo and 1.0 Mono – all of which allow for clear dialog and good sound throughout.
As with most Shout Select releases, bonus content is aplenty on this set, including both new and previously-released supplements. The bonus features on this set are film-specific and are spread out across the six discs. Highlights include feature commentary on The Pink Panther by Blake Edwards, feature-length commentaries by film historians and an expert on Sellers' life and career, a short documentary about the film series, a featurette about the cartoon by the same name, new and archival interviews with folks ranging from Robert Wagner, Claudia Cardinale and Bill Mason, a former jewel thief who talks shop about his career.
There are also theatrical trailers, TV spots and still image galleries, all of which make for an entertaining and informative supplemental package.
Comedy fans shouldn't hesitate to pick up this tremendous collection. Not only is it one of Shout Select's finest achievements, but it is a significant piece of comedy film history in an affordable package.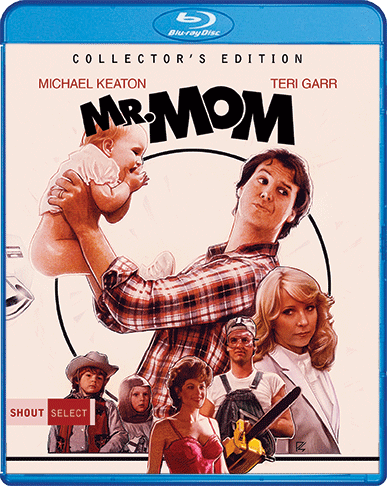 Mr. Mom (Blu-ray)
Speaking of older comedies from Shout Select, 1983's Mr. Mom makes its Blu-ray debut thanks to the imprint. Written by the late great John Hughes, the film features Michael Keaton as a freshly-unemployed father struggling to take care of his house and three young kids as his wife, played by Teri Garr, is ascending the corporate latter after re-entering the workforce. Both Keaton and Garr face challenges in their new roles and hilarity ensues.
More a series of comedic set pieces than a progressing narrative, Hughes nonetheless impresses with his ability to play with traditional gender roles and showcase the unique challenges parents face in both the workplace and at home. The film is zany, but it also has heart, which is why it has been a beloved comedy for more than 30 years.
The video here is an upgrade over past DVD releases, but the image is not a perfect one. Some issues are still noticeable, but they are small and don't distract viewers. The audio is in the same boat. Both the DTS-HD Master Audio 2.0 Dual Mono and the DTS-HD Master Audio 5.1 Surround mixes easily outpace the sound on standard definition predecessors, but they aren't overly memorable. The complete audio/visual package is solid, but not spectacular.
The set comes up a little short when it comes to extras. There is a 36-minute feature looking back at the making of the film which features one of the producers and several of the supporting actors. Unfortunately, none of the film's big names like Keaton, Garr, Martin Mull, Jeffrey Tambor, Christopher Lloyd or director Stan Dragoti participated. That said, the recollections are both interesting and informative and it is well worth viewing. The only other extra is the original theatrical trailer. Compared to other Shout Select releases, this bonus content feels light – a minor complaint about an ultimately entertaining set.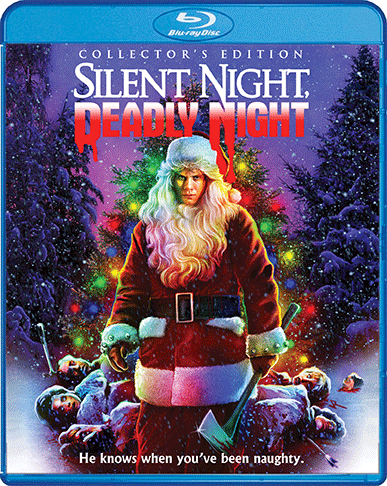 Silent Night, Deadly Night (2-Disc Blu-ray Set)
Not all Christmas movies are sappy family-friendly affairs, especially not the cult classic Silent Night, Deadly Night. This film, which features a mentally unstable killer wreaking havoc on a small town while decked out in a Santa suit, caused quite a stir when it was originally released in 1984.
The negative reaction from parents, religious organizations and other groups was so strong that the film's original distributor, TriStar Pictures, pulled the movie from theaters shortly after release despite the fact that it was a successful opening, even beating the original A Nightmare On Elm Street, which came out on the same day. The film was released again in 1985, this time by an independent distributor, but it quickly faded away.
After several DVD releases over the years, Shout! Factory's Scream Factory imprint released the film in a special collector's edition Blu-ray set in late 2017 and the package is a treat. Not only do you get both the theatrical and unrated versions of the film, both of which were a result of a new HD transfer from the original camera negative, but you get an extensive package of extras, including newly-produced items. It should be noted that the unrated edition, which is almost three-minutes longer, includes standard definition clips inserted where they originally belonged. These inserts are obvious, but not distracting.
There is a new 45-minute making-of feature that really delves into all aspects of the film, including acknowledgments of flaws. There is also a new feature-length audio commentary with actor Robert Brian Wilson, who plays the homicidal lead Billy Chapman, and producer Scott J. Schneid. A featurette showcasing what some of the filming locations look like in 2017 and a collection of angry quotes about the film and its advertising campaign are also great.
With two version of the film to choose from and a wealth of new and recycled extras, this is truly a collector's edition.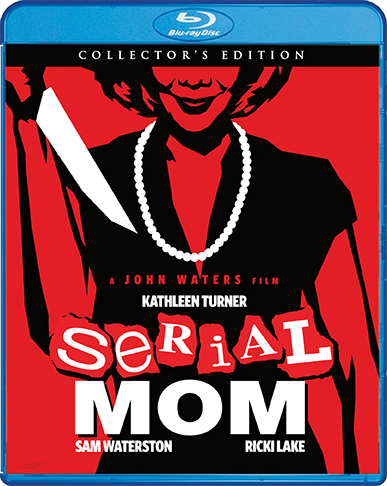 Serial Mom (Blu-ray)
Shout! Factory dropped another cult favorite horror flick this year with the Blu-ray release of John Waters' critically-acclaimed Serial Mom.
Starring Kathleen Turner as Beverly Sutphin, the film's titular murderous matron, this film finds Waters offering a unique take on modern suburban life – focusing on both the dichotomy of appearances vs reality and the country's obsession with true crime and immoral behavior.
As with nearly all his films, Waters, who proudly embraces his nicknames like the "Pope of Trash" and the "Prince of Puke" doesn't rely on subtlety to make his points. Beverly is a cold-blooded but principled killer who literally eliminates the things from modern society that bother her. Although the audience condemns the actions, there is a level of understanding that forces us to think about the judgments we make daily.
This Blu-ray release shines with a picture that largely wipes away any film defects found on DVD releases and two audio tracks that offer a much-improved sonic experience. The dialog here is clear and sound effects pop like they should, making it a nice overall package.
As another collector's edition release, this set is appropriately packed with bonus features including two audio commentaries, a making-of featurette, cast interviews, a trailer and a feature focused on Herschel Gordon Lewis' influence on John Waters. Unfortunately, all of these items were released previously. Thankfully, the only new bonus feature here is a good one – a 35-minute conversation with Waters, Turner and fellow actress and frequent Waters collaborator Mink Stole.
Make Trouble by John Waters
Speaking of John Waters, the legendary filmmaker also released one of the more inspiring books of 2017. Make Trouble from Algonquin Books of Chapel Hill presents Waters' 2015 commencement address at the Rhode Island School of Design (RISD) with accompanying line drawings by Eric Hanson.
While Waters, who proudly announces that he has a new nickname – "The People's Pervert," may initially seem like an odd choice for a commencement speaker, his advice to graduates is perfectly suited for the times and likely more practical than what other, more mainstream, speakers may offer. For instance, he talks about how the days of the outsider may be gone and that it may be more interesting and more effective to be an insider in society. Similarly, he promotes the idea of preparing sneak attacks on society and shares the example of how he made some big social points under the cover of his acclaimed film Hairspray and the subsequent hit Broadway musical.
The audience for his address was largely art students and the remarks are clearly focused on artists, but the life lessons are more universal. He encourages parents to be supportive no matter the choices their children make and he also implores the students to appreciate the fact that they have parents who care.
Waters also espouses that you shouldn't fear workplace rejection by reminding students that a "no" is free. He reassures them to ask for the world and to not be discouraged if they are turned down. This is a lesson we can all take to heart.
People are always looking for gifts for graduates and you can do a whole lot worse than this great little tome.
Arrow Films/Arrow Academy
Arrow Films is another label that hit it out of the park in 2017. Both the primary label and its boutique Arrow Academy imprint impressed with notable releases throughout the year, including the Donnie Darko and House 1+2 sets previously profiled on this site.
Cinema Paradiso (2-Disc Blu-ray Set)
An ode to the power of film, Giuseppe Tornatore's Cinema Paradiso from 1989 is one of the most beloved films released by Arrow Academy in 2017. This wonderful film, which won the Best Foreign Language Film award at the 62nd Academy Awards, is all about love – both romantic love and the love of films and the filmmaking process.
Young Salvatore, a Sicilian boy who lost his father in World War II, discovers a passion for film and a father figure/mentor at the local cinema. This leads him down a path to difficult choices between romance and his desire to make his own films. This is a beautiful little tale told beautifully and Arrow Academy did a tremendous job in presenting and packing this set for film lovers.
Cinema Paradiso has never looked better than it does on Blu-ray and it has never been released in a more comprehensive package than this magnificent 2-disc set. Included here are two versions of the film – the 124-minute international release version and the 174-minute director's cut, both of which have been restored for this new Blu-ray release.
This package brings the goods when it comes to extras. In addition to a feature-length commentary from Tornatore and Millicent Marcus, an expert on Italian cinema, this set also includes two documentaries and a featurette about the film's signature scene – the kissing sequence.
Fans of this film, even those who own previous iterations of this film on Blu-ray and other formats, will find this to be the definitive version and one worth adding to their collections and those not already familiar with this picture are in for a real treat.
Terror In A Texas Town (Blu-ray)
Along with Academy Award winners like Cinema Paradiso, Arrow Academy also releases smaller and less lauded films that are deserving of a new audience. 1958's Terror In A Texas Town, the final feature film from director Joseph H. Lewis, is just such a film.
Although it initially comes across as a simple variation of a revenge western, this film touches on topics that still resonate 60 years after the film was released – the country's views on foreigners/outsiders and a lack of willingness to help those in need. A Swedish whaler returns to his father's home in Texas a few days after his father is killed over his land. This sets the main character on a journey to discover his father's killer and to exact revenge, with or without the support of the town.
Arrow Academy has done an excellent job with the look of this film. The company produced a new 4K restoration of the film based on original elements and the resulting picture is both clean and respectful of the film's grain. In addition to the solid video and audio presentation are a few extra features, the most notable being a visual analysis by author/historian Peter Stanfield. In this video essay, Stanfield talks about Lewis's visual style and how his work influenced other filmmakers like Sergio Leone, the inventor of the Spaghetti Western genre. This is the type of informative bonus feature that allows Arrow Academy to live up to its educationally-focused name.
It is also worth noting that this film is closely linked to the Hollywood Blacklist of the late '40s and '50s, when people in the film and larger entertainment industries were denied work over their alleged ties to Communism.
Although audiences will see Ben L. Perry credited as the screenwriter, this is a pseudonym for Dalton Trumbo, one of the more prominent members of the Hollywood Ten, a group that was blacklisted after failing to testify in front of Congress about connections to Communism. Additionally, Nedrick "Ned" Young, who plays the film's deadly antagonist Johnny Crale, was also blacklisted at points throughout his career.
Finally, Sterling Hayden, who stars as George Hansen, the film's main character, played a role in the Blacklist hearings. Although Hayden admitted to being a past member of the Communist Party, he was viewed as a patriot and avoided the Blacklist because he was willing to name names. It is interesting how these different connections come together in this one little film.
In addition to these two Arrow Academy releases, Arrow Video also had some great releases worth mentioning.
Children Of The Corn (Blu-ray)
The company's new Blu-ray release of Children Of The Corn, the 1984 adaptation of a Stephen King short story about creepy murderous children running their own cult in the cornfields surrounding an abandoned town somewhere in Nebraska, offers a great picture – courtesy of a new scan – and a veritable treasure trove of bonus features, including six new extras produced specifically for this set. Although this film has been released many times over the years in each new format, the overall look of this new set and the unbeatable collection of extras makes this the one to own.
A Fish Called Wanda (Blu-ray)
The extras are not the primary selling point for Arrow Video's new Blu-ray release of the popular 1988 film A Fish Called Wanda. Rather, a newly-enhanced picture is what sets this one apart from previous home video releases, including an earlier Blu-ray.
A Fish Called Wanda, a unique film from the mind of comedy legend John Cleese and the last feature directed by the late Charles Crichton, has all the elements needed to be considered a modern classic. Not only does it feature a story that is equal parts thriller and comedy – one that earned an Academy Award nomination for Best Original Screenplay – but it also includes tremendous performances by Cleese, his fellow Monty Python alum Michael Palin, Jamie Lee Curtis and Kevin Kline, who won the Best Supporting Actor Oscar for his work in this role. Additionally, Crichton earned an Academy Award nomination for his directorial work on the film.
The enhanced picture quality on this set is the result of a new 4K scan of the original 35mm camera negative. Previous releases of its film featured images with a lot of visible defects like scratches. This new restoration largely removes those issues and gives us the clearest picture to date, while still maintaining an appropriate level of natural film grain.
Despite what I said earlier about the picture being the selling point, the extras shouldn't be overlooked. New bonus items, including a featurette from British Film Institute archivist Vic Pratt about his appreciation of the film, a short interview with the film's production designer, a look at the modern sites where the film was shot, and a trivia track, join the five fine features from the previous Blu-ray release to create a comprehensive set.
Until next time, enjoy the movies!
---