GOLD STANDARDS: Missy Raines, Robbie Fulks, Steep Canyon Rangers, and More on their Favorite Songs
---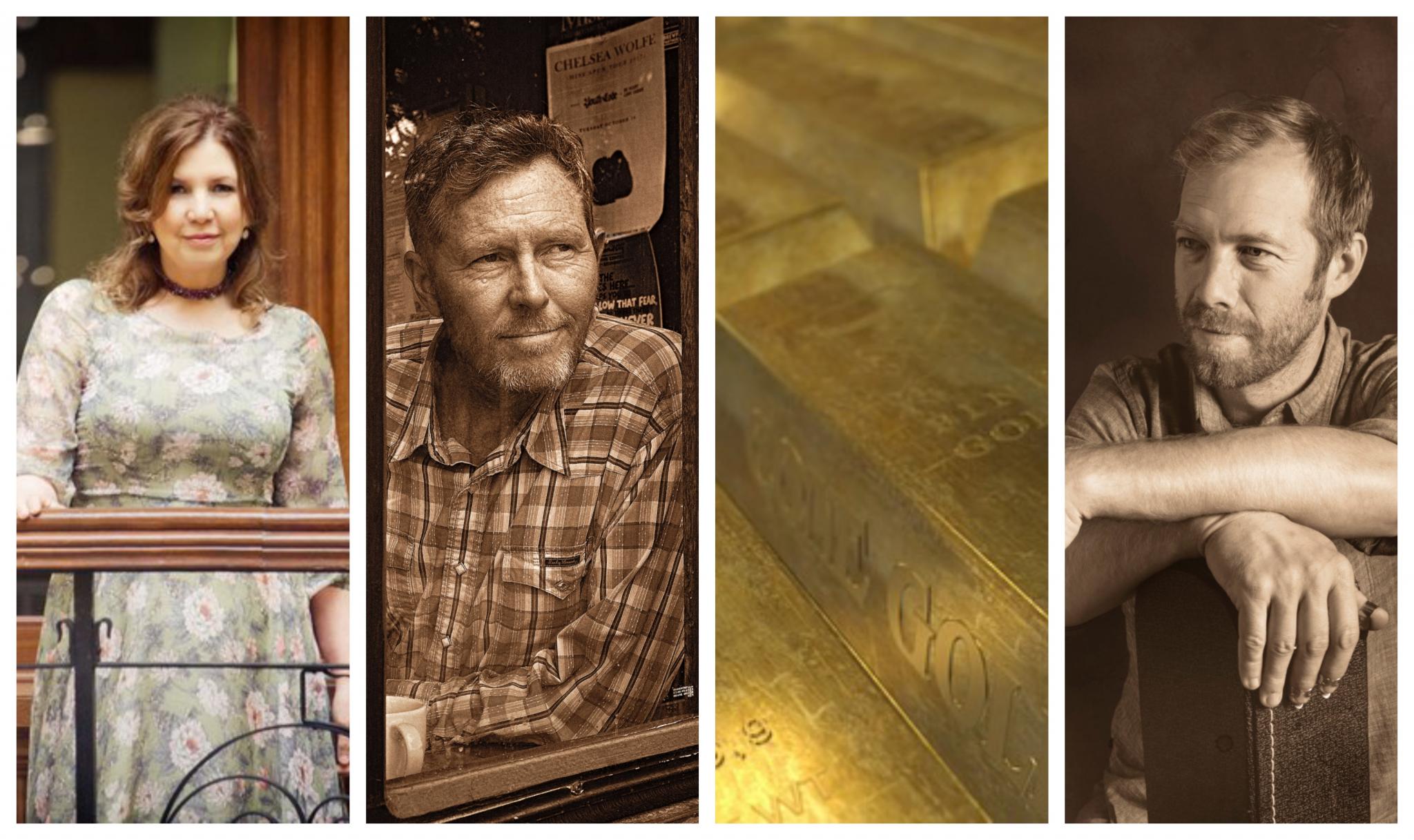 Every artist has a favorite standard, a touchstone they come back to when they're warming up, playing with new friends, or just having fun. Sometimes that song is what inspired them to start down a musical path in the first place, or maybe it just reminds them of home, a loved one, or a specific moment in time. We asked a few artists to tell us about the songs that have a permanent spot in their personal set list. Here's the previous online installment in this series, and you can find even more "Gold Standards" in the pages of our Spring 2019 print journal, Standards & Stanzas, in which we explore the many ways that music and words intersect. Subscribe by May 10 and you'll start with this issue, which we'll mail to you right away.
GRAHAM SHARP (STEEP CANYON RANGERS)
"Blue Virginia Blues" – Larry Sparks
Larry Sparks is one of the greatest stylists alive today across any genre. He's not so well known outside of traditional bluegrass; despite opportunities he's chosen to follow his muse and play the music he came up with. His song "Blue Virginia Blues," written by Pete Goble and Larry Drum, is Larry Sparks at his very best: soulful, playful, and virtuosic. Steep Canyon Rangers is a band that came up through the school of bluegrass, and Larry has long been a touchstone of ours and for many others, Alison Krauss not least of which. I love playing this song with the band, trying to recreate the swing and emotion of the original while making it our own. Larry paid a surprise visit to Brevard, North Carolina, for [Steep Canyon Rangers] guitarist Woody's 40th birthday and was so gracious, playing all of our favorites, including this one. After playing the guitar intro to his famous "John Deere Tractor," he looked up and said, "Did you like that? Lemme play it again."
CASEY NEILL (THE MINUS 5 and CASEY NEILL & THE NORWAY RATS)
 "Chelsea Hotel #2" – Leonard Cohen
The list of songs about New York City includes a staggering number of masterworks. Having lived there on and off, I know what a struggle it is and how the pace can fray your psyche. I also believe every romantic thing ever sung about the city to be true. No song embodies that more than "Chelsea Hotel #2." While a few Leonard Cohen songs have been covered more often, "Chelsea Hotel #2" has been consistently rendered by many great singers: Regina Spektor, Lana Del Rey, Josh Ritter, Frank Turner, Nathaniel Rateliff, both Rufus and Martha Wainwright, and more. In a few short stanzas it grapples honestly with sexuality, fame, class, and beauty standards. After Leonard passed away, I sang this song in Japan one night at a club in the bohemian Shimokitazawa district of Tokyo. It was mostly a Japanese audience who didn't speak much English. I could feel the song translate itself, through the beauty of the melody if nothing else. In my youth, I spent one night in the Chelsea and the smell and feel of it came flooding back. The best songs transport you through time and distance. It was all there.
MISSY RAINES
"Footprints in the Snow" – Bill Monroe
Since I can remember, one of my favorite songs has been the bluegrass classic "Footprints in the Snow." My go-to version would be Bill Monroe's 1952 recording, which features Jimmy Martin on guitar, Ernie Newton on bass, a 14-year-old Sonny Osborne on banjo, and Charlie Cline on fiddle. Monroe actually recorded this song earlier, in 1945, with Tex Willis on guitar, Chubby Wise on fiddle, David ("Stringbean") Akeman on banjo, "Sally Ann" Forrester on accordion, and Bill Westbrook on bass. Interestingly, Bill's 1952 version, still in the key of E, offers a slightly different chord progression than did his 1945 recording. What makes this song so compelling to me is the ringing of the open E chord on the guitar as the centerpiece and the melody that starts low and then soars high and lonesome all around. To me, this song lies at the heart of Monroe's early bluegrass sound — showcasing his unique mix of raw-edged blues with driving stringband music. There's a bounce that occurs naturally with this song, making it irresistible to play. I have had the privilege of performing this on stage with some of the best, including Mac Wiseman, but I think I'd have to list my standout memory as playing this with Kentucky native Don Rigsby (J.D. Crowe, Lonesome River Band) singing lead and the great Bobby Hicks (J.D. Crowe, Ricky Skaggs) on fiddle a few years ago at a music camp in Tennessee.
ROBBIE FULKS
"Lovesick Blues"
"I've Got the Love-sick Blues" was written by a conservatory-trained violinist from Cincinnati named Cliff Friend, and first appeared in the 1922 musical Oh, Ernest!, where it was sung by Anna Chandler. Irving Mills may or may not have contributed to the lyric, but somewhere on his journey from destitute Jewish immigrant to music-publishing titan (with wallpaper salesman and department-store singer in between), Mills added his name to the copyright. Emmett Miller, the proto-country yodeler and blackface comedian, cut it in 1925. Fourteen years later, one drunken Alabamian, Rex Griffin, offered a thoughtful rearrangement on record, and in 1949, another, Hank Williams, recorded a version closely modeled on Griffin's, finally stamping the now simply titled "Lovesick Blues" as a C&W standard.
The long and unlikely path of this song, resulting in a work of entrancing ambiguity, illustrates a happy artistic twist on science's "demarcation problem": A sentiment of both intimate and universal resonance, set in a beautiful chord progression, can belong as easily to Broadway, minstrelsy, country, or even the conservatory. Also, you can't help noticing that few of the people who figure in the above story are what you would call respectable. They were a low-class bunch who, trying to make a dollar, made a monument. I don't know nearly as much about art forms outside country, but I strongly suspect this holds true across all of them.
CHRIS MASTERSON (THE MASTERSONS)
"If I Could Only Win Your Love" – The Louvin Brothers
One song that would qualify as a standard for us would be "If I Could Only Win Your Love." It was perfect when Ira and Charlie Louvin wrote and recorded it in 1958. Then Emmylou Harris and Herb Pederson made it their own when they cut it in 1975. The sentiment of the song and the harmonies are perfect. Eleanor and I sang this song at our wedding before we'd even thought about having a band and making records together. It became part of the template for what we do.
JD McPHERSON
"Rome Wasn't Built in a Day" – Nick Lowe
Though I wouldn't call it a "standard" in the way some Cole Porter tunes are "standards" in the cultural lexicon, Nick Lowe's "Rome Wasn't Built in a Day" is a tune that, for me, sets a Solid Gold Standard in songcraft.
It's romantic, it's funny … in fact, within the bridge, he manages to turn me from snickering at a goofy joke to a dreamy, romantic sigh before two lines have passed. I recorded a stripped-down version a few years back, and it's at the top of the list when we need a ballad in the live set. One of my favorite tunes by a master.
---