Garland Jeffreys: "R.O.C.K" in Chicago, Nov. 16, 2013
Posted On November 19, 2013
---
Some fans had waited for years, even decades, to see Garland Jeffreys on Saturday night. And that wait was more than worth it when the veteran rocker took the stage at the Old Town School of Folk Music in Chicago.
Jeffreys, who wears his New York City hometown like a suit of armor, came out at full speed with "Coney Island Winter" from his 2011 comeback album, "The King of in Between": "Politician kiss my ass/ your promises break like glass," he sang, the poetry and beat slamming at a country in crumbling decline.
But every song about liars, scam artists and abusers also showed the way toward redemption, truth and love. Jeffreys is ultimately a powerful, positive artist who radiates warmth and honesty and gets it back in kind from his audience. This show ended in a love fest that included a spontaneous third encore – his band had already tossed set lists into the crowd, and it took a few minutes for the players to heed the boss' call to return.
Jeffreys, 70, also made a deal with his audience regarding his daughter Savannah, 16 (yes, 16!): "When my daughter comes to Northwestern (University), I expect you all to watch out for her."
"We will," the crowd answered.
Jeffreys is a Brooklyn, N.Y.-born singer/songwriter who has released just 12 studio albums in his 43-year career. His mixed heritage – Puerto Rican and African-American – is mirrored in his music, which embraces rock, soul, R&B and reggae. His lyrics often deal with the challenges and responsibilities of being "other," such as in "I May Not Be Your Kind," "It's What I Am" ("… too white to be black, too black to be white … I'm one of them, it's what I am") and in "Hail Hail Rock 'n Roll":
Father of coal, mother of pearl/
Never too black to blush to pick up a white girl/
The color of you, the color of me/
You can't judge a man by looking at the marque/
His set spanned 16 songs and almost 90 minutes, backed by an excellent four-piece band featuring Mark Bosch on guitar, Brian Stanley on bass, Tom Curiano on drums and Gray Reinhard on keyboards.
Jeffreys reached back to his third album, the breakthrough "Ghost Writer" (1977), for three of his best songs: the ultra-romantic "35 Millimeter Dreams," the rebellious anthem "Wild in the Streets" and the vulnerable "I May Not Be Your Kind." Seven of the songs came from his two most recents CDs, "The King of in Between" and this year's "Truth Serum."
Throughout the show, Jeffreys opened himself to his audience. During "Mystery Kids," a song about survival, he talked about his childhood, and about "my father, who worked hard at a job that didn't pay very much." Every day at 6, Jeffreys would hear his father's footsteps climbing the tenement stairs, but "his coming home wasn't always good news. … He'd come into my room and grab my shirt and hit me with his free hand."
Jeffreys said it took him a long time to forgive his father.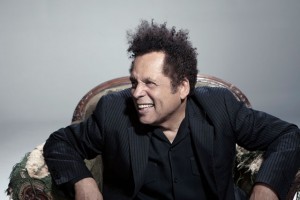 "He was a great guy who was old school, to say the least," Jeffreys said. "He worked two jobs and sent me to Syracuse University, and I went to Italy – nobody in my neighborhood went to Italy."
Jeffreys dedicated "The Contortionist" to rock legend Lou Reed, who died Oct. 27. Later in the set, Jeffreys shared that he had met Reed at Syracuse and that they'd been friends for 50 years.
"(Reed) had an image he liked to support," Jeffreys said, referring to Reed's reputation for being gruff and prickly. "But he sang vocals on (the 2011 recording of) 'The Contortionist' with Savannah – she didn't know she was singing with Lou Reed!"
Reed appeared again during the main-set closer, a cover of the rock classic "96 Tears," when Jeffreys quoted a couple of lines of Reed's "I'm Waiting for the Man."
The first encore featured "Hail Hail Rock 'N Roll" and a seamless shift into "Wild in the Streets." After the first of several more standing ovations, Jeffreys came back out and joked, "I'm holding on, though I'm 95 years old. … Life is fantastic. I didn't have a good beginning, but I'm ending it pretty nicely."
That led into "R.O.C.K." – "All of the kids where I come from/ Tell the same old story/ They want to be in a rock 'n' roll band/ Get them a piece of the glory/ … It rescued me from a fate/ That's worse than death/ Just like a destiny/ It gives me new breath" – and closed what everyone thought was the show by singing a few lines a capella of "Welcome to the World" from his 1992 album "Don't Call Me Buckwheat."
Guitarist Bosch tossed his set list into the crowd as the band cleared the stage to another standing ovation, but Jeffreys returned and called the musicians out yet again for "Modern Lovers," and heartfelt bows.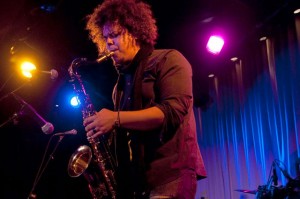 Opening the show was Jake Clemons, nephew of "The Big Man," Clarence Clemons, the late sax player in Bruce Springsteen's E-Street Band. When not filling the huge shoes of his uncle when Springsteen is on the road, the young Clemons fronts his own band and is building a career on his own considerable talents.
Clemons and his excellent band performed only six songs, including the singles "Fight Against the Rain" and "You Must Be Crazy," but they were enough to put a spotlight on Clemons' songwriting and his abilities on keyboards and, of course, sax.
Those genes are obvious.
Garland Jeffreys setlist
Coney Island Winter
35 Millimeter Dreams
I'm Alive!
I May Not Be Your Kind
Any Rain
It's What I Am
The Contortionist
'Til John Lee Hooker Calls Me
Mystery Kids
Truth Serum
96 Tears
Encore 1
Hail Hail Rock 'N Roll
Wild in the Streets
Encore 2
R.O.C.K.
Welcome to the World
Encore 3
Modern Lovers
Top photo: The Garland Jeffreys Band performs at the Old Town School of Folk Music in Chicago on Nov. 16, 2013 / Photo by Barry Gilbert
Middle photo: Garland Jeffreys
Bottom photo: Jake Clemons
This post was originally created for my blog, The Roots Cellar.
---