FROM RUSSIA WITH LOVE: Finding Russia's Musical Heart
Posted On September 25, 2019
---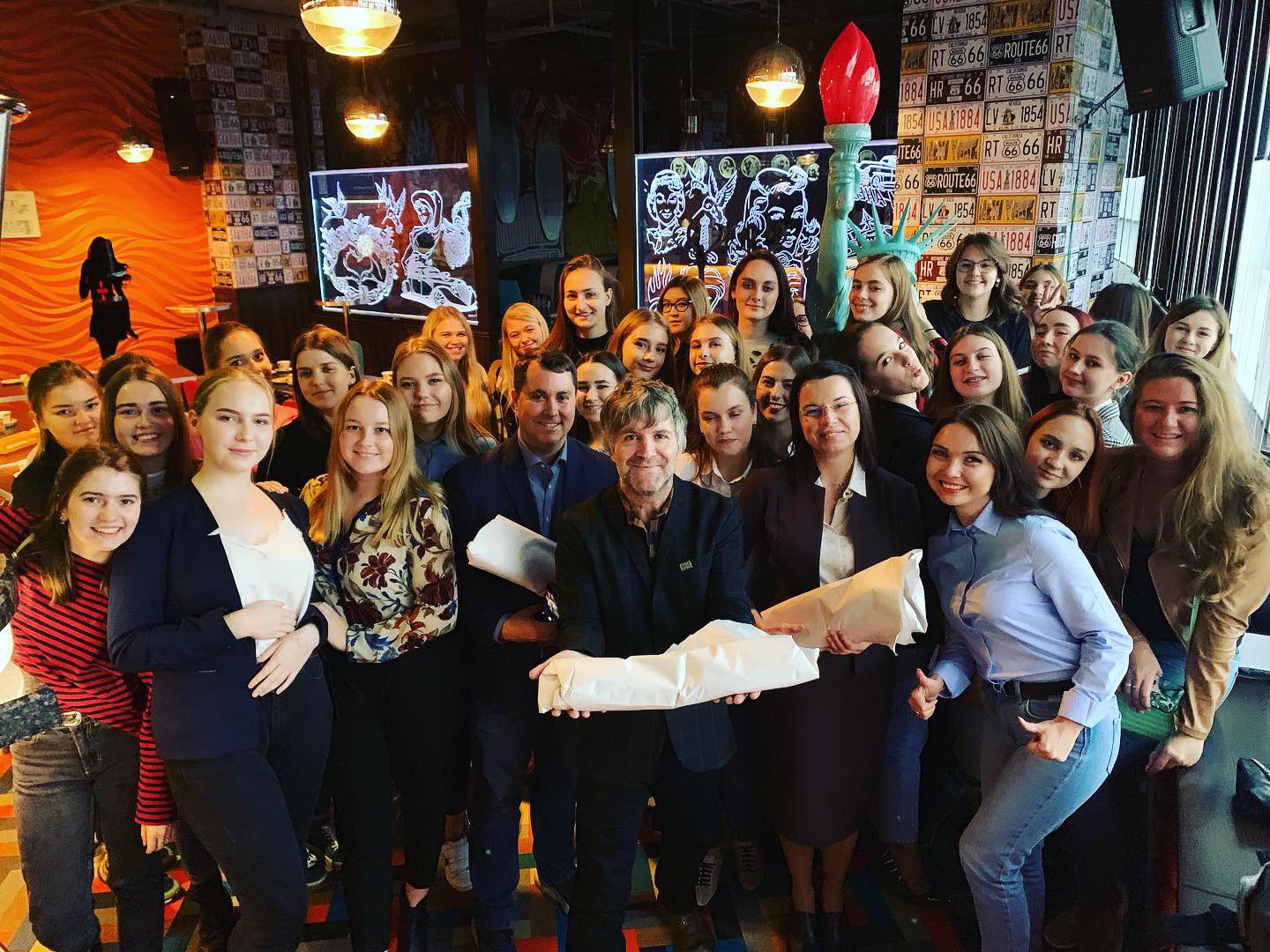 Students from the Girls English School in Surgurt, Siberia, after presenting Tim Easton with the gift of a fish.
If you asked any Russian where the heart of their country was, they would most likely tell you it was the region they were from, just as I would say that Ohio is the heartland of the US. But from my experience so far, I'd say that the musical heartland of Russia, at least, is in Yekaterinburg, near the Ural Mountains.
Yekaterinburg is not quite in the physical center of this vast nation, but having traveled as much as I have, it is obvious to me when I land in an organic, creative town that has gumption and soul. Yekaterinburg is actually a good-sized city, with over 1.5 million people and universities too — and we all know that youth plus education leads to more art and creativity. The best musicians here may eventually move to the media industry hubs of St. Petersburg or Moscow, but it is well known in Russia that there is a vibrant musical incubation scene in the valleys below the Ural Mountains.
Thanks to the American Consulate in Yekaterinburg, I was introduced to a local band called The Traveling Orchestra (the fifth Russian band I have played with) who learned my songs plus some roots classics. Together, we sold out the Ever Jazz Club, with dancing and encores and the obligatory selfie line. It was a very exciting night for me to have so many people dancing at one of my shows.
Earlier that day, I performed a short acoustic set and Q&A session on songwriting and creativity to about 40 people in a space called New Bar. I had a translator for that event and we shared a lot of laughs with the audience in regard to the everyday habits of the habitually creative. The following day, proudly wearing my "Woody for President" button, I performed another acoustic set to a group of journalists, teachers, consulate alumni, and future world shakers. We had all gathered at American Consul General Amy Storrow's residence for some chili, barbecue, and a house concert. I also had the opportunity to meet a few different festival promoters at this event, so I hope this journey will lead to a return visit.
After all these events, when I should have been resting up, I took a walk down to the Cannonball Brasserie, where a jam session was taking place. It was led by the great guitar player Vladimir Demyanov, who is a consummate bluesman. He has a real passion for his music that comes through in his playing. All of the players that night simply nailed it and they did so with joy and style. Aside from a few noticeable Russian accents in the vocals, there is not much difference between the sounds these cats were making and most any band in Memphis or Chicago.
One way that roots musicians can tell for sure how deep the blues run is by listening to how the drummer plays the shuffle beat. I am here to report that it was solid, and there was even some switching from the Memphis to the Texas style in different songs, which is something only aficionados know about.
American Music Is in Good Hands
Aside from all the great jazz and blues I've witnessed while here in Russia, I would be remiss if I didn't mention the impressive young band I met in the town of Obninsk, two hours south of Moscow. These students of Americana, bluegrass, and country music were truly amazing. They go by the name Cheerful Diligence and I swear on the grave of Bill Monroe they even possessed some of the attitude that comes with being so fluent on your instrument. It was not a case of "Oh, look at these young Russians trying to play bluegrass." They were proficient, could improvise well, and they knew it.
Their teacher, Alexey Gvozdev, deserves to be recognized for his contribution to education and roots music. He told me this band was his third generation of students. One of his previous students is Nashville A-list session player Ilya Toshinsky, whose credits include Dolly Parton, George Strait, and Sheryl Crow, among many others.
The Cheerful Diligence band includes Ksenia Fedorova on vocals, acoustic guitar, and mandolin. I'm telling you now, the girl is a star. Yaroslav Pankov played acoustic and electric guitar just like any badass I've ever heard in Nashville. Viacheslav Morgunov appeared to be their multi-instrumentalist, as he played so tastefully on the banjo, resophonic guitar, upright and electric bass, and pedal steel. Elizaveta Gushcha played the drums and Elizaveta Zvezdina shared bass duties. Anna Shvid played fiddle. If I were of the managerial persuasion, I would scoop these kids up pronto and put them in front of an international audience. My dream is to get them to record at The Earnest Tube in Bristol, Virginia, the direct-to-lacquer studio that I previously wrote about in No Depression's Fall-Winter 2018 print issue.
These players are so good that they simply need to be brought over to the US to perform and bond with their bluegrass brothers and sisters. I'm talking to you, Alaska Folk Festival, MerleFest, Bristol Rhythm & Roots, Folk Alliance, IBMA, Sam Bush, Béla Fleck, US State Department, etc. — whoever can help facilitate this. The fact is that sharing our folk music is what helps us to build sturdier bridges between cultures. Musicians help more than anything to spread the positive aspects of our culture. I would argue that, aside from democracy itself, rock and roll, jazz, and all of the offshoots are the greatest contribution that the US has given to the world. When I hear it played so beautifully by young foreigners who obviously care, I want to help them, because this is the kind of thing that really breaks down the stereotypes and notions of what we think we know about each other.
Staying and Seeing
Maybe it's the lunch with ginger tea I just had at a local Georgian restaurant that energized me, or maybe it's just that after 20 days I feel like the layers of the Russian onion are peeling back just enough for me to have a basic understanding of these complex and sturdy people, but I can testify that Americana music is alive and well in Russia.
Either way, it has been a true joy to simply be in one place for three days straight, which does wonders for developing an understanding of a culture. It also helps one recover from traveler's fatigue. I was beginning to feel like the typical American Europass wanderers I would meet at the youth hostels back in my vagabond days — always trying to rack up as many cities as they could rather than really letting a place get its teeth into you.
My schedule is packed because the American Consulate has me working hard with lots of educational events and shows, and I love it. I'm about to head into the Far East region, a place that many Russians have never been to. Here's to building more cultural bridges between our two countries.
---
Singer-songwriter Tim Easton is visiting and playing music in Russia this month with the Forum for Cultural Engagement, in conjunction with the US State Department. This is the third of four weekly dispatches for No Depression on the people he meets, the music he hears, and the things he learns along the way. You can read his earlier columns here.
---