FreshGrass Foundation to Receive IBMA Award + List of 2022 Nominees
---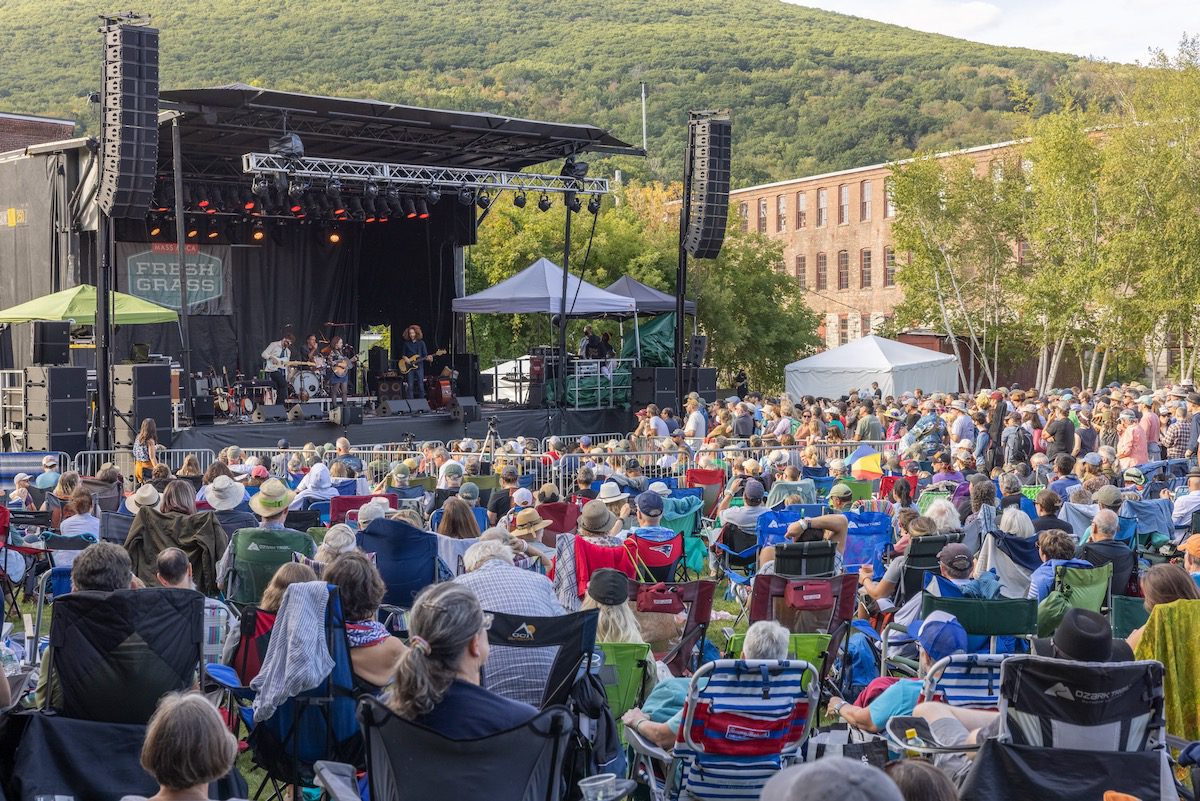 The crowd enjoys a beautiful day at the FreshGrass Festival in North Adams, Massachusetts, in September 2021. The festival is one of the primary activities for the FreshGrass Foundation, a nonprofit organization supporting the creation and sharing of roots music. (Photo by Douglas Mason)
The International Bluegrass Music Association announced the nominees for its 2022 Bluegrass Music Awards today in Nashville, as well as the latest round of Bluegrass Hall of Fame inductees and recipients of the Distinguished Achievement Award.
The FreshGrass Foundation — publisher of No Depression and producer of Folk Alley, among other endeavors that support roots music — is among the Distinguished Achievement Award winners. "Their core belief," according to the IBMA's announcement, "is that the simple acts of making and sharing roots music are among the most effective ways to spread joy and love, to improve lives and communities, and to make a profoundly positive impact on the world."
"We're thrilled about this recognition from IBMA, and so honored to receive a Distinguished Achievement Award alongside the other amazing recipients," said FreshGrass Foundation founder, president, and director Chris Wadsworth. "We're grateful for this support of our efforts to fuel the creation and enjoyment of roots music — including bluegrass — far and wide.
The other Distinguished Achievement Award winners for 2022 are flatpicker Dan Crary, banjo maker Steve Huber, online music lesson provider Peghead Nation, and the Nitty Gritty Dirt Band in celebration of the 50th anniversary of the Will the Circle Be Unbroken album.
Joining the Bluegrass Hall of Fame this year will be guitarist and singer Norman Blake, broadcaster Paul "Moon" Mullins, and genre-spanning former Blue Grass Boy Peter Rowan.
Here are the nominees in select categories for the Bluegrass Music Awards, which will take place Sept. 29 in Raleigh, North Carolina, during the IBMA's World of Bluegrass gathering. Find the full list of nominees here.
ENTERTAINER OF THE YEAR 
Billy Strings
The Del McCoury Band
The Po' Ramblin' Boys
Sister Sadie
Molly Tuttle & Golden Highway
VOCAL GROUP OF THE YEAR
Balsam Range
Blue Highway
Doyle Lawson & Quicksilver
Del McCoury Band
Sister Sadie
INSTRUMENTAL GROUP OF THE YEAR
Billy Strings
Michael Cleveland & Flamekeeper
Béla Fleck's My Bluegrass Heart
The Travelin' McCourys
Molly Tuttle & Golden Highway
NEW ARTIST OF THE YEAR
Rick Faris
Fireside Collective
Laura Orshaw
Jaelee Roberts
Tray Wellington
SONG OF THE YEAR
"Blink of an Eye" – Artist: Danny Paisley & The Southern Grass; Songwriter: Robert Amos
"Deep River" – Artist: Rick Faris; Songwriters: Rick Faris and Brink Brinkman
"I'll Take the Lonesome Every Time" – Artist: Doyle Lawson & Quicksilver; Songwriters: Glen Duncan and Jerry Salley
"Red Daisy" – Artist: Billy Strings; Songwriters: Jarrod Walker and Christian Ward
"Riding the Chief" – Artist: Chris Jones & The Night Drivers; Songwriters: Chris Jones and Thomm Jutz
ALBUM OF THE YEAR
Bluegrass Troubadour – Danny Paisley & The Southern Grass
Crooked Tree – Molly Tuttle & Golden Highway
My Bluegrass Heart – Béla Fleck
Never Slow Down – The Po' Ramblin' Boys
Renewal – Billy Strings
COLLABORATIVE RECORDING OF THE YEAR
"Blackbird" – Special Consensus with Amanda Smith, Dale Ann Bradley, Rob Ickes, and Alison Brown
"East Bound and Down" – The Po' Ramblin' Boys featuring Jason Carter & Bronwyn Keith-Hynes
"Honky Tonk Nights" –Del McCoury Band featuring Vince Gill
"In the Sweet By and By" –Dolly Parton with Carl Jackson, Larry Cordle, Bradley Walker, and Jerry Salley
"One By One" – Dale Ann Bradley with Danny Paisley
MALE VOCALIST OF THE YEAR
Greg Blake
Rick Faris
Del McCoury
Danny Paisley
Larry Sparks
FEMALE VOCALIST OF THE YEAR
Brooke Aldridge
Dale Ann Bradley
Sierra Hull
Molly Tuttle
Rhonda Vincent
BANJO PLAYER OF THE YEAR
Gena Britt
Béla Fleck
Rob McCoury
Kristin Scott Benson
Scott Vestal
BASS PLAYER OF THE YEAR 
Mike Bub
Jason Moore
Missy Raines
Mark Schatz
Vickie Vaughn
FIDDLE PLAYER OF THE YEAR 
Jason Carter
Michael Cleveland
Stuart Duncan
Bronwyn Keith-Hynes
Deanie Richardson
RESOPHONIC GUITAR PLAYER OF THE YEAR
Jerry Douglas
Andy Hall
Rob Ickes
Phil Leadbetter
Justin Moses
GUITAR PLAYER OF THE YEAR
Billy Strings
Trey Hensley
Cody Kilby
Bryan Sutton
Molly Tuttle
MANDOLIN PLAYER OF THE YEAR
Alan Bibey
Jesse Brock
Sam Bush
Sierra Hull
Ronnie McCoury
---